10 clever blog marketing examples and what you can learn from them
82% of companies that blog say it is essential to their business. Here are business blog marketing examples to inspire your own.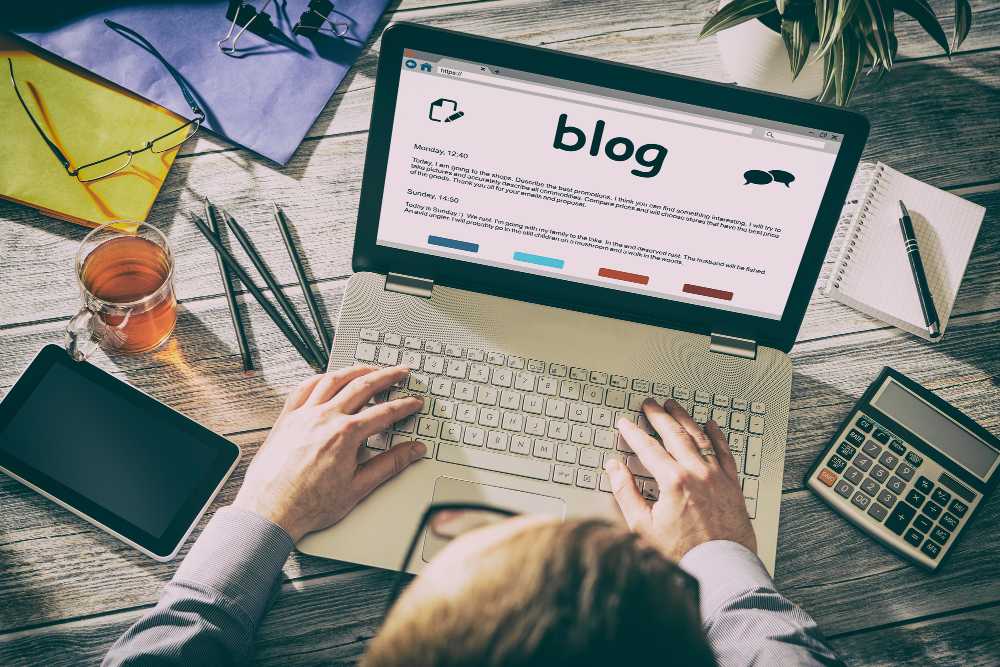 Blogging is a relatively cheap (and in many cases free) way to make an online presence and attract traffic. This strategy can show customers the personal side of your business and connect them more intimately to your brand.
HubSpot's 2020 State of Marketing Report showed that 80% of companies that put effort into blogging were successful at increasing their client-base. Further, 82% of marketers shared that blogging has become an essential part of their business.
It's a good idea to look at what other marketers are doing correctly in terms of blogging. Here are some blog marketing examples to keep your mind fresh about the latest strategies and executions.
Notable business blog marketing examples for global teams
eMarketer – Building authority with research and data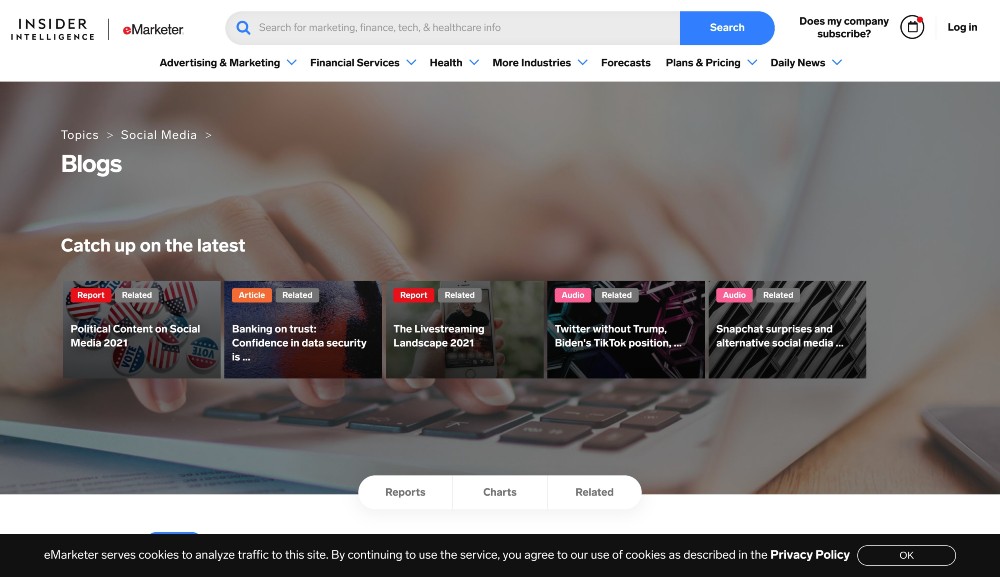 Research firm eMarketer is a household name among global data researchers. On top of showcasing subscriber-only data and charts, the firm also publishes free content on its blog. The firm makes use of a variety of content formats like articles, podcasts, videos, and webinars to capture the audience's attention.
The eMarketer team excels at processing information from thousands of sources into digestible reports, dashboards, and insights. eMarketer ensures readers have an easy time making sense of the data by virtue of the accompanying visual representations found in the majority of blog posts.
The firm's original and unique data are often cited by top publications like The New York Times and WSJ. This helps drive more traffic toward eMarketer's main website, and eventually leads to conversions on its paid offerings.
Neil Patel – Generating traffic with long-form content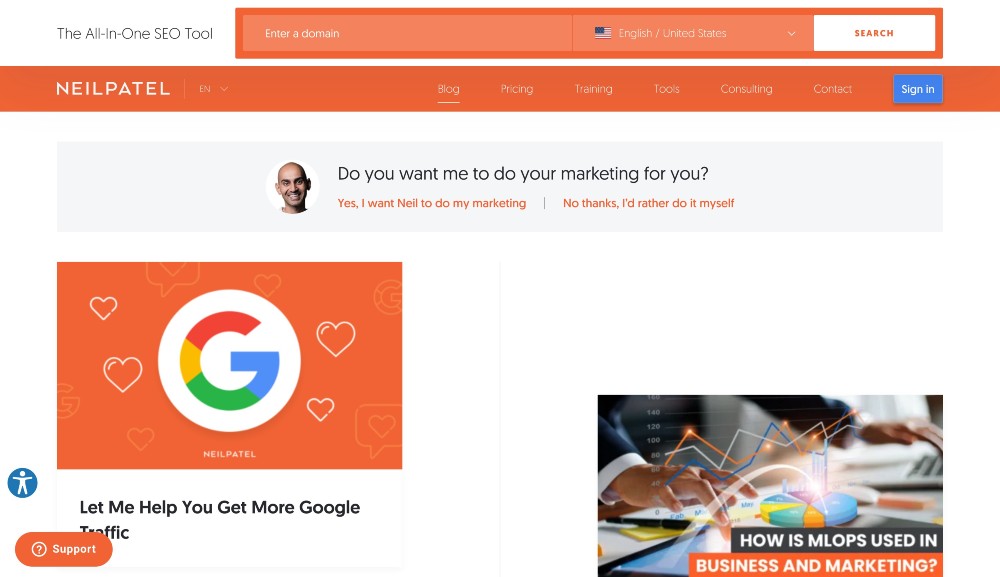 A digital marketer and analytics guru, Neil Patel's forte sits in search engine optimization (SEO), internet marketing, conversion optimization, and growth hacking. Patel converses with his readers through his writing, avoiding overly complex jargon and keeping it inclusive for novices and marketing professionals alike.
He regularly publishes long-form articles on his blog, and adds value by being highly specific when explaining a concept to readers. In this 2,500-word post, for example, Patel lays out six keyword research tools. He then goes the extra mile by demonstrating in high detail how to use each one, including step-by-step instructions and screenshots from the actual tool interface to guide readers along.
According to SimilarWeb, the blog regularly generates more than 8 million monthly views.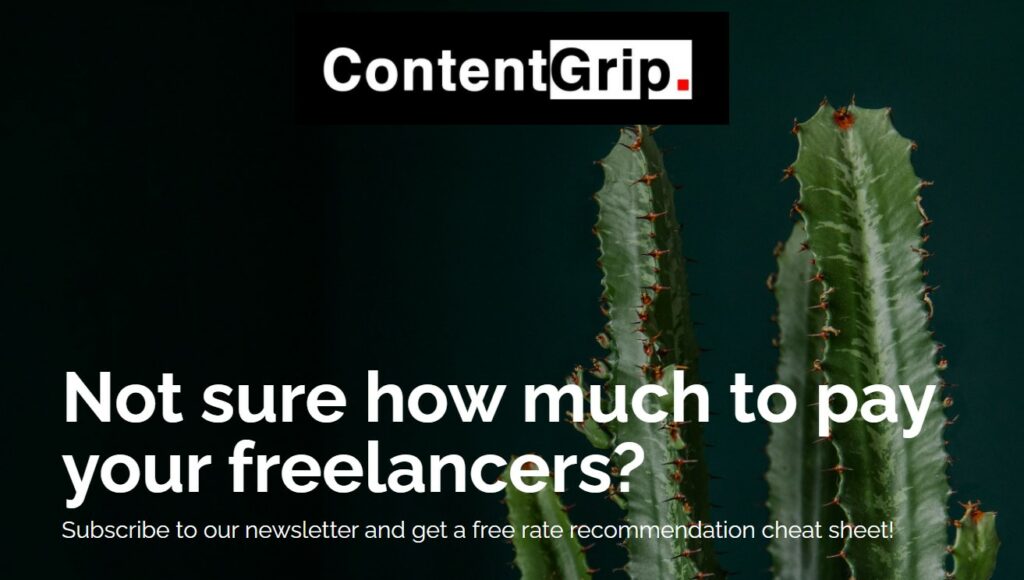 Art of Manliness – High-quality storytelling pays off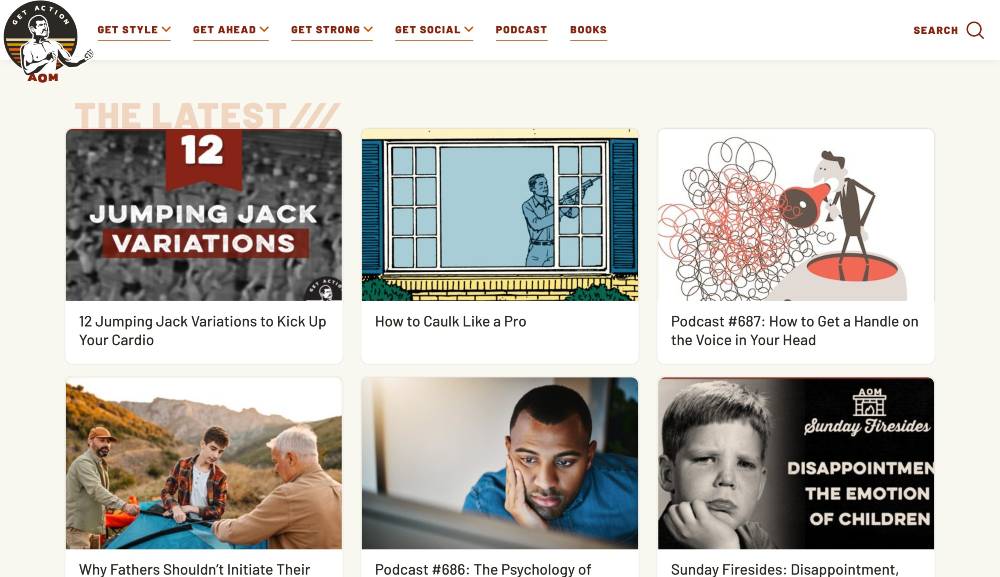 Yes, Art of Manliness (AOM) is more like a proper media outlet than a company blog, but marketers can also learn something from it. Despite earning most of its revenue from ads and its online store, the blog still prioritizes insightful content over hard-selling. Advertisements are rarely shown inside the articles, and there are very few ads on the sidebar section.
At one point, AOM decided to pivot toward creating content as detailed as possible instead of hurrying to hit its daily blog post quota. As an example, the team would read Teddy Roosevelt biographies in order to write an article about the person. They would also examine articles like this that have more than 20,000 words.
The company's dedicated reporting of men's lifestyle have earned it notable media mentions and backlinks from giants like The Guardian, CNN, and Forbes. So putting effort into high-quality storytelling can also help marketers increase blog readership and authority over time.
Moz – Harnessing the power of UGC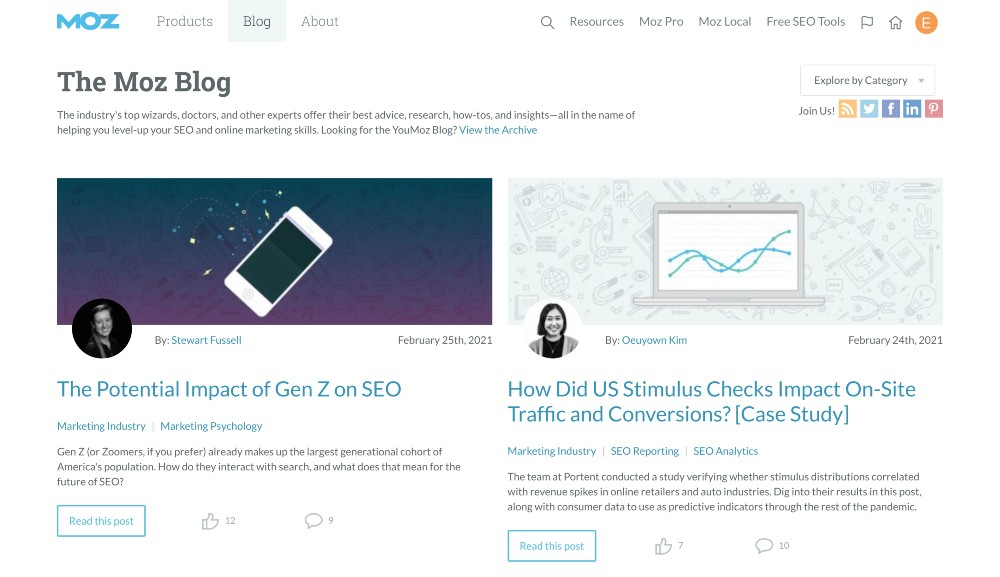 This popular SEO tool doesn't shy away in revealing its SEO best practices on its blog. For example, the team shared how they were able to grow blog traffic by 650% in two years in a blog post. Moreover, they took it one step further and incentivized their community to engage with the blog posts.
Readers can earn points by giving an article a thumbs up or by leaving a comment. They can also get points by answering questions on the community's Q&A section. These points can then be exchanged for various perks like a free dofollow backlink, t-shirts, and a free Moz Pro subscription.
Moz then invites trusted practitioners from its community to publish guest posts in exchange for extra visibility and more points. Today, the site records more than 3.2 million visits thanks in part to this innovative audience engagement play.
Buffer – Gaining traction with guest posts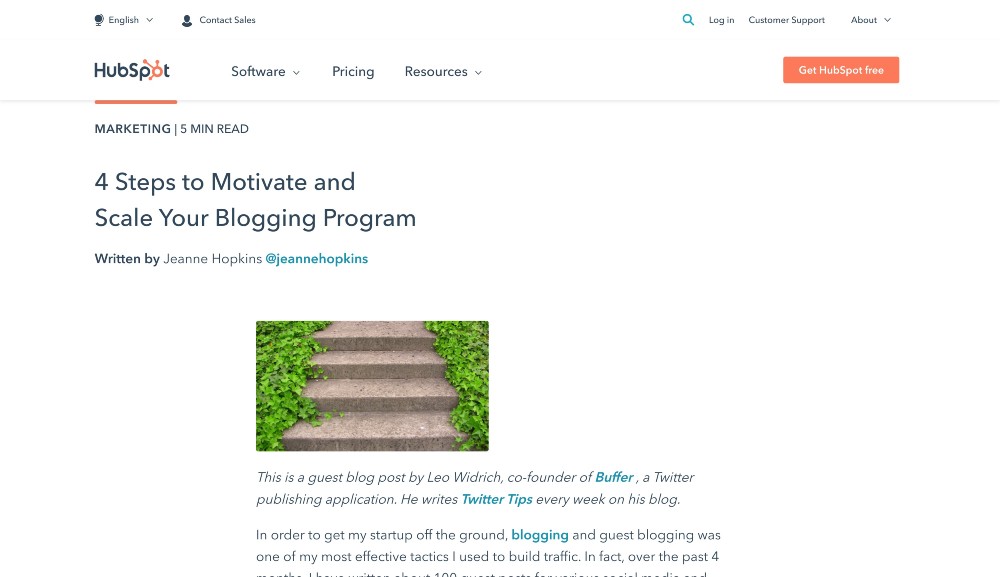 Rather than targeting potential customers, Buffer writes for the people that influence their customers. They employed guest blogging in Buffer's early days to kick start growth, publishing bi-daily on high visibility sites. This strategy helped them land their first 100,000 users.
In the beginning, the Buffer team would submit guest posts at as many relevant sites as possible. Then, they'd double down on the sites that were able to deliver user sign ups. Here's what Buffer co-founder Leo Widrich said about promoting its products inside the guest posts:
"For guest posting, I would suggest to always fill it with personal experiences, yet not too much self-promotion. The more personalised the articles are, the more interest you can raise from the reader. If you describe a tool, describe how it helped you specifically, if you explain techniques, give specific examples."
See: 5 inspiring content marketing examples to level up your playbook
Canva – A free online course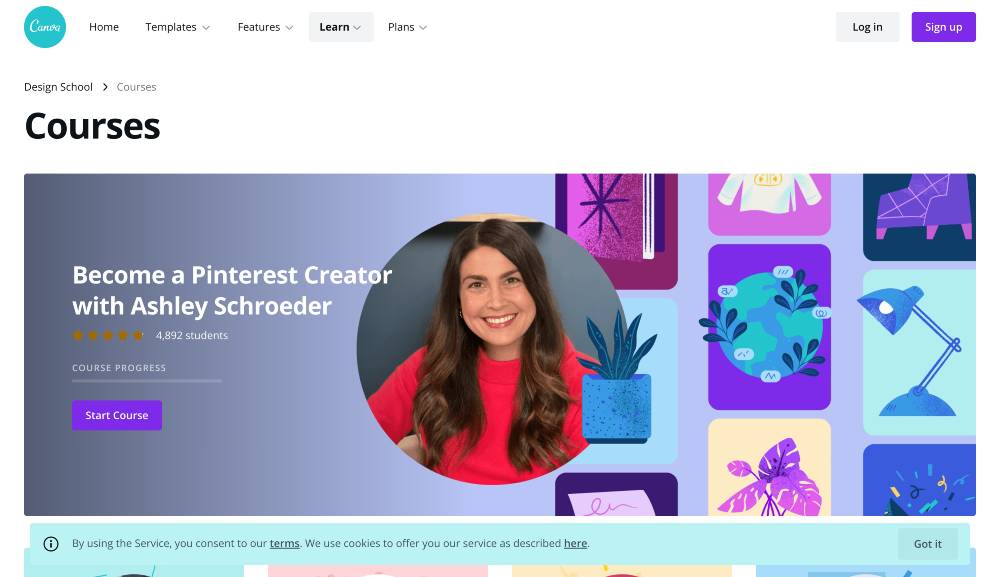 On top of providing an easy-to-use design platform, Canva also utilizes content marketing to teach users how to fully use its product. Under the Learn page, Canva offers three types of free content: online course, tutorials, and blog.
Yes, Canva has top-notch blog articles and tutorials. But the company's online course stands out above the rest. The firm's inhouse team -- along with superstar experts such as Gary Vaynerchuk and Guy Kawasaki -- acts as the teachers in each course.
So far, more than 400,000 students have enrolled in the courses. The Learn page on Canva generates more than 900,000 monthly visits. Even if working with quasi-famous people is not an option for you, offering a course to your users is still a move that can be used proportionately.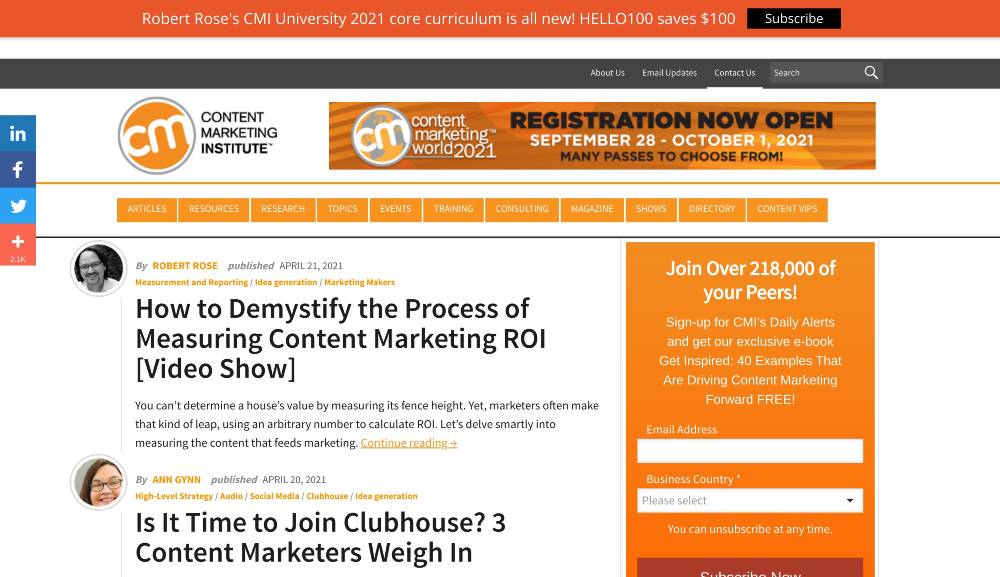 Content Marketing Institute (CMI) is considered a pioneer in the content marketing field. Its blog covers pretty much everything on content insights and adjacent spaces via daily posts.
Founded by Joe Pulizzi, CMI is applying multiple content marketing formats to build a loyal audience. For example, the site accepts articles from expert contributors, made up of business owners and marketing practitioners, who provide their valued knowledge for free in exchange for getting featured. The CMI team also injects notable names from their live events (such as Joseph Gordon-Levitt, Mark Hamill, and Tina Fey) into their articles.
On the whole, this strategy has helped CMI build a following of more than 550,000 monthly visitors.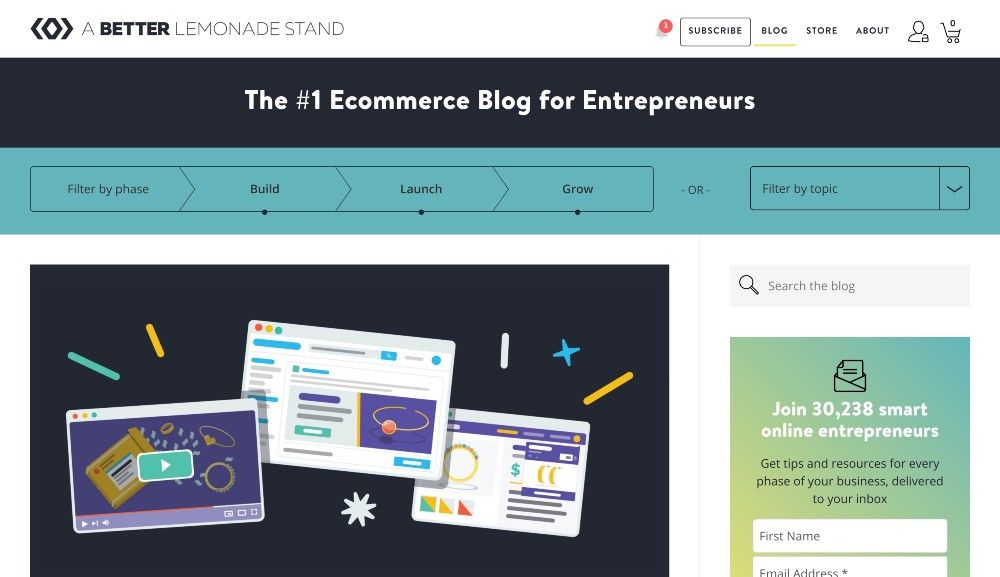 This e-commerce blog provides an easy-to-use feature for entrepreneurs to filter out articles based on business phases. The three options are: 'Build,' 'Launch,' and 'Grow.' The owner, Richard Lazazzera, used to write for Shopify and documented his journey on building an e-commerce site from scratch prior to starting the blog.
A Better Lemonade Stand (ABLS) shares relevant e-commerce articles that are lengthy, thorough, and insightful. The articles regularly generate hundreds and even thousands of shares.
In this 12,000-word post (which scored 2,500+ shares), ABLS lays out different stages on how to start your own clothing line. The content team goes the extra mile by showing in great detail the design, sampling, production, and packaging processes. In addition, they also provide brand examples, image screenshots, and design illustrations to guide the audience, step by step.
See: 5 thought leadership examples that marketers can learn from
Grammarly – Keeping it basic and fun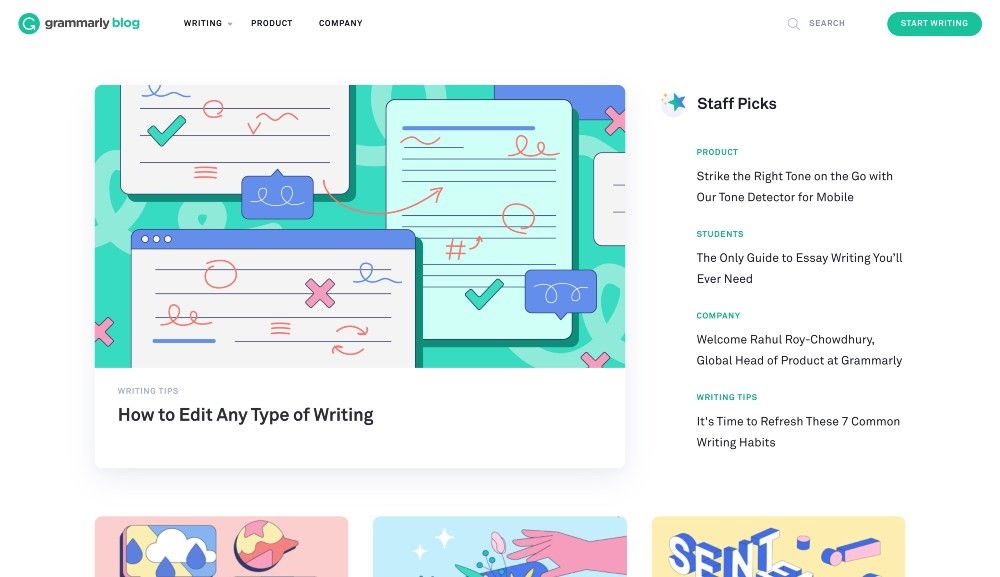 Grammarly's blog offers various writing-related stories and is scoring millions of visits by providing the best answer to basic grammar questions.
Some of Grammarly's most popular posts are the ones that cover these topics: "Traveling or Travelling?", "Modeling vs. Modelling", and "Affect vs. Effect". Each article is short and to-the-point. Posts are complemented with an original image or video, and the team provides real-life examples of how each word is used correctly by mainstream media.
But the team doesn't stop with grammar-related content. Sometimes, the band publishes fun quizzes, tips, jokes, and even comics. Here's one where you can take a quiz to find out what novel you are. According to Kingkong, the article has received more than 96.8K engagements on Facebook alone.
Smarp – Original multimedia assets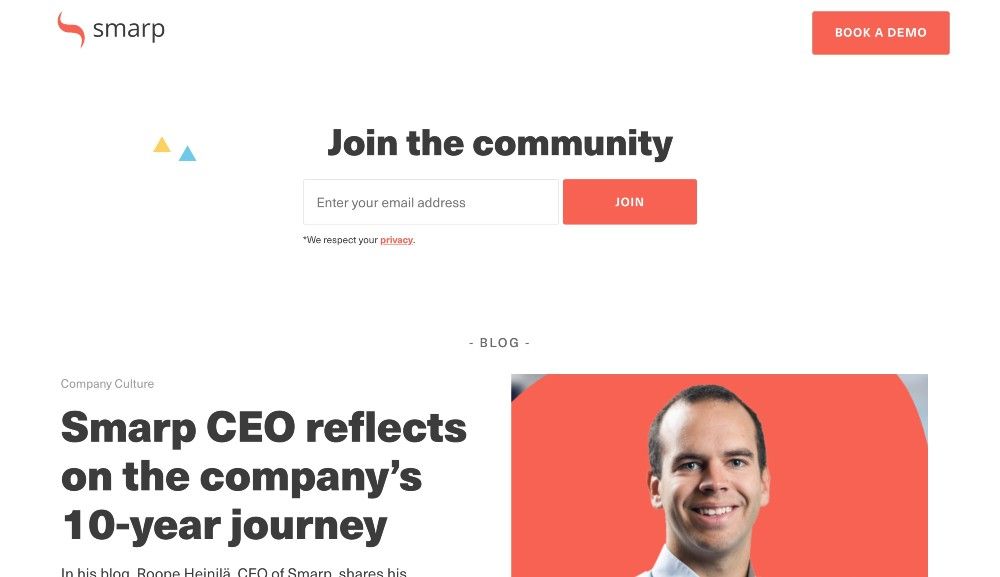 Smarp is an employee advocacy platform from Finland. Its blog covers a wide range of topics related to company culture like internal communications, HR, and crisis comms. Each post is backed up by research and data with an informative writing style.
Smarp excels in storytelling not only because the content is clever and insightful, but because the team takes time to produce relevant original images and videos. For example, Smarp added six original images, two infographics, and two videos inside this article. According to UberSuggest, that article alone is generating more than 100,000 monthly visits.
The Smarp blog also has occasional guest authors, including influencer marketing pro Shane Barker, social media writer Kelsey Jones, and business coach Lilach Bullock. Meanwhile, the Smarp team tends to cross-promote their other media channels, too, including a podcast, YouTube channel, and ebooks.
Save time and money when producing high-quality content. ContentGrow helps brands and publishers work with perfectly matched freelance writers and journalists at preferred rates. Fill out the form below to get your own shortlist of talent or visit the site to get started.