Giveaway: ContentGrow offers free thought leadership article to Hong Kong's marketers
APAC's top freelance content talent network is running a limited giveaway for brands in Hong Kong in need of thought leadership marketing support.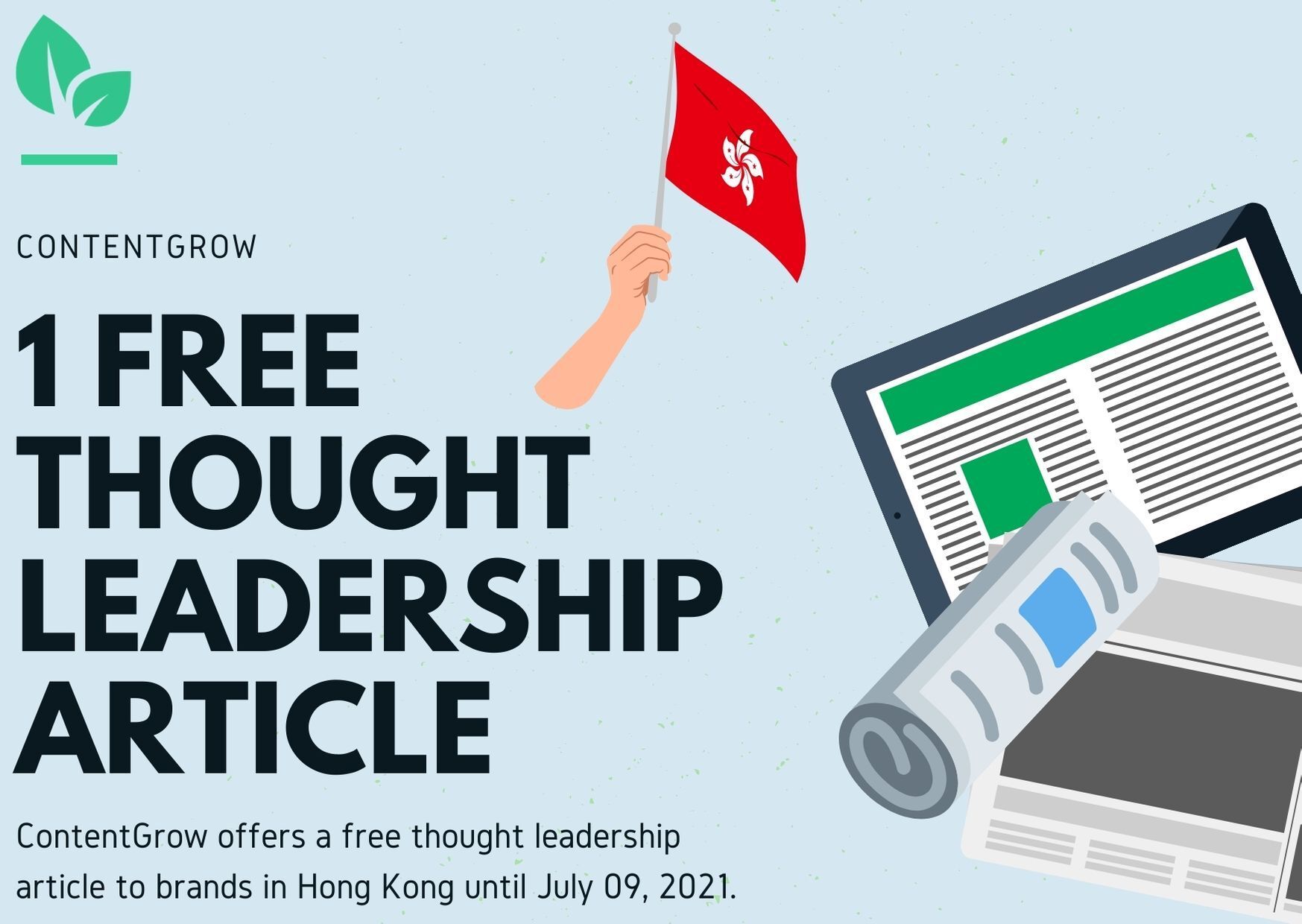 ContentGrow, a managed freelance talent network that specializes in thought leadership content, announced that it's offering a free story to marcomms professionals in Hong Kong. The giveaway is limited to those who sign up on ContentGrow's platform.
What is thought leadership marketing?
Thought leadership marketing can be viewed as a way to increase the visibility of a brand (or executive) by serving up expert insights. According to a recent study, thought leadership content effectively influences purchasing decisions among buyers. Organizations that produce high-quality content also tend to have stronger brand reputations and perceived capabilities. In turn, this makes it easier for them to generate leads and sales.
The easiest way to kickstart a company's thought leadership marketing is to produce in-depth articles that deliver new perspectives to the target audience. The content produced should provide deep insights and shouldn't just repeat what everyone else is saying.
Why is ContentGrow the best place to get thought leadership stories?
Clients on ContentGrow often use it to source thought leadership. The platform's key advantage is its pool of experienced journalists, who are well equipped with deep industry knowledge and insights.
Here's how it works:
Sign up to ContentGrow and finish the onboarding.
The team will custom-match you with project-appropriate journalists.
Work takes place on the platform, from end to end.
You may request multiple story revisions until satisfied.
Clients set the rate per assignment, while curated freelancers may opt into each one based on the posted rate and details.
"We understand that it's not easy to find high-quality freelance journalists to create thought leadership stories. But this is what ContentGrow can offer on an ongoing basis," explains COO Enricko Lukman.
Instead of a subscription, ContentGrow facilitates payments between clients and freelancers. It implements a small transaction fee per assignment. Clients add a balance to their ContentGrow accounts via debit, credit, or PayPal balance.
Eligible marketers in Hong Kong are invited to:
Register your company on ContentGrow here: https://2.contentgrow.com/register
Build your first story brief (price it at HKD 400).
Add a minimum balance of HKD 400.
Inform the in-app chat support that you'd like to claim your free story.
ContentGrow will then add an extra HKD 400 to your balance.
The offer lasts until midnight on July 09, 2021.
See: ContentGrow review - a specialist's marketplace for journalism and PR
Save time and money when producing high-quality thought leadership articles. ContentGrow helps marcomms teams work with perfectly-matched freelance writers and journalists at preferred rates. Fill out the form below to get your own talent list or visit the site to get started.