Building consumer trust with ethical marketing strategies
Ethical marketing builds trust and loyalty. From protecting consumers' data to helping communities, here are some strategies that have worked for brands.
Ethical marketing might sound odd to some, given how the industry toes the line on ethical behaviour and practices often. But it is simply an extension of ethics, which is a system or set of moral principles.
So ethical marketing is when these principles, or values and morals, align with the marketing of a brand, including its promotion, products, or services.
Brands that choose ethical marketing invest in a long-term relationship with customers who expect businesses to contribute to social and environmental well-being, rather than just making profits.
Ethical marketing involves everything from protecting customers' data to ensuring that advertisements remain accountable. It means not making claims that are inflated, as well as not just touting, but also practicing full transparency and openness.
When done right, ethical marketing builds trust and loyalty.
Let's explore how some global brands have incoporated ethical marketing strategies.
Take social responsibility
Consumers are increasingly likely to pick brands that prove commitment to their values with specific actions. A campaign raising awareness about a social issue and contributing to its solution is a great way to build a lasting bond with customers.
One such example is the recurring 'One Day Without Shoes' campaign by TOMS Shoes, aiming to spread awareness of the lack of footwear available to children in developing countries.
For every participant who posted a photo of bare feet on Instagram with the hashtag #WithoutShoes, the company donated shoes for a child in need. In a recent iteration of the campaign, close to 300,000 photos were shared, and the campaign became so successful that it was cited in multiple academic marketing journals.
Protect consumers' data
Consumer data helps to create a personalized experience, but a brand's reputation may be seriously undermined by data breaches and intrusive marketing.
According to McKinsey & Company, only about one-third of customers believe that companies are using their data responsibly. To respond to growing concerns related to personal data, top companies are switching to a privacy-first approach.
Google announced plans to phase out support for third-party cookies in Chrome next year. Apple adopted a new privacy policy, under which paid social advertising tools can no longer automatically determine a customer's exact location or track their behavior.
Commit to sustainability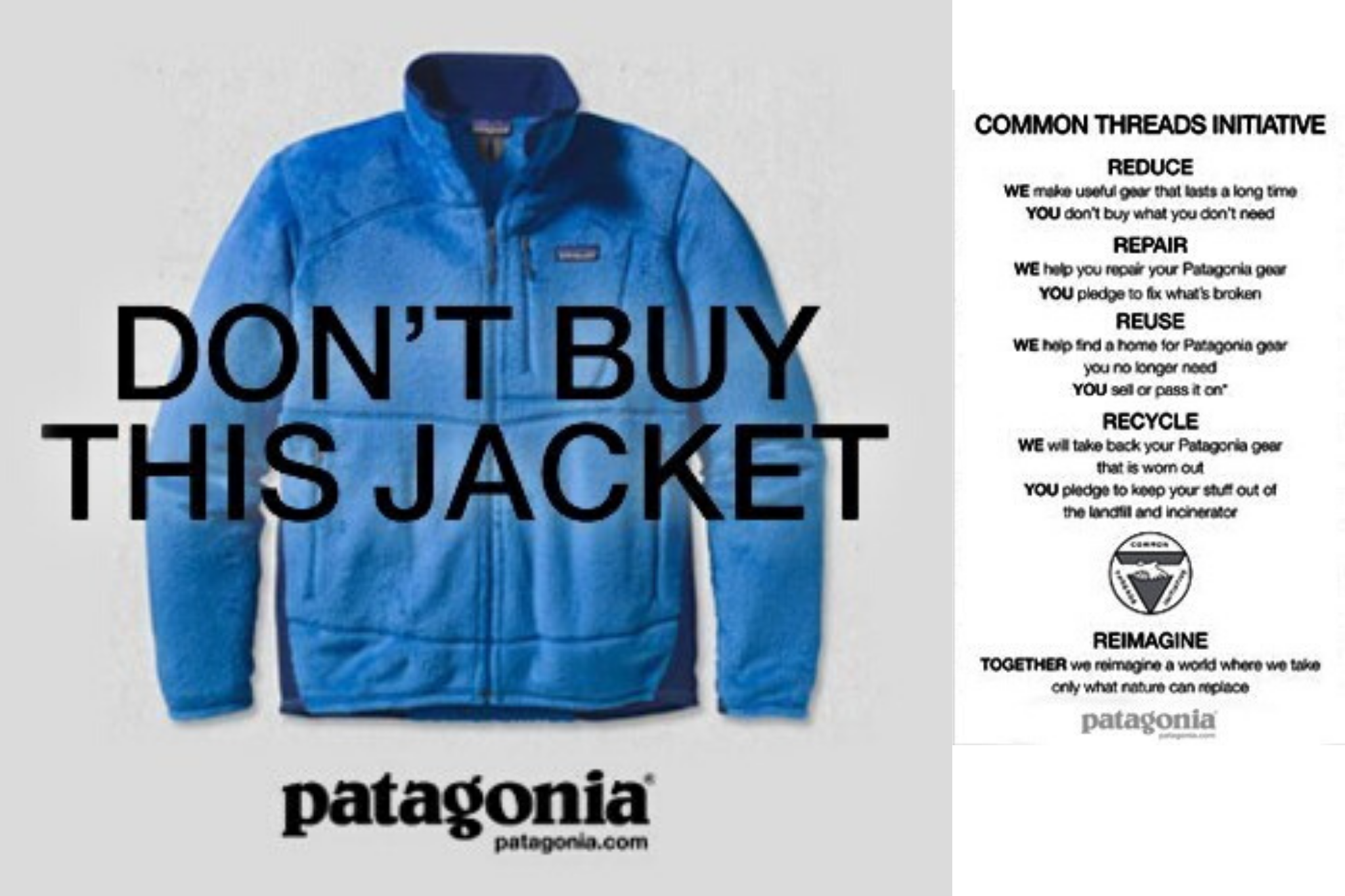 Today, a majority of consumers care about the environmental impact they make and they expect brands to do the same.
There are many ways to make your business eco-friendlier. Fashion brand Patagonia, for example, promotes anti-consumerism through clothing repair tips and stories of people protecting the environment.
Whichever tactics you choose, just remember to be transparent above all else, as misleading messages can do great harm to a brand's image.
Case in point: Innisfree, an Amorepacific brand, found itself in trouble after presenting its packaging as a paper bottle. In reality, there was plastic inside. After a customer filed a complaint alleging "greenwashing," the company had to publicly admit the mistake leaving a stain on its reputation.
Contribute to society
Giving back to the community by sponsoring a charity or directly helping people in need is another ethical marketing example. It is important that a business clearly explains how it plans to contribute.
Software company Ahrefs, for example, called users to support Ukraine, offering in exchange to extend their description by twice the amount of their donation.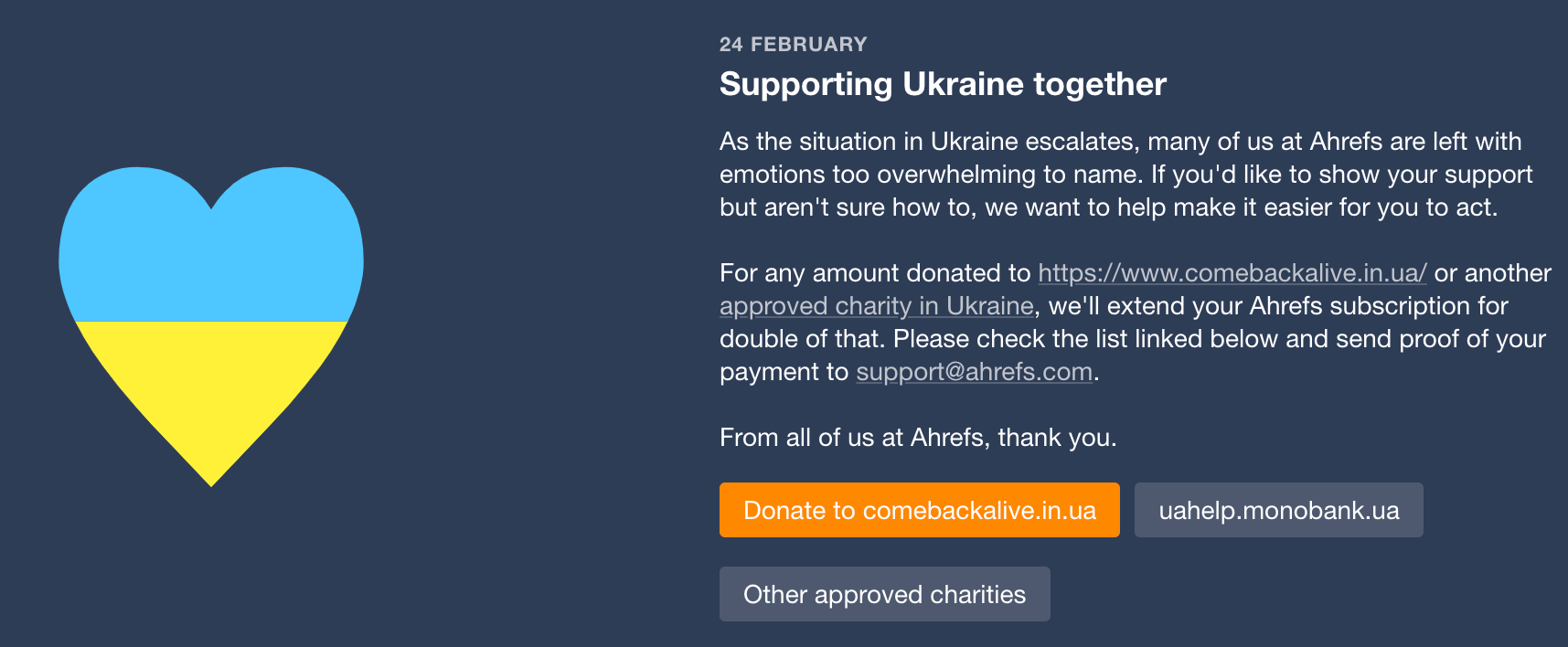 A customer donating $100, for example, can get $200 of subscription value in return. This resonated with many subscribers, who mentioned the campaign on platforms like Twitter.
As part of ethical marketing, brands can use their social media accounts to write about causes they are passionate about and demonstrate actions they take to support those issues. For example, if a business wants to support animal rights, it can collaborate with charities like Friends of Animals or Animal Welfare Institute.
Be transparent
Building trust with customers is crucial for every brand, and transparency is a part of the process. Think of what they need to know about your product or services.
For example, many fashion companies say that their clothes are manufactured ethically.  But American clothing retailer Everlane has decided that it is not enough and has stated its mission as fostering "radical transparency" in the fashion sector.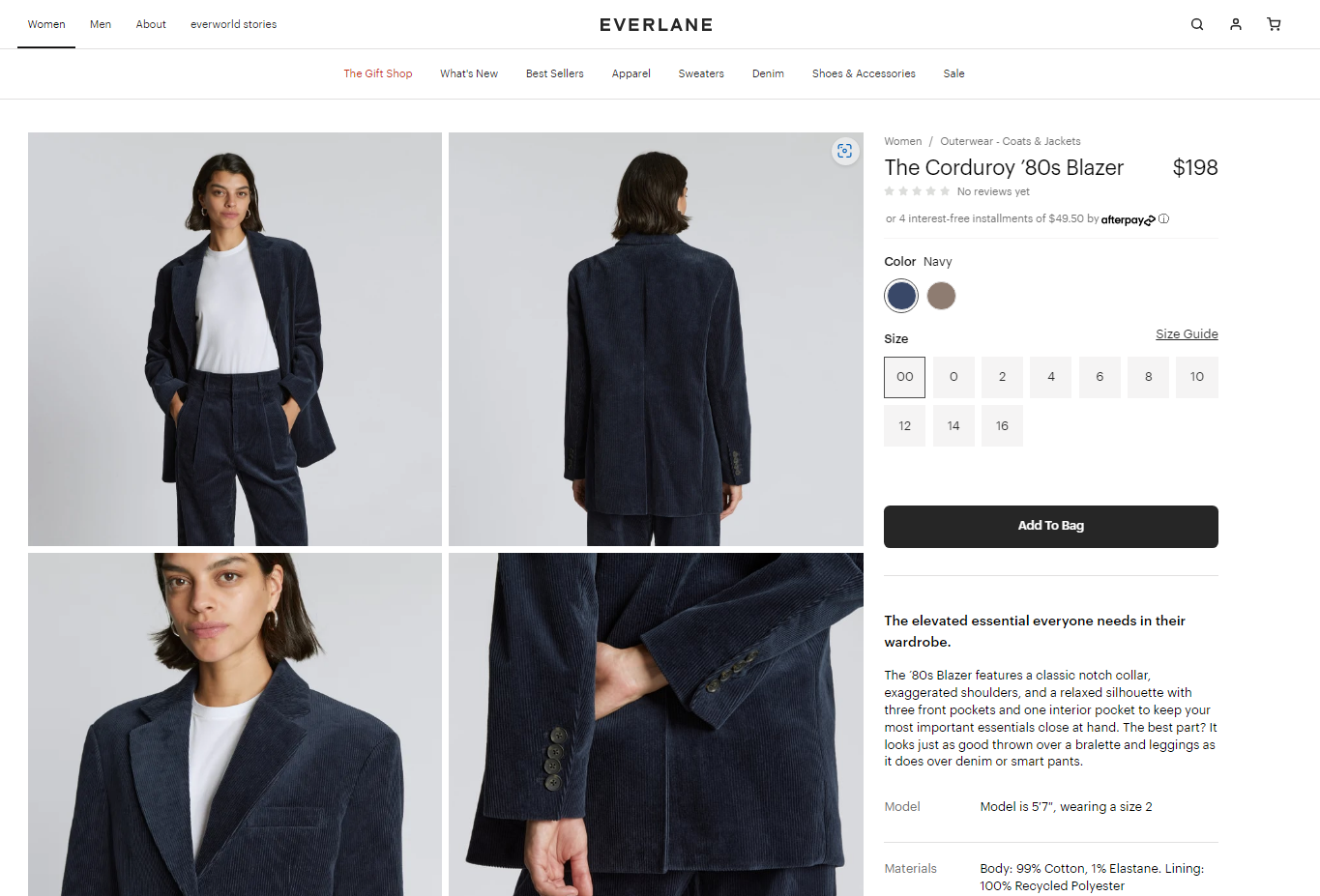 The retailer provides customers with a cost breakdown for each of its garments. This includes details on the cost of materials, labor, transportation and logistics, excise taxes and duties, and even hardware such as zippers and buttons.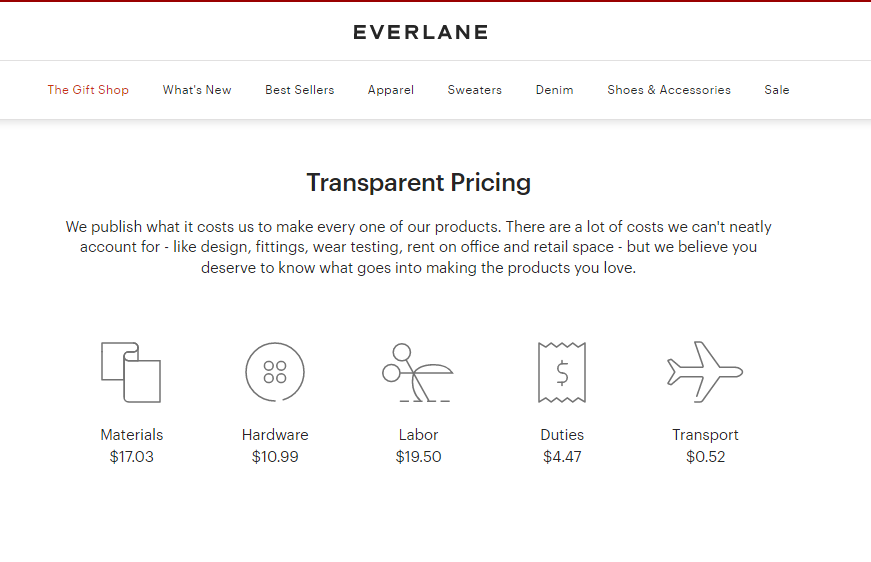 Everlane uses Snapchat to share the company philosophy and culture, featuring company office tours and even their warehouses in action.
Commit to upholding human rights
People want to feel assured that the products they buy are ethically produced. If your business helps to raise living standards and protect local communities, this adds extra value to what you do.
One example is the coffee industry, which supports the livelihoods of more than 120 million of the world's poorest people.
Many companies are seeking to improve conditions for coffee farmers and producers around the world, and Conscious Coffees is one of the successful examples.
The company engages in a wide range of community outreach initiatives. Its CAFE Livelihoods Program empowers people in El Salvador, Guatemala, Mexico, and Nicaragua to own and operate their coffee businesses through training and ongoing support.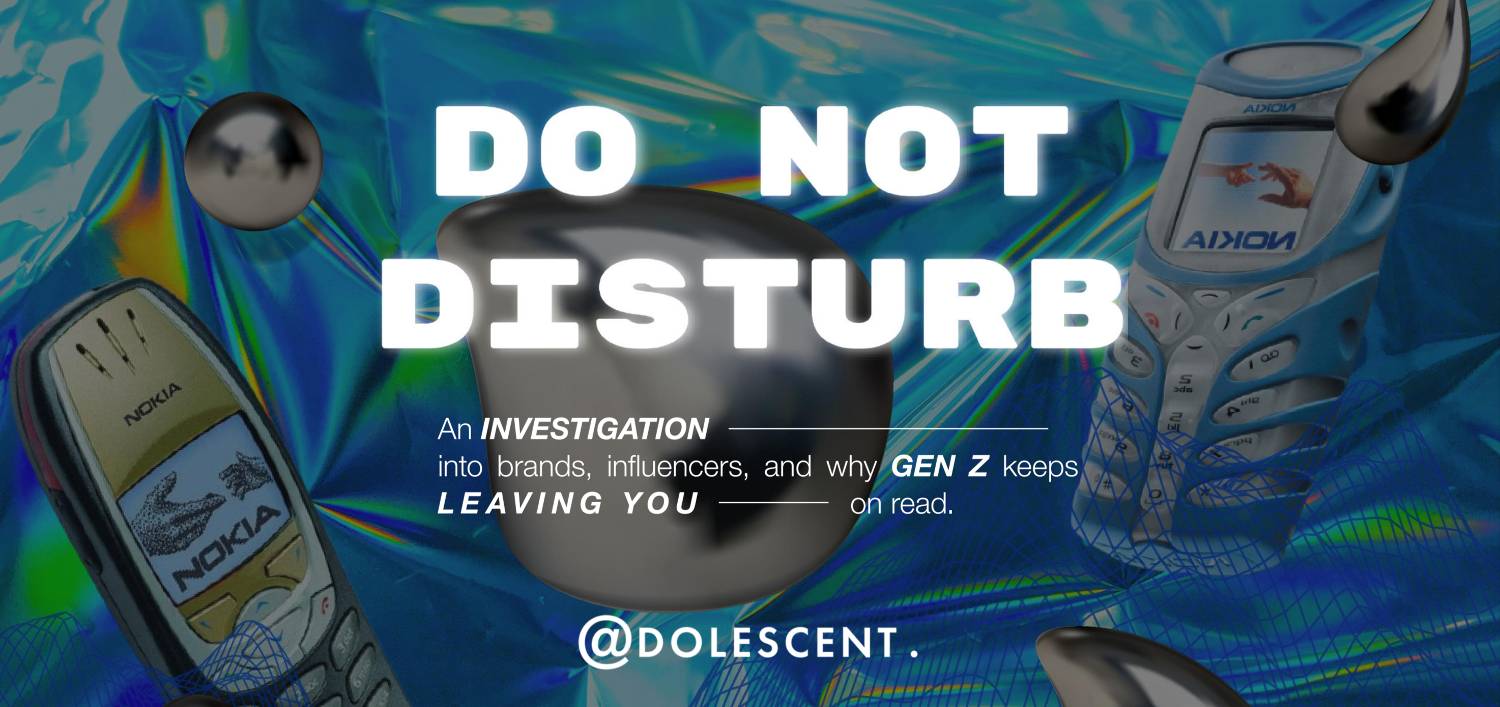 As part of another initiative called Farmer-to-Farmer, Conscious Coffees experts offer support to growers and farmers across South America in learning new techniques. Everything about Conscious Coffees, from its name to its logo, reinforces the company's ethical production philosophy.
This is an example of a brand that not only uses ethical marketing practices but embodies them in everything it does.
A recent study shows that both Millennials and Gen Z consumers tend to make purchases based on their values, and the majority of Gen Z shoppers are even willing to spend an additional 10% more on eco-friendly products. This proves that commitment to ethical marketing nowadays is a win-win strategy for business and society.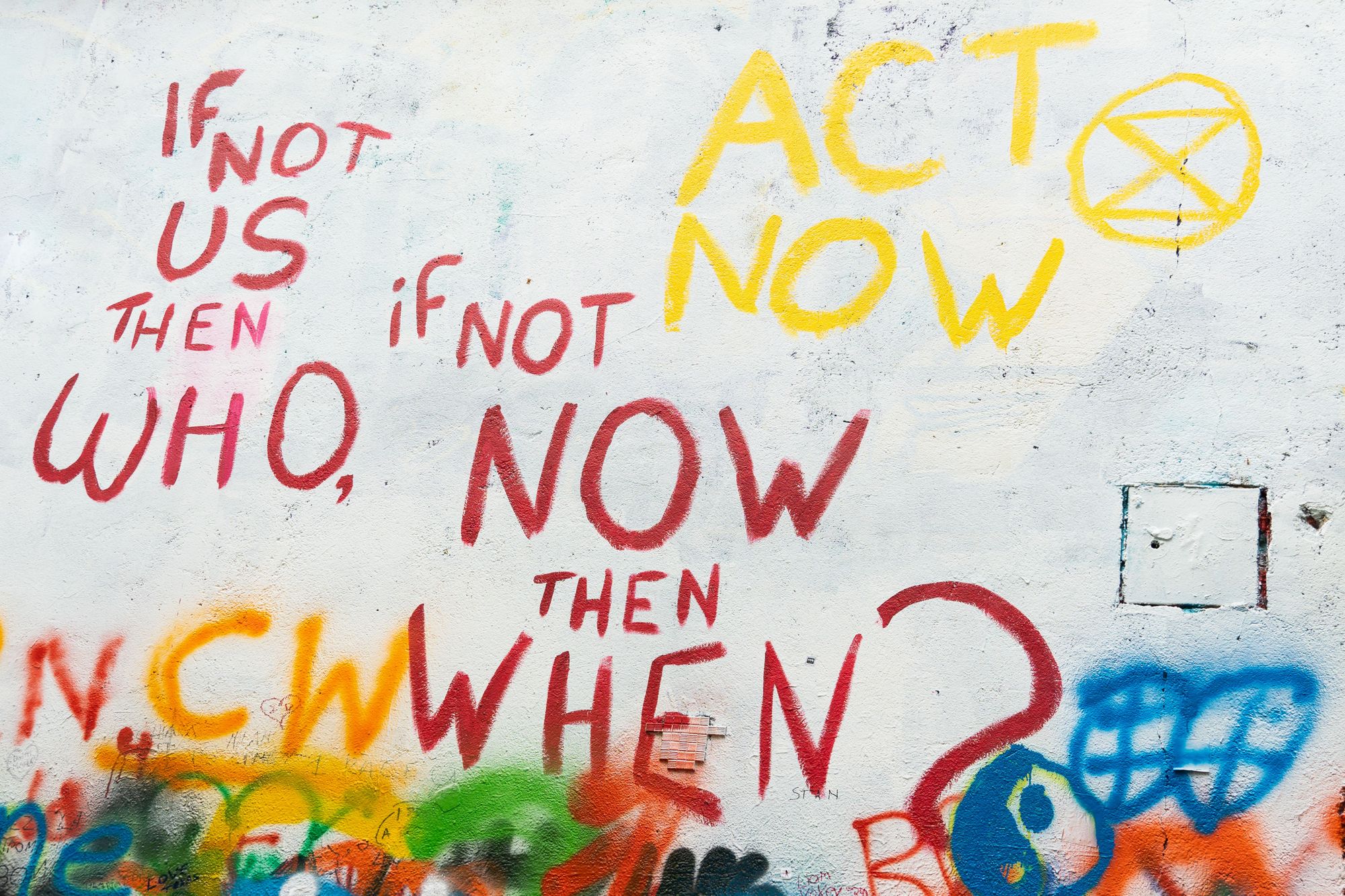 Save time and money when creating and distributing high-quality content for branding and marketing with ContentGrow. Sign up to get your campaign started or book a quick call with our team to learn more.