Report: enterprises see positive results from SEO marketing in 2021
Conductor surveyed more than 350 marketers from enterprises and mid-market firms. Here are several unique insights.

Conductor, an organic marketing platform for enterprise, recently released a report titled, "The State of Organic Marketing in 2022." The company wants to showcase how enterprise firms treated their SEO projects in the past year and what practitioners plan to do on the organic marketing front in 2022.
The martech company surveyed more than 350 marketers from enterprises (those with more than 1,000 employees) and mid-market firms (those that employ between 500 to 1,000 employees). The respondents came from various backgrounds, including those that handle SEO, content marketing, and web development.
Here are several unique insights from the report.
SEO works when you put enough investment into it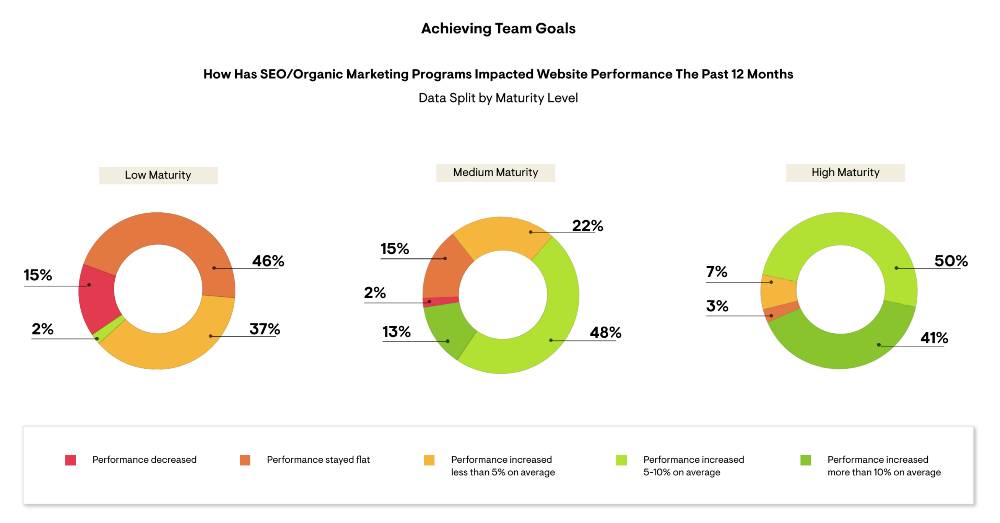 Conductor separated its respondents into three categories based on their company's maturity level with organic marketing:
Low maturity (11%) - organizations are still in the early stage of creating an SEO vision and may be prepared to implement it on a small scale.
Mid maturity (57%) - organizations have achieved short-term goals and are now looking to build long-term plans. They're trying to figure out how to scale this effort.
High maturity (31%) - organizations have built out processes, dedicated teams, and support across the organization. They are focused on advanced factors like technical SEO and deep platform integrations.
The survey revealed that more than half of mid-maturity firms (61%) and high-maturity ones (91%) recorded at least a 5% website performance growth in 2021. On the other hand, only a mere 2% of low-maturity companies saw a similar growth increase.
This is because low-maturity firms do not have adequate resources for organic marketing. The study found that low-maturity firms are significantly behind their peers in terms of executive team support, SEO expertise, and organic marketing processes.
For example, 48% of low-maturity firms get minimal to zero support from the executive team. Meanwhile, the exec teams actively support and invest in organic marketing at mid-maturity (74%) and high-maturity (98%) firms.
Organic marketing: in-house vs. outsourced talent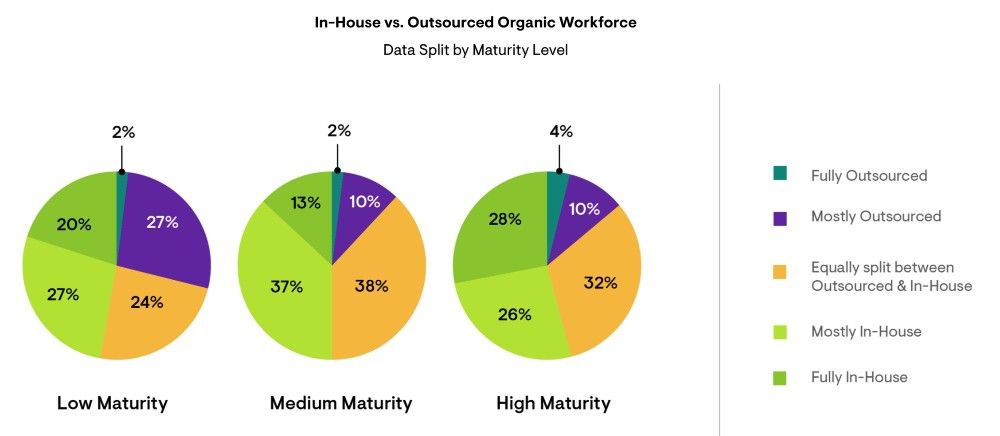 All three company types reveal that they actively outsource organic marketing work. Low-maturity (53%), mid-maturity (50%), and high-maturity (46%) teams are delegating at least half of their SEO efforts to outsourced talents and agencies.
According to the study, low- and mid-maturity firms primarily outsource work to agencies and technology vendors. On the other hand, high-maturity firms outsource to technology vendors and consulting firms.
Who are the decision makers?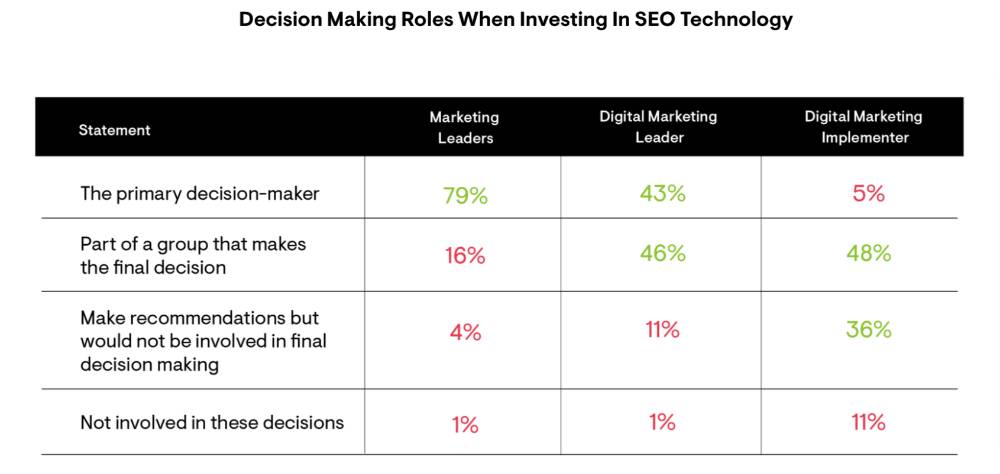 Interestingly, the report also explored the three stakeholders who influence purchasing decisions for SEO tech. They are marketing leaders, digital marketing leaders, and digital marketing implementers.
Conductor found that most marketing leaders (79%) tend to be the primary decision makers. Half of the digital marketing leaders (46%), on the other hand, tend to make purchasing decisions in groups.
Practitioners shouldn't underestimate the influence of digital marketing implementers. According to the survey, half of them (48%) actually make the final call for purchasing decisions. The report noted that third-party review sites like G2 and TrustRadius significantly influence purchasing considerations.
These three stakeholders also hold different organic marketing priorities for 2022. Marketing leaders prioritize building more collaborative SEO processes. In contrast, digital marketing leaders want to increase the rate of SEO improvements. Meanwhile, implementers wish to have enough bandwidth to accomplish SEO goals.
Overall, respondents plan to prioritize the following initiatives in 2022: digital advertising, user experience, content marketing, email marketing, and organic search.
You can find more insights from the report here.
Save time and money when producing high-quality content. ContentGrow helps marketing teams work with perfectly-matched freelance writers and journalists at preferred rates. Fill out the form below to get your own shortlist of talent or visit the site to get started.