Here's how the future of video will play out
Video has undergone one of the most significant changes in the digital sphere over the past 10 years, so what's next in its evolutionary trajectory?
There is no denying that over the past ten years, the digital world has experienced a significant shift. We are now inhabiting a world where mobile has overtaken desktop – people often research potential employment, restaurants, things to purchase, and more on their mobile devices.
Video media, in particular, has seen a fundamental shift in generation and use. Over 10 years ago when mobile data was scarce, people preferred smaller-sized media such as images, gifs and text material.
Fast forward to about three years ago, when the pandemic hit, internet penetration has skyrocketed, especially on mobile devices, as the entire world found themselves locked in their houses.
Telco companies have increasingly offered more attractive data plan pricing, and even in developing economies in regions like Southeast Asia, digital has taken over almost everything, and understandably, so has media consumption patterns changed.
Video has undergone one of the most significant changes, and how companies communicate has changed as a result of the popularity of video. Furthermore, it has altered the preferred method of client interaction.
The use of video in content marketing is expected to keep growing as more and more businesses recognize the power of video to engage and inspire their audience.
Video: A branding and content marketing essential
The rise of platforms such as Twitch, YouTube, TikTok, and Instagram Reels is also expected to drive the growth of video content marketing, as these platforms provide new opportunities for businesses to reach and engage with their audience.
Businesses can leverage video content to increase their authority, the likeability of their business, and expand their reach to larger audiences.
HubSpot is one well-known company that has adopted an intriguing strategy for YouTube video production: they frequently share entertaining and educational video content with over 250,000 YouTube subscribers.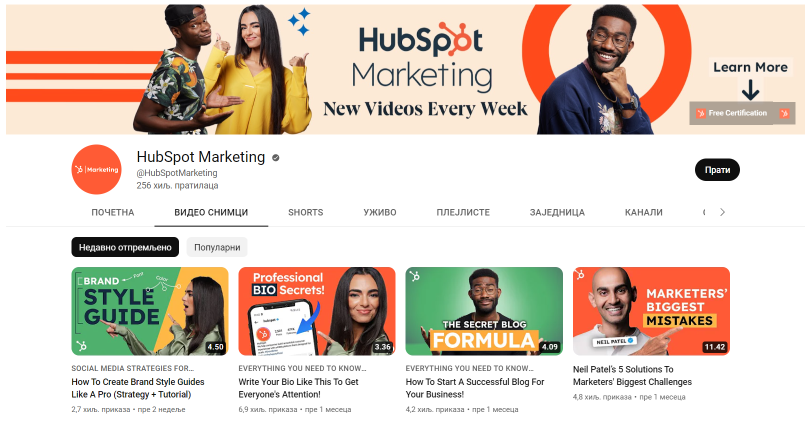 Video: A channel for customer personalization
Video is also expected to become more personalized and interactive as businesses use AI and other technologies to create more tailored and immersive experiences for their audience.
Research by Epsilon found that 80% of consumers are inclined to purchase from a company that offers a personalized experience. Therefore, it shouldn't be a surprise that customization is growing in popularity in the corporate sector.
One of the few businesses that employs personalization to promote their services is the global British telecommunications corporation Vodafone. In the video, the visitor is called by name and asked to upgrade his mobile plan.
Platforms like Sendspark, Hyperise, and Idomoo can also help companies with customer personalization through videos.
Videos will become more sophisticated
The use of video in content marketing is also expected to become more sophisticated.
This doesn't necessarily mean that businesses will need to have the best possible cameras and recording tools, but it is that businesses can use data and analytics to track and measure the performance of their videos and optimize their marketing, branding and sales strategies.
How-to videos is a category on YouTube that receives the most attention, which is why growing numbers of businesses are producing this kind of content.
Here's a sophisticated how-to-video example Adobe created:
The opportunity to express one's creativity is one of the best things about video content. You are not required to limit your videos to a single platform, topic, or goal. Use them as you choose to increase the success of your brand.
This kind of content may have a powerful influence on your digital marketing approach regardless of the type of business you manage, the products you sell, the services you provide, or your target audience.
Overall, video is expected to become more integrated into the business pipeline as companies use video across multiple channels and platforms to create a seamless and consistent brand experience for their audience.
Save time and money when producing high-quality marketing content. ContentGrow helps brands and publishers work with perfectly matched freelance content creators at preferred rates.
Book a quick call today or visit the site to get started.