Omdia: TikTok to overtake YouTube, Meta in video ad revenue by 2027
TikTok advertising has been booming despite a slowdown in the US market. Find out how the platform wins consumers' hearts and what makes its ads stand out.
TikTok advertising revenue has been skyrocketing, outperforming smaller rivals and posing growing competition to major players Google, as well as Facebook and Instagram's Meta.
This year, TikTok's advertisement revenue is likely to triple to more than US$11 billion, surpassing Twitter and Snapchat combined, according to the research company Insider Intelligence.
Although it is not enough to catch up with the biggest players just yet, the company's analysts predict that TikTok's power will grow in the years to come.
Technology research group Omdia expects online video advertising to generate more than US$331 billion in 2027, with 37% of those revenues belonging to TikTok.
"In the US, TikTok has overtaken other social media platforms to become the most popular place to watch videos," said Maria Rua Aguete Senior Director in Omdia's Media and Entertainment practice group.
"Last month, our research showed TikTok leapfrogged Netflix to become the second most popular app in the US, with only YouTube retaining the crown for under 35s viewing," she added.
Omdia forecasts that by 2027, Meta and YouTube will have 12% each in the online video ad market.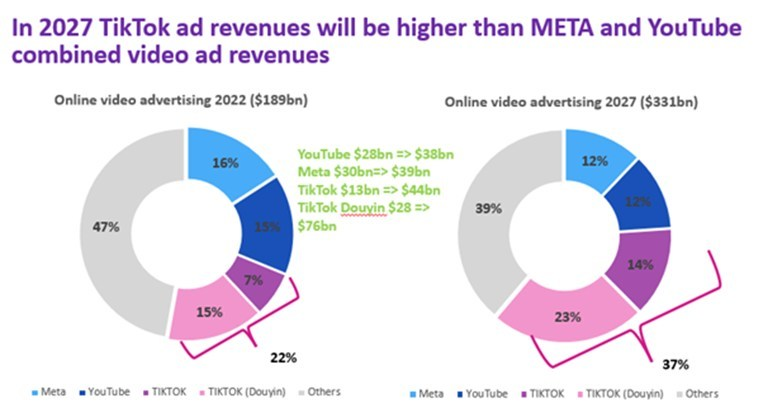 TikTok and its Chinese version, Douyin, will hold together 37%, or US$120 billion, while the remaining 39% will belong to other market players. As of 2022, TikTok and Douyin have a 22% market share, while Meta holds 16%, followed by YouTube with 15%.
Insider Intelligence expects TikTok ad revenue to hit US$23.58 billion by 2024, placing the app at a level similar to YouTube's.
TikTok reached critical mass very quickly by targeting the young consumer market that has been hard to reach via channels such as traditional TV and other social networks.
Snap, for example, called TikTok one of its "very large and very sophisticated competitors."
TikTok's skyrocketing growth continues despite a slowdown in the US ad market caused by inflation, higher interest rates, and people spending more time outdoors compared to the pandemic. The US ad market declined for the fifth month in a row in October, according to Insider Intelligence. However, the decline hit most older channels like linear TV.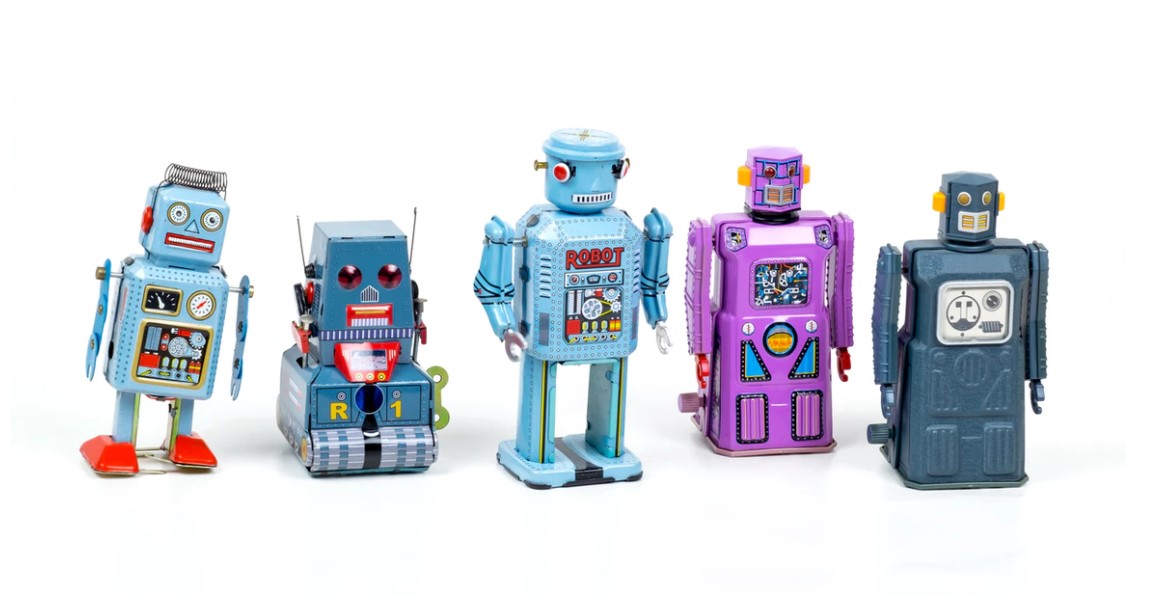 How TikTok wins consumers' hearts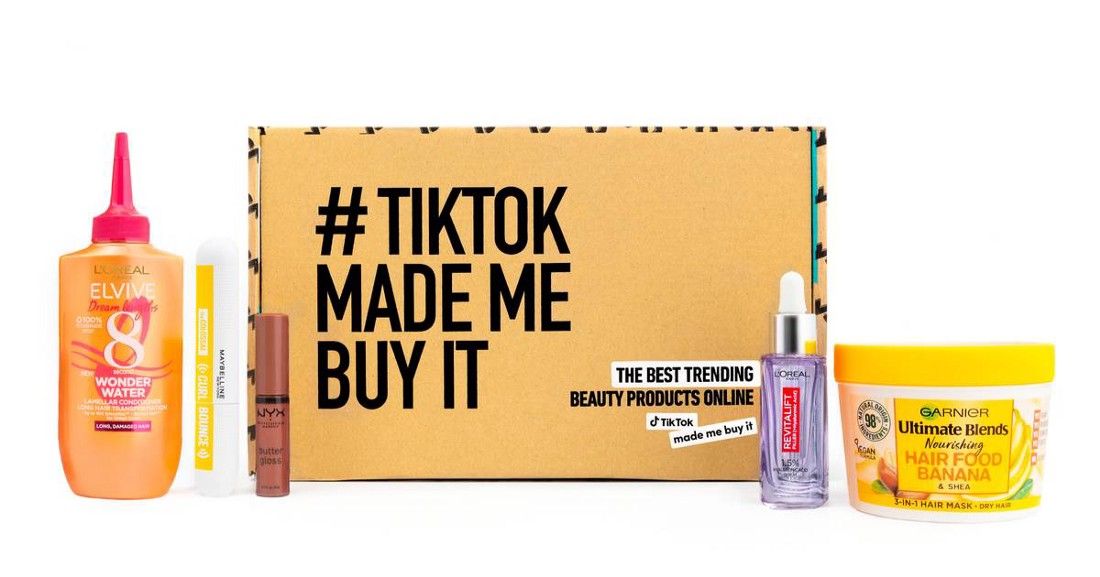 TikTok has adopted unique strategies to boost its ad business. TikTok's ads appear on the platform like any other full-screen video, so users often do not immediately differentiate the ad from other posts. "Don't Make Ads, Make TikToks," the company said to the brands, encouraging them to create authentic content "that speaks to people".
"Brands have taken notice that being yourself is good for business, and we aim to continue providing a platform so they can build a meaningful presence," TikTok said.
TikTok has also promoted the hashtag #TikTokMadeMeBuyIt to improve engagement. The hashtag helps brands showcase their products and make content go viral. Buzzfeed even released its own list of 'Tik Tok made me buy it' products they love.
TikTok vs Facebook ads
Being a relatively new platform for ads, TikTok is generally more affordable and accessible to small businesses compared to Facebook. In addition, because of the Facebook size, it is harder to stand out with your ad.
Omdia argues that advertising on Meta lost its effectiveness, which caused many brands to divert their advertising budgets elsewhere. This happens as Apple's privacy restrictions, which came into force last year, hit Meta's advertising business.
However, if a brand wants to promote itself on several social media platforms, Meta is hard to compete with. The company owns Facebook, Messenger, Whatsapp, and Instagram, which means companies can use a single ad and deliver it across popular apps. It's also also possible to adjust the add so that it fits better for the specific platform.
Although TikTok's global digital ad share is still relatively small compared to Meta and Google nowadays, it's growing power does not stay unnoticed. Meta's CEO Mark Zuckerberg called TikTok a competitor to Facebook at least five times during the company's earnings call in February.
"The thing that is somewhat unique here is that TikTok is so big as a competitor already and also continues to grow at quite a faster rate off of a very large base," he said.  
Aguete of Omdia says TikTok's journey has been very interesting and it's clear that their model works. "This is a platform which offers a huge audience reach and potential to advertisers which cannot be ignored," she concluded.
Save time and money when producing high-quality content. ContentGrow helps brands and publishers work with perfectly matched freelance writers and journalists at preferred rates. Fill out the form below to get your own shortlist of talent or visit the site to get started.