7 smart social media marketing examples to get you started for the new year
These days, a strong social game is often needed for businesses to thrive.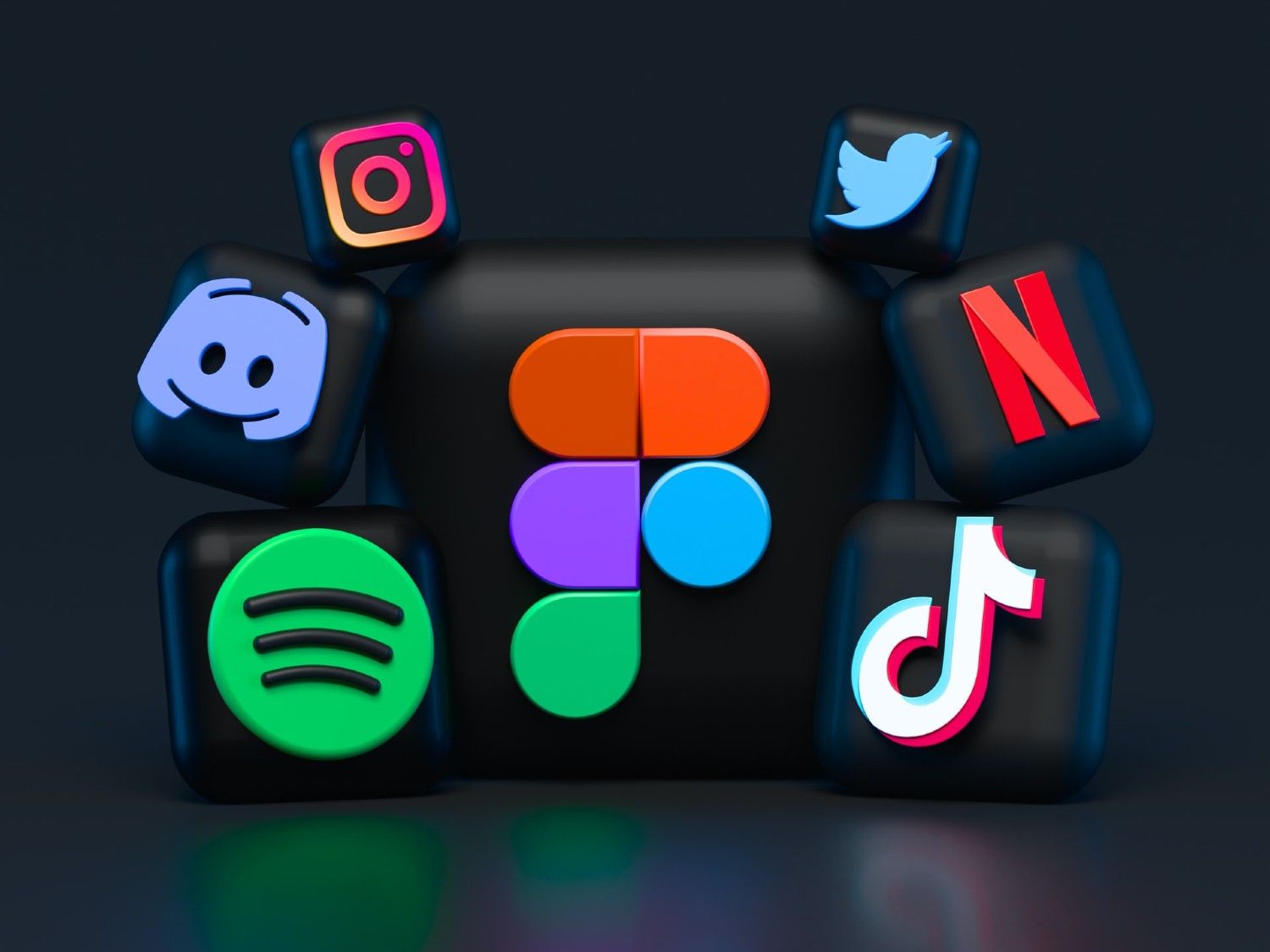 It has become almost a necessity for any modern brand to have a strong social media presence. From reaching a larger audience to bolstering customer consideration, social media helps marketers keep track of competitors and learn more about the customer's buying patterns.
According to Facebook, 83% of users now utilize Instagram to discover new products and services. 87% become more likely to make a purchase after checking out a brand's social account. A couple of simple yet interesting stats are that 90.4% of millennials and 77.5% of Generation X have become social media users.
Seasoned marketers know they must reach customers through a variety of social channels (not just one or two). In the context of creative, to get your juices flowing, we've compiled a list of clever social media marketing examples by top brands, and unpacked a bit about what marketers can learn from them.
Nike – Emotional and inspiring content
It should come as no surprise that Nike is one of the most-followed Instagram accounts today. With 146 million followers at its disposal, the brand cleverly uses an emotional approach to soft-selling.
For example, in a recent post, Nike highlighted a roller skater who champions body positivity. The post received 194,000 likes and resonated with its community who wants to read uplifting and inclusive stories.
According to social media manager Wes Warfield, the sports apparel brand gives employees guidelines for handling customers and empowering them to "represent the brand" in their own way.
Warfield said, "We make sure that our team is briefed on the stories that are going to be told among the various Instagram accounts. Doing so helps us to stay consistent in terms of voice, messaging, hashtags, captions, etc."
Sephora – Tips and tricks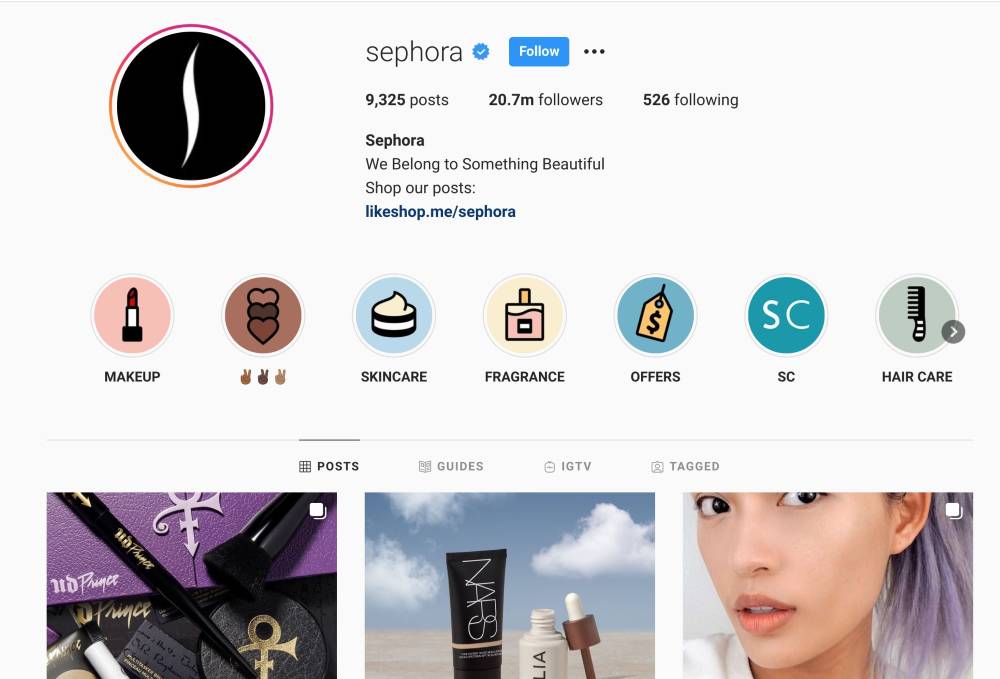 Makeup enthusiasts tend to appreciate tips and tricks. Retail giant Sephora uses this to its advantage. Taking a glance at its Instagram page (clocking in at 20.7 million followers), we can already see several beauty hacks posted by influencers and business owners whose brands are available at Sephora.
For example, in this post, Sephora invited beauty entrepreneur Bee Shapiro to do a live chat about the company's products on Mother's Day. Garnering 90,000 views, the post is fun to watch and gives followers valuable information that may inform their purchases.
Sephora also likes to give shoutouts to various social causes, like this one, where it highlights brands owned by Asian-Americans and Pacific Islanders. Another one focuses on Patrick Ta and his life story.
See: 29 smart B2B content marketing examples and success stories
Wendy's – Unconventional methods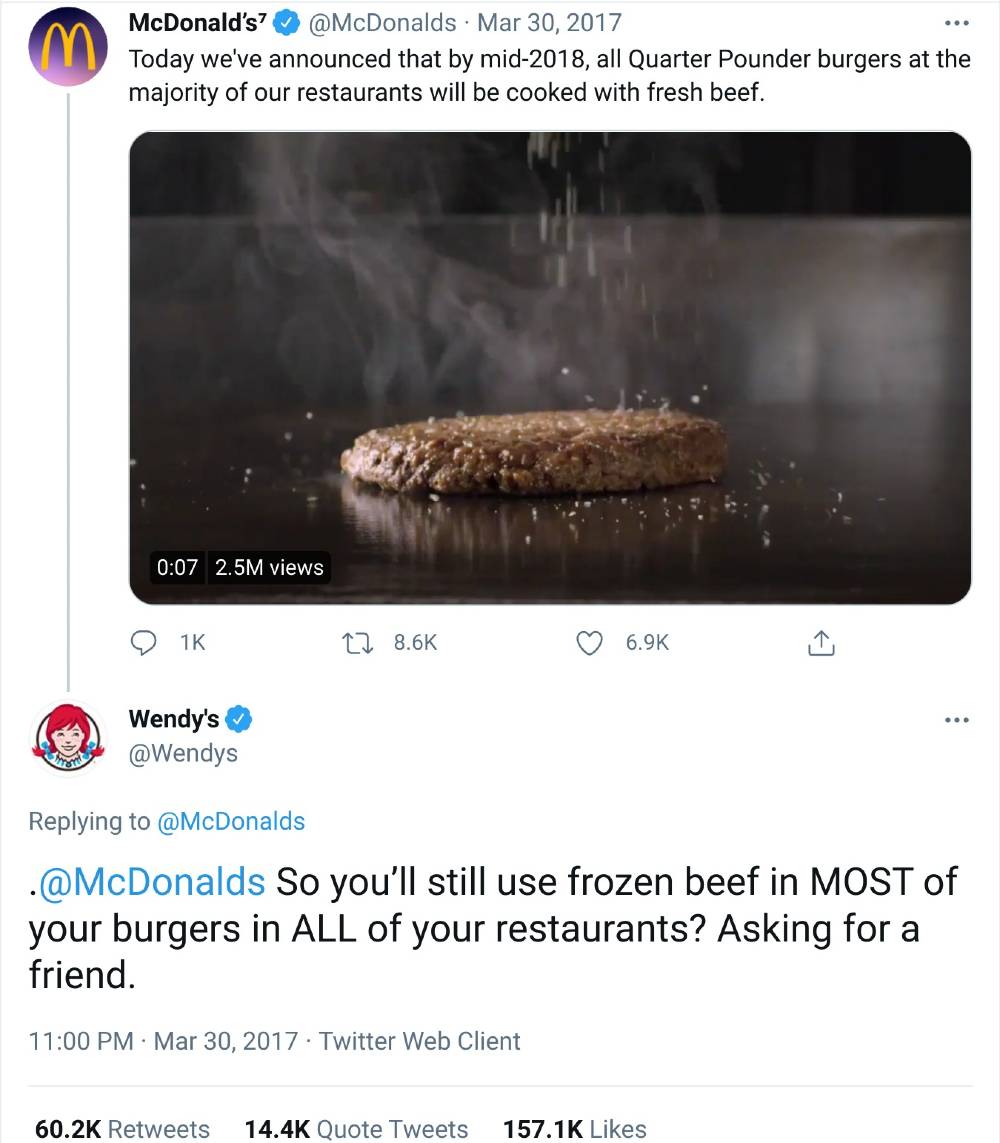 It was 2017 when Wendy's caught everyone's attention for its hilarious tweets that 'roasted' competitors (namely McDonald's). Not only did the fast food chain increase its Twitter following by hundreds of thousands in a short period (currently it has 3.8 million Twitter followers), but the stunt also impacted income.
Not stopping there, Wendy's took it a step further by releasing a five-track mixtape called "We Beefin'?" in 2018. If you're wondering whether the brand's social team asked for approval before posting a tweet, you're in for a surprise.
According to Wendy's chief concept and marketing officer Kurt Kane, his team follows a standard set of rules, but they have total freedom to experiment, even if they make mistakes at times. Kane said, "We want to be likable and sassy. We don't want to be seen as sarcastic and rude. But we walk a fine line."
It's important to note that Wendy's roasting method is not for anyone. However, several notable brands like Slim Jim, for example, have since followed Wendy's lead and incorporated memes and humor into their social media marketing approach.
Starbucks - Customer interactions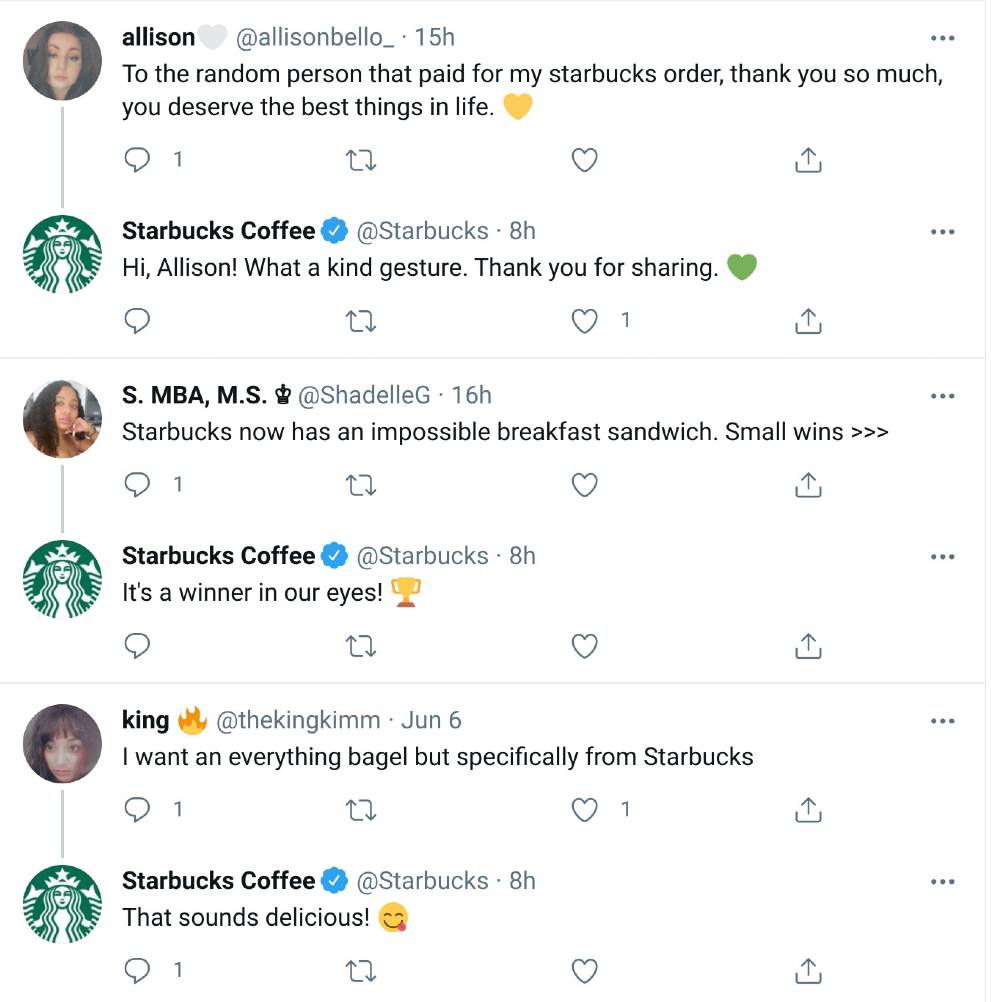 With millions of followers, the famous coffee brand uses Twitter mainly to interact with customers. A glance at the Starbucks Twitter page shows how the company harnesses the power of user-generated-content. The feed is filled with customers' retweets. The company also makes sure to cheerfully reply to anyone who mentions Starbucks-related terms online (e.g. venti latte, grande frappuccino, etc).
In fact, according to Unmetric, 99% of Starbucks tweets are replies and retweets. This is how the coffee giant successfully encourages customers to share their love of the brand online as a form of free advertising.
Warby Parker - Intertwining business with social media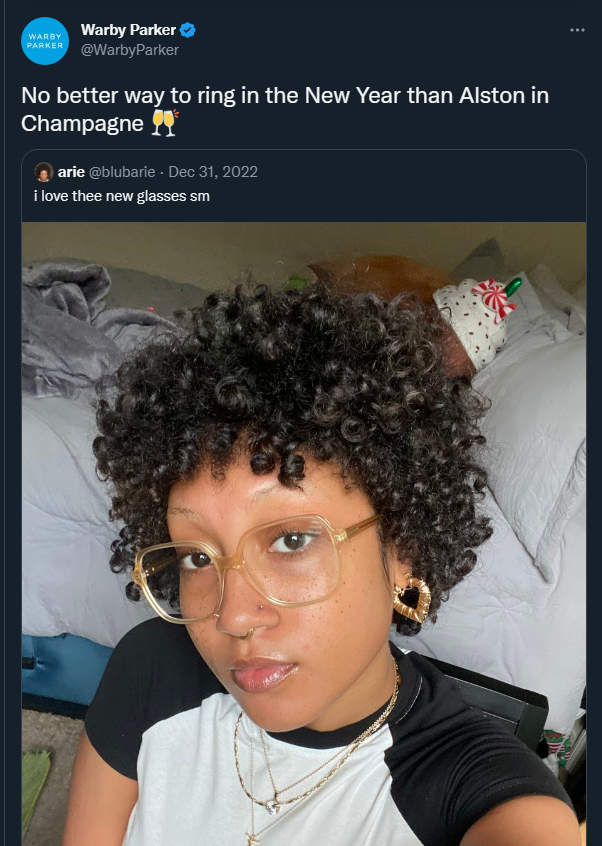 Warby Parker, a popular American glasses retailer that started as an online retailer, is one of the pioneers of social media marketing. Facing a giant monopoly in the US glasses market, the founders of Warby Parker put their vision into action by selling high-quality, low-cost eyeglasses online directly to retailers. With a direct-to-consumer model and now with over 150 stores, Warby Parker thinks of the customer first and puts it into practice during each part of the sales and marketing funnel.
Despite having a much smaller social media presence than any other brand on this list, Warby Parker prioritizes interacting with customers and showcasing their products on a diverse group of individuals. They know that to make a purchasing decision online, especially on a product like eyeglasses or sunglasses, you need to be able to imagine the product in person.
Not to mention, Warby Parker uses AR on their mobile app, so you can see glasses projected onto you. By the time customers decide to purchase glasses, they can choose five frames to get sent to them through the mail. On top of this, Warby Parker also donates a pair of glasses for every pair sold and does other philanthropic work through the Warby Parker Foundation.
PlayStation - Keeping people on social media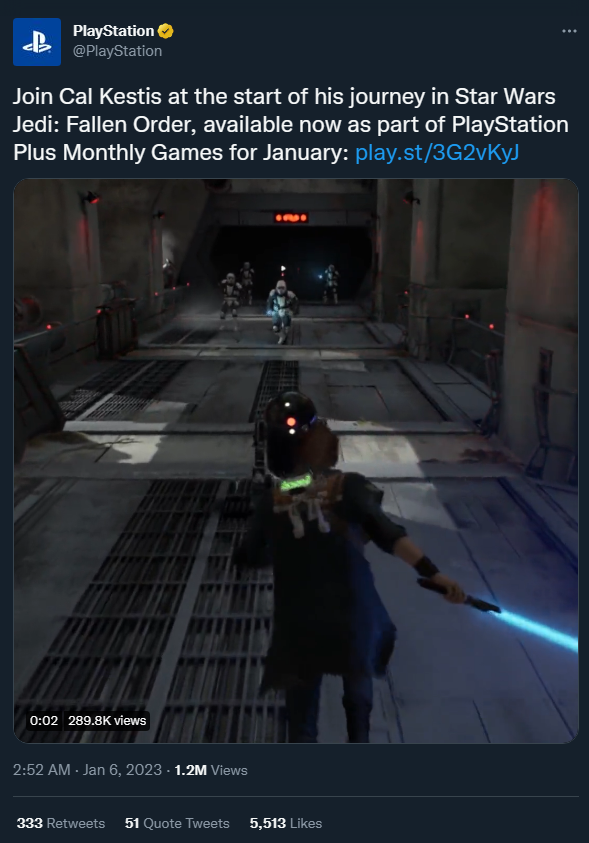 There is no brand with a larger following on Twitter than PlayStation—amassing over 27.7 million followers. Still, you'd be surprised if you looked at their relatively abysmal interactions, likes, and shares. Yet, when it gets down to business, their assumed audience of antisocial gamers on social media can't get enough of their content.
PlayStation creates between one to three game posts—GIFS, stills with copy, or videos (trailers, gameplay footage, ads, YouTube highlights, tournament footage, etc.)—on Twitter every hour. While at first glance, you may assume they have low interaction, it is extremely easier to binge their site page for hours.
Likely with awareness of the addictiveness of TikTok and the Gen Z obsession with short-form video content, PlayStation gets you hooked on new, old, and upcoming titles. Seeing that the gaming industry sells primarily digitally now, the ten minutes a potential customer spends watching seven to eight trailers will likely lead to a purchasing decision.
LEGO - Piecing together a strategy brick by brick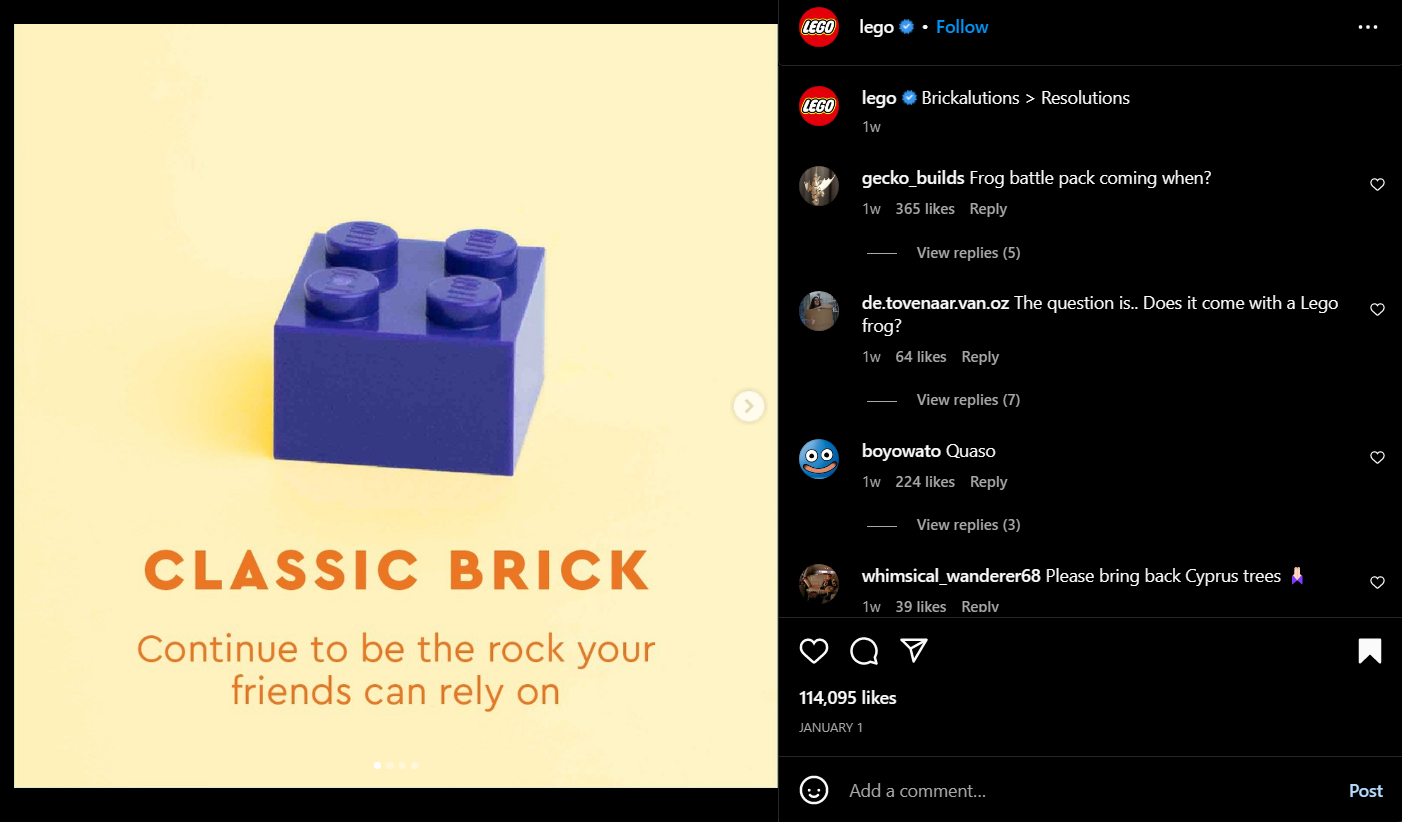 While Legos by themselves may be thought of as tiny and flimsy plastic bricks, collectively, they are painstakingly pieced together to make masterpieces. In a similar vein, LEGO pieces together different forms of social media content on multiple platforms to cultivate a social media strategy that reaches numerous target audiences.
Since LEGO is an internationally famous brand, they utilize one remote social media marketing team working in multiple time zones to post at all hours of the day. On Instagram, LEGO uploads twice daily and mainly create seasonal, socially aware, and branded posts. LEGO takes an entirely different approach on Twitter by running multiple accounts related to their popular IPs; each has a unique fan base.
Most notably, LEGO dominates on YouTube. Long gone are the days when people window-shop in stores. With an active community on YouTube that reviews and gives building demonstrations, along with the efforts of their own channel—which posts TV-style episodes, clips of new product lines, collaborations, short films, etc.—nothing drives sales for LEGO more than YouTube.