11 smart B2B content marketing examples and success stories
It's never a bad time to refresh your marketing game. Learn from the best by checking these B2B content marketing examples.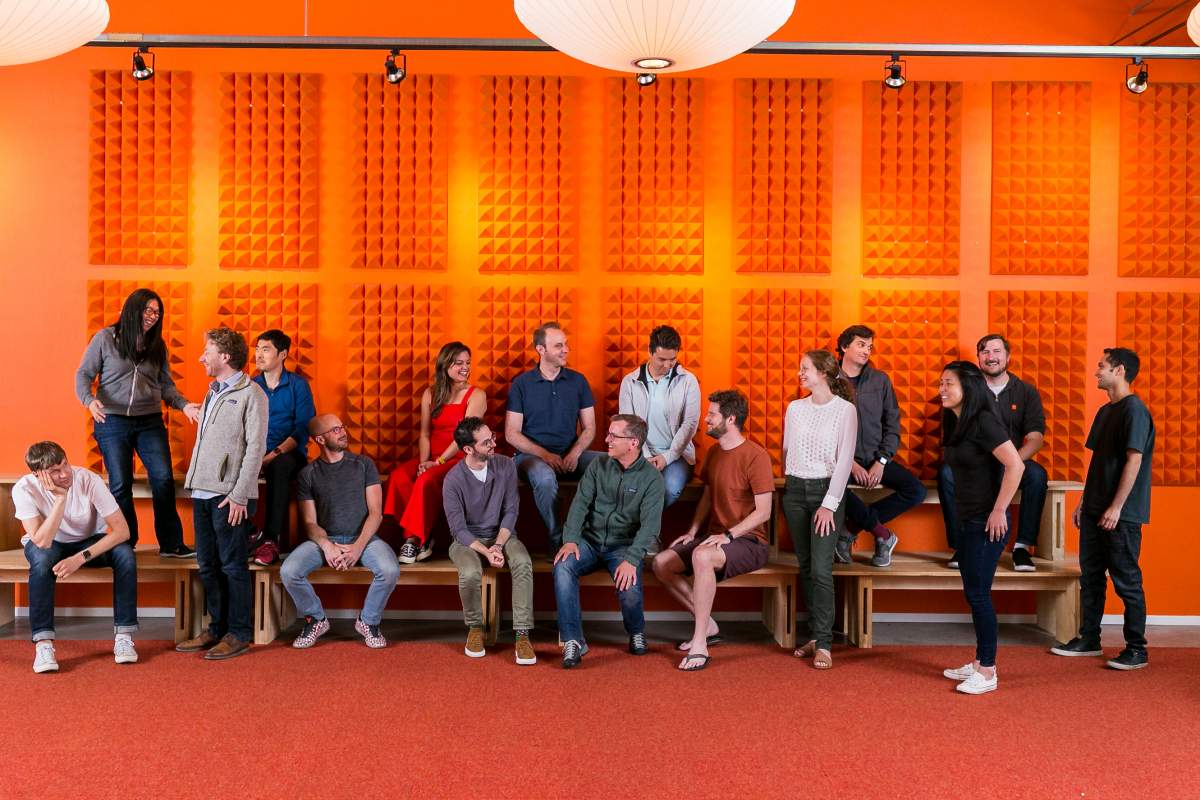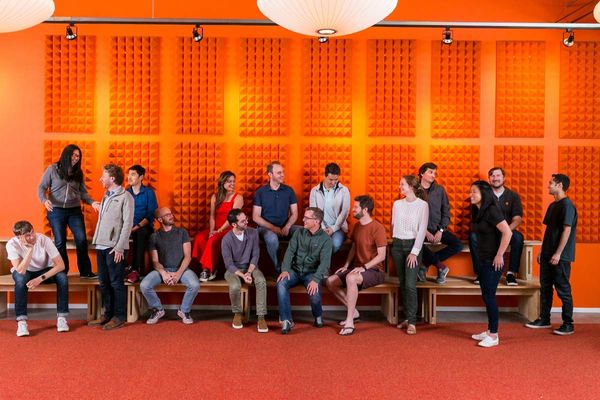 Content marketing continues to be lauded among B2B marketers. According to a 2020 CMI study, B2B marketers shared that they're able to effectively create brand awareness (86%) but also build credibility and trust (75%) with the target audience.
A separate study also revealed that the majority of global marketers were happy with their content marketing results in 2020. They expect to increase their content marketing budgets in 2021. It's crucial for marketers to continuously learn from the best. Below, we'll dive into some prominent B2B marketing examples and discuss what can be learned.
B2B content marketing examples
1. General Electric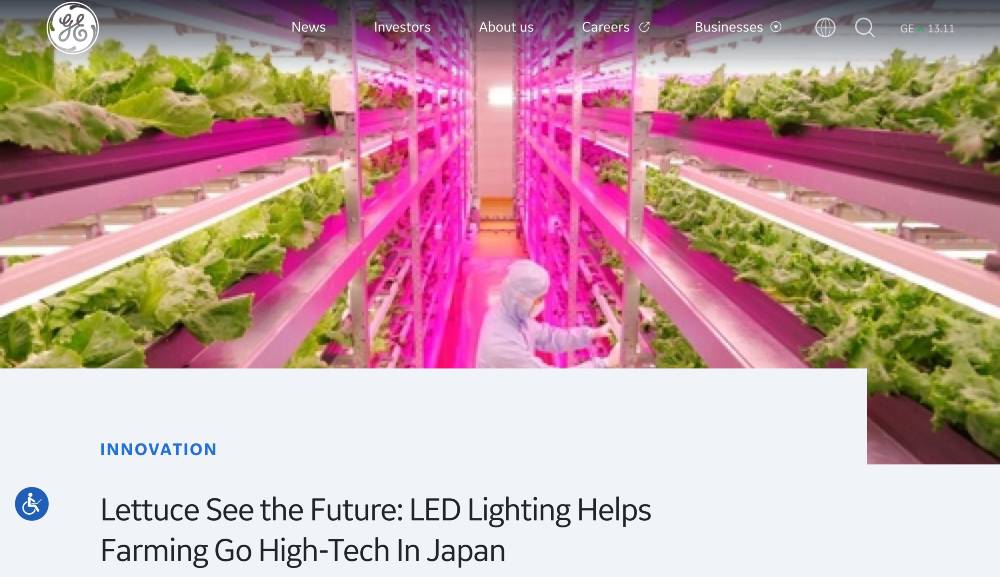 Established in 1892, this well-known American company offers products and services to businesses in many sectors, ranging from power and renewable energy to aviation, healthcare, and more. The company (GE) also produces GE Reports, a daily online media portal that shares interesting content about emerging technology.
In the last eight years, GE Reports has established an audience of more than 100,000 subscribers and currently records around 3.7 million monthly visits. In the classic journalism sense, GE Reports publishes content via in-person interviews and onsite (shoe leather) reporting. This in-depth reporting style has helped its content go viral on Reddit on numerous occasions.
According to GE Reports' Chief Storyteller Tomas Kellner, the key is to "retire the press release." Instead of focusing on promoting the brand, the team aims to put more emphasis on simply telling great stories.
In one fascinating story, GE zoomed in on how a Japanese firm was able to innovate in lettuce farming with the help of GE's LED lamps. When the story was shared and went viral on Reddit, the spotlight went toward the innovation, and did not overtly promote GE as a brand.
GE Reports' coverage on the coronavirus is another good example. Rather than writing about the innovative products GE created to fight the spread of the virus, the editorial team simply told the story of how medical workers are using the brand's products to save lives.
In both cases, GE's brand was subtly promoted — and seen by the right people — just by telling the true stories of its customers. Marketers will say this strategy is effective because it reaches the target audience when their guard is down.
2. HubSpot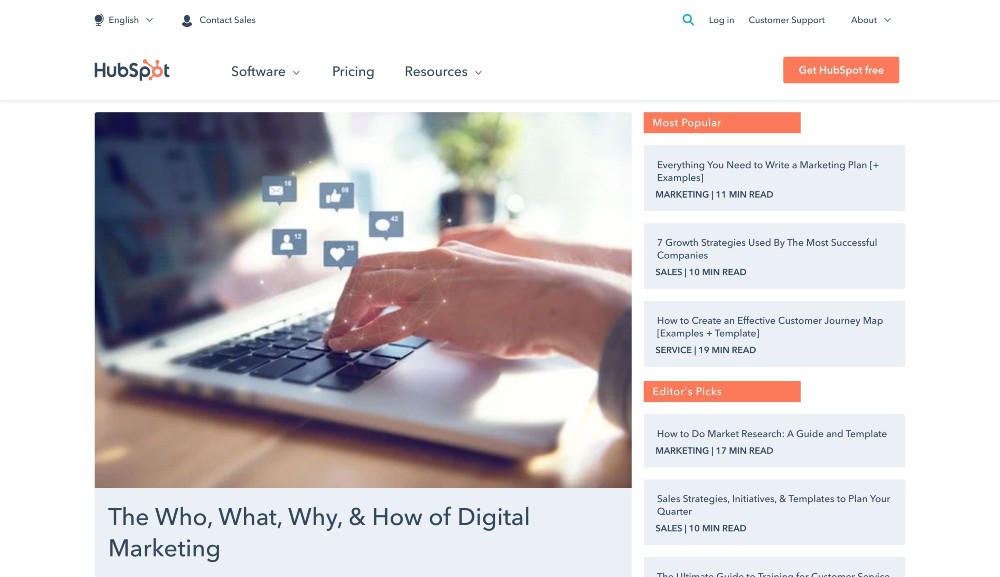 US-based HubSpot markets software products for sales, customer service, and inbound marketing. The brand is well-known for its marketing blog, which teaches small businesses everything they need to know about sales and marketing.
Producing insights since 2007, the company is considered a pioneer of B2B content marketing. HubSpot provides research, original data, and insights about how readers can increase their revenue with or without HubSpot. On top of its blog, the team also produces content in different formats like ebooks, webinars, marketing kits, and online courses.
Former CMO Mike Volpe used to joke that because the team already had so much content, it wouldn't dent its lead flow significantly if the content team went on a month-long holiday.
As a result, it is estimated that HubSpot now has an audience of more than six million. According to SimilarWeb, the site currently generates 14 million monthly visits from organic search. HubSpot's case is proof that a high-quality content marketing play can help save firms a lot of money in the long run.
See: Ex-HubSpot CMO Mike Volpe shares inbound marketing gems
3. Deloitte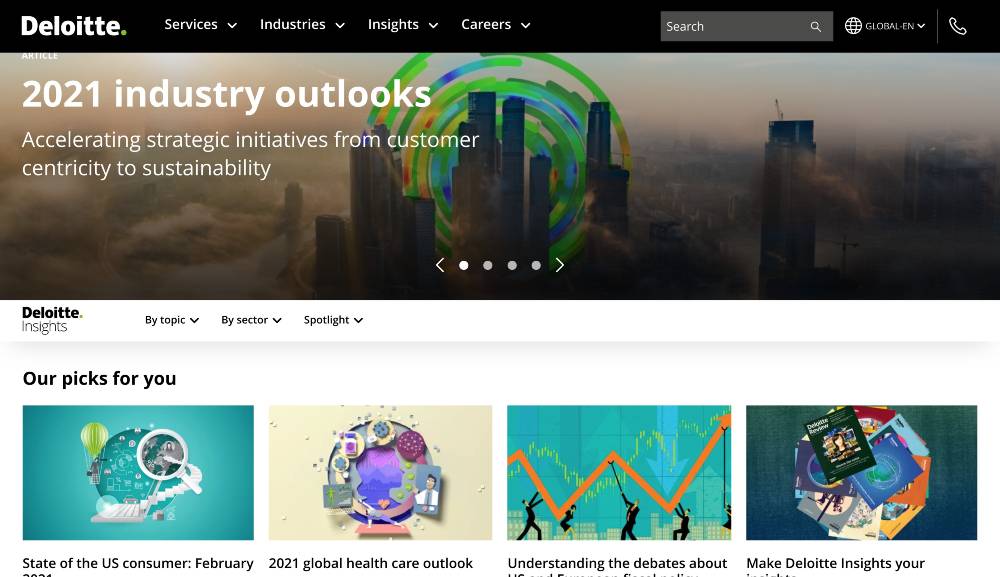 Deloitte is among the so-called 'Big Four' of the accounting industry. The company serves many industries, from private life sciences companies to large publicly traded conglomerates. Deloitte offers various professional services such as consulting, auditing, tax and financial advisory, risk advisory, and legal assistance to clients worldwide.
A company should always gear its content marketing toward a specific target audience. But it's a tricky situation for a large enterprise like Deloitte that has numerous services in many industries.
The company decided to put together an educational content hub called Deloitte Insights for each industry and topic. Readers can easily find relevant content in their industry by browsing through 12 topic groups (from blockchain to diversity and more) and 12 industry categories (from chemicals to healthcare and beyond).
The hub provides videos, in-depth reports, podcasts, articles, and more. The content is based on research and insights that can help individuals and organizations reach their potential. Deloitte's website attracts close to 10 million monthly visits, with popular business media players regularly citing and backlinking to the firm's content. Because of this, Deloitte continues to be a thought leader across a variety of sectors.
4. Salesforce
This popular CRM brand helps organizations form stronger connections with their existing and potential customers. Similar to other names on this list, Salesforce produces a variety of educational content in the form of ebooks, videos, and research reports.
Salesforce tried its hand with a three-month unique content campaign, which involved creating funny videos on sales and marketing, publishing customer success stories as animated slides, and creating a stop-motion presentation on SlideShare.
These innovative content formats helped ignite interest from new audiences. In turn, the firm saw a significant increase in overall traffic, ebook downloads, and newsletter signups that year. Marketers can give creative content approaches like this a try to spark audience engagement.
5. Y Combinator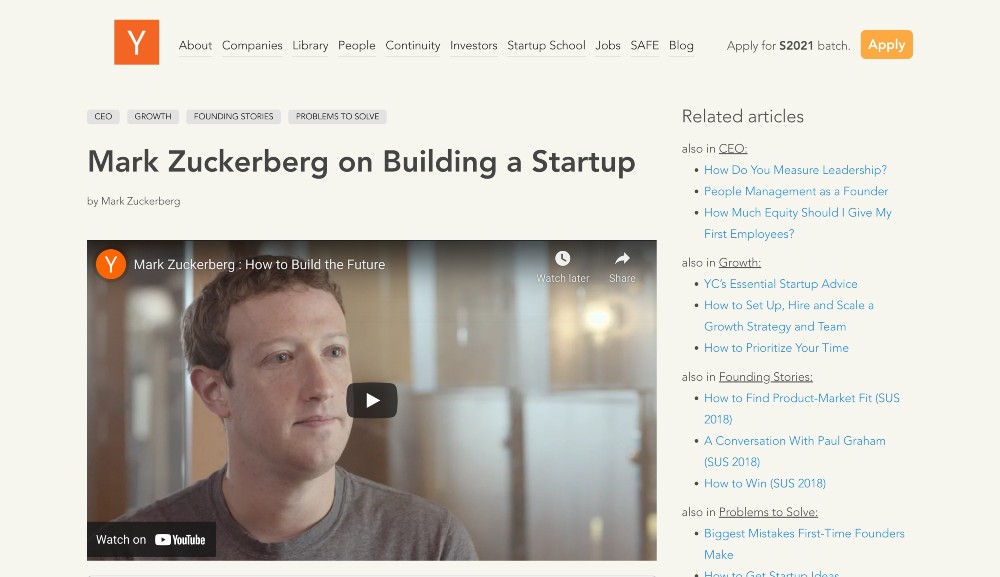 The famous US-based startup accelerator is not just popular because of its powerful portfolio. With less than 500 articles, videos, and podcasts, its site now generates more than 13 million monthly visits with an average on-page time of five minutes.
Arguably, the key ingredient is the quality of each piece of content. Y Combinator's insights are highly unique because the authors are experienced practitioners, entrepreneurs, and investors on the bleeding edge of their respective industries. Y Combinator has the clout to call up the world's biggest names such as Mark Zuckerberg and Elon Musk to share original insights.
The accelerator has also tapped the expertise of its alumni to share their best practices via a free online curriculum called Startup School.
The lesson? While your brand may not enjoy the same level of fame as Y Combinator, it is still worthwhile to seek out industry experts for crafting B2B content.
6. Zendesk
Zendesk practices what it preaches -- a customer service software focused on building a superb experience. In its blog called The Library, Zendesk touches on a wide range of topics, from customer support management and sales prospecting to metrics and data. The content is undeniably pertinent to customer service professionals.
The posts are well-informed and share knowledge on the ins and outs of customer service. The blog tastefully plugs in how Zendesk can help companies improve their own service. Zendesk presents content in a variety of formats, including podcasts.
See: 5 inspiring content marketing examples to level up your playbook
7. Hootsuite
Any business that manages multiple social media channels has probably heard of Hootsuite. Targeting a spectrum of business sizes, industries, and locations, the Hootsuite blog has become a unique knowledge hub on clever social media strategies across the board.
Articles in the Strategy section offer tips and tricks to conquer social media, be it by juggling multiple Instagram accounts or maximizing LinkedIn videos. The blog also shares handy resources for social media managers, like templates and statistics that give a clear view on recent trends. Overall, the Hootsuite blog presents itself as a go-to place for social media managers to learn more about their work.
8. Trello

Trello is another SaaS that is popular and heavily used by startups. Trello's meticulously arranged blog is a close representation of its brand.
The blog, which bills itself as a 'blog for teams,' addresses task management issues and solutions. The articles are systematically posted under five main categories:  Product, Use Cases, Productivity, Remote Work, and Enterprise. This helps the audience instantly identify their theme of choice. The blog is available in six languages to help give it a global appeal.
9. Drift
As a revenue acceleration platform, Drift shows its prowess in conversational marketing through its blog Drift Insider. The team publishes new articles religiously (a new one almost every day) to keep their library of content rich and fresh for frequent visitors.
Publishing daily raises the challenge of potentially repetitive topics, but Drift deftly avoids this by mixing data-driven stories, campaign case studies, opinion pieces, and testimonials. Drift even features interviews with industry leaders who share their thoughts on leadership and success, making Drift Insider more than just a place for the audience to read about products.
See: 5 clever blog marketing examples and what you can learn from them
10. Vidyard
Making on-point content comes naturally for Vidyard, a video-based solution for sales and marketing pros. Through its multimedia content, the Vidyard blog becomes a fitting showcase for the company to highlight the power of video.
In its video guide section titled "Learn from the Pros," Vidyard experts share They show viewers exactly how to grab the attention of an audience. Guides also cover other broad topics, like marketing and sales, that are pertinent to all clients. Vidyard's blog shows that companies can get creative by publishing a mix of formats.
11. Unbounce
The landing page is the first impression of any martech product, and Unbounce promises to help clients create custom landing pages that trigger conversion. Sleek and contemporary, the Unbounce Convergence Intelligence Blog is not just a clean and simple reading experience. It goes deep.
For example, one post, which offers "expert advice to help you crush your next online marketing campaign," talks about all the nitty gritty components of a compelling landing page, be it optimization through copywriting or social media strategies.
Unbounce's blog demonstrates that providing a highly specific service can help you deep dive into a specific topic. This, in turn, means content teams won't run out of story ideas as quickly.
For beginners: what is B2B content marketing?
For the uninitiated, this form of marketing involves creating and publishing informative and educational content to promote a B2B brand without overtly advertising it. Common B2B content marketing examples include company blogs, e-books, webinars, and research reports.
Content marketing can help B2B marketers attract and nurture potential buyers inside of a sales funnel. According to MarketingCharts, B2B buyers are more likely to buy from a vendor after reading some of its original content.
Is B2B content marketing different from B2C content marketing?
Both B2B and B2C marketers use content to increase brand awareness and build credibility. However, B2B and B2C are also different in several ways.
B2C marketers target a mass audience of individual consumers. For example, McDonald's markets burgers, fries, and ice cream to children and their parents, worldwide.
B2B marketers target smaller audiences of businesses. For example, chat app Slack markets to enterprise teams as a better way to communicate throughout the organization.
Another difference between the two is strategy. B2C marketers tend to employ more entertainment and emotional values in their campaigns. Researchers have pointed out that consumers are more likely to buy with their emotions and justify their purchase with facts thereafter.
On the other hand, B2B marketers focus on stating facts and benefits when talking to corporate buyers. In most cases, companies tend to buy a product or service that costs less but can help them drive more profit. There are less emotions involved in the B2B purchasing journey.
Save time and money when producing high-quality press releases and thought leadership articles. ContentGrow helps teams work with perfectly-matched freelance writers and journalists at the right rates. Fill out the form to get your own list of talent or visit the site to get started.