29 smart B2B content marketing examples and success stories
It's never a bad time to refresh your marketing game. Learn from the best by checking these B2B content marketing examples.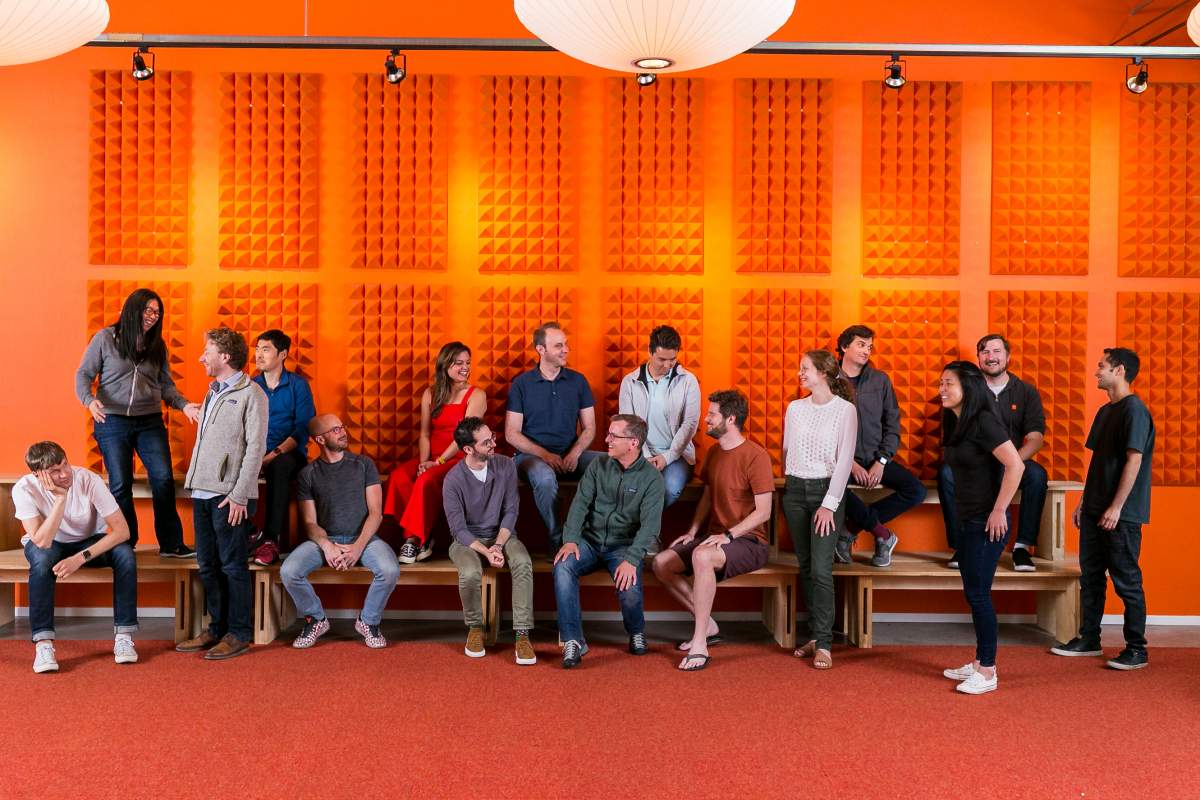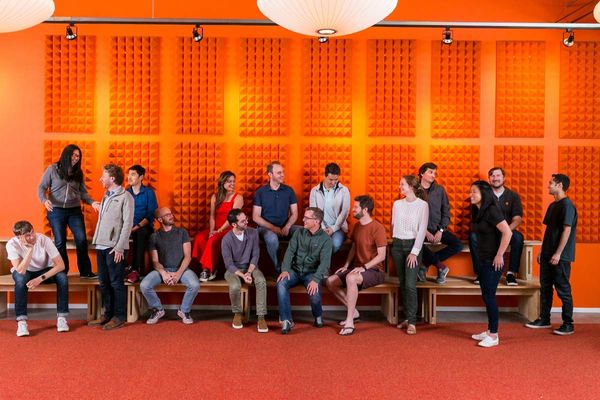 Content marketing continues to be lauded among B2B marketers. According to a 2020 CMI study, B2B marketers shared that they're able to effectively create brand awareness (86%) but also build credibility and trust (75%) with the target audience.
A separate study also revealed that the majority of global marketers were happy with their content marketing results in 2020. They expect to increase their content marketing budgets in 2021. It's crucial for marketers to continuously learn from the best. Below, we'll dive into some prominent B2B marketing examples and discuss what can be learned.
B2B thought leadership examples

B2B content marketing tips and insights

Business blog marketing examples

Podcast marketing examples
B2B marketing examples via thought leadership content
1. General Electric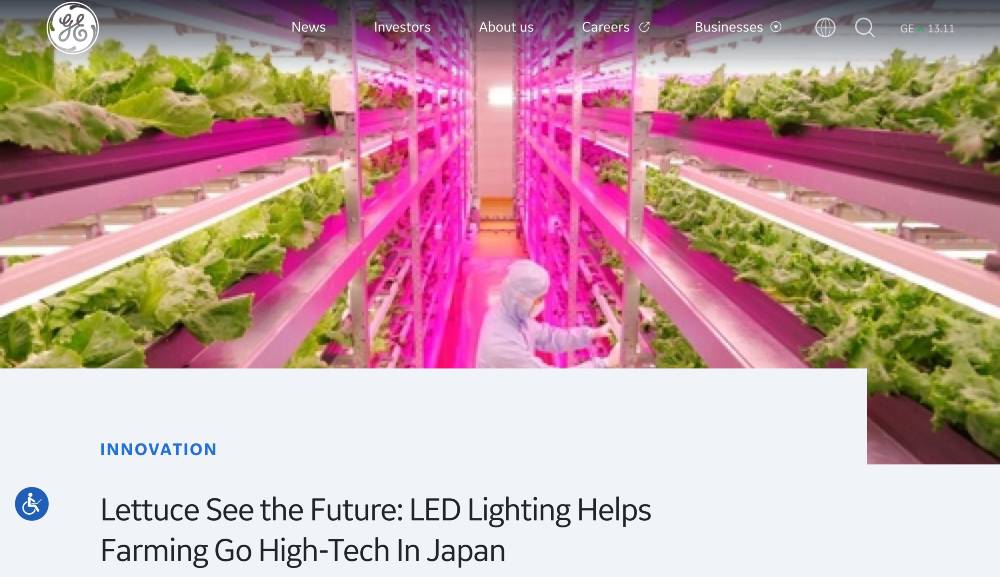 Established in 1892, this well-known American company offers products and services to businesses in many sectors, ranging from power and renewable energy to aviation, healthcare, and more. The company (GE) also produces GE Reports, a daily online media portal that shares interesting content about emerging technology.
In the last eight years, GE Reports has established an audience of more than 100,000 subscribers and currently records around 3.7 million monthly visits. In the classic journalism sense, GE Reports publishes content via in-person interviews and onsite (shoe leather) reporting. This in-depth reporting style has helped its content go viral on Reddit on numerous occasions.
According to GE Reports' Chief Storyteller Tomas Kellner, the key is to "retire the press release." Instead of focusing on promoting the brand, the team aims to put more emphasis on simply telling great stories.
In one fascinating story, GE zoomed in on how a Japanese firm was able to innovate in lettuce farming with the help of GE's LED lamps. When the story was shared and went viral on Reddit, the spotlight went toward the innovation, and did not overtly promote GE as a brand.
GE Reports' coverage on the coronavirus is another good example. Rather than writing about the innovative products GE created to fight the spread of the virus, the editorial team simply told the story of how medical workers are using the brand's products to save lives.
In both cases, GE's brand was subtly promoted — and seen by the right people — just by telling the true stories of its customers. Marketers will say this strategy is effective because it reaches the target audience when their guard is down.
2. HubSpot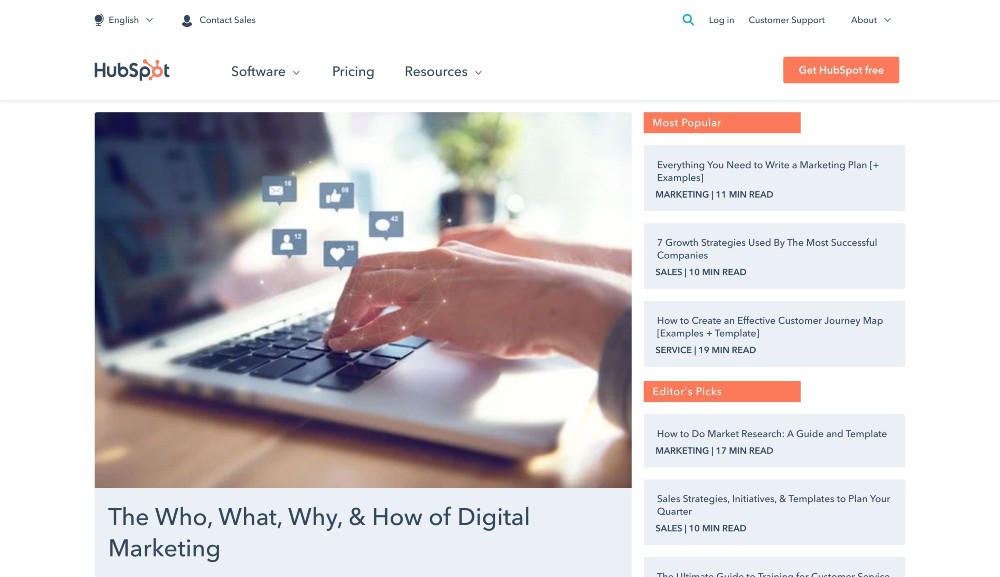 US-based HubSpot markets software products for sales, customer service, and inbound marketing. The brand is well-known for its marketing blog, which teaches small businesses everything they need to know about sales and marketing.
Producing insights since 2007, the company is considered a pioneer of B2B content marketing. HubSpot provides research, original data, and insights about how readers can increase their revenue with or without HubSpot. On top of its blog, the team also produces content in different formats like ebooks, webinars, marketing kits, and online courses.
Former CMO Mike Volpe used to joke that because the team already had so much content, it wouldn't dent its lead flow significantly if the content team went on a month-long holiday.
As a result, it is estimated that HubSpot now has an audience of more than six million. According to SimilarWeb, the site currently generates 14 million monthly visits from organic search. HubSpot's case is proof that a high-quality content marketing play can help save firms a lot of money in the long run.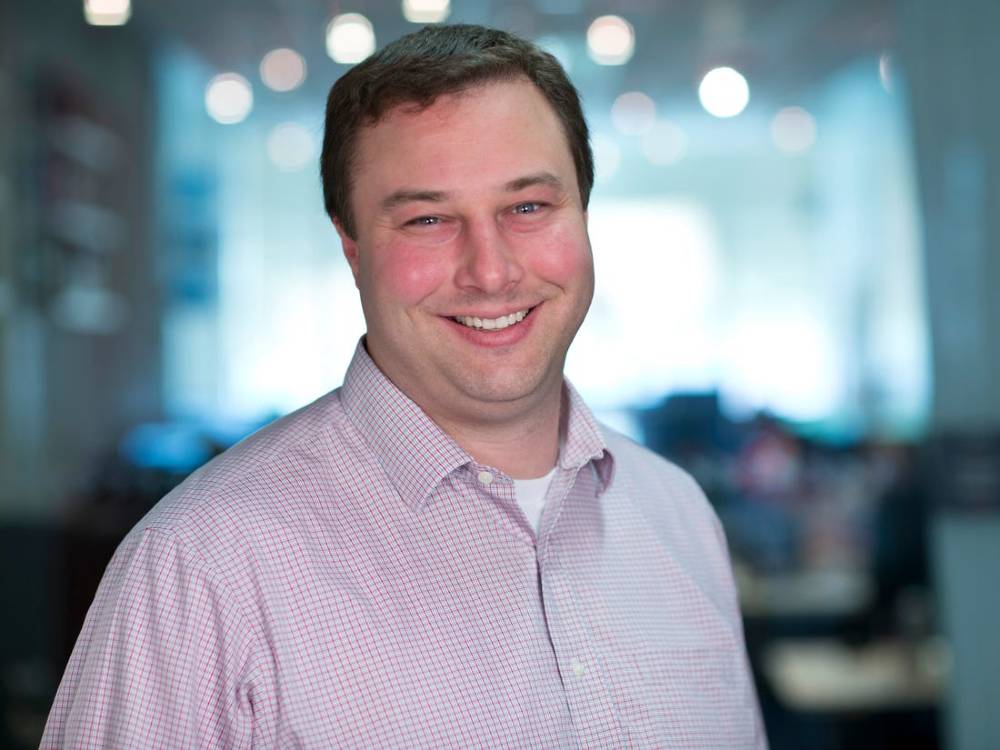 3. Deloitte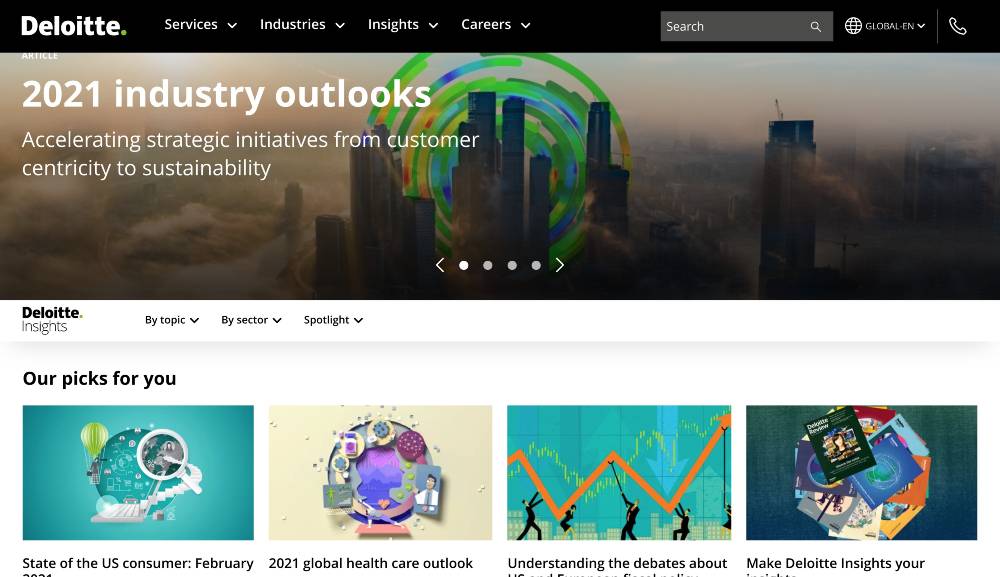 Deloitte is among the so-called 'Big Four' of the accounting industry.  The company serves many industries, from private life sciences companies to large publicly traded conglomerates. Deloitte offers various professional services such as consulting, auditing, tax and financial advisory, risk advisory, and legal assistance to clients worldwide.
A company should always gear its content marketing toward a specific target audience. But it's a tricky situation for a large enterprise like Deloitte that has numerous services in many industries.
The company decided to put together an educational content hub called Deloitte Insights for each industry and topic. Readers can easily find relevant content in their industry by browsing through 12 topic groups (from blockchain to diversity and more) and 12 industry categories (from chemicals to healthcare and beyond).
The hub provides videos, in-depth reports, podcasts, articles, and more. The content is based on research and insights that can help individuals and organizations reach their potential. Deloitte's website attracts close to 10 million monthly visits, with popular business media players regularly citing and backlinking to the firm's content. Because of this, Deloitte continues to be a thought leader across a variety of sectors.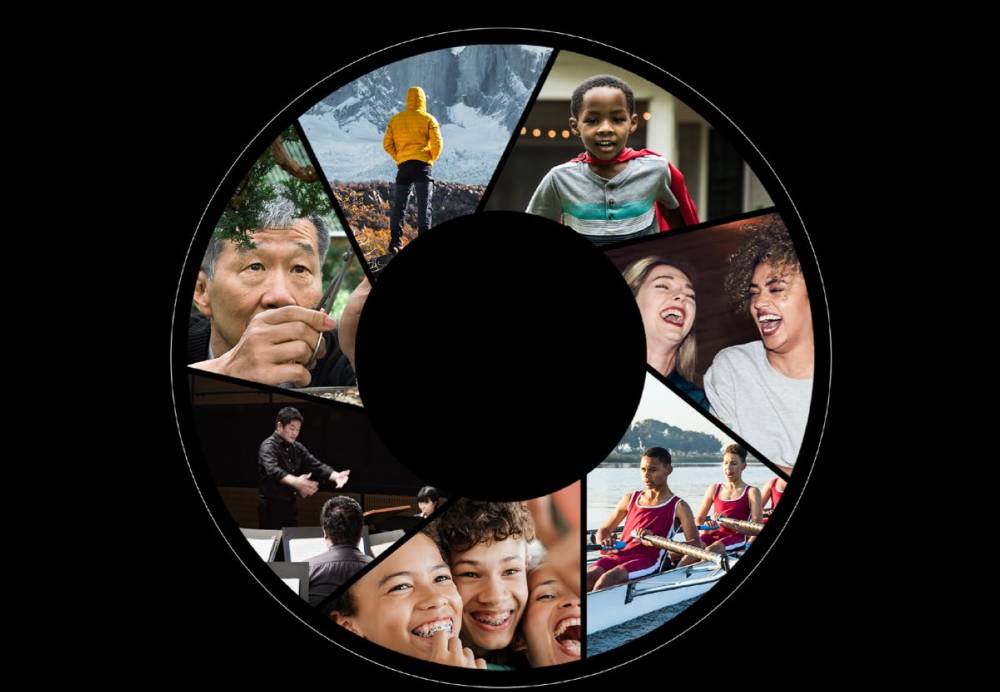 4. Salesforce
This popular CRM brand helps organizations form stronger connections with their existing and potential customers. Similar to other names on this list, Salesforce produces a variety of educational content in the form of ebooks, videos, and research reports.
Salesforce tried its hand with a three-month unique content campaign, which involved creating funny videos on sales and marketing, publishing customer success stories as animated slides, and creating a stop-motion presentation on SlideShare.
These innovative content formats helped ignite interest from new audiences. In turn, the firm saw a significant increase in overall traffic, ebook downloads, and newsletter signups that year. Marketers can give creative content approaches like this a try to spark audience engagement.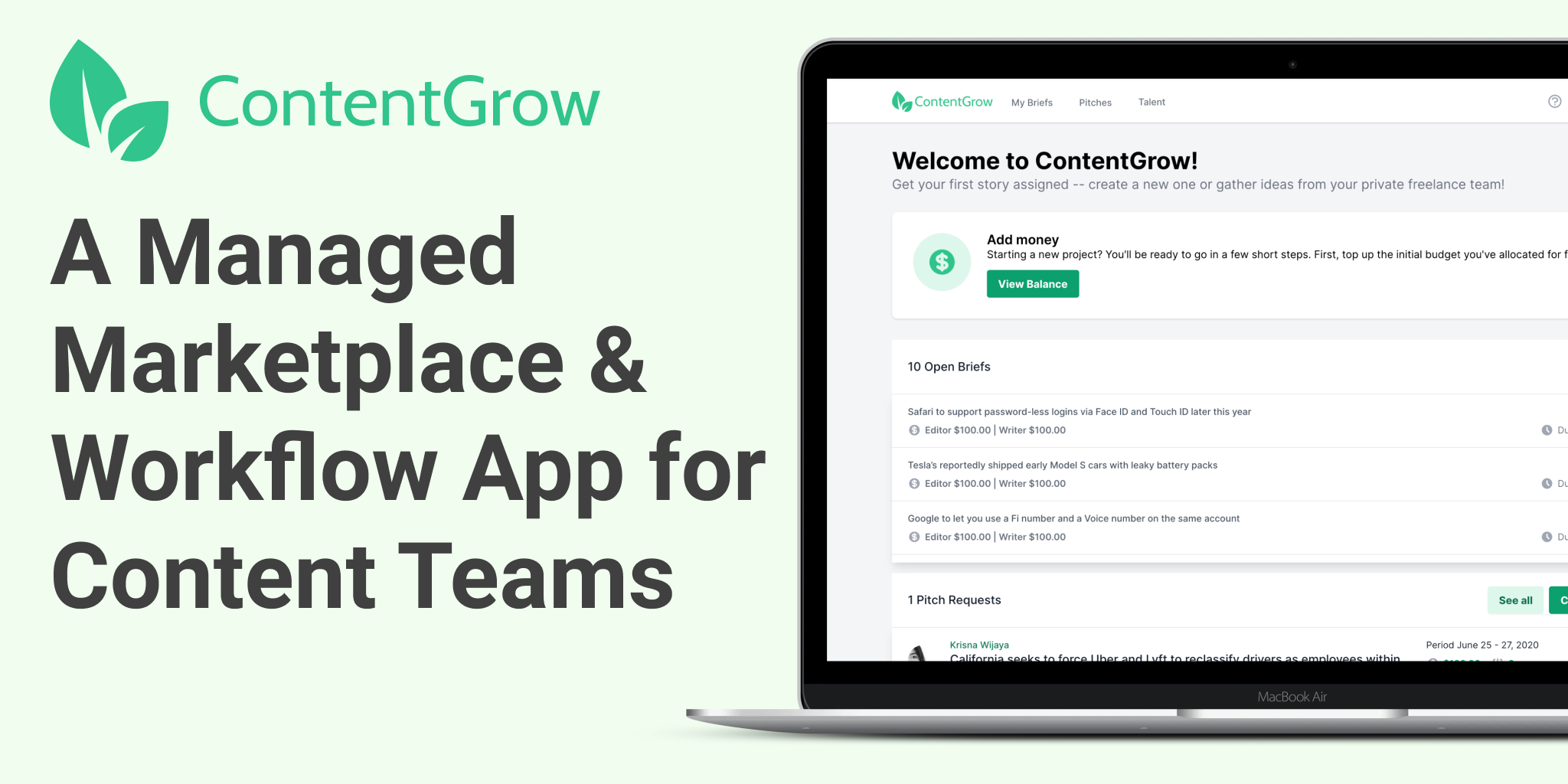 5. Y Combinator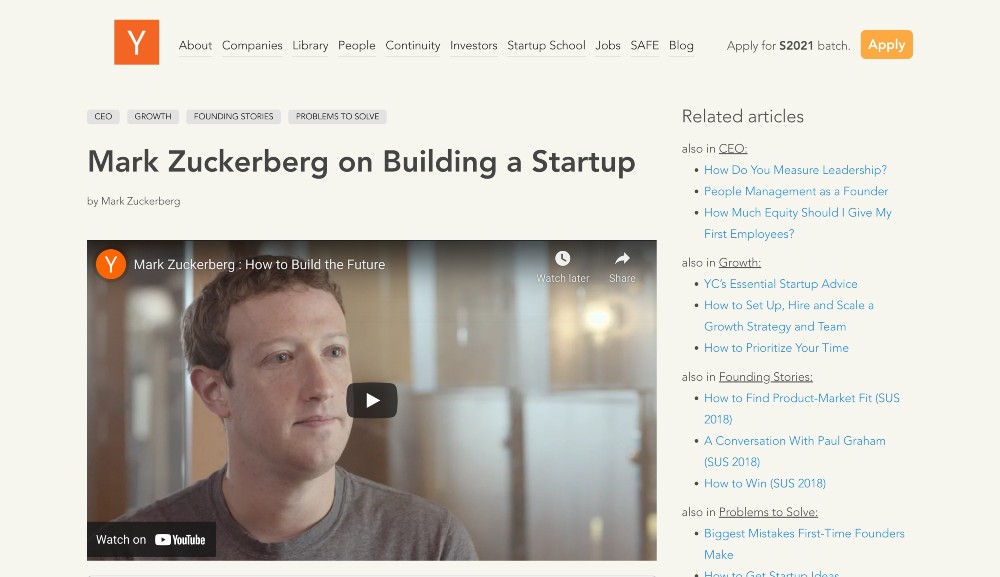 The famous US-based startup accelerator is not just popular because of its powerful portfolio. With less than 500 articles, videos, and podcasts, its site now generates more than 13 million monthly visits with an average on-page time of five minutes.
Arguably, the key ingredient is the quality of each piece of content. Y Combinator's insights are highly unique because the authors are experienced practitioners, entrepreneurs, and investors on the bleeding edge of their respective industries. Y Combinator has the clout to call up the world's biggest names such as Mark Zuckerberg and Elon Musk to share original insights.
The accelerator has also tapped the expertise of its alumni to share their best practices via a free online curriculum called Startup School.
The lesson? While your brand may not enjoy the same level of fame as Y Combinator, it is still worthwhile to seek out industry experts for crafting B2B content.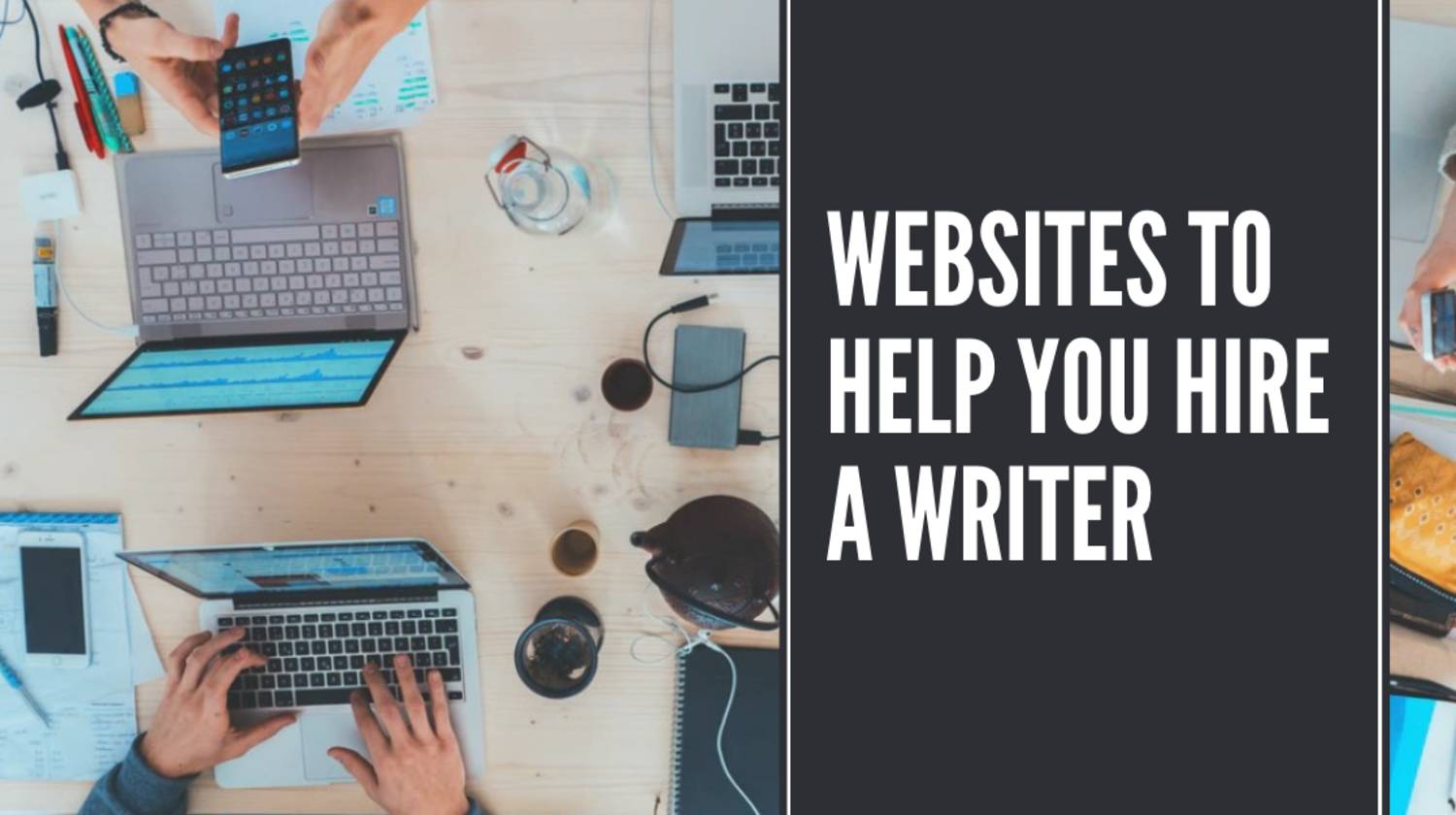 6. Zendesk
Zendesk practices what it preaches -- a customer service software focused on building a superb experience. In its blog called The Library, Zendesk touches on a wide range of topics, from customer support management and sales prospecting to metrics and data. The content is undeniably pertinent to customer service professionals.
The posts are well-informed and share knowledge on the ins and outs of customer service. The blog tastefully plugs in how Zendesk can help companies improve their own service. Zendesk presents content in a variety of formats, including podcasts.
7. Hootsuite
Any business that manages multiple social media channels has probably heard of Hootsuite. Targeting a spectrum of business sizes, industries, and locations, the Hootsuite blog has become a unique knowledge hub on clever social media strategies across the board.
Articles in the Strategy section offer tips and tricks to conquer social media, be it by juggling multiple Instagram accounts or maximizing LinkedIn videos. The blog also shares handy resources for social media managers, like templates and statistics that give a clear view on recent trends. Overall, the Hootsuite blog presents itself as a go-to place for social media managers to learn more about their work.
8. Trello

Trello is another SaaS that is popular and heavily used by startups. Trello's meticulously arranged blog is a close representation of its brand.
The blog, which bills itself as a 'blog for teams,' addresses task management issues and solutions. The articles are systematically posted under five main categories:  Product, Use Cases, Productivity, Remote Work, and Enterprise. This helps the audience instantly identify their theme of choice. The blog is available in six languages to help give it a global appeal.
9. Drift
As a revenue acceleration platform, Drift shows its prowess in conversational marketing through its blog Drift Insider. The team publishes new articles religiously (a new one almost every day) to keep their library of content rich and fresh for frequent visitors.
Publishing daily raises the challenge of potentially repetitive topics, but Drift deftly avoids this by mixing data-driven stories, campaign case studies, opinion pieces, and testimonials. Drift even features interviews with industry leaders who share their thoughts on leadership and success, making Drift Insider more than just a place for the audience to read about products.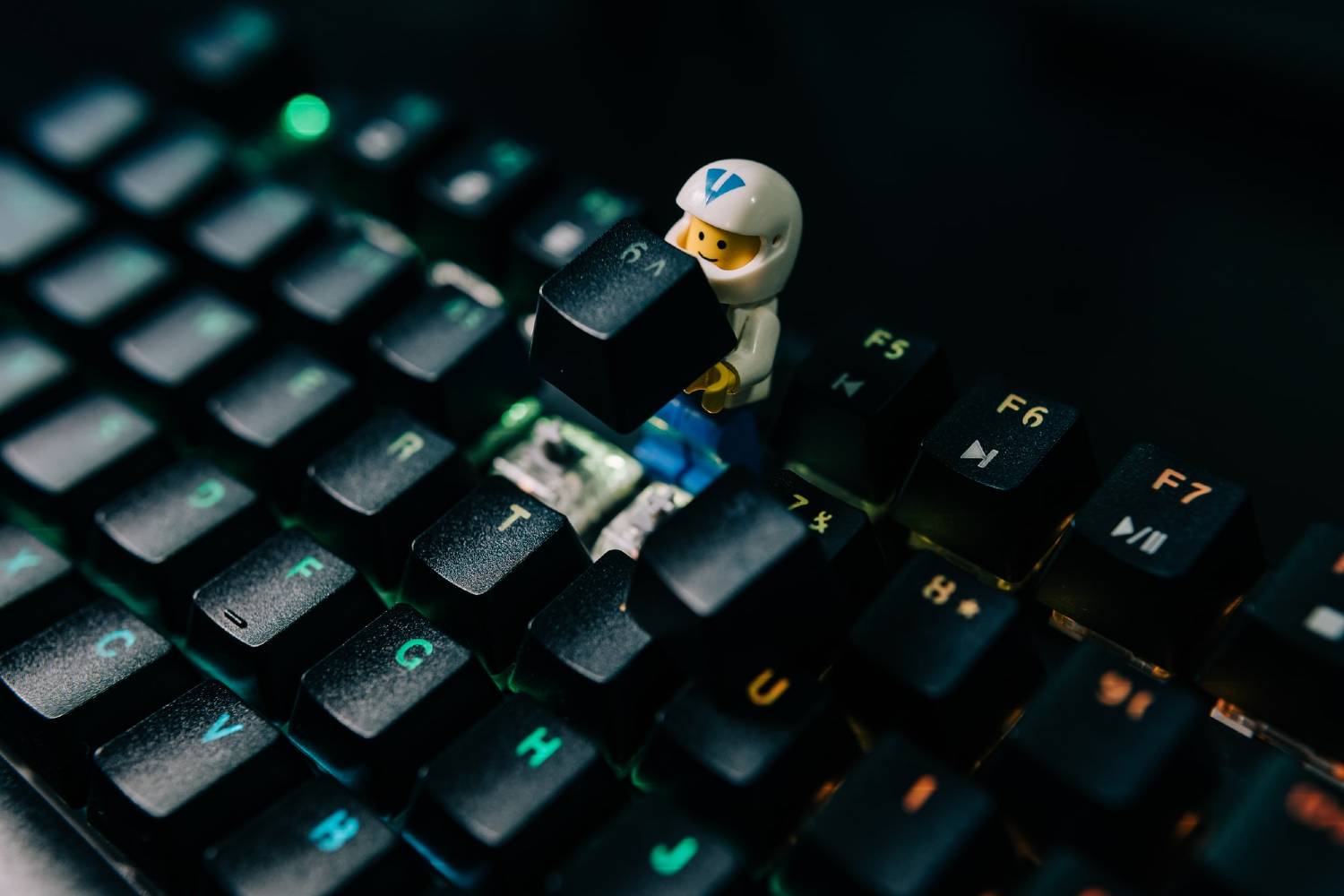 10. Vidyard
Making on-point content comes naturally for Vidyard, a video-based solution for sales and marketing pros. Through its multimedia content, the Vidyard blog becomes a fitting showcase for the company to highlight the power of video.
In its video guide section titled "Learn from the Pros," Vidyard experts share They show viewers exactly how to grab the attention of an audience. Guides also cover other broad topics, like marketing and sales, that are pertinent to all clients. Vidyard's blog shows that companies can get creative by publishing a mix of formats.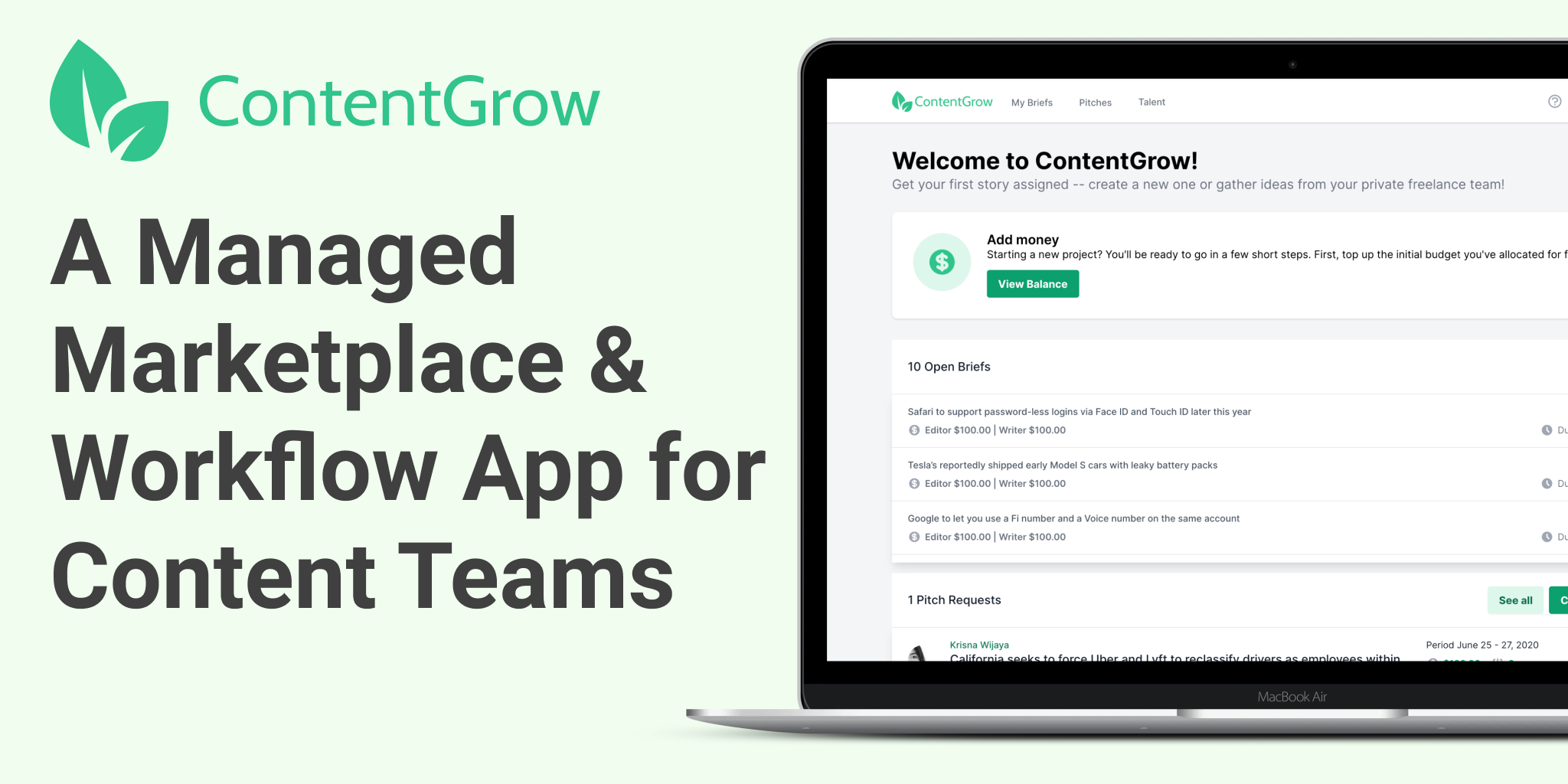 11. Unbounce
The landing page is the first impression of any martech product, and Unbounce promises to help clients create custom landing pages that trigger conversion. Sleek and contemporary, the Unbounce Convergence Intelligence Blog is not just a clean and simple reading experience. It goes deep.
For example, one post, which offers "expert advice to help you crush your next online marketing campaign," talks about all the nitty gritty components of a compelling landing page, be it optimization through copywriting or social media strategies.
Unbounce's blog demonstrates that providing a highly specific service can help you deep dive into a specific topic. This, in turn, means content teams won't run out of story ideas as quickly.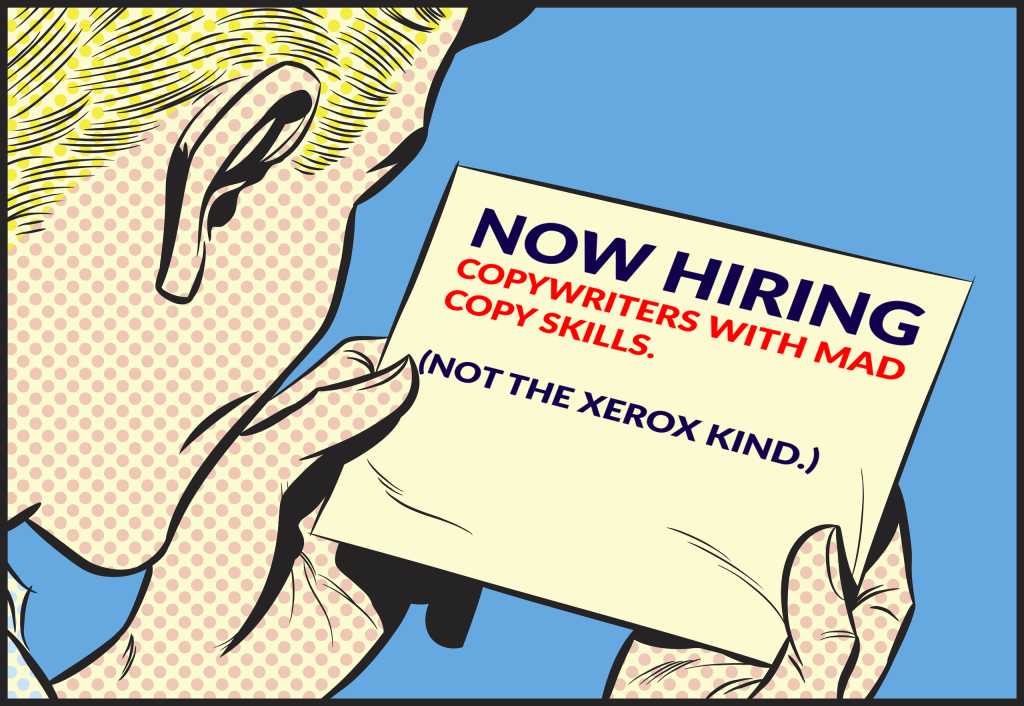 12. Gojek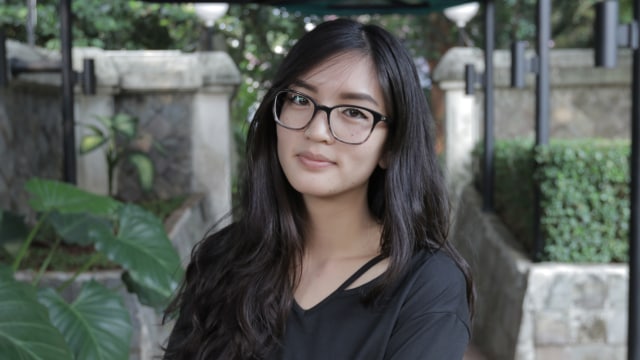 In 2017, the Indonesian tech giant became a media favorite, thanks to its stellar business growth. At the time, a significant portion of the media spotlight was turned to its CEO and another executive: Crystal Widjaja (the then Chief of Staff).
In a relatively short period of time, Widjaja rose through the ranks at Gojek and soon became one of its key spokespersons. The media began to run stories about Widjaja's career while mentioning the brand's success in utilizing big data to achieve 900x growth in 18 months after launching its mobile app.
Widjaja was actively participating in various public speaking roles at tech events, sharing her insights about product management and big data. This strategy elevated Widjaja's status as a well-respected thought leader in the industry while also placing Gojek's strong team (not just its CEO) in the public eye.
Learning point: Press and public speaking engagements are promising avenues to help build thought leadership credibility. Participating in these opportunities means that the individual has been unofficially endorsed by the media and event organizers.
13. Backlinko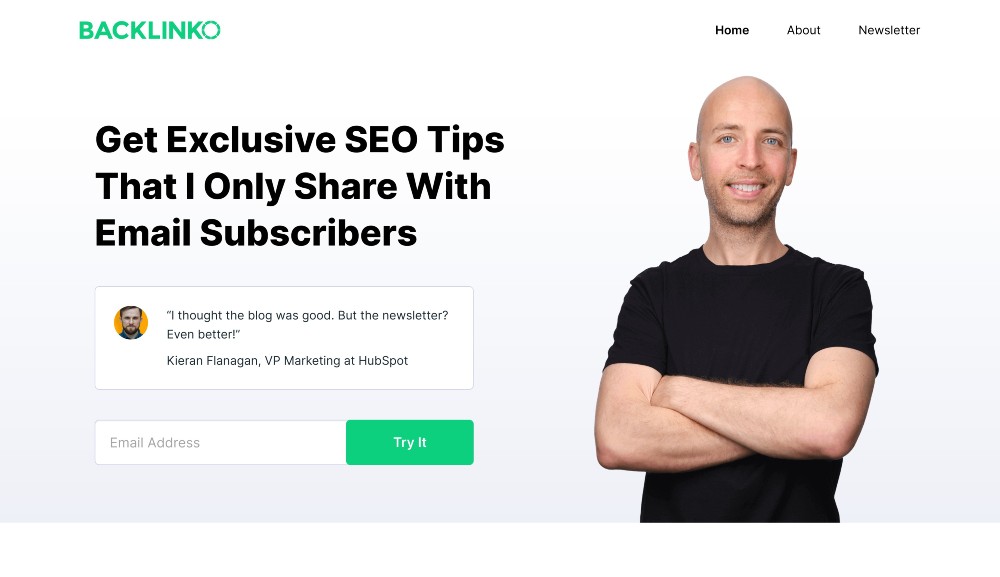 This is an excellent example of how marketers can casually publish their thought leadership content on a company blog. But they must understand that the content needs to rise to a whole new level of value.
Brian Dean's Backlinko blog, for example, only has around 170 articles after operating for nine years. That means he produced between one to two new articles per month. However, each article is packed with data and examples.
In this tutorial, the marketer first shared why he's eligible to teach readers about the topic based on his YouTube accomplishments. Then, he dug deeper about his four steps when publishing new videos, accompanied by a hefty number of screenshots and insights. This article alone has around 3,400 words, 40 images, and one video.
One way to understand if someone is successfully implementing a thought leadership strategy is by looking at the number of content engagements. The article above has garnered more than 3,800 shares and 640 comments.
Learning point: In the thought leadership game, quality is more important than quantity.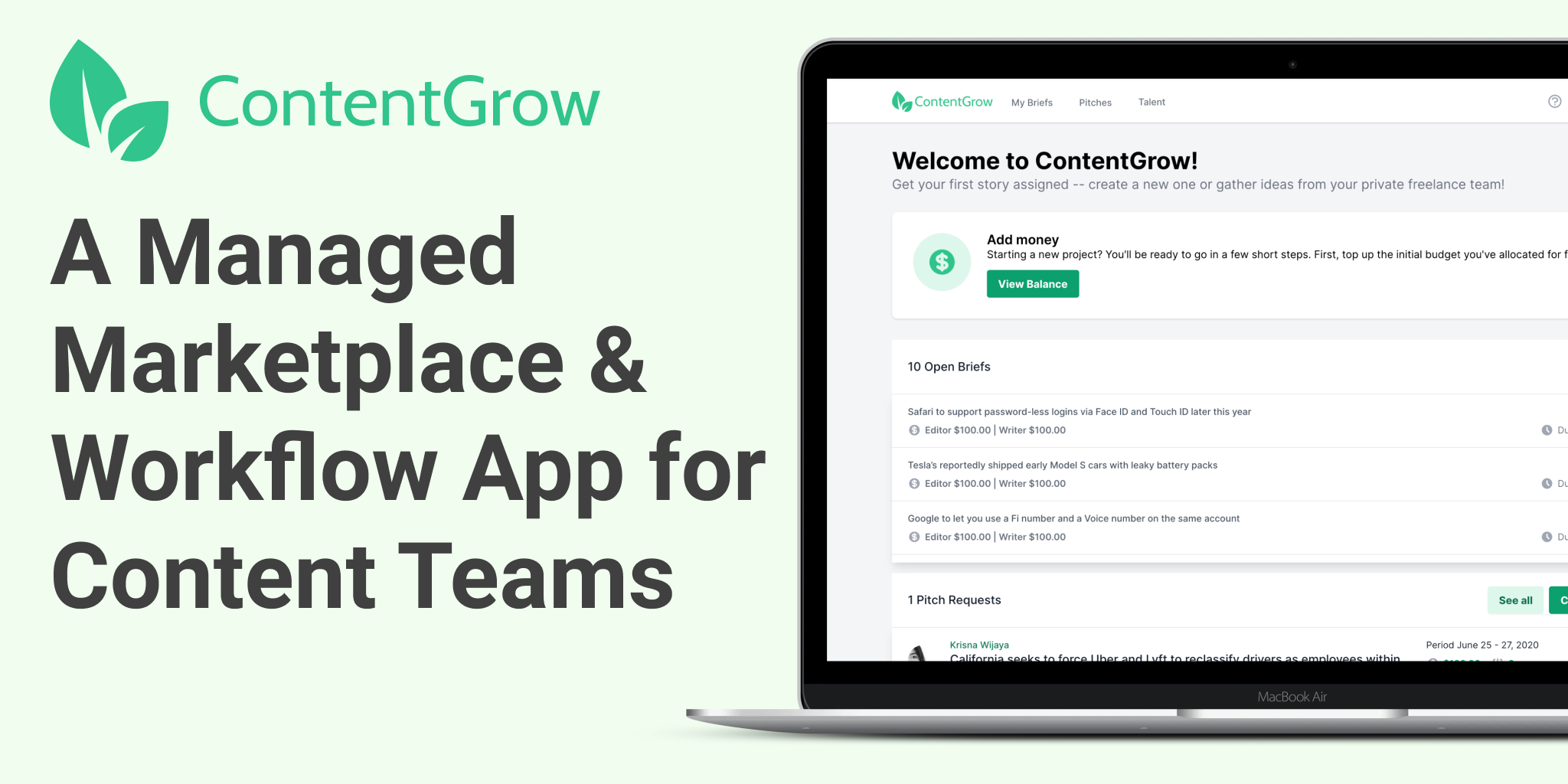 14. Elon Musk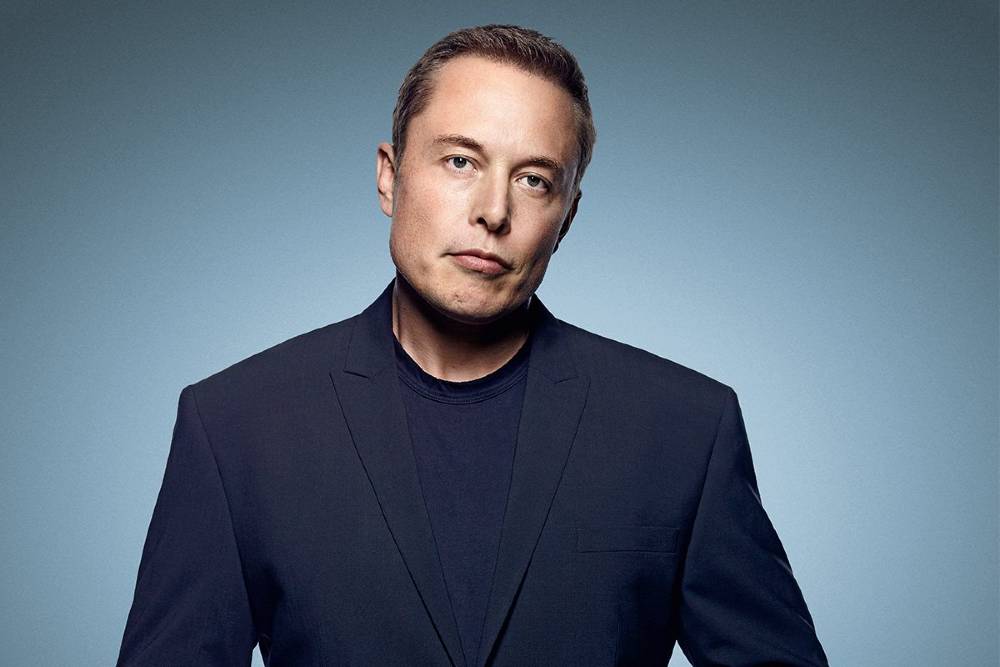 Even while juggling five companies, Elon Musk still seems to have the time to become a Twitter power user. With 49 million followers, Musk's Twitter account is powerful. Receiving more than 200,000 engagements regularly, his tweets have also affected market prices.
This is a great marketing strategy by Musk, who regularly tweets about his company updates. He regularly replies to reporters and followers to defend and celebrate his company's achievements.
However, Musk doesn't always talk about his company. He also comments on other trending topics such as GameStop's stock surge, video game Cyberpunk, and his love of dogecoin. Followers appreciate his spontaneity and like the fact that they're able to converse with Elon Musk – the person – rather than a public figure whose account is run by a team of social media experts.
Learning point: Executives and marketers can build their audiences by being active individually on social media. But they need to showcase their personality and authenticity while conversing with followers.
15. Eric Ries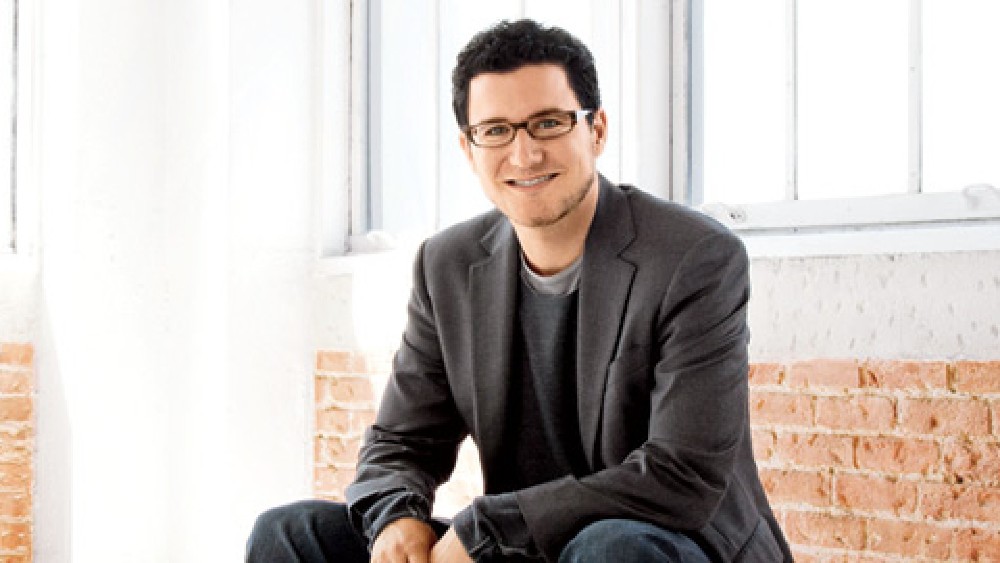 This tech entrepreneur and former venture capital investor is a well-known figure in the tech startup industry, thanks largely to his best-selling book "The Lean Startup." Published back in 2011, the book offered a new reason why tech companies should implement rapid product iterations, which at the time was an unusual school of thought.
His popularity as a thought leader started a few years before the book's launch, however. In 2008, he began to document his startup methodology on his personal blog. After the idea gained traction, he started to receive invitations to speak at conferences and became an advisor to various startups.
Learning point: Test the waters. Before writing a book or committing to any other big initiative, marketers can start small and write short blog posts to document their learnings and insights.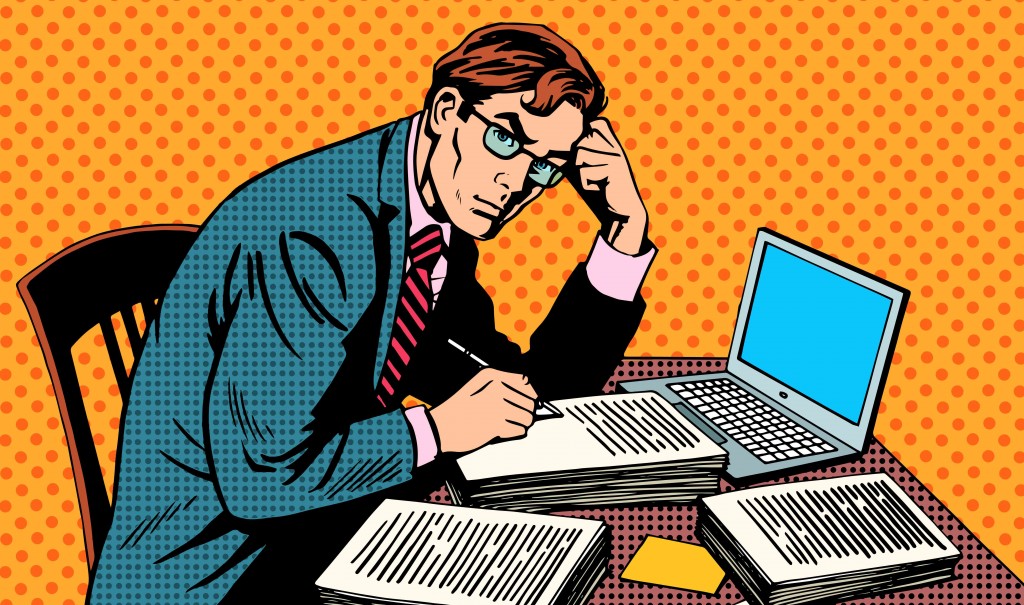 Notable business blog marketing examples for global teams
16. eMarketer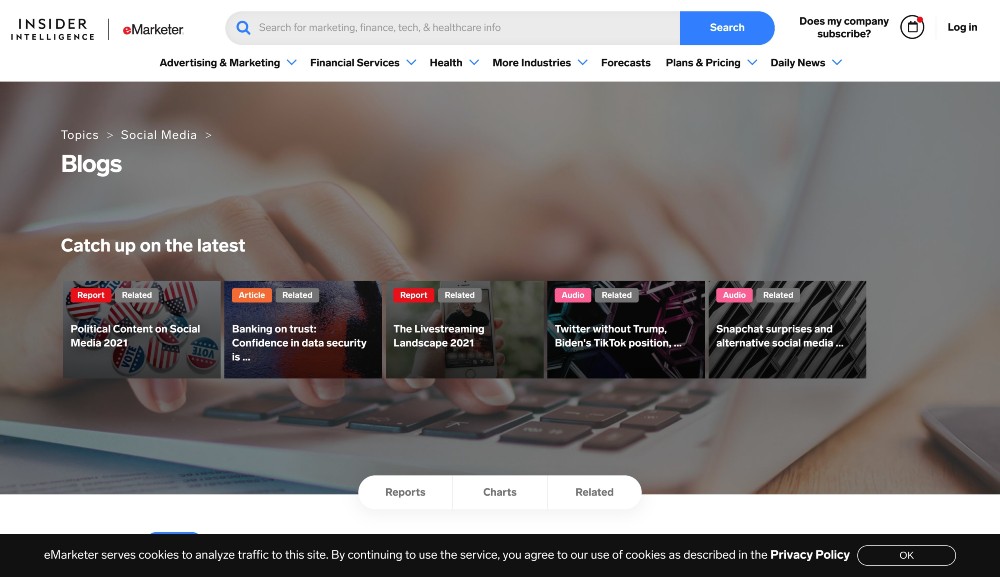 Research firm eMarketer is a household name among global data researchers. On top of showcasing subscriber-only data and charts, the firm also publishes free content on its blog. The firm makes use of a variety of content formats like articles, podcasts, videos, and webinars to capture the audience's attention.
The eMarketer team excels at processing information from thousands of sources into digestible reports, dashboards, and insights. eMarketer ensures readers have an easy time making sense of the data by virtue of the accompanying visual representations found in the majority of blog posts.
The firm's original and unique data are often cited by top publications like The New York Times and WSJ. This helps drive more traffic toward eMarketer's main website, and eventually leads to conversions on its paid offerings.
17. Neil Patel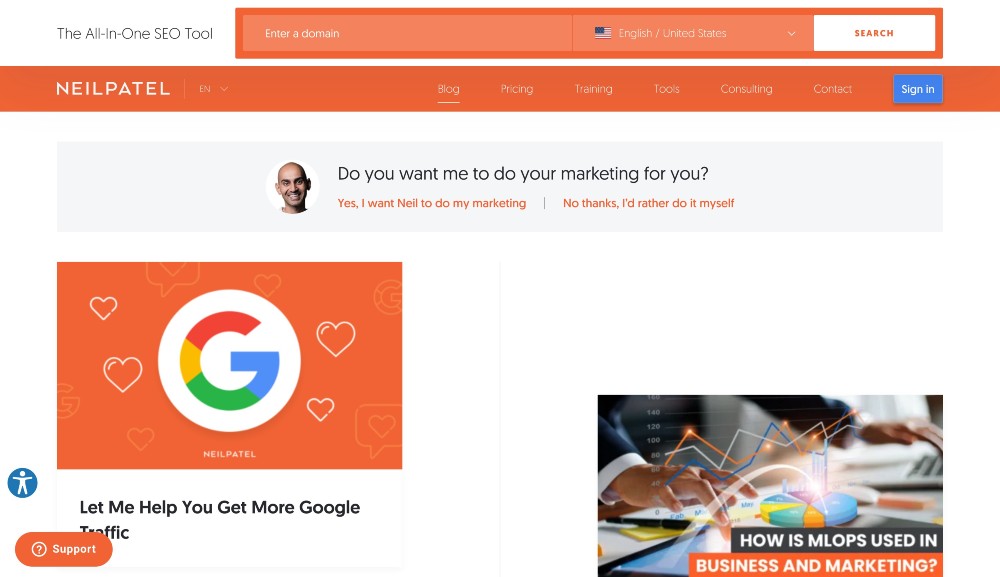 A digital marketer and analytics guru, Neil Patel's forte sits in search engine optimization (SEO), internet marketing, conversion optimization, and growth hacking. Patel converses with his readers through his writing, avoiding overly complex jargon and keeping it inclusive for novices and marketing professionals alike.
He regularly publishes long-form articles on his blog, and adds value by being highly specific when explaining a concept to readers. In this 2,500-word post, for example, Patel lays out six keyword research tools. He then goes the extra mile by demonstrating in high detail how to use each one, including step-by-step instructions and screenshots from the actual tool interface to guide readers along.
According to SimilarWeb, the blog regularly generates more than 8 million monthly views.
18. Moz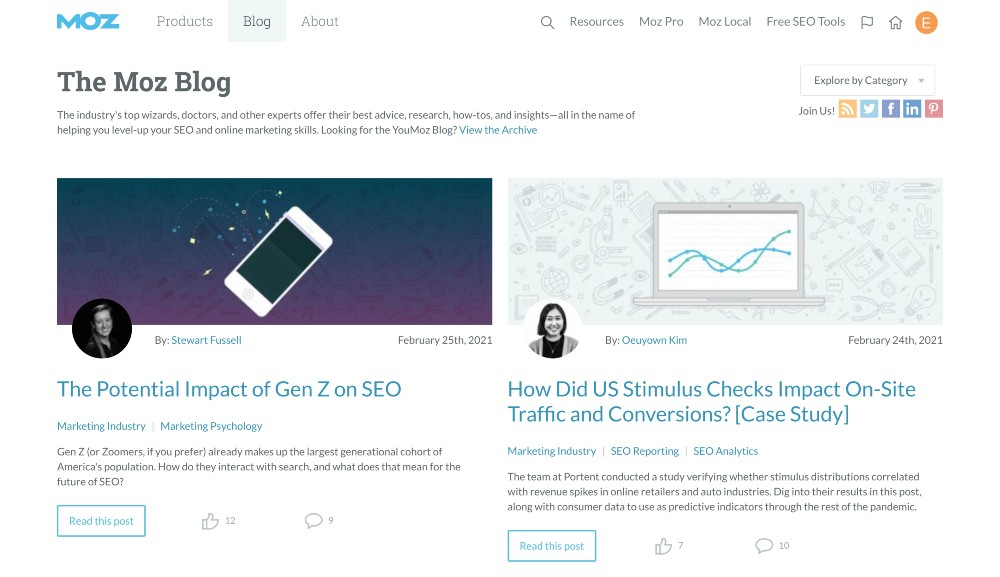 This popular SEO tool doesn't shy away in revealing its SEO best practices on its blog. For example, the team shared how they were able to grow blog traffic by 650% in two years in a blog post. Moreover, they took it one step further and incentivized their community to engage with the blog posts.
Readers can earn points by giving an article a thumbs up or by leaving a comment. They can also get points by answering questions on the community's Q&A section. These points can then be exchanged for various perks like a free dofollow backlink, t-shirts, and a free Moz Pro subscription.
Moz then invites trusted practitioners from its community to publish guest posts in exchange for extra visibility and more points. Today, the site records more than 3.2 million visits thanks in part to this innovative audience engagement play.
19. Buffer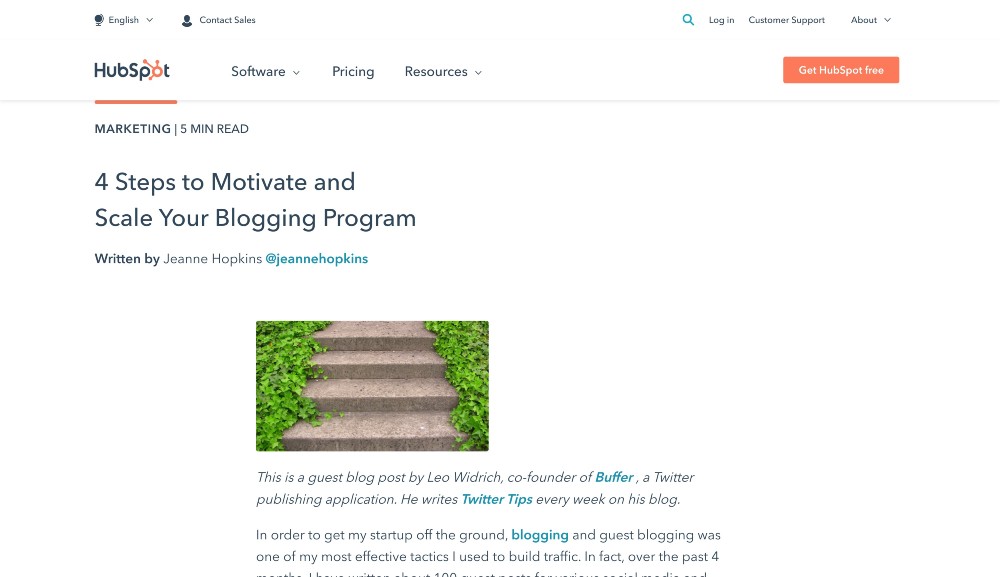 Rather than targeting potential customers, Buffer writes for the people that influence their customers. They employed guest blogging in Buffer's early days to kick start growth, publishing bi-daily on high visibility sites. This strategy helped them land their first 100,000 users.
In the beginning, the Buffer team would submit guest posts at as many relevant sites as possible. Then, they'd double down on the sites that were able to deliver user sign ups. Here's what Buffer co-founder Leo Widrich said about promoting its products inside the guest posts:
"For guest posting, I would suggest to always fill it with personal experiences, yet not too much self-promotion. The more personalised the articles are, the more interest you can raise from the reader. If you describe a tool, describe how it helped you specifically, if you explain techniques, give specific examples."
20. Content Marketing Institute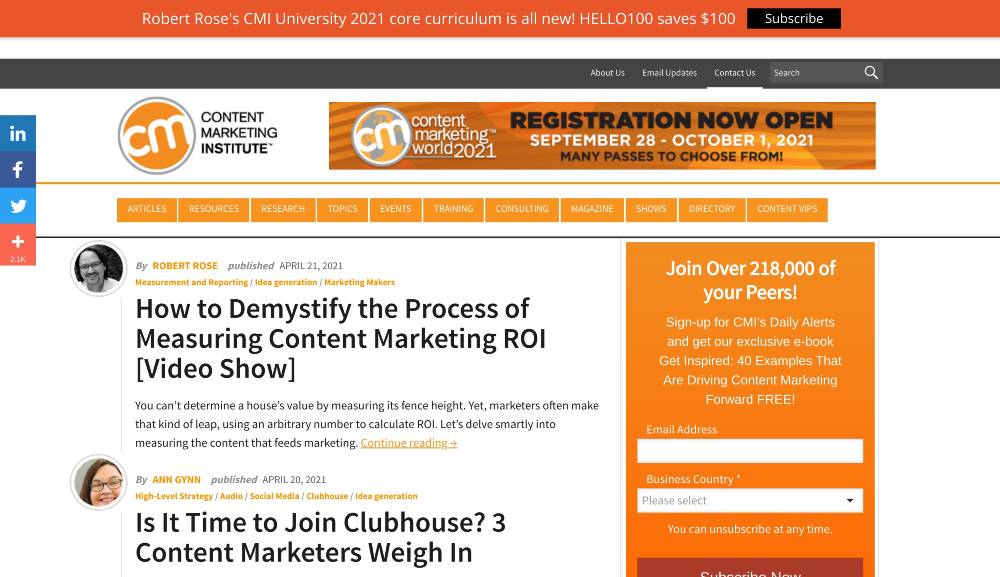 Content Marketing Institute (CMI) is considered a pioneer in the content marketing field. Its blog covers pretty much everything on content insights and adjacent spaces via daily posts.
Founded by Joe Pulizzi, CMI is applying multiple content marketing formats to build a loyal audience. For example, the site accepts articles from expert contributors, made up of business owners and marketing practitioners, who provide their valued knowledge for free in exchange for getting featured. The CMI team also injects notable names from their live events (such as Joseph Gordon-Levitt, Mark Hamill, and Tina Fey) into their articles.
On the whole, this strategy has helped CMI build a following of more than 550,000 monthly visitors.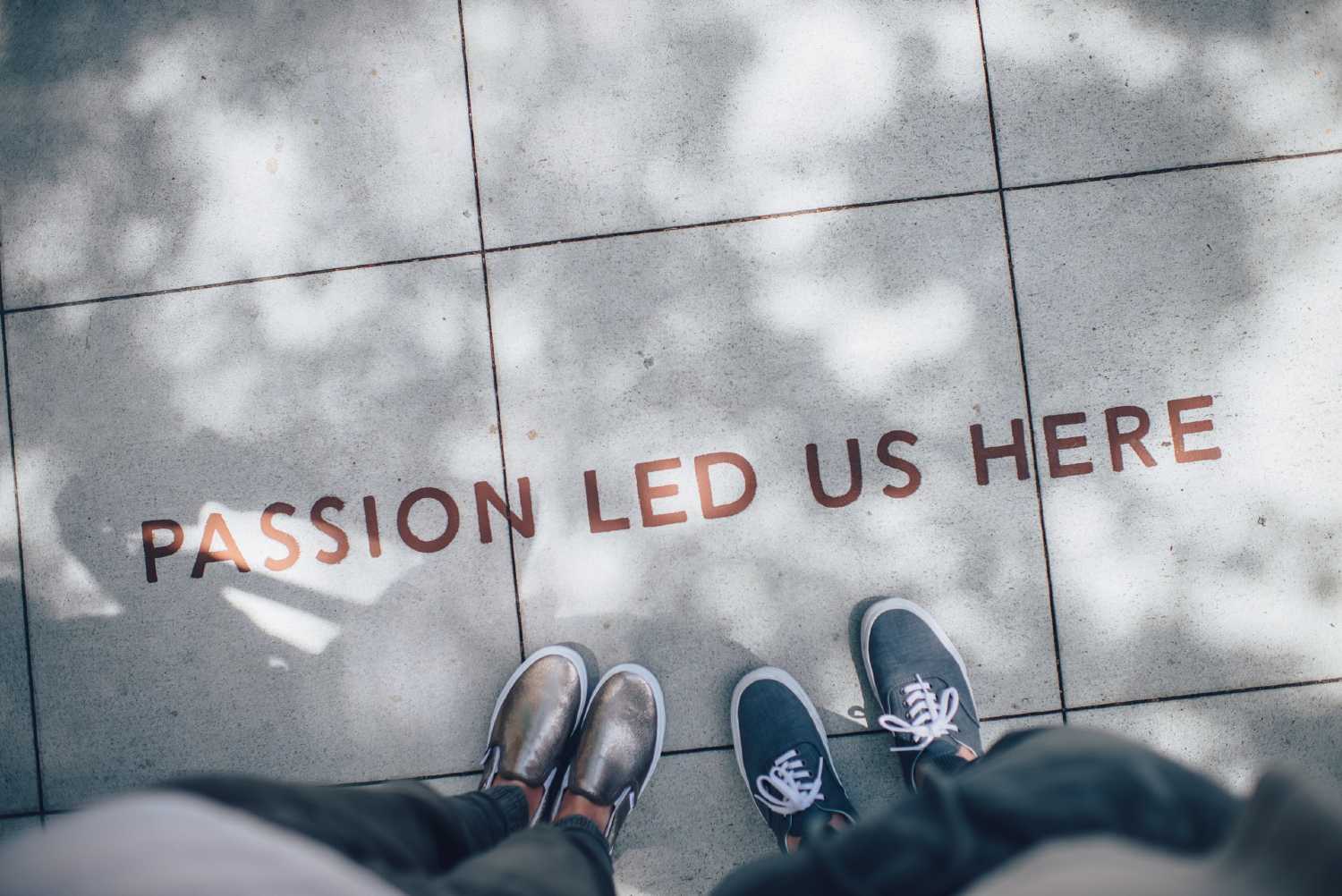 21. A Better Lemonade Stand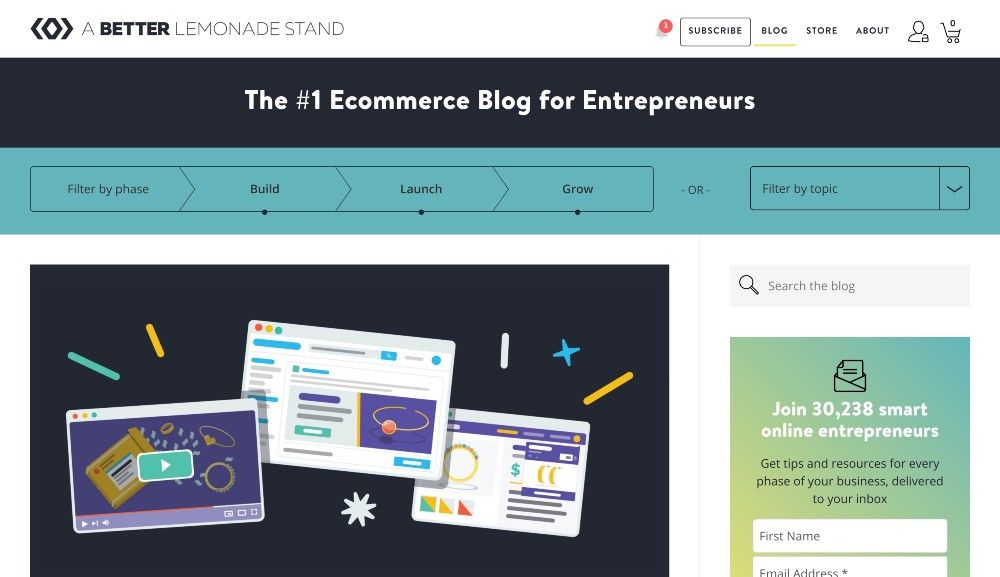 This e-commerce blog provides an easy-to-use feature for entrepreneurs to filter out articles based on business phases. The three options are: 'Build,' 'Launch,' and 'Grow.' The owner, Richard Lazazzera, used to write for Shopify and documented his journey on building an e-commerce site from scratch prior to starting the blog.
A Better Lemonade Stand (ABLS) shares relevant e-commerce articles that are lengthy, thorough, and insightful. The articles regularly generate hundreds and even thousands of shares.
In this 12,000-word post (which scored 2,500+ shares), ABLS lays out different stages on how to start your own clothing line. The content team goes the extra mile by showing in great detail the design, sampling, production, and packaging processes. In addition, they also provide brand examples, image screenshots, and design illustrations to guide the audience, step by step.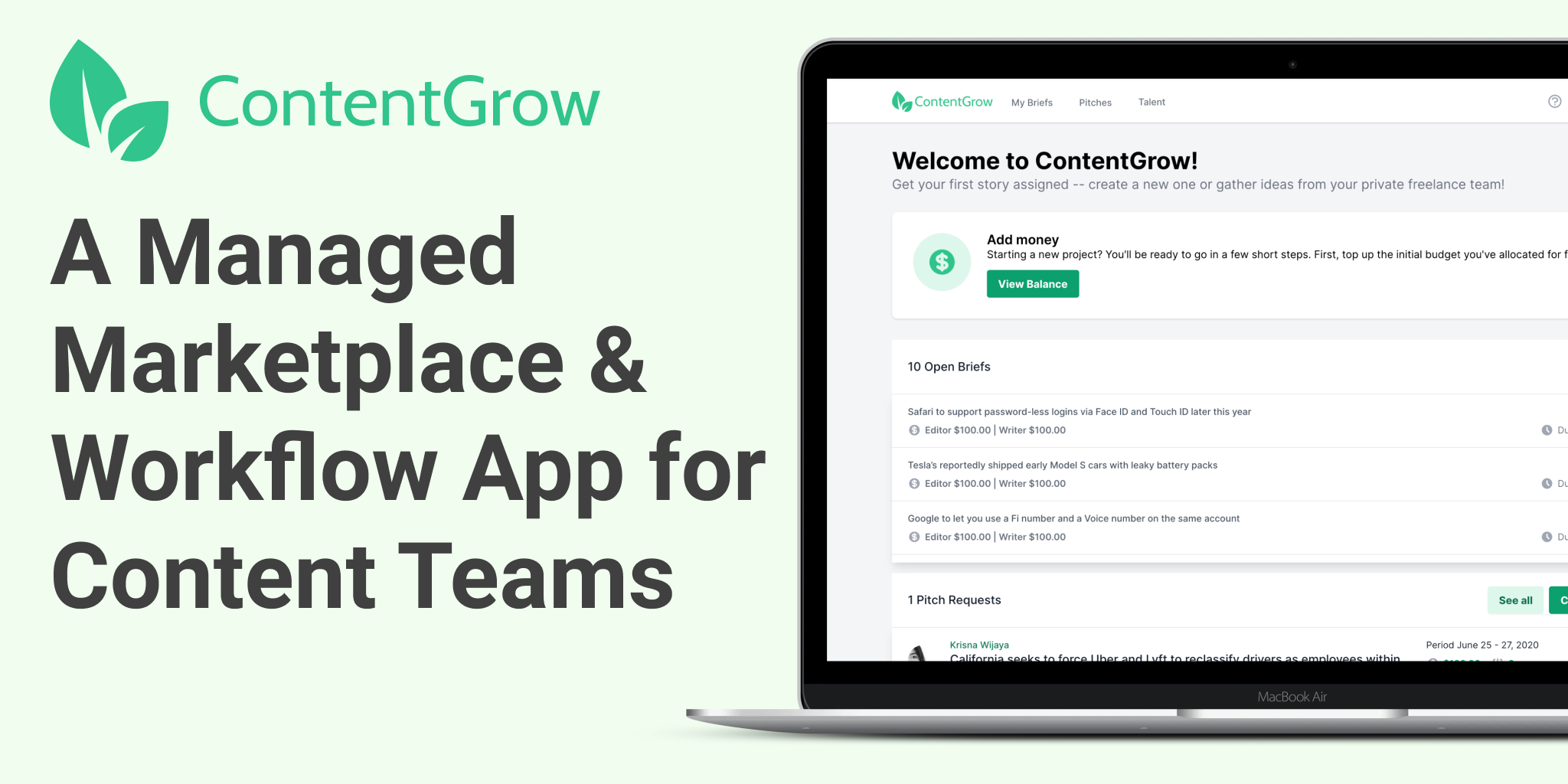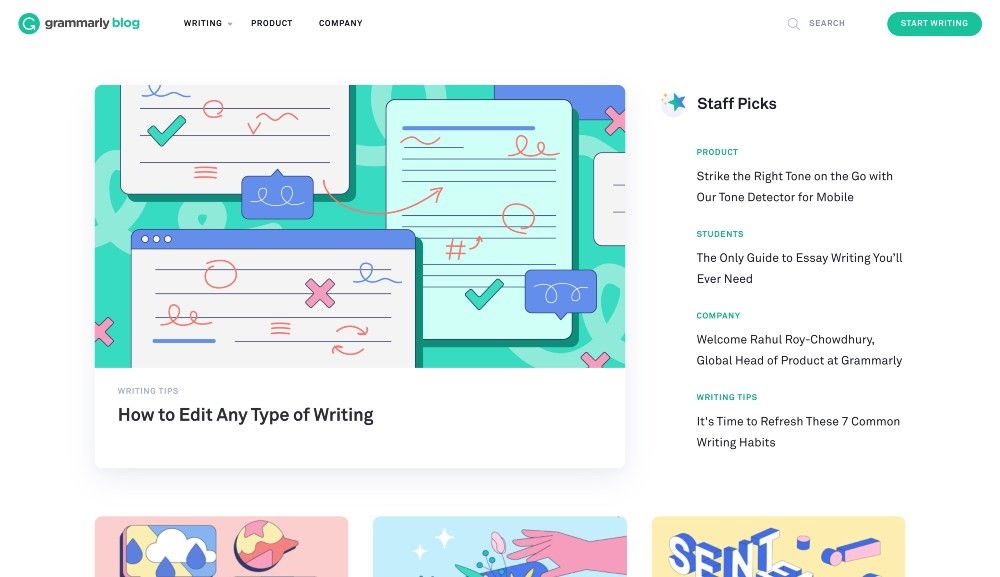 Grammarly's blog offers various writing-related stories and is scoring millions of visits by providing the best answer to basic grammar questions.
Some of Grammarly's most popular posts are the ones that cover these topics: "Traveling or Travelling?", "Modeling vs. Modelling", and "Affect vs. Effect". Each article is short and to-the-point. Posts are complemented with an original image or video, and the team provides real-life examples of how each word is used correctly by mainstream media.
But the team doesn't stop with grammar-related content. Sometimes, the band publishes fun quizzes, tips, jokes, and even comics. Here's one where you can take a quiz to find out what novel you are. According to Kingkong, the article has received more than 96.8K engagements on Facebook alone.
23. Smarp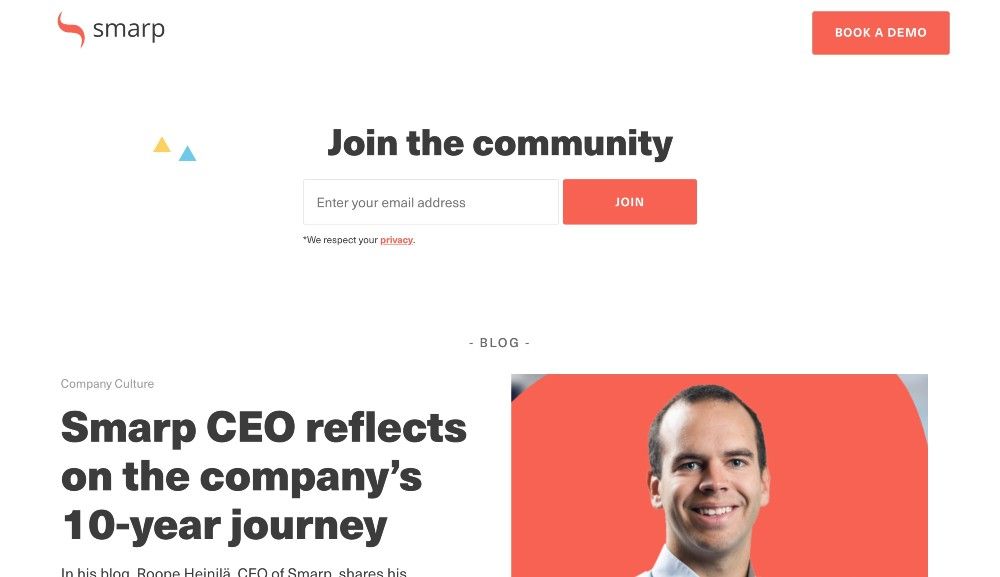 Smarp is an employee advocacy platform from Finland. Its blog covers a wide range of topics related to company culture like internal communications, HR, and crisis comms. Each post is backed up by research and data with an informative writing style.
Smarp excels in storytelling not only because the content is clever and insightful, but because the team takes time to produce relevant original images and videos. For example, Smarp added six original images, two infographics, and two videos inside this article. According to UberSuggest, that article alone is generating more than 100,000 monthly visits.
The Smarp blog also has occasional guest authors, including influencer marketing pro Shane Barker, social media writer Kelsey Jones, and business coach Lilach Bullock. Meanwhile, the Smarp team tends to cross-promote their other media channels, too, including a podcast, YouTube channel, and ebooks.
24. Animalz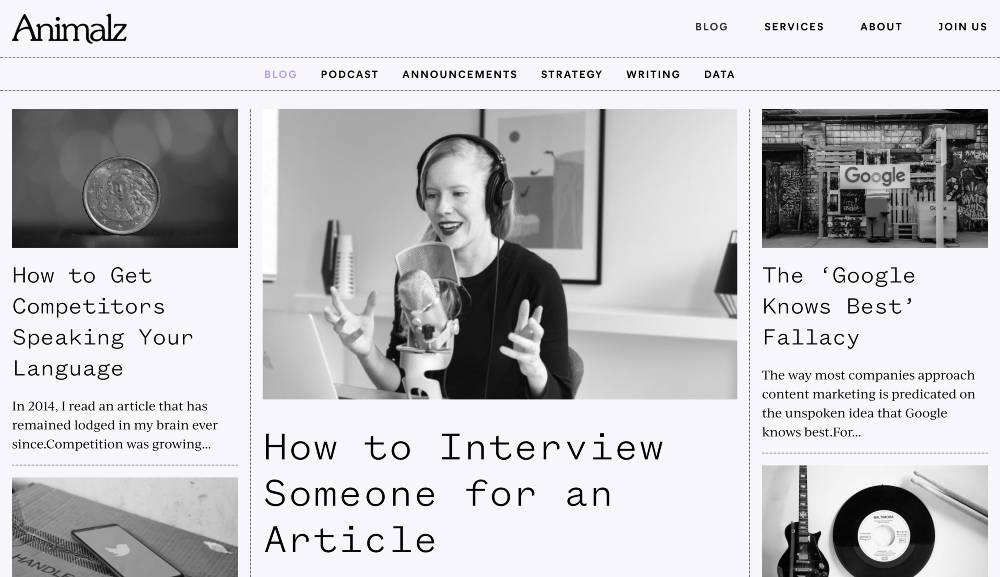 US-based content marketing agency Animalz is an excellent case study of how well this method can increase overall website traffic. The firm creates weekly blog posts targeting marketers at SaaS firms. The company's strength comes from data-driven and in-depth content that's highly relevant to its target audience.
The agency's content benchmark report, for example, analyzed 150 million pageviews from SaaS blogs over the course of the year and produced a hefty 6,000-word article. These kinds of thought leadership stories helped the team garner more than 5,500 inbound backlinks. When potential customers browse using keywords related to SaaS content marketing, the Animalz website will appear high on the first page of Google.
25. Canva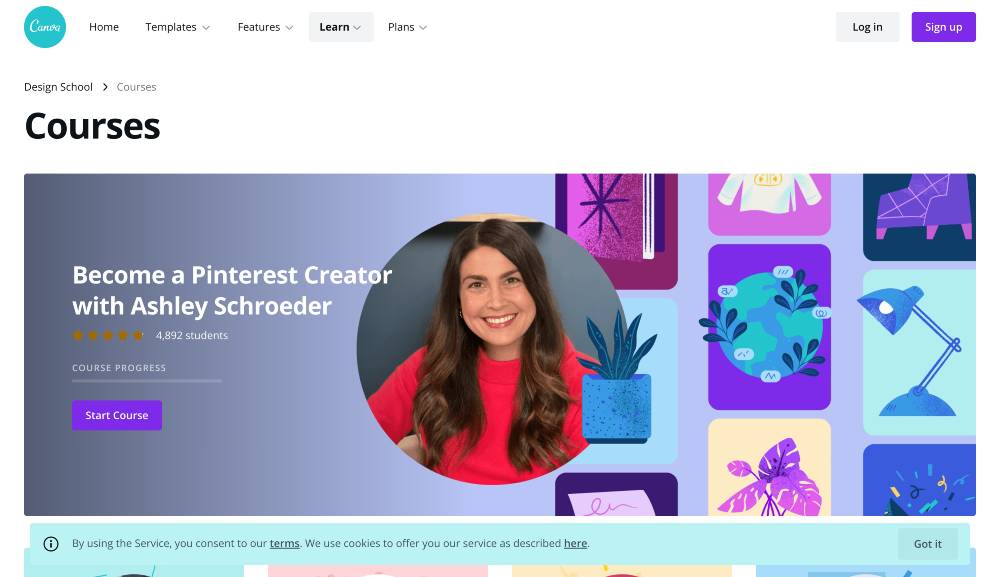 On top of providing an easy-to-use design platform, Canva also utilizes content marketing to teach users how to fully use its product. Under the Learn page, Canva offers three types of free content: online course, tutorials, and blog.
Yes, Canva has top-notch blog articles and tutorials. But the company's online course stands out above the rest. The firm's inhouse team -- along with superstar experts such as Gary Vaynerchuk and Guy Kawasaki -- acts as the teachers in each course.
So far, more than 400,000 students have enrolled in the courses. The Learn page on Canva generates more than 900,000 monthly visits. Even if working with quasi-famous people is not an option for you, offering a course to your users is still a move that can be used proportionately.
Clever podcast marketing examples for B2B marketers
Podcasting works thanks to its versatile and informative format. Listeners tune in while they're doing non-creative tasks like exercising, commuting, and household chores. According to Grand View Research, the global podcasting market size was valued at US$9.28 billion in 2019 and is expected to grow at a 27.5% compound annual growth rate until 2027.
With more than 100 million people listening to podcasts, the new media type has also attracted a younger audience than radio, with a median age of 34. Businesses can increase their exposure by utilizing this marketing format and distribute it via popular channels like iTunes, Spotify, and Clubhouse.
On top of brand awareness, a podcast can also help increase sales over time. A 2020 survey by Edison Research found that 54% of listeners are more likely to purchase a product they heard about from a podcast ad, while 48% said that they paid more attention to advertising done on podcasts.
26. McAfee
The world-renowned cybersecurity company runs an educational podcast titled "Hackable" to teach listeners how to be safe in a time when digital literacy is important. Its topics include various cybersecurity issues, like "can someone break into your car using a laptop?" among others. McAfee's Hackable has been downloaded more than 1 million times.
As a benchmark, the top 10% of podcast episodes on the internet generate around 3,000 downloads after 30 days of being published. So brands that can surpass the 1 million mark should be seen as doing well with podcasting.
When it comes to marketing, building awareness about the problem is as important as promoting the solution. So while listeners can learn to protect themselves better by listening to Hackable, they can also increase their understanding of possible threats lurking on the internet.
This podcast is a good example of how to captivate an audience with useful knowledge and entertainment value. It also provides real reasons to trust McAfee as a security software brand.
27. Buffer
Buffer's "The Science of Social Media" is a weekly podcast that shares social media stories, best practices, experimentations, and inspiration for brands. The crew invites their colleagues and outside marketing experts to share helpful social media tips and tricks from time to time. Buffer's podcast has now been listened to by 25,000 listeners with over 1.5 million downloads.
On top of that, Buffer's Chief Happiness Officer is also actively participating in another podcast called "Support Ops." Working alongside peers from other firms such as Automattic and Basecamp, the hosts discuss various insights for social media managers who need to also function as support teams for clients.
The educational podcast serves as another avenue for Buffer to promote its products. Like other formats, it's a good idea to bring in (or join) other experts to create content diversity and insights.
28. General Electric
A few years ago, General Electric surprised the world by launching a fictional sci-fi podcast series called "The Message." It follows a fictional scientist working to decode an extraterrestrial message using technology developed by GE.
The eight-part podcast has generated more than 5 million downloads and reached number one on the iTunes podcast chart. The company then launched a sequel titled "Life After," which also garnered millions of downloads.
The bold marketing strategy paid off, as it changed people's perception of the brand and provided entertainment value that will be remembered for a long time. Without relying on hard-selling techniques, General Electric excels at using fictional podcast marketing for clever product placement.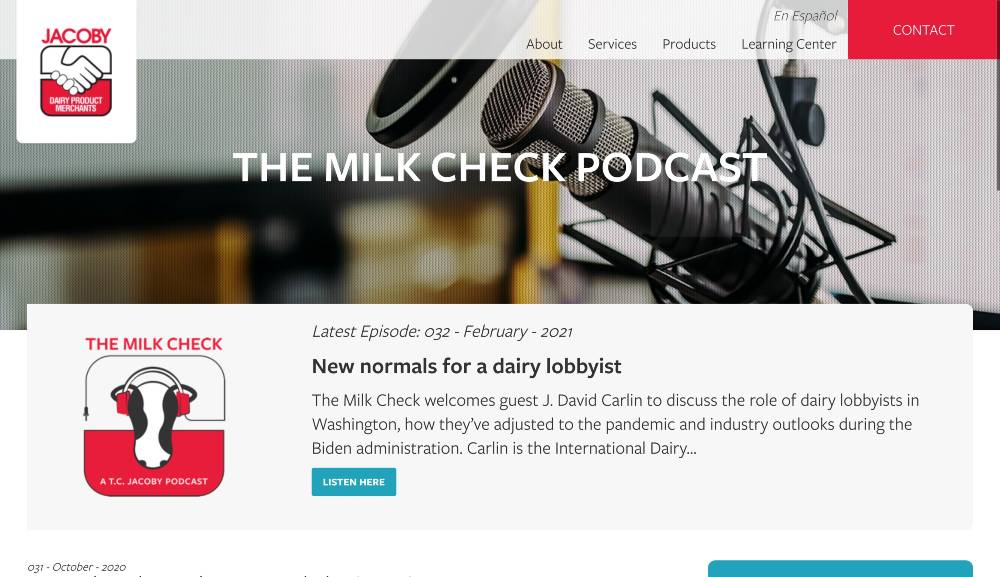 US-based industrial marketing agency Gorilla 76 found success in this strategy when targeting a highly niche audience. The agency wanted to provide high-quality content to an underserved market — dairy farmers in the US. It roped in its client's CEO, who has collective industry expertise of more than 90 years, to be the podcast anchor.
The team then went heavy on promoting the podcast, using email newsletters, website announcements, and most importantly, word-of-mouth. The company generated 8,000 downloads of podcast episodes after airing for 19 months.
More importantly, an impressive 95% of listeners tuned in to 75% of each episode's duration. High-level USDA officials and professors also became repeat listeners of the podcast. This high engagement helped Gorilla 76's client to become a well-respected thought leader in its niche.
For beginners: what is B2B content marketing?
For the uninitiated, this form of marketing involves creating and publishing informative and educational content to promote a B2B brand without overtly advertising it. Common B2B content marketing examples include company blogs, e-books, webinars, and research reports.
Content marketing can help B2B marketers attract and nurture potential buyers inside of a sales funnel. According to MarketingCharts, B2B buyers are more likely to buy from a vendor after reading some of its original content.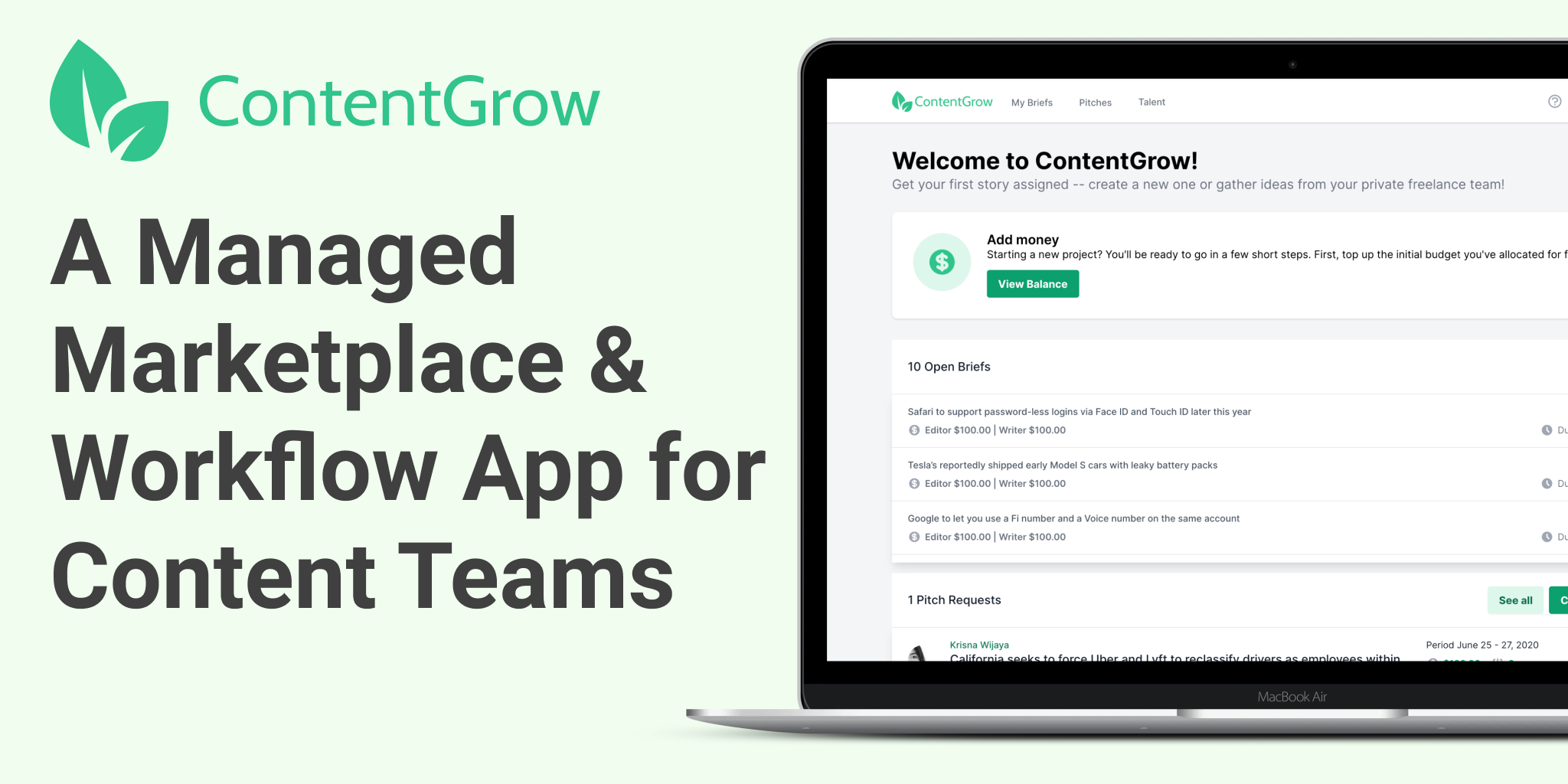 Is B2B content marketing different from B2C content marketing?
Both B2B and B2C marketers use content to increase brand awareness and build credibility. However, B2B and B2C are also different in several ways.
B2C marketers target a mass audience of individual consumers. For example, McDonald's markets burgers, fries, and ice cream to children and their parents, worldwide.
B2B marketers target smaller audiences of businesses. For example, chat app Slack markets to enterprise teams as a better way to communicate throughout the organization.
Another difference between the two is strategy. B2C marketers tend to employ more entertainment and emotional values in their campaigns. Researchers have pointed out that consumers are more likely to buy with their emotions and justify their purchase with facts thereafter.
On the other hand, B2B marketers focus on stating facts and benefits when talking to corporate buyers. In most cases, companies tend to buy a product or service that costs less but can help them drive more profit. There are less emotions involved in the B2B purchasing journey.
What are the benefits of thought leadership in marketing?
According to a recent Edelman study, thought leadership content effectively influences purchasing decisions among B2B buyers. Organizations that produce high-quality content also tend to have a stronger brand reputation and perceived capability. In turn, this makes it easier for them to generate leads and sales.
However, the study also revealed that most thought leadership content out there isn't very good. Low-quality content may even have harmful consequences for businesses. B2B buyers say that their admiration and respect toward a company sometimes decrease when they read lousy (attempted thought leadership) content.
What makes excellent thought leadership content?
According to the same study, high-quality thought leadership content should deliver new perspectives to its target audiences. Decision-makers need to gain valuable insights by either discovering new thinking that they've never considered before or exciting ideas that they may have overlooked.
The content produced should provide deep insights and shouldn't just repeat what everybody else is saying. Good thought leadership content should include a clear set of actionables, have something substantive to say on an industry topic, and back all ideas with high-quality research.
Uniquely, decision-makers tend to react more positively toward easy-to-digest, short-form thought leadership content. In this regard, short blog posts or infographics can be suitable formats for thought leadership.
Save time and money when producing high-quality press releases and thought leadership articles. ContentGrow helps teams work with perfectly-matched freelance writers and journalists at the right rates. Fill out the form to get your own list of talent or visit the site to get started.