MarTech stack deep dive: email marketing
There are various ways to use the internet for your business. One method remains just as crucial today as it was created in 1971 --email marketing.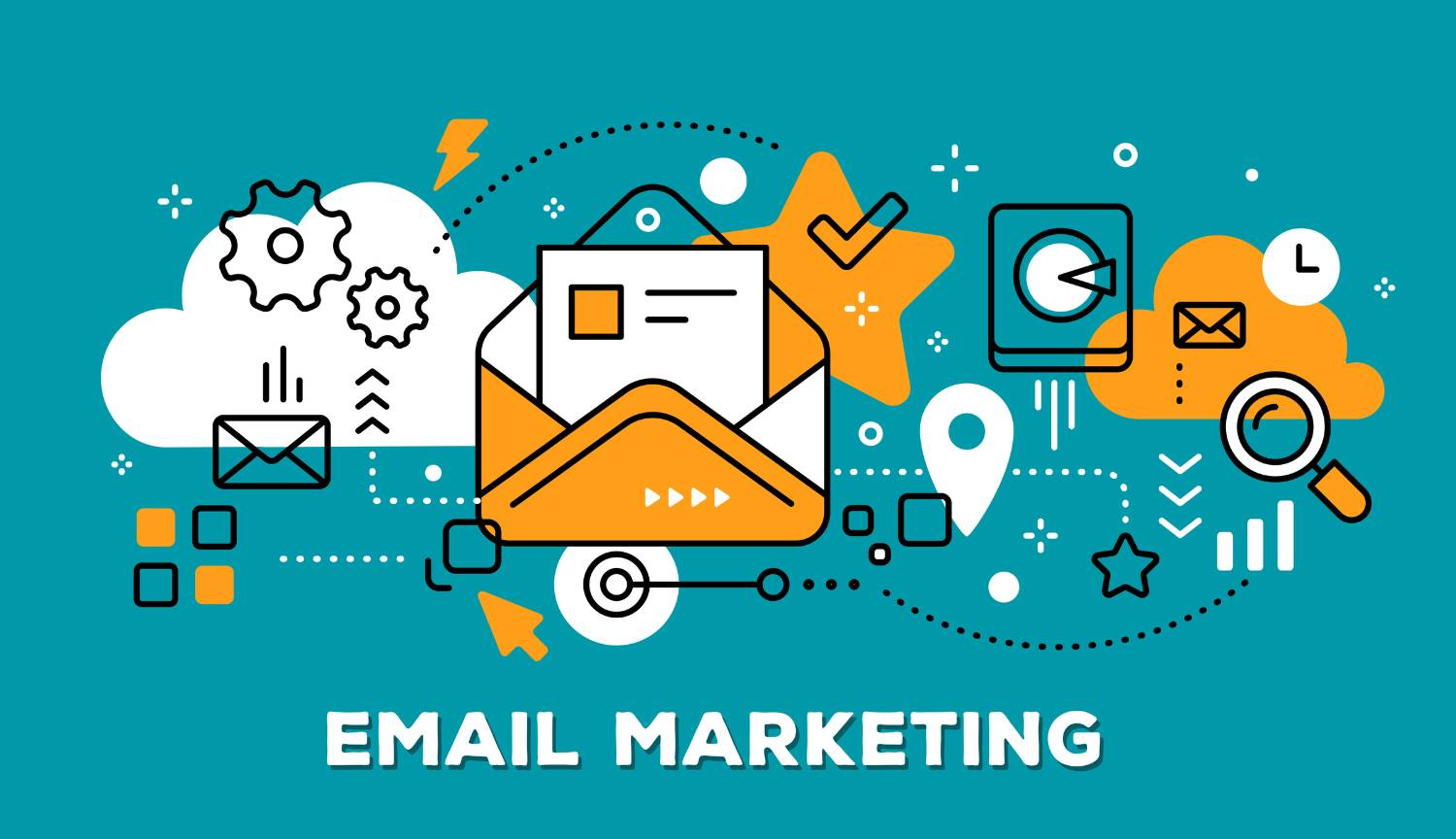 In 2022, this part of the martech stack is still considered a formidable and affordable tool for driving sales, building engagement, and nurturing customer relationships.
So what's email marketing?
Email marketing is part of the martech stack that involves sending emails to a list of users that have consented to receive correspondence from your companies.
These emails can be promotional, transactional, or informational with various usage, from growing conversions and driving traffic to cultivate a large and loyal base of followers.
The most standard use of email marketing is to mail promotional emails. These usually include a call-to-action (CTA), and special offers, to increase sales. Promotional emails can be sent on their own or as part of a campaign.
An excellent example of this is a promotional email by Tory Burch. Through their promotional email, they added a GIF animation to help to separate this email from Tory Burch from all of the stationary emails in their recipient's inboxes.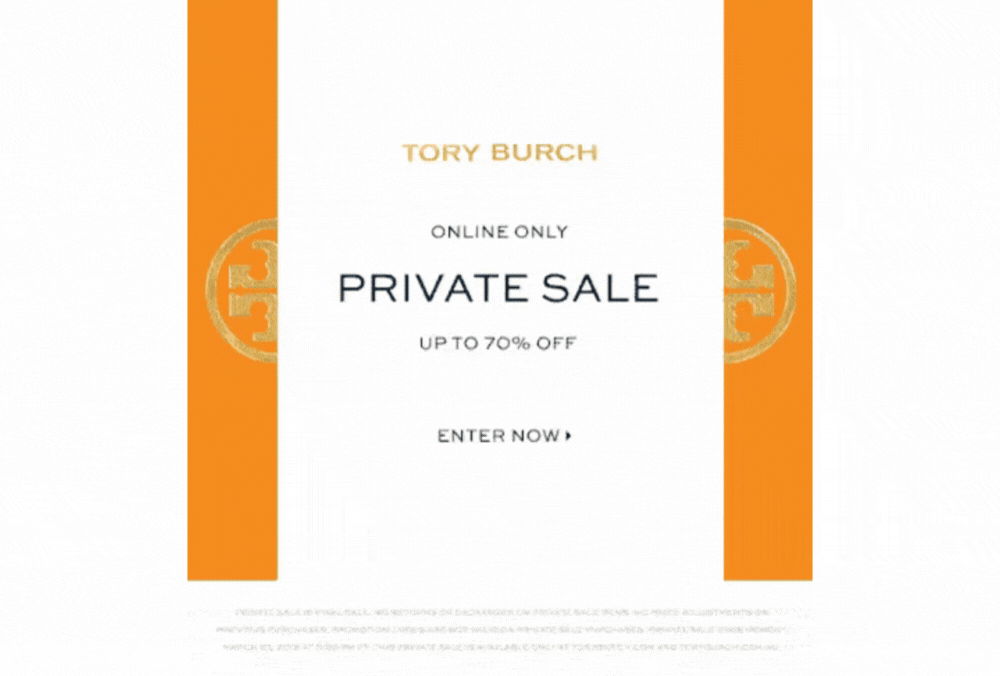 They also leverage exclusivity by framing the promotion as a "private" sale. Frequently, this type of positioning makes the recipient feel like they're specially chosen, encouraging them to take advantage of the unique opportunity they've been presented with. It also works as emails can get bland and impersonal.
On the other hand, Information Emails usually consist of announcements and newsletter functions to give more exposure to companies by containing links to the latest website posts or features, thereby increasing traffic to your site. According to the Content Marketing Institute, 31% of B2B marketers cite email newsletters as the most effective way to nurture leads.
Lastly, there is also a transactional email that serves as the counterpart of their commercial emails above. Whereas a commercial email usually features CTAs and a special offer to build engagement and make a sale, transactional emails are sent in response to a user action, such as signing up for something or making a purchase.
One of the best examples of a transactional email is by a Non-profit organization known as charity: water project. Once someone donates to a charity: water project, their money takes a long journey.
Most charities don't tell you about that journey at all. However, charity: water uses automated emails to show donors how their money is making an impact over time.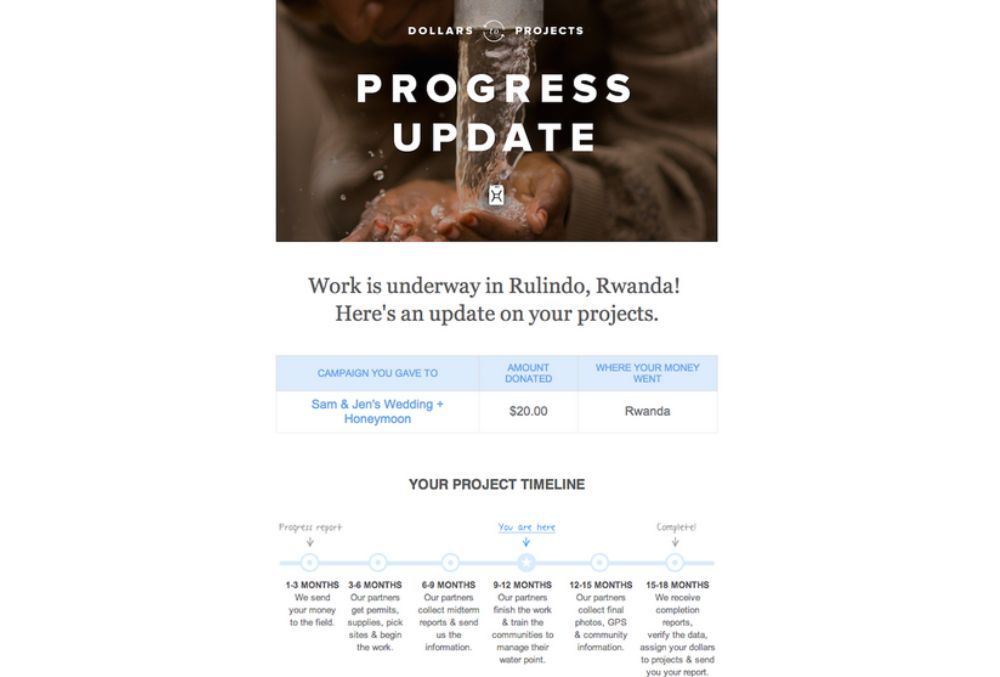 Completed with the project timeline and accompanying table, you don't even need to read the email as you know immediately where you are in the process of moving on to other things in your inbox.
Charity: water's transactional email strategy keeps the audience engaged and shows the impact their actions have made on the organization to stay top-of-mind and increase future participation.
Benefits of email marketing
Optimum conversion rate: Quality content can engage customers and convert their curiosity into sales, yielding high results and conversions. Furthermore, Email marketing has the most increased conversion rate (66%) of purchases made in response to promotional emails.
Affordable Marketing Method: DMA 2021 report shows that you can get an ROI of 51.52 USD for each dollar spent on email marketing. There are several reasons, such as no advertisement fees, printing costs, or media space costs. Hence, Email marketing can be much less expensive and more rewarding than other types of marketing.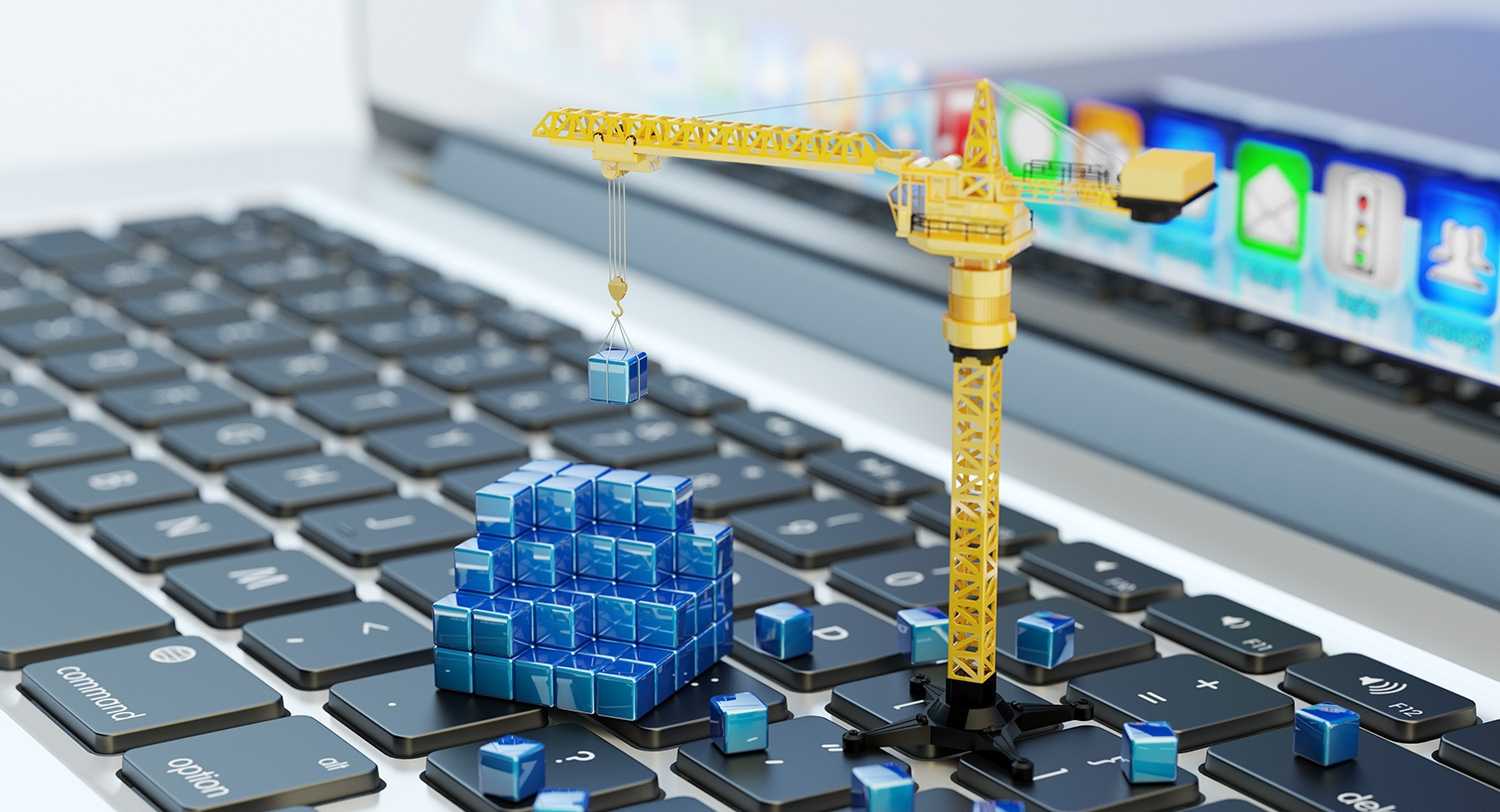 It is also universal as, according to a survey by Statista, 93.6% of consumers (age 25-44 US internet users) use email, which is a vast number to engage with for different goals.
Boost brand awareness: Research by Statista has shown that approximately 306.4 billion emails were delivered and received every day in 2020; this number is expected to rise to over 376.4 billion emails by 2025.
Your email is also more permanent, as it becomes your property when you make an email account. It also gives the user more access and control over the providers as no one can delete your content unless it's spam or illegal. Therefore, email marketing playes an essential role in building communication channels and spreading awareness for brands and will continue to do so.
This is the second in a series of MarTech Stack articles, and we hope that this has provided insight into the MarTech landscape.
Save time and money when creating and distributing high-quality copy for branding and marketing with ContentGrow. Sign up to get your campaign started or book a quick call with our team to learn more.