Content marketing for SaaS: report and benchmarks
The right kind of content marketing for SaaS companies can amass millions of visitors at scale. Here are several key takeaways from a recent Animalz report.

When done correctly, content marketing for SaaS companies can be a powerful strategy. Firms like HubSpot and HootSuite are great examples, as they routinely pull in millions of monthly visitors to their branded blogs.
Marketers who are looking to hone their content game may want to check out the latest report from Animalz, which analyzes more than 150 million pageviews from B2B SaaS firms. Here are three key takeaways from the report.
1. Organic search is still the primary source of traffic for company blogs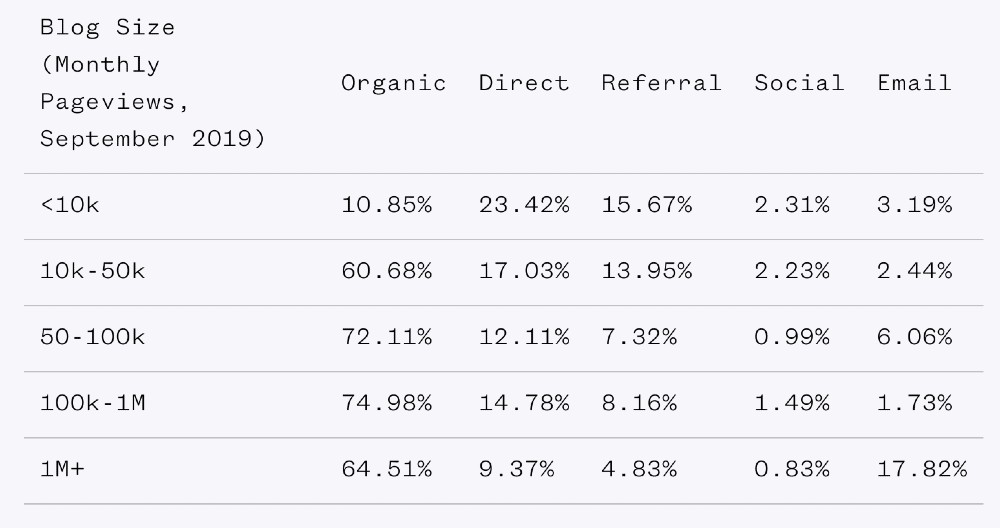 The Animalz report grouped a range of blogs based on traffic, from the smallest (less than 10,000 monthly pageviews) to the largest (more than 1 million monthly pageviews). The result: sites with at least 10,000 monthly pageviews count organic search as their biggest traffic source. Meanwhile, 64.51% of traffic to the high performing blogs also come from organic search, with email coming in second place at 17.82%.
The report states that the industry benchmark for bounce rates is 80.33%. This means it's quite normal for visitors to leave your site after just reading one post.
Because it takes time to build organic traffic, the report also advises companies with little blog traffic to utilize other channels in an effort to seed growth. This includes social media, email, and community engagement.
See: Trends and data: 105+ NEW and powerful marketing statistics for 2021
2. Use different types of content to achieve different objectives
SEO practitioners agree that backlinks are among the top SEO factors that help you win the search engine battle. However, it turns out that creating SEO-optimized content may not be the best way to acquire backlinks. The report suggests that the content which generates the most traffic is different from the content that builds the most backlinks.
The study found that how-to articles are effective when building organic traffic, but not so much for backlinks. In a separate study, Backlinko concluded that "why posts," "what posts," and infographics stand a better chance to acquire backlinks.
Lastly, if you're looking to increase the reader's engagement (time spent on page, click-through rate, etc) with your content, Animalz believes that tutorial content is the best format. A healthy site engagement will help you gain additional SEO points from Google. The industry benchmark for time spent on page is three minutes and 15 seconds.
3. How to get to 1 million yearly pageviews
According to the report, it takes a lot of time to build a thriving media page for SaaS companies. In the case of SaaS firms with more than 1 million yearly pageviews, it usually takes around nine years to get there.
Additionally, these SaaS firms have around six high-performing posts, each of which accumulates around 100,000 yearly pageviews. This correlates with another finding from the report, which states that 80% of all traffic to a company blog is generated by just 16% of its articles.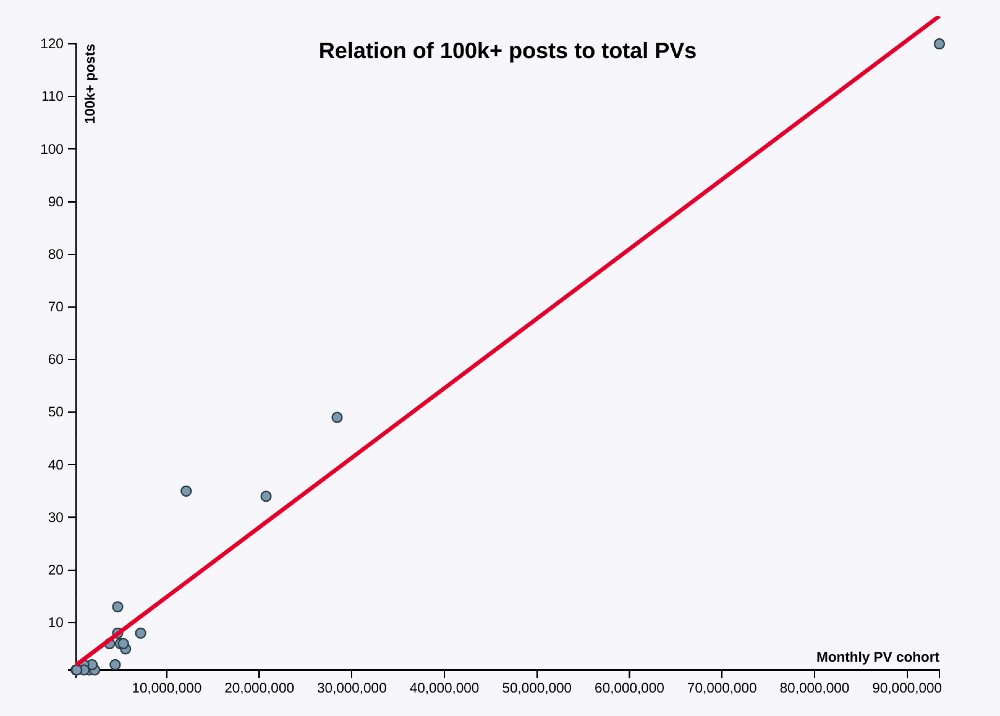 Finally, firms with more than 1 million yearly pageviews (those who are truly winning when it comes to SEO) receive a whopping 86.52% of their traffic from organic search. This is a high figure when compared to the average 59.22% for all blogs studied in the report.
See: 8 recommended content marketing agencies in Asia Pacific
Save time and money when producing high-quality content. ContentGrow helps brands and publishers work with perfectly matched freelance writers and journalists at preferred rates. Fill out the form below to get your own shortlist of talent or visit the site to get started.