6 things for marketers to know about B2B gifting platform Alyce
Alyce aims to turn business gifting into a simple, personal, and relatable experience for B2B partners. Here's what marketers can learn.

In the world of B2B partnerships, giving out personal gifts or fun company swag can help your brand stand out from the crowd. However, the strategy can also backfire when recipients don't like the gifts they receive (or feel a gift is inappropriate). For this, US-based business gifting platform Alyce offers a solution.
The startup recently raised US$30 million in additional firepower to help companies send better corporate gifts to clients. Here are six things marketers should know about Alyce.
What is Alyce?
Founded back in 2015, Alyce uses AI to help B2B companies in the US send personalized gifts to their clients. The company's algorithm helps figure out the customer's interests, and then recommends the right gifts for them. The platform can help track a customer's response to the gift, schedule follow-up meetings with them, and even show how a gift impacts the company's revenue reports (e.g. return on investment).
Businesses can purchase gifts inside Alyce's marketplace, in which it claims to have around 30,000 products, including helicopter trips, in-home massages, and Amazon gift cards. Alternatively, users can send a gift code that lets the recipient select their own gifts online. Interestingly, the recipient can also choose whether they'd like to receive, exchange, or donate the gift's value to a charity (this is probably because some company's can't accept corporate gifts above a certain value for ethical reasons).
Alyce's premium feature called "Activate" allows marketers to send universal gift links to clients. The link can also be used as a simple greeting, thank you message, or meeting invitation. Alyce can also integrate with other business apps such as Gmail, Salesforce, or Marketo.
See: 11 smart B2B content marketing examples and success stories
How much does Alyce cost?
Alyce has three plans with undisclosed prices on its website: Essentials, Growth, and Pro. Its basic plan covers most features a small team would need, while the more premium tiers unlock the Activate feature and other functions.
What is Alyce's traction?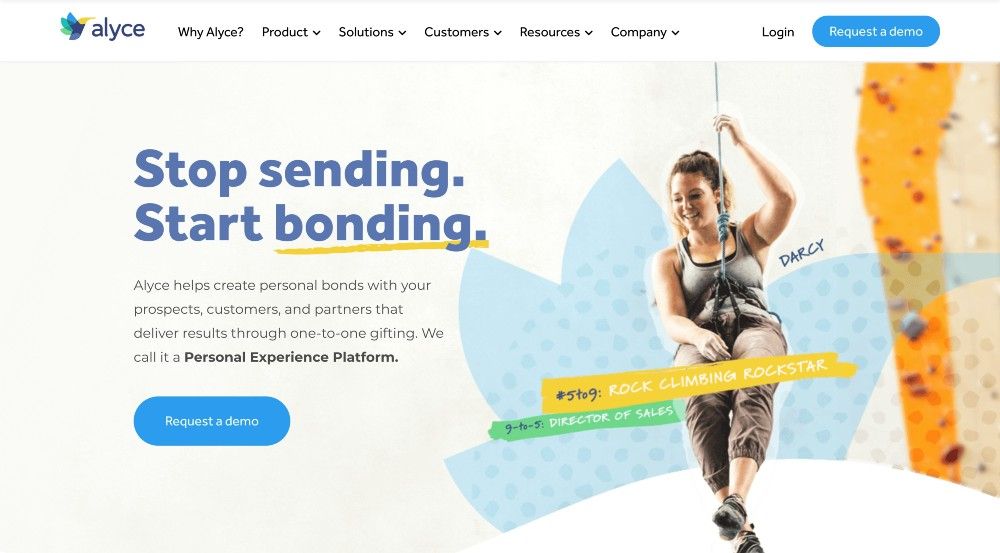 Alyce claims to generate US$10 million in revenue in 2020, and noted 300% annual growth for the same year.
The startup has earned trust from well-known brands such as Adobe's Marketo, Lenovo, DialPad, Wex, and others. Alyce has received several recognitions including LinkedIn's top US startups list in 2020, Forbes' best American startup employers for 2020, and G2's list of best enterprise softwares.
Who owns Alyce?
Greg Segall is the founder and CEO of Alyce. Before establishing the firm in 2015, he had already built two businesses, one of which is an ecommerce agency that was acquired in 2012.
To date, Alyce has secured US$48 million from nine investors, including General Catalyst, Manifest Investment Partners, and Boston Seed Capital.
Who are Alyce's competitors?
Alyce is currently head-to-head with Sendoso and Giftpack in helping US-based B2B teams send personalized gifts.
Launched in 2016, Sendoso is trusted by companies like Gong, Zuora, Outreach, and Snowflake to support their engagement activities. It has earned US$52.7 million in capital from ten investors.
Giftpack started in the same year. The company raised two rounds of undisclosed amounts in 2018 and 2019 from two investors. The firm's notable clients include Forbes, Google, Facebook, Yahoo, Cisco, and others.
What are they saying?
Segall said, "As everyone was flooded with spam last year, unsubscribing soared. When a prospect opts out, that's forever. It's clear that both brands and customers crave the same thing -- a much more purposeful and relatable way to engage."
Managing Partner of Victress Capital and Alyce board observer and investor Suzanne Norris added, "Alyce has an impressively diverse workforce -- nearly 50% of its team is female. The focus on authentic engagement really starts and expands out from its values and inherent culture of responsibility and respect."
Update (May 15, 2021): We've added more details about Alyce's recent awards, as well as updating their revenue and total investment figures.
Save time and money when producing high-quality content. ContentGrow helps marketing teams work with perfectly-matched freelance writers and journalists at preferred rates. Fill out the form below to get your own talent list or visit the site to get started.