5 unique findings from CMI's B2B content marketing report 2021
Content Marketing Institute (CMI) has published its annual B2B content marketing report for 2021. Here are some interesting takeaways from the study.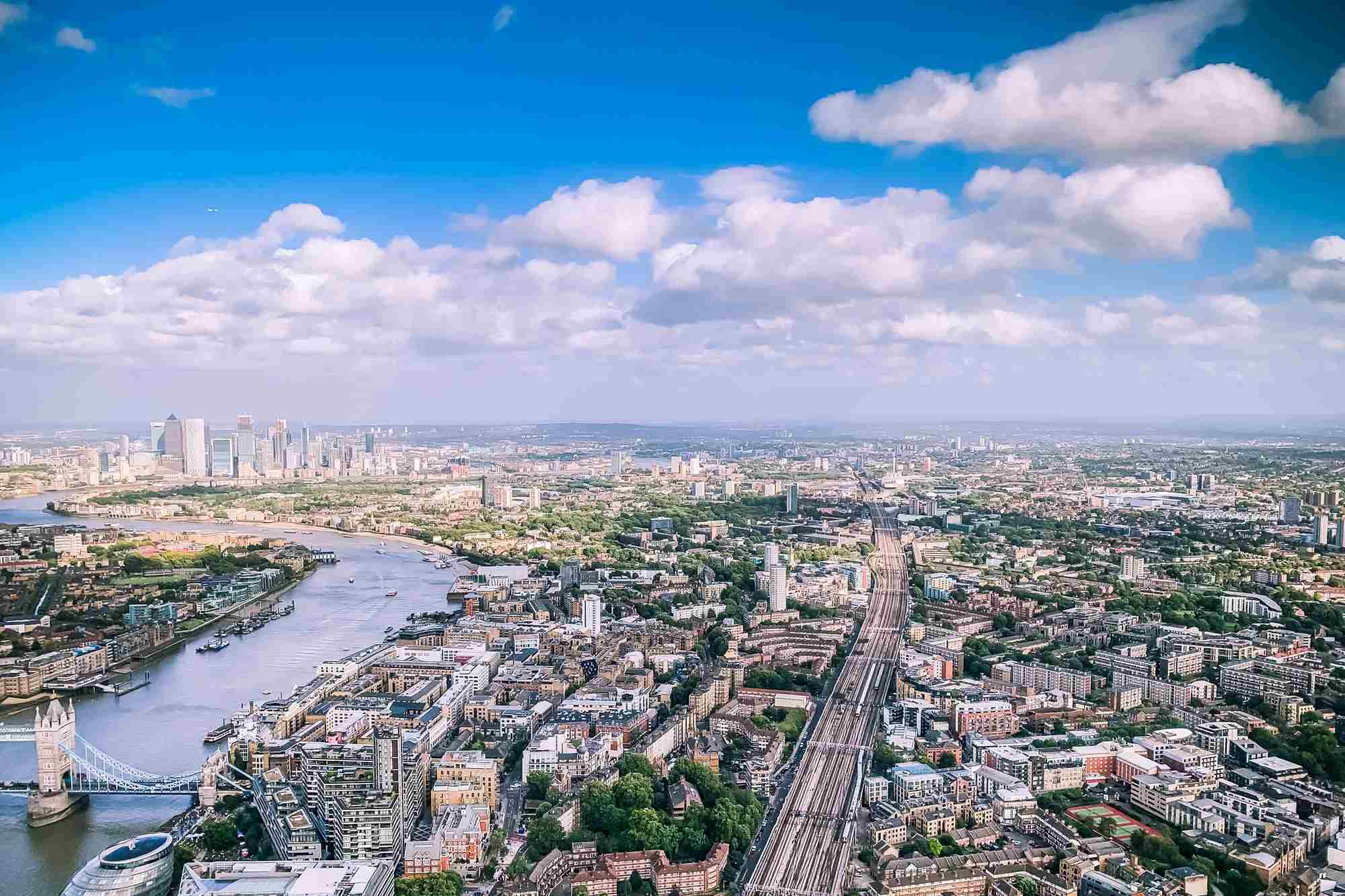 Content Marketing Institute (CMI), the UK-based content marketing training provider, released its annual B2B content marketing report. This study is based on survey answers from 740 respondents who reside in North America, representing a range of industries, functional areas, and company sizes. Here are five interesting conclusions from the report.
1. Quality is king for content marketers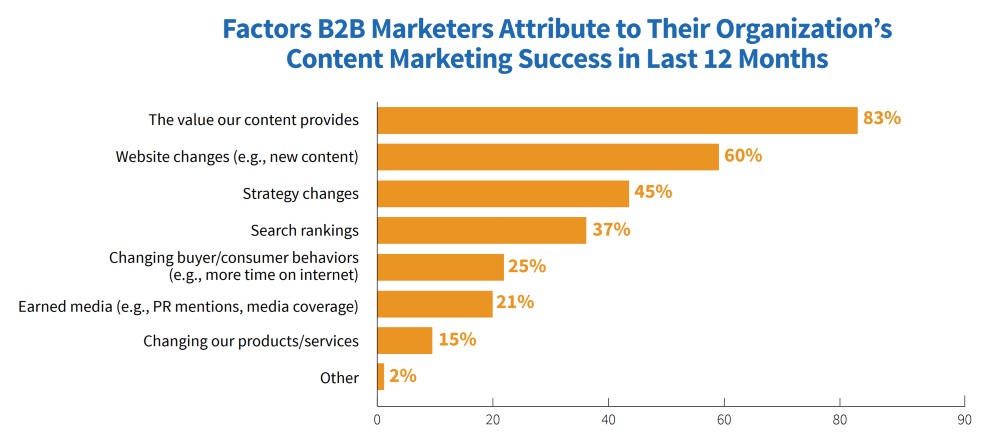 The good news is that 85% of respondents have seen promising results from their content marketing execution in the last 12 months. The reported driving factor for success was the content's overall quality, as 83% of respondents believe that they see better ROI when they provide more tangible value in their content.
Other success factors included regular content creation (60%), strategy adjustments (45%), and search rankings (37%). It's interesting to see that marketers put content value above SEO strength. On top of traffic, great content can also help build brand credibility in the long run. Afterall, Google loves great content. So it makes sense that marketers are shifting focus back toward simply producing stories that people love — rather than trying so hard to please the search engine gods.
2. Content creation is the biggest challenge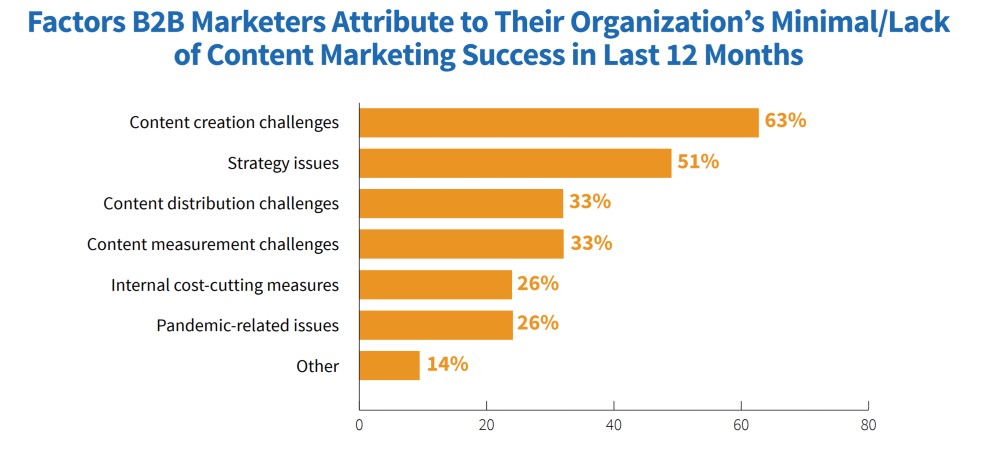 When it comes to the biggest roadblocks, budget isn't high on the list. The number one problem cited by marketers is content creation (63%). This might be because companies of all shapes and sizes simply don't have enough dedicated content marketers on their teams. More than half the respondents (58%) stated that they have either one dedicated full-timer working on content marketing, or none at all.
Other challenges cited by marketers are strategy issues (51%), content distribution (33%), budget (26%), and 2020's pandemic-related issues (26%).
See: Trends and data: 105+ NEW and powerful marketing statistics for 2021
3. It's not that easy to outsource content creation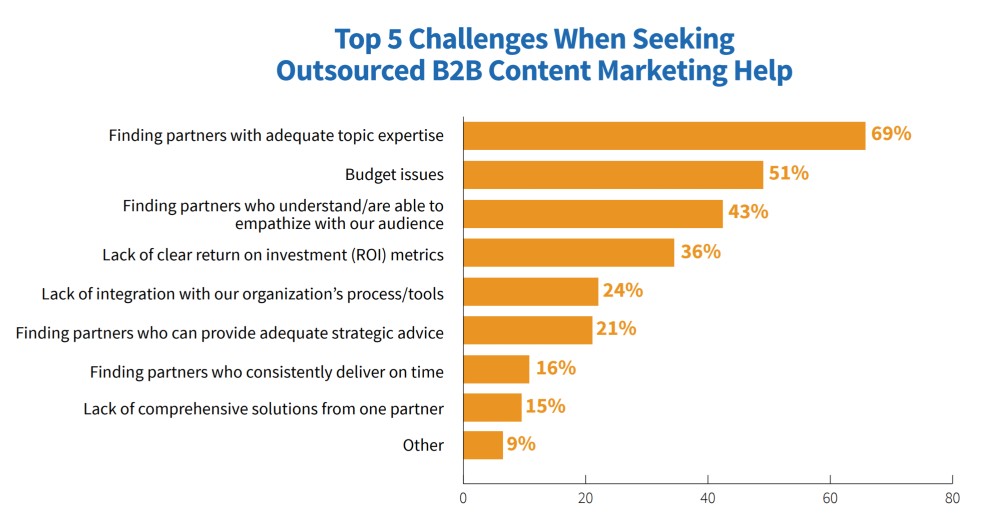 49% of respondents say that they work with outsourced talent for content marketing, with content creation being the main problem to solve (86%). This is common, as internal teams are usually the ones taking charge of strategy at large.
When companies outsource their content creation, 69% find that the biggest challenge is finding the right partners with adequate topic expertise. 43% believe that it's also important to find outsourced talent who is not just smart, but also able to empathize with the target audience. As mentioned, content quality is crucial in driving results, and despite a wealth of outsourcing options out there, companies say it's still tough to find the right agencies and freelancers.
The second biggest issue faced by marketers when it comes to outsourced work is budget (51%). It's difficult to find great partners to create content, but it's even harder to find ones that suit the budget.
Marketers who still find it a challenge to secure the right talent may want to give solutions like ContentGrow a try. Built by journalists, this tool provides freelance writer and journalist curation for brands on an ongoing basis. The curation is done manually by humans, and is customized based on the buyer's project requirements and budget.
4. SEO is crucial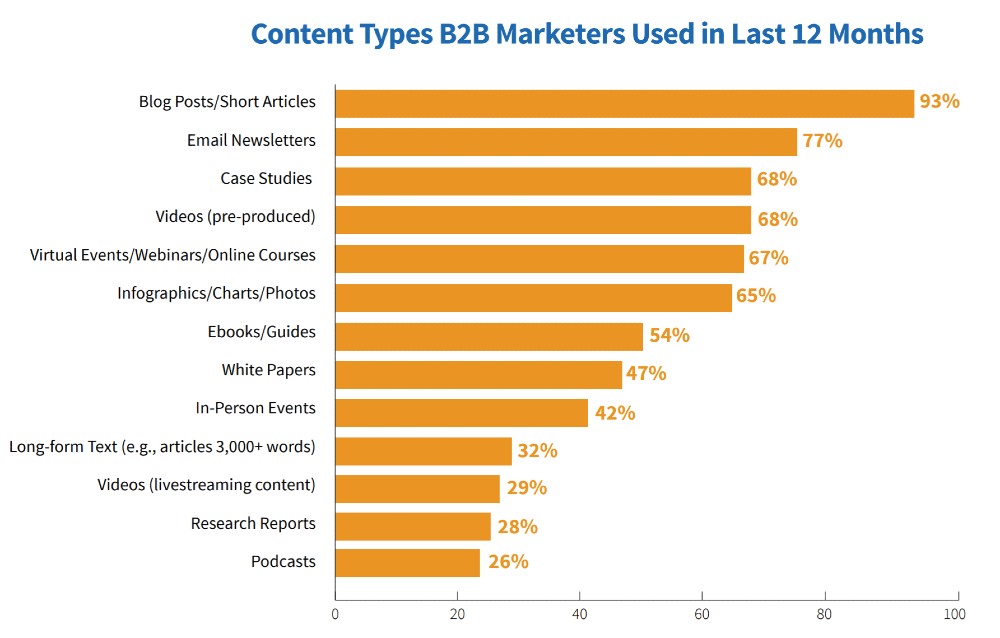 B2B marketers believe that it's important to win the search engine battle. 90% of marketers see website traffic as an important metric for success. This is further reflected as keyword research software and apps are cited (78%) as the most used editorial tools.
When it comes to the content type that marketers create, the number one spot is taken by written articles (93%). The survey also asked whether respondents create long-form content with at least 3,000 words per story, and only 32% said yes. So according to most of these practitioners, while long-form articles tend to do well on SEO, 3,000 words might be overkill.
See: 12 recommended firms offering professional content writing services
5. The average size of a content marketing team is small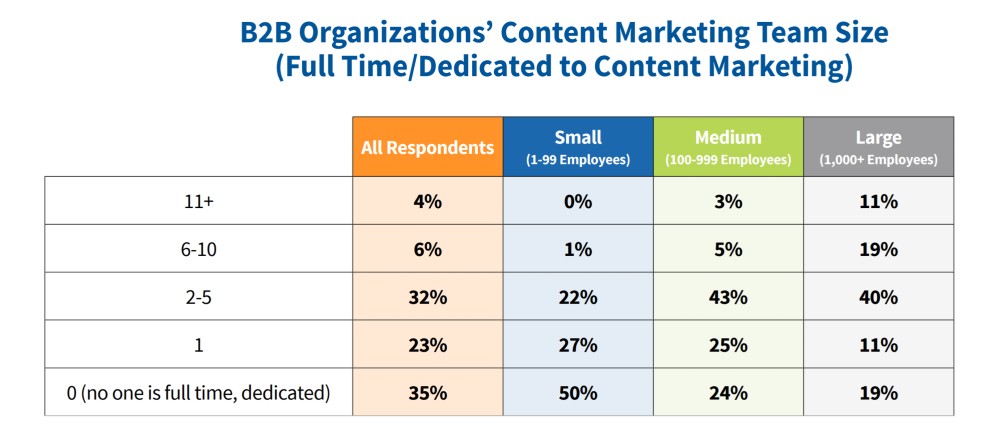 92% of medium-sized companies — those with at least 100 employees — have less than six dedicated full-timers focusing on content marketing. This could either mean that management hasn't recognized content marketing as a top priority, or it's because most of the work is done via outsourcing.
It could also mean that content marketing affirms itself as a scalable growth strategy, meaning it doesn't necessarily take a big team to deliver a big impact. When done correctly, published content can continue to grow a website's traffic and engagement organically, while keeping overhead costs relatively stable.
The report goes on to discuss how the pandemic has affected the respondents' content marketing plans this year. It covers the top tools that they use, and whether they plan to increase the budget for content marketing initiatives (the answer was a resounding 'yes'). Check out the full findings here.
Save time and money when producing high-quality content. ContentGrow helps brands and publishers work with perfectly matched freelance writers and journalists at preferred rates. Fill out the form below to get your own shortlist of talent or visit the site to get started.