Turning customers into loyal brand ambassadors with Brandbassador
Brandbassador helps businesses optimize their earnings and branding with word-of-mouth marketing.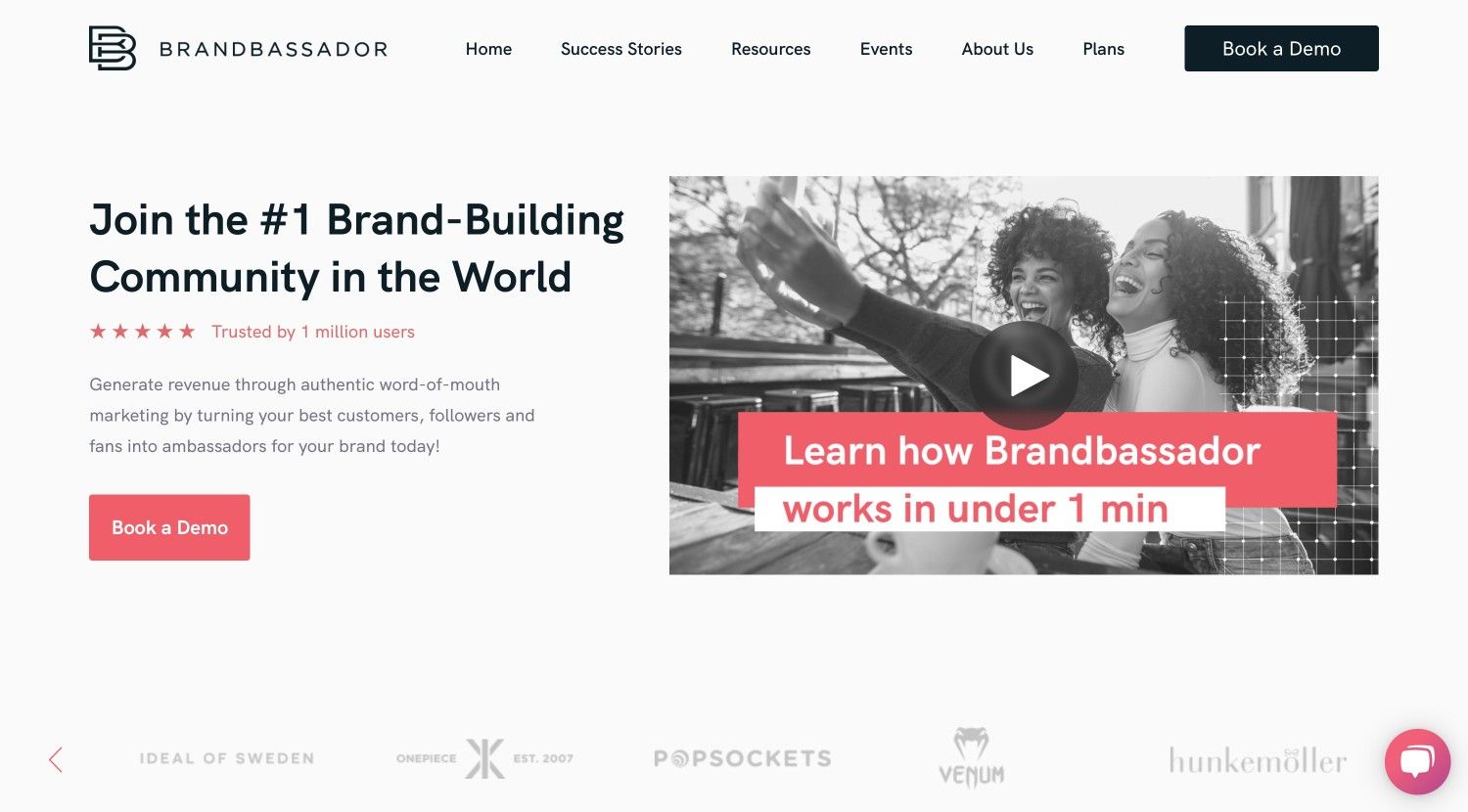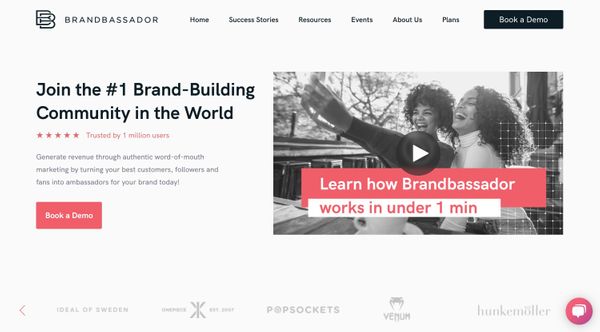 More than six out of ten merchants report that revenue grew by 20% after they leveraged word-of-mouth marketing. In fact, this form of marketing has helped 73% of merchants achieve their revenue goals.
Also known as affiliate or ambassador marketing, word-of-mouth is a form of marketing in which an affiliate is rewarded, usually through commissions, for bringing a new customer to the brand or making a new sale. This strategy leverages the community, rather than pricier alternatives like public figures, to promote and sell products.
Word-of-mouth marketing has grown in popularity in recent years. Globally, the industry is estimated to be worth a not-too-shabby US$12 billion.
For companies running affiliate programs with hundreds, or even thousands, of ambassadors, tools like Brandbassador are useful for streamlining the process. Brandbassador is an end-to-end platform that businesses can use to find, manage, and reward brand ambassadors automatically.
Here are six things to know about Brandbassador.
What is Brandbassador?
Brandbassador is an ambassador marketing platform created to help companies manage their affiliate programs. The main goal is to help brands drive sales, generate more revenue, collect high-quality user-generated content, and strengthen the brand's positioning in the community.
Here's how the app works:
With Brandbassador, community members are invited to sign up for a brand's affiliate program and apply to be an ambassador. Next, businesses review members' profiles and select those who fit their brand ambassador criteria.
Instead of assigning tasks manually, marketers can create 'missions' and let the ambassadors choose which one they want to complete. These missions cover a variety of tasks, such as writing sponsored posts, running paid partnerships, accumulating comments on social media, and so on.
Ambassadors earn commission points for each completed mission. These points can be exchanged for rewards like gift cards, free products, or even cash. Each ambassador's performance is tracked using their own unique discount code, which their peers will use when purchasing the brand's products.
With the dedicated Brandbassador app, community members can sign up to be an ambassador, register for missions, and redeem their rewards.
Brandbassador also provides analytics on how much revenue and social media engagement is achieved via a brand's ambassadors. With plug-and-play integration to  Salesforce, Shopify, Opencart, and other platforms, businesses can also track revenue from other apps.
How much does it cost?
Pricing for Brandbassador is only available upon request. In general, users can choose one of three plans: Growth, Pro, and Bolt-Ons.
The Growth plan covers most of the basic features needed to run an affiliate program. With this plan, businesses can manage unlimited brand ambassadors, unlimited admin users, unlimited missions, and offer a mobile app for ambassadors. Brands that want more features like community performance analysis, premium onboarding, coaching, and a success manager can opt for the Pro plan instead.
Meanwhile, larger corporations can consider the Bolt-Ons package. It comes with additional features, such as a dedicated brand executive, access to strategy workshops, and custom reports.
What is the company's traction?
Brandbassador focuses its product mainly on e-commerce brands. To date, the company has successfully acquired around 1 million customers, including prominent names like Daniel Wellington, PopSockets, MVMT, Fabletics, and iDeal of Sweden.
The company completed its first capital raise in a 2016 seed round. However, there are no other details regarding the company's subsequent fundraises or revenue history.
Who owns Brandbassador?
Thomas Adams (CEO) and Ole Fjelberg (COO), co-owners of clothing brand Onepiece, co-founded Brandbassador in 2012.
Brandbassador was initially built as a solution to recurring problems that the duo encountered when running marketing for Onepiece. They found that social media engagement often involved too many brand ambassadors and affiliate programs. Despite these challenges, Onepiece today claims "almost US$200 million in online revenue" thanks to its strong social media strategy.
Prior to Brandbassador, Adams also launched other e-commerce businesses, like Beltspenner.com, which ran from from 2004 to 2010. Today, Adams also operates a clothing brand, Towel Club, alongside Brandbassador and Onepiece.
Fjelberg was the booking team leader in Axir Investment Consulting AS and county manager at Redress AS. Before co-founding Onepiece, he also ran KleinService, a cleaning company, from 2008 to 2010.
See: Martech startup funding news: 48+ investments and acquisitions in 2021
Who are Brandbassador's competitors?
Ambassador and Wooly are Brandbassador's two main competitors. The three offer similar services of finding, recruiting, and managing brand ambassadors for businesses.
US-based Ambassador has worked with global companies like Spotify and T Mobile to enhance its marketing strategy with brand ambassadors. In early 2021, the company was acquired by i2 Holdings for an undisclosed amount.
Like Brandbassador, Wooly mainly serves e-commerce brands like Grande Cosmetic, Blendtec, and Blender Bottle. To date, Wooly has not disclosed any financial information to the public.
What was Brandbassador's most notable move recently?
In 2020, Brandbassador introduced a new feature, Myshop. This allows a company's brand ambassadors to open their own online stores, which will stock the brand's products. Consumers can directly purchase items from ambassadors' individual stores, transforming them into a working compoenent of the brand's sales force.
When a sale is made via an ambassador's store, a commission will be deducted from the sale and the remaining cash transferred to the brand's Stripe account. The order will also be automatically placed in the company's store.
Save time and money when creating and distributing high-quality PR and branded content. ContentGrow's platform serves up the best freelance content professionals and helps marketing teams execute at scale. Fill out the form below to get your talent list or visit the site to get started.