Report: content marketing industry size and opportunities in the US
The Branded Content Project report outlines the latest content marketing industry data and insights for marketers in the US. Here are three key takeaways.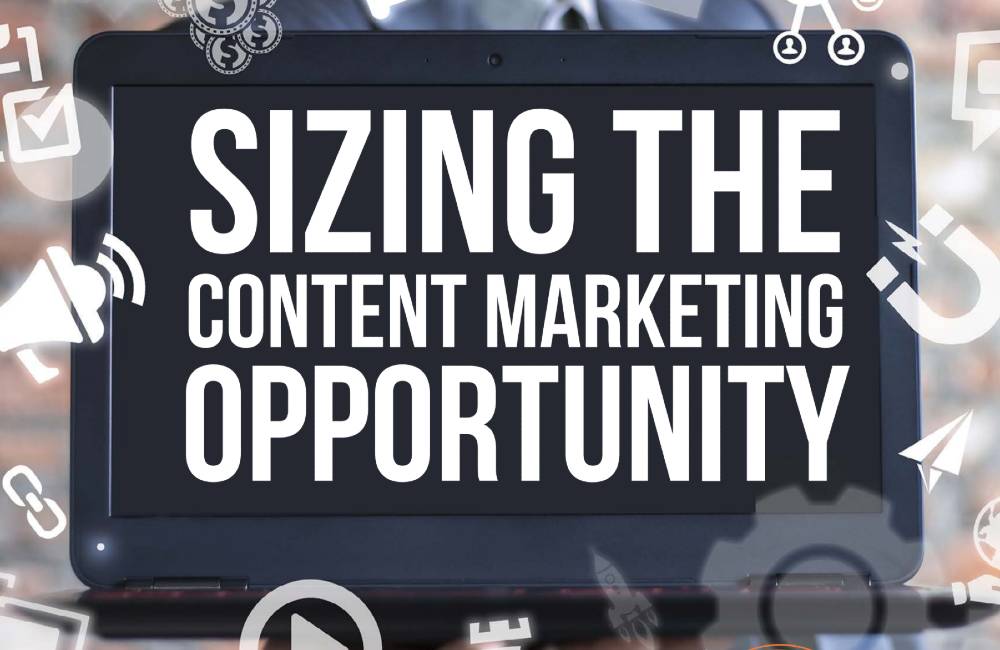 The Branded Content Project, a Facebook Journalism Project-funded initiative to facilitate publisher growth, recently released a report which maps out content marketing industry opportunities in the US. Content marketers can use these findings as benchmarks, or to spot new growth opportunities in specific sectors.
The report — titled Sizing The Content Marketing Opportunity — defines content marketing as any form of marketing and advertising material that delivers some amount of content (so not just a direct call to action). This includes advertorials, native advertising, testimonials, and various kinds of sponsorships. In collaboration with US-based research firm Borrel Associates, the report is based on surveys from thousands of American businesses.
Here are the top three questions answered by the report.
1. What is the US content marketing industry size in 2020?
Answer: US$63.3 billion.
Because of the pandemic, the American content marketing industry will see a small drop of 1.5% this year (from US$64.3 billion in 2019). But overall, the industry is still healthy and optimistic.
The biggest decline comes from business sectors most affected by the pandemic, which includes travel and tourism, live entertainment, and sporting events. These businesses cut content marketing expenditures at an average of 19% due to slowdowns or shutdowns. Other business sectors, on the other hand, are increasing expenditures anywhere between 5% and 9%.
In general, businesses are still confident about content marketing. Borrell's recent SME survey found that 45% of businesses felt that content marketing had become a bigger priority this year, with 56% of respondents saying they will prioritize content marketing even further next year.
See: Trends and data: 105+ NEW and powerful marketing statistics for 2021
2. Who are the biggest content marketing spenders in the US?
Answer: Credit & Mortgage Services (US$3.6 billion); telecommunications (US$3.2 billion); automotive sales (US$2.9 billion); banks (US$2.5 billion); real estate services (US$2.2 billion).
The five top industries above command a 22.6% market share of the overall national market spending on content marketing. The ones who invest the least in content marketing are gifts & novelties (US$6.5 million); video rental centers (US$5.3 million); dairy products distributors (US$3.28 million); barbershops (US$1.36 million); luggage/leather goods, retail (US$1.16 million).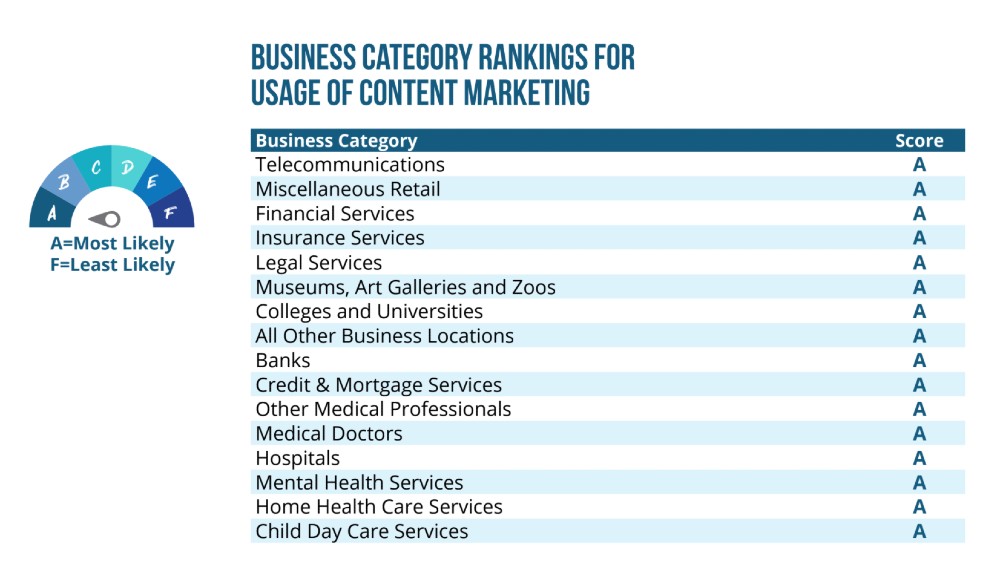 The report also classifies business categories based on their content marketing expenditures and the likelihood that they employ content marketing at all. At least 80% of businesses in the top-ranked categories employ content marketing operations and spend between 45% to 66% of their marketing budget on it. These include telecommunications, financial services, insurance services, legal services, museums, art galleries, and zoos.
Meanwhile, businesses in the lowest-ranked category spend between 20% to 40% of their marketing budget on content marketing. However, these business types are also less likely to employ content marketing, with just 60.5% using it at all. Some of these businesses are building maintenance services, equipment rental services, automotive rentals, locksmiths, and video rental centers.
See: 8 recommended content marketing agencies in Asia Pacific
3. Which businesses have increased their content marketing spend the most this year?
Answer: HVAC – heating, ventilation, and air-conditioning – installation & repair (9%); mental health services (6%); computer-related services (6%); financial services (6%); security products/services (6%); real estate services (6%).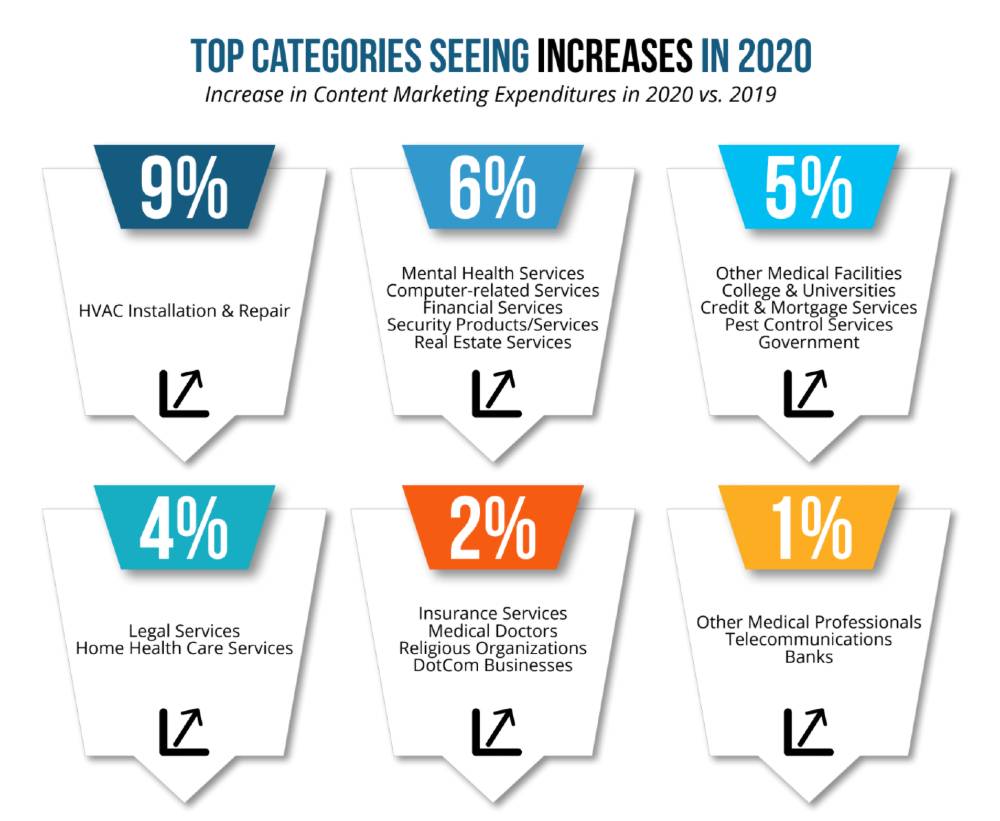 Businesses that are positively affected by the pandemic seem to have increased their content marketing expenditures the most. These include businesses that are related to the work-from-home paradigm (HVAC installations and repairs, computer-related services, etc), along with healthcare (mental health services, home healthcare, etc).
Unsurprisingly, businesses that lowered their expenditures the most have been affected negatively by the pandemic. These are photographers (-26%), recreation places (-24%), video rental centers (-23%), tourist attractions and travel services (-22%).
The report is quite comprehensive and provides specific figures for each industry. You can read the research in full here.
Additionally, if you're looking to get a broader picture of the state of the US content marketing industry, you might want to check out Content Marketing Institute's annual report. It digs further into modern content marketing challenges faced by practitioners and explores how many are using outsourced help to solve key problems.
Save time and money when producing high-quality content. ContentGrow helps brands and publishers work with perfectly matched freelance writers and journalists at preferred rates. Fill out the form below to get your own shortlist of talent or visit the site to get started.