The content marketing strategy of Indonesia's top property site
Rumah is Indonesia's top property portal with millions of organic monthly visits. Here's what the team has to say about its content marketing strategy.

As one of the biggest property portals in Indonesia, Rumah.com is a true believer in content marketing strategy as a sales driver. More importantly, though, the management team knows what it's doing on an execution level — and why.
"Overall, Rumah.com wants to build a strong and loyal user base, and this is why we focus our marketing strategy on earning more organic traffic," said Boy Leonard, Rumah's content marketing manager, in an interview with ContentGrip. "One way to get there is by utilizing content."
According to SimilarWeb, Rumah (a subsidiary of PropertyGuru, one of Asia's largest property portal groups) records close to 2 million monthly visits, in which a clear majority come from either search engines (79%) or direct visits (19%).
KPIs and content marketing strategy
According to Rumah, the company's vision is to help property seekers make sound decisions and transactions across the board when it comes to real estate. As such, Leonard claims that the goal for his division is to build a loyal audience in the long run.
"We need to establish an 'honest' relationship with our users. This is why we push out insightful and helpful content such as property reports and consumer surveys. These pieces of content do a great job at answering our key audience's questions," said the marketing manager. In essence, the approach Leonard spells out means that Rumah tends to not craft 'hard-selling' content. It also tries to keep content hyper-relevant to its target audience.
Rumah's content marketing team aims to be small and efficient. At the moment, the team is made up of six in-house members. The stack includes one content manager, followed by two editors to handle written content. The three of them work alongside one social media manager and one brand marketing manager. The department also has a visual content expert, whose job is not only to translate information into designs, but also to dig deeper, understand the info, and think about how to mold it into insightful visual storytelling.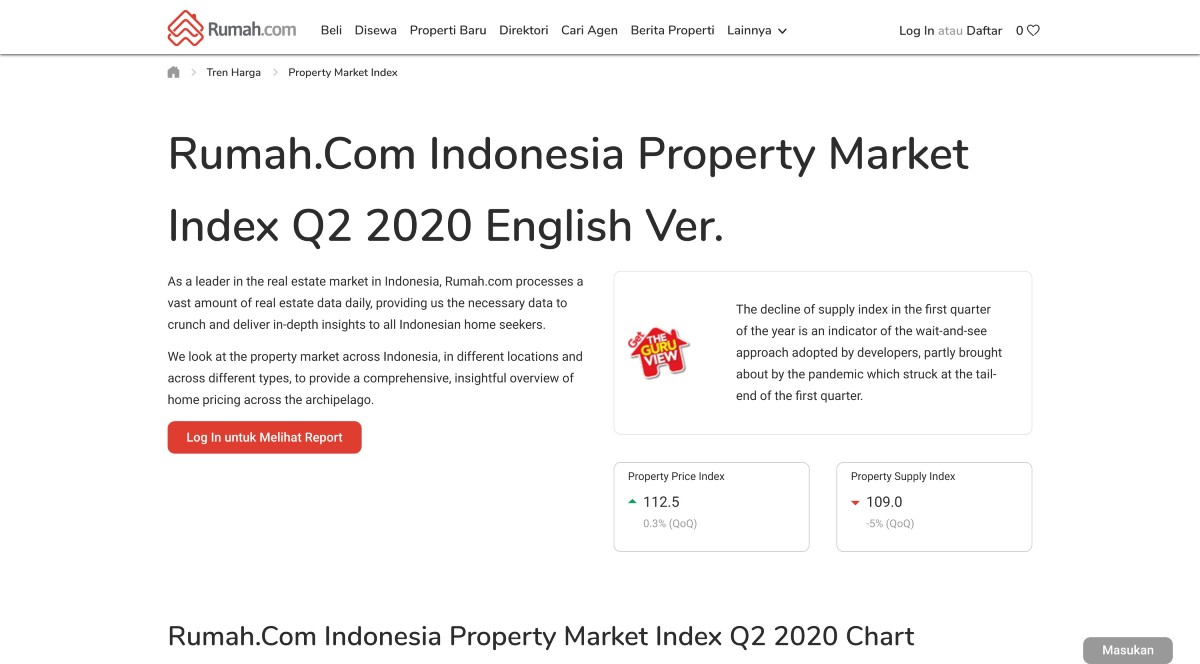 "Content marketing isn't only about crafting informative stories," said Leonard. "It's also about how the content helps the business achieve its marketing objectives. To do this, the team must be obsessed with data generated by our content marketing activities. We study the data and draw conclusions on how one piece of content can positively impact the company's overall growth.
The team's core KPIs are Brand Query Index (BQI), landing page traffic, and "PR points."
BQI is a unique KPI implemented across all PropertyGuru's sites. It measures how often the "Rumah.com" brand appears as a keyword in searches, relative to its competitors. This indicates Rumah's progress in establishing brand awareness.
PR points is a term used to describe how often Rumah gets mentioned in the news. One trick that Rumah uses to get regular media mentions is releasing its signature content — quarterly property index reports and bi-annual property consumer surveys.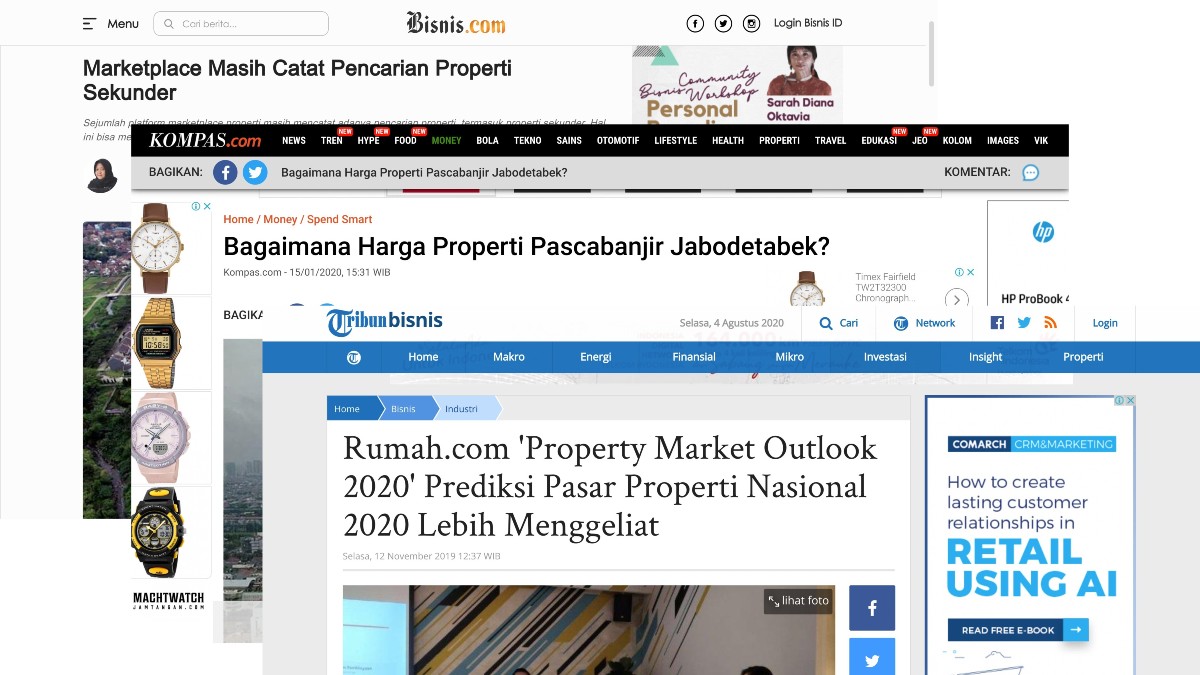 These in-depth and data-driven reports have multiple functions. First, they act as information references for journalists who need to inject authoritative data and expert opinions into their stories. Second, they serve as lead magnets. People need to sign up as Rumah users to download the findings. When it comes to lead magnets, the most valuable target users are international property investors, local real estate agents, and journalists.
The more often Rumah gets media mentions, the stronger its brand appears as a thought leader in the industry. This, in turn, creates a virtuous cycle and helps Rumah land more inbound media inquiries (e.g. journalists seeking comments on particular stories and topics).
Overall, a combination of strong BQI, landing page traffic, and PR points is designed to help increase overall conversion and bolster usage on Rumah's website.
Adapting the approach during Covid-19
Rumah experiments with many types of content to drive audience engagement. So far, it has a blog, online calculators to help users make smart estimations on property purchases, property insights based on each district, and a Q&A forum. All of these things create a conducive environment for Rumah users to discover new insights on a daily basis.
As with most markets, Covid-19 hit Indonesia's property sector quite hard, decreasing the overall demand. "We'd decided to respond to the Covid-19 pandemic with empathy since the early days," explained Leonard. "We shifted away from business-focused content into insights about how average citizens can protect themselves during the pandemic."
The team launched its #LendASpace and #NeedASpace campaigns in April 2020, designed to help property owners lend their spaces to those in need — such as medical workers, first responders, or those who needed to avoid going home so as to minimize the risk of infecting others. This also applied to patients and other people who needed to self-isolate. According to Leonard, this is how Rumah's marketing team repurposed itself to help fight the outbreak.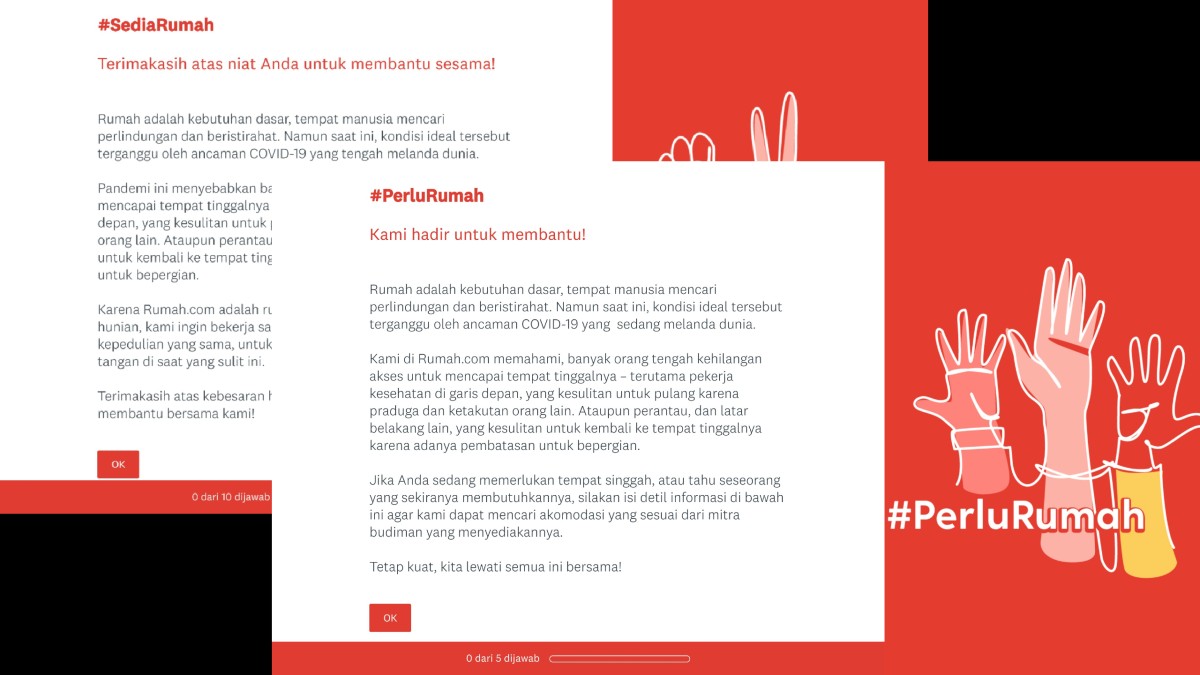 Another notable content format that the team experimented with was Curhat Rumah (Venting About Houses), a one-hour live video on Facebook and Instagram. The team invited property experts and held discussions about various topics related to property in Indonesia.
Leonard said, "The audience's enthusiasm for this type of content was quite big, averaging more than 2,000 live audience members per episode. It has quickly become one of our best content formats in terms of engagement at Rumah. We can see how competitors have quickly adapted this format as well."
See: 29 smart B2B content marketing examples and success stories
Rumah's tools
Rumah uses various tools to help manage its overall content marketing strategy. The top tools are Google Analytics to track traffic data and milestones; Ahrefs for SEO research (as Rumah puts a lot of effort into attracting organic visitors); and SimilarWeb to monitor the site's performance against competitors.
Another tool that Rumah uses is ContentGrow, which helps the team curate freelance talent on a regular basis. This helps with various content production needs, such as creating articles and reports, as well as translations.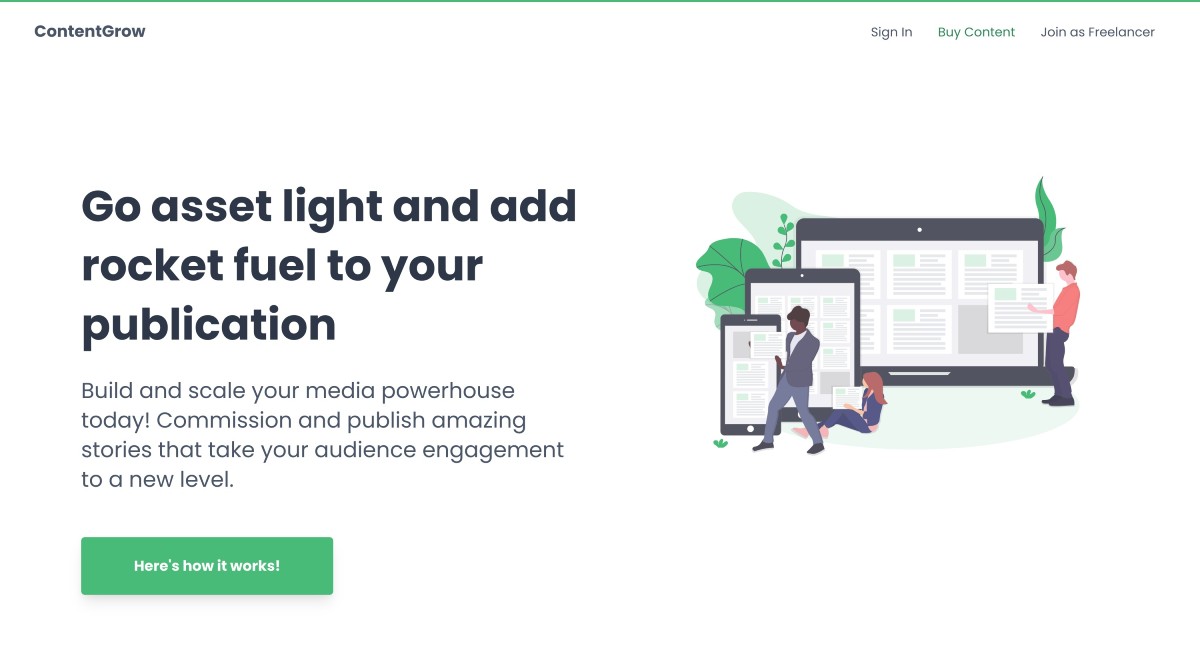 Leonard added, "ContentGrow helps make our process more efficient, especially when it comes to producing content on various topics and niches. With this tool, we are able to connect with freelance writers who have specific sets of skills. This enables us to create relevant, on-demand content in a short period of time."
Rumah regularly works with freelancers to keep its content operation lean. The team produces more than 100 pieces of content (articles and social media posts) each month. While the in-house team focuses on strategy and ideation, the execution is handled mostly by freelancers.
"Our approach of building an honest relationship with our users isn't a short and easy path," explains Leonard. "But we believe that this principle will bring a positive impact in the long run."
Save time and money when producing high-quality branded content. ContentGrow helps marketing teams work with perfectly-matched freelance writers and journalists at preferred rates. Fill out the form below to get your own shortlist of talent or visit the site to get started.