Content marketing is now more relevant than ever, says Wordpress report
Gone are the days where content marketing was treated as an afterthought - a new report shows just how crucial it is for both B2Bs and B2Cs.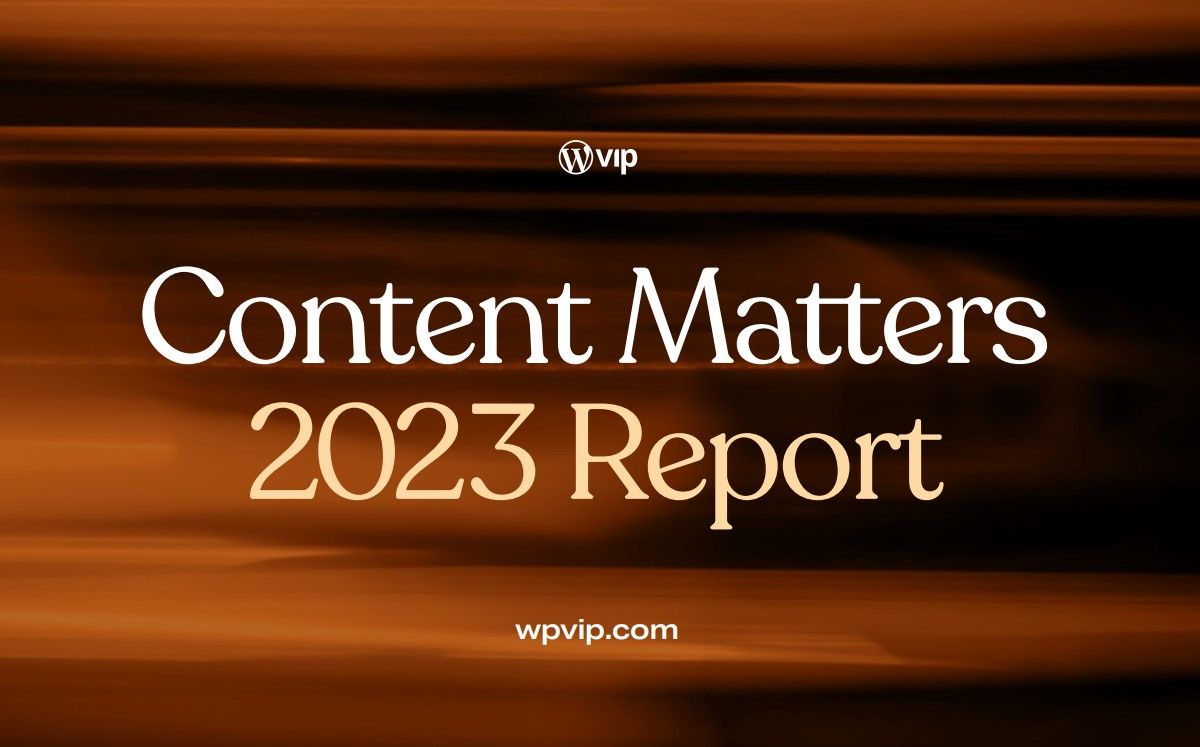 Content marketing is crucial for every B2B and B2C marketer's playbook, with 73% of B2B marketers and 70% of B2C marketers using content marketing as part of their overall marketing strategy, according to the Content Marketing Institute.
It is proven to help businesses strengthen their bond with customers and enhance its brand positioning in the market, among others. In 2023, this is set to continue, and further evolve.
According to the Content Matters 2023 Report launched by WordPress VIP, content marketing will become a more relevant business strategy for media and non-media companies in 2023.
Not only effective for brand strengthening strategy, the report shares that 82% of its respondents believe the importance of content marketing as a revenue driver is also increasing.
WordPress VIP interviewed more than 1,500 marketers, journalists, developers, and executives in the B2B and B2C industries worldwide to get a projection on the state of content marketing. Here's how marketers can benefit from content marketing in 2023, according to the report.
Quality over quantity

Marketers sometimes focus more on creating certain amounts of content, without really paying much attention to its quality. In fact, it is crucial to create content that is relevant to the target in order to get an effective result that ends in retention and hopefully, actual sales.
As the content marketing hype grows, businesses are starting to realize that content quality is more important than quantity. The report shows that the number of businesses prioritizing quantity has dropped, although 61% of respondents are still producing more content as a part of their marketing strategy.
The quality that we are talking about here revolves around the type of content that works best in the market, which mostly leans towards current trends – social media, user-generated content, and content personalization.
The report also reveals the social channels that are preferred for content marketing. Interestingly, Twitter is currently in the top spot, followed by Facebook, LinkedIn, Youtube, TikTok, Instagram, Tumblr, and others.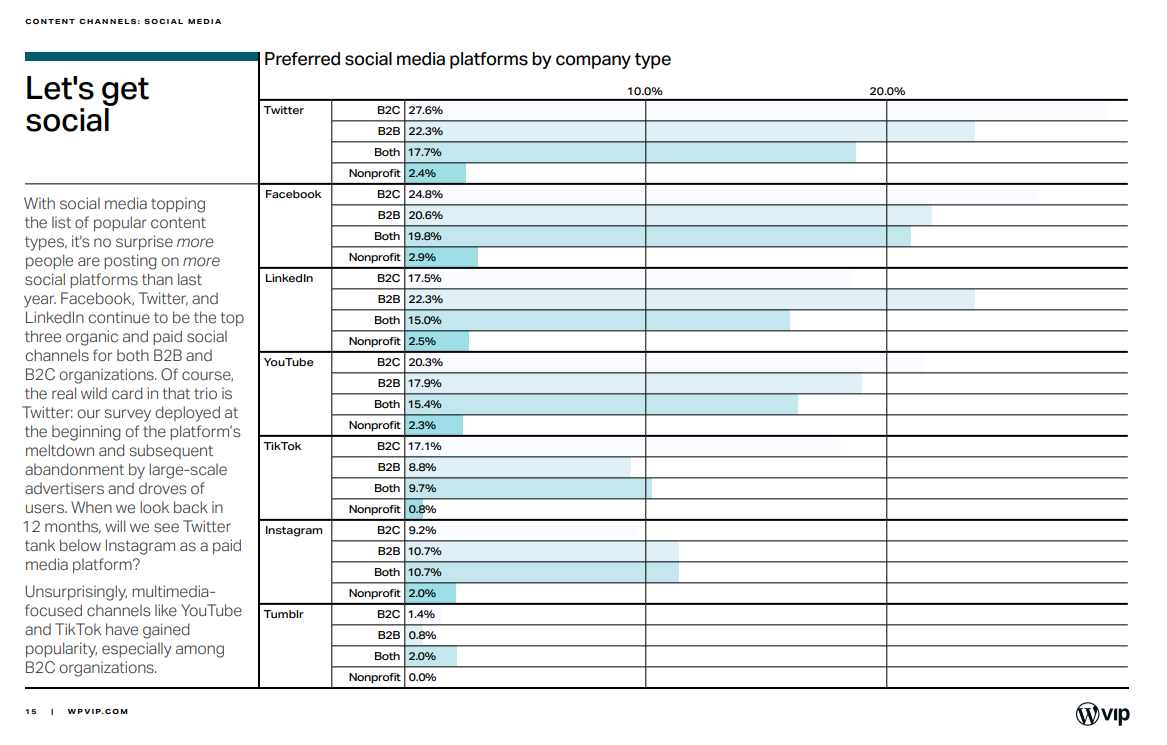 However, the authors suggest that this may change down the line, owing to the brouhaha that its new owner, Elon Musk, brought upon the platform in recent times.
There are many tools in the field that businesses can consider using, such as analytics, social media management, and personalization tools such as Semrush, Hubspot, Google Analytics, etc.
It is also important to find out which content type works best in the market. As for now, multimedia content like short-videos and audio is attracting people's interests as the trend for video-based social media like TikTok and Youtube arise.
Tying content to ROI, instead of as mere content
More investments in content marketing are coming from senior leaders. It was found that 58.4% of respondents expect content budgets to increase in 2023. The investment can come in several forms, like internal resources, content marketing tools, analytics tools, and more.
However, getting an investment from senior leadership is not as easy as it sounds. Therefore, marketers should start to connect content marketing efforts to actual ROI in order to justify their budgets and improve trust with higher management.
Many companies are starting to apply this method as the data reveals that 9 out of 10 teams with leadership buy-in have connected their content marketing effort to revenue goals.
Meanwhile, the type of content that is said to be most effective to drive revenue is advertising placement, followed by content that sells products, content that drives traffic to product sales, content paywalls/subscription, and others.
Data-driven marketing is key
Being exploratory and creative when creating content is important, but producing content based on insights from data is is a more effective and efficient way to spend the marketing bucks and manpower on.
Data-driven content marketing strategy is thus a crucial tool to help the company achieve its revenue goals. As found in the survey, 63% of those that have revenue goals in their hands have a thorough understanding of their content performance.
Marketers can make use of various options of analytical tools in the industry like Google Analytics, SEMrush, Adobe Analytics, and Parse.ly for example.
It is also crucial to know which metrics correlates most with conversions to revenue, such as pageviews, engagement time, and recirculation rate.
Save time and money when producing high-quality bespoke content for your markets. ContentGrow helps marketing teams work with perfectly matched content creators at preferred rates.