Introducing ContentGrow, a platform that lets anyone build a media outlet
The big problem most content agencies face is not a lack of talent. It's a lack of a key digital framework to enforce quality control.
After a few months of development, we are happy to unveil ContentGrow, a tool designed to help publishers scale by keeping out-of-house content teams on brief, ahead of the deadline, in-the-know, and at your fingertips.
The backstory
ContentGrow was built upon our own company's pain point when scaling creative execution teams. We needed to work with many content creators around the world, but also needed to keep fixed overheads low.
Agencies in Southeast Asia claim to have it particularly rough due to a common belief that the local talent pool is bad. We disagree with this assumption.
It's true that emerging markets don't have as many top-notch content producers like in the US, Europe, or even China. That said, we at ContentGrow can see that the real problem agencies face — whether they know it or not — is actually that they lack the right quality control framework to get awesome results from their talent.
Some of the top reasons content teams cite for not being able to satisfy clients include things like "unclear communications," "muddled assignment briefs," "unrealistic deadlines," "payment dilemmas,"  "a lack of proper editing protocol," and more.
ContentGrow offers an elegant solution.
The company dashboard
Start by registering as a company owner and you'll get a special dashboard. Here you can manage your projects and contributors privately with ease.
When creating a project, you have the ability to specify key details by giving in-depth guidelines. This is where you elaborate on the audience, tone, and materials needed for contributors to get the job done. This is absolutely crucial for helping your team understand the project clearly.
Next, assign a manager who will help you oversee the project, from inviting more contributors to approving pitches, creating briefs, and more. Teamwork makes the dream work.
Building a brief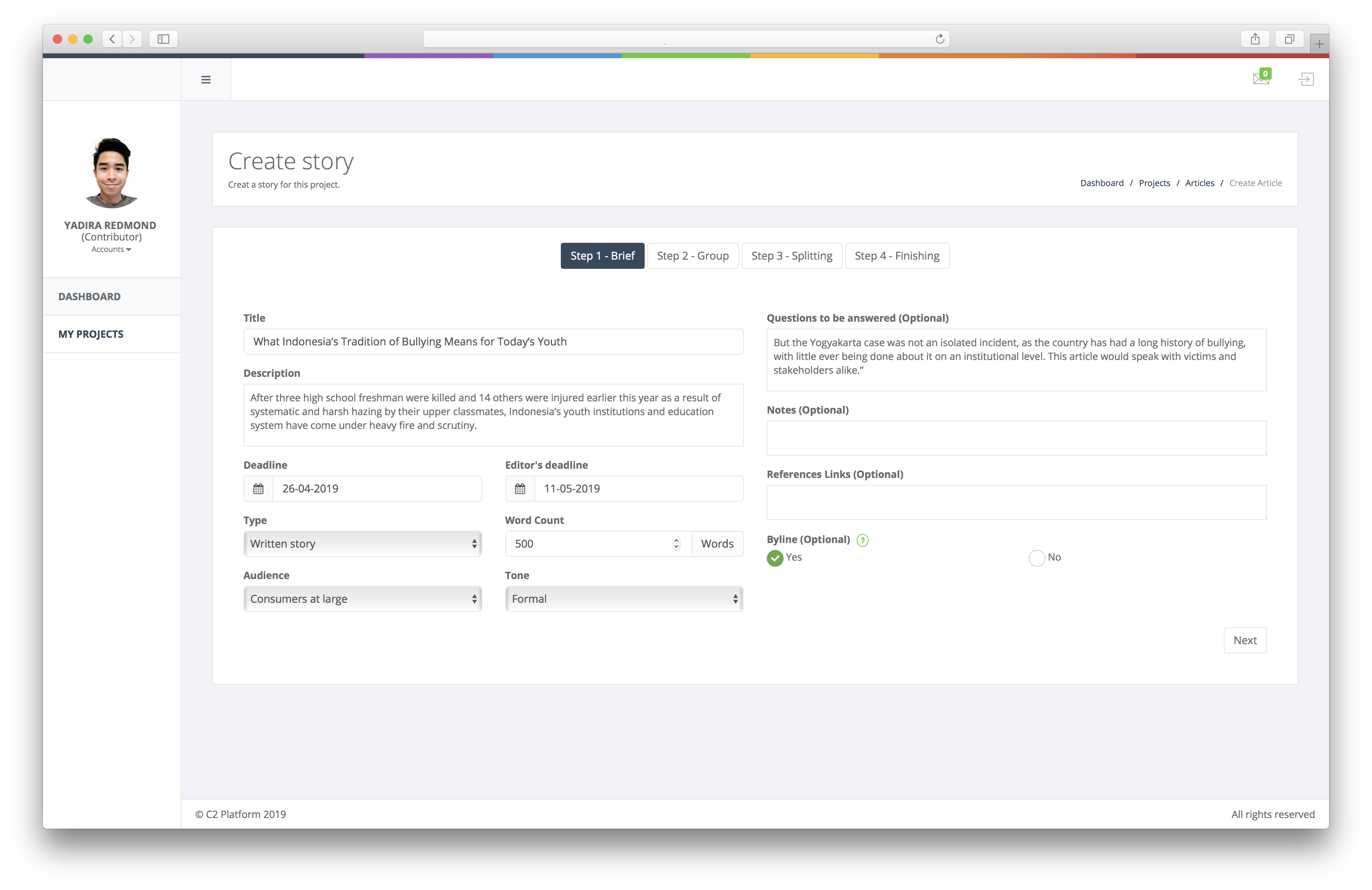 For every assignment, the manager will need to build a 'brief.' For every brief built, she also needs to assign three different people to three different roles.
The writer is responsible for creating the content. The editor is responsible for making sure the work is up-to-par and on-brief. The manager (in addition to her other duties) is responsible for running the final check before submitting work to the client.
For this, we built a brief-making wizard in which the manager must fill in key information to create clear and understandable assignment instructions for contributors.
This includes items such as a description of the work, a description of the audience, clearly defined deadlines, tone-of-voice, reference material for inspiration, and more. Managers can also include links to external samples and further information.
See: ContentGrow review - a specialist's marketplace for journalism and PR
In the end, content creators cannot read minds. That is why this step is the most important part for making sure your team actually gives you what you need. An unclear brief is often the only thing standing between agencies and happy clients. Take your time on this part!
After a brief is made, the next step is deciding who will work on the assignment. Choose the language of the content and whether it will be handled by your in-house team, freelance team, or a combination of both.
Next, decide how to allocate fees for the contributors. The manager is able to set how much money each contributor will earn from the individual assignment. Having this feature lets your company scale by removing the burden of tracking ephemeral monthly payments to scores of freelancers.
Next, the manager can activate the brief and either dictate who will work on it or allow project contributors to claim duties on a first-come, first-serve basis via their dashboards.
ContentGrow automatically gives contributors email notifications about this so there's no need to get bogged down with comms.
The journey of an assignment
The writer's job is to execute. ContentGrow automatically keeps him apprised of his approaching deadline. He may submit the content via the platform's built-in submission nest, but we've also allowed for contributors to simply submit shared Google Doc links.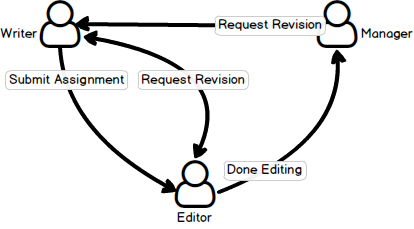 The editor gets notified when the writer has submitted the work. Now it's her job to execute on quality control and revisions. Once complete, the editor can decide whether to advance the work (click Done Editing) to the manager or kick it back to the writer (click Request Revision) for further updates from the writer. If this happens, the writer will be asked to re-submit and the process will repeat.
Once the torch gets passed to the manager, she too has the ability to request a revision if the work is not satisfactory. However, if she is happy with it, then she can submit the work to the client and click Close only when the client has given final approval.
When an assignment closes, fees are automatically tabulated in each contributor's earnings wallet.
Growing your content team!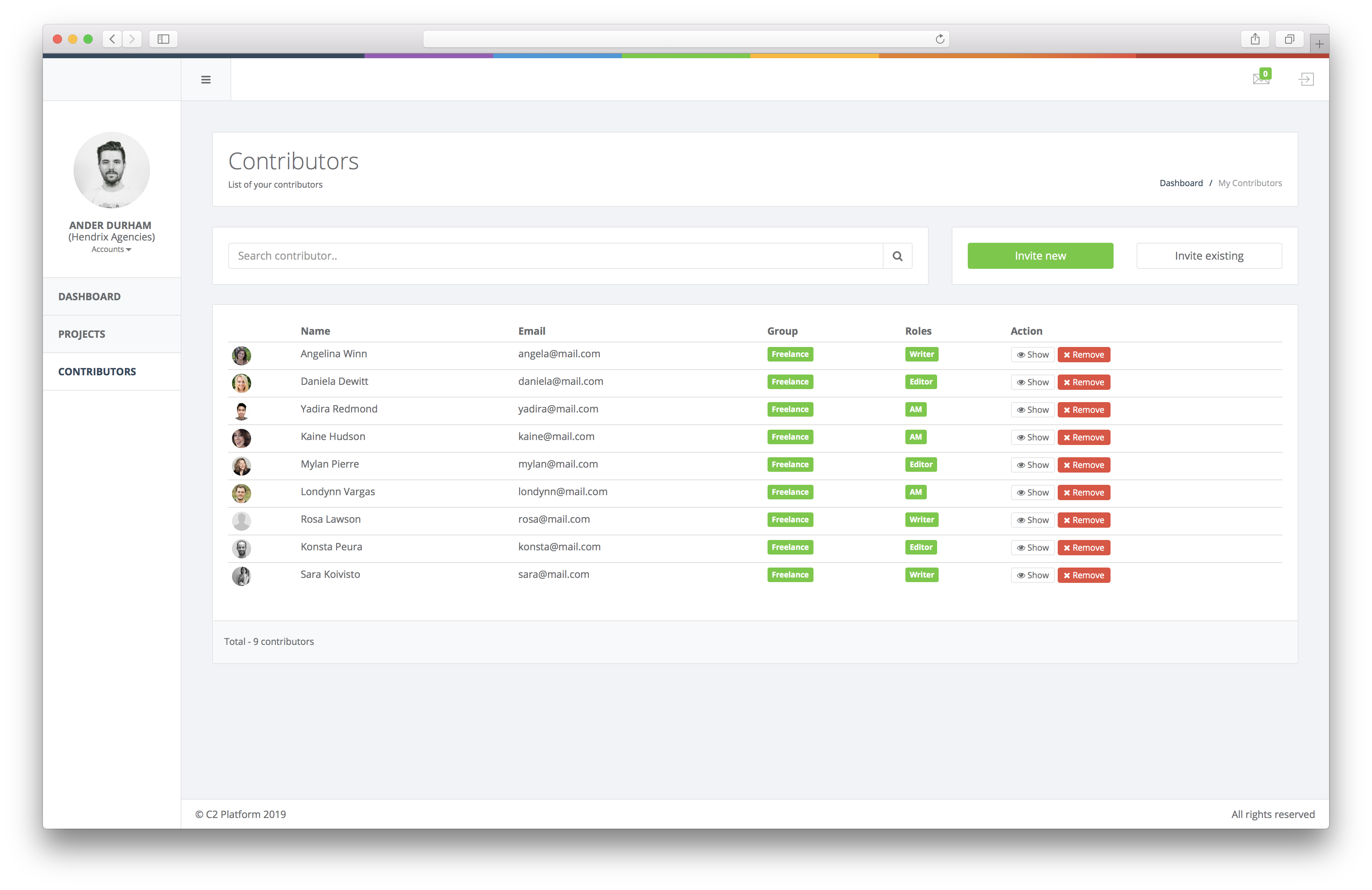 In addition to project management, ContentGrow helps companies manage content teams and build out their talent pools. Via the Contributors page, companies and managers can invite as many new people as they want. All they need is an email address. So no matter where you source your talent from, it's super simple to pull them in.
If you've already invited a contributor in for a separate project, you can instantly add her to any new project. The beauty is that as you continue using the platform, you'll notice that your creative teams begin to scale! See and access your entire talent pool with just a few clicks.
ContentGrow also aims to make it easy for anyone to start a media outlet from zero. Fill out the form below to get your own shortlist of talent or visit the site to get started.