How DailySocial built a viable tech media in emerging Asia
Founded in 2008 as a startup blog, DailySocial became a well-known name in Asia's tech ecosystem. Here's how the team turned it into a sustainable business.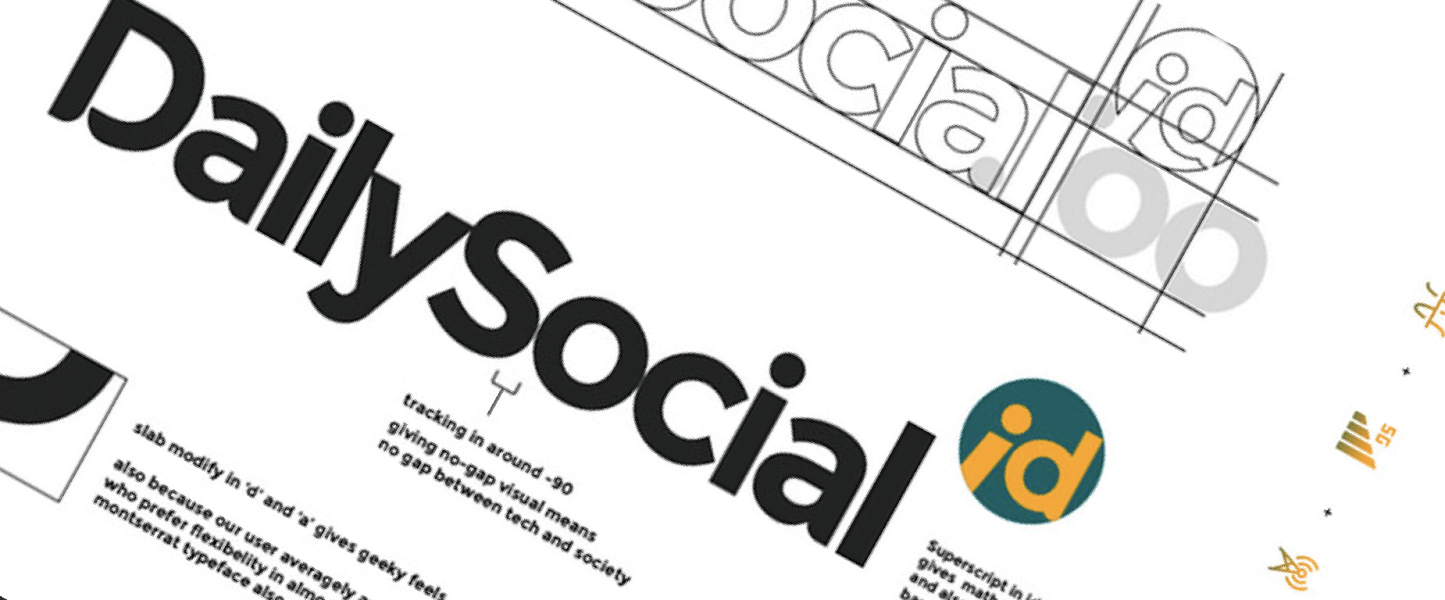 Indonesia's tech startup landscape has developed rapidly over the past decade. The nation recorded disclosed funding of US$5 million or less in 2008, then soared annually to US$2.9 billion in 2019. A couple of tech media outlets have been fortunate enough to ride the wave.
Established in 2008 as a fun and helpful blog about startups, Indonesia's DailySocial was one of the earliest believers in the local tech industry. Today, ContentGrip speaks with the company's Head of Editorial and Research Amir Karimuddin about how the team navigates the media industry in one of Asia's most complex markets.
"At DailySocial, we saw the birth and development of the tech startup ecosystem," says Amir, who was one of the outlet's earliest team members. "Continuous learning is how startups should behave, and so that's how we do it at DailySocial. We made a lot of mistakes, but learned from them, and reinvented. The ones who cannot adapt will die for sure."
Greenfield landscape
In the late 2000s, the term 'startup' wasn't popularized yet in Indonesia. Virtually no major media outlets in the nation were covering the movement. In this sense, DailySocial was ahead of its time, with almost no competitions.
DailySocial decided its mission would be to evangelize the startup community in Indonesia. Founders would often reach out to the team to get coverage. Amir's crew was able to forge early relationships built on trust with tech industry stakeholders. Many founders would prioritize DailySocial when it came to sharing news and insights.  
It took years to convince other major media outlets to start covering tech startup news. Amir admits that he personally became convinced about the industry after witnessing a major local acquisition by a global tech giant in 2010. Since then, the local scene has grown immensely, recording billions of investment dollars.
"Today the landscape is different," explains Amir. "Startups are now part of our lives and we should be proud of the role we've played in helping society understand the industry."
Becoming a hub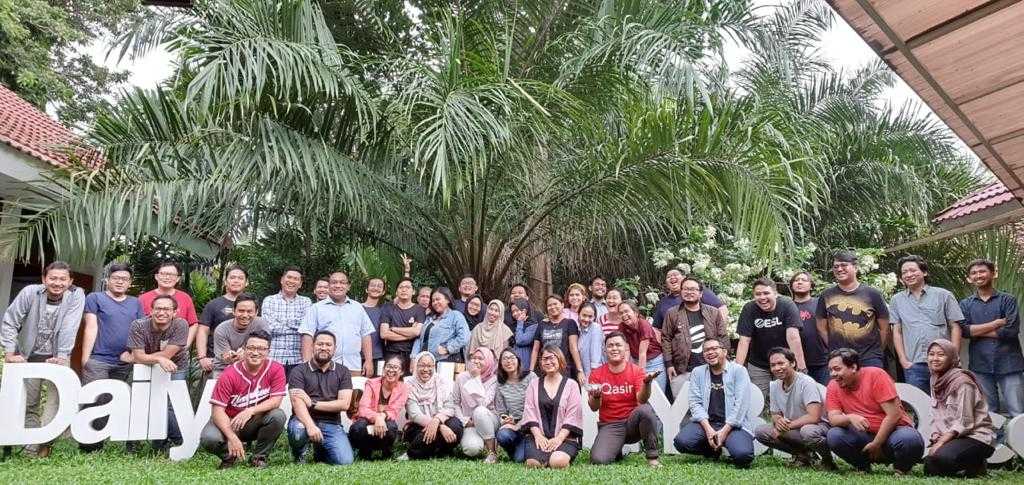 Since its inception, DailySocial has grown from five staffers to more than 50. The editorial team covers a wide range of topics including gadget, esports, and general tips. Over the past 12 years, the team has published around 70,000 stories, garnering backlinks from more than 5,400 domains. SimilarWeb estimates that DailySocial received close to 1.5 million pageviews each month.
Amir, who oversees the startup business editorial side, mentions that while pageviews are still an important metric, they're not DailySocial's North Star. He says, "We know our audience exists in a niche. As such, we want to make sure that we really cater to this segment. My personal KPI is content quality and quantity, month-to-month."
When it comes to the editorial team's story preferences, Amir says DailySocial wants to be laser-focused on Indonesia-related coverage. This includes stories about local startups, investors, and other stakeholders. Amir's team also likes to examine the operating policies of foreign tech companies in Indonesia.  
DailySocial has partnered with foreign tech media outlets e27 and KrASIA. Rather than seeing these outlets as foes, Amir's team sees them as friends. Stories from DailySocial — which are predominantly in the Indonesian language — are translated and syndicated on partner sites, and vice versa.
Amir mentions, "Together, we give better information to our Southeast Asian mass audiences. With so many good startups founded every day, it's very easy to miss one or two. Rather than create similar coverage, it's better to syndicate from each other, while unearthing new things."
As other major media outlets began to cover tech startup stories in the country, DailySocial sought to better its reporting quality with more in-depth coverage and analysis. In 2016, it launched a research product. The idea, according to Amir, was to help the public and corporates gain a deeper understanding of the sector via hard numbers, beautiful infographics, and actionable intel.
DailySocial produces two types of reports: 'signature' and 'sponsored.' Signature reports aim to provide continuous metric updates on the ecosystem for stakeholders (think regulators, tech companies, investors, etc). This also includes annual fintech reports. Sponsored reports are meant to help customers produce their own data-driven content, which they can later publish via DailySocial's channels, or keep for internal use.
Paywall bravery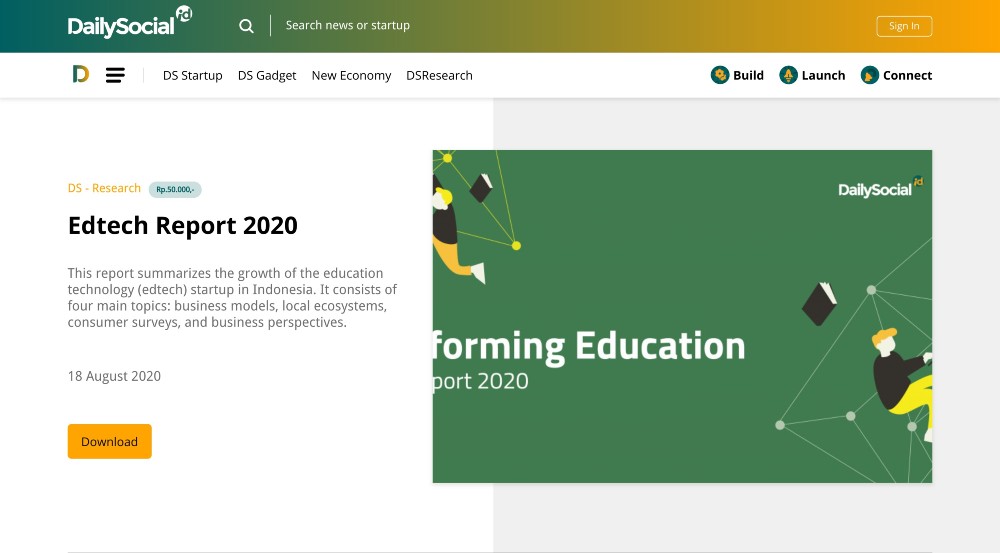 After more than a decade of providing free stories to readers, DailySocial launched a paywall in 2020 for a selection of its research reports and in-depth articles. Given the media landscape in the country, it's rare for local online media to implement a subscription business model.
"The media industry is changing. With Facebook and Google basically dominating the ads space, it's getting difficult for media companies to solely rely on sponsors. To make it more complicated, having sponsored content may risk jeopardizing your idealism and independence. This is why we turned to the paywall model — just like print newspapers and magazines. It may not yet be mainstream here in Indonesia, but we seek to help the audience understand that there's a price to pay for high-quality content," explains Amir.
He adds that the 2020 pandemic has had a positive impact on media subscriptions. Amir believes that it's a good time to launch the paywall.
"For this approach, we know we have to raise our standards. This is why some posts are paywalled, while some are not. In-depth, long-form coverage is always preferred for this type of paid content. Hopefully, we can gradually have every post adhere to this standard."
On top of the paywall and research sponsorships, DailySocial also earns revenue from organizing events. The team recently launched an offering called DSLaunchpad 2.0, an online accelerator for early-stage startups, in collaboration with Amazon Web Services.
Amir aspires for DailySocial to not only be a media outlet. In the end, he thinks the company can become one of the main digital hubs for innovation in Indonesia. When it comes to advice for fellow media practitioners, Amir says it all comes down to creating high-quality content that serves the audience.
He says, "As for the media business, it's never about 'winning the pageviews.' It is about being respected and recognized by fellow journalists, the audience, and industry shareholders. That will always be our aim."
See: 29 smart B2B content marketing examples and success stories
Save time and money when producing high-quality content. ContentGrow helps brands and publishers work with perfectly matched freelance writers and journalists at preferred rates. Fill out the form below to get your own shortlist of talent or visit the site to get started.