Deloitte report: six marketing trends for 2021
Deloitte's 2021 Global Marketing Trends report breaks down key insights for global CMOs. We've summarized six key takeaways that marketers can look into.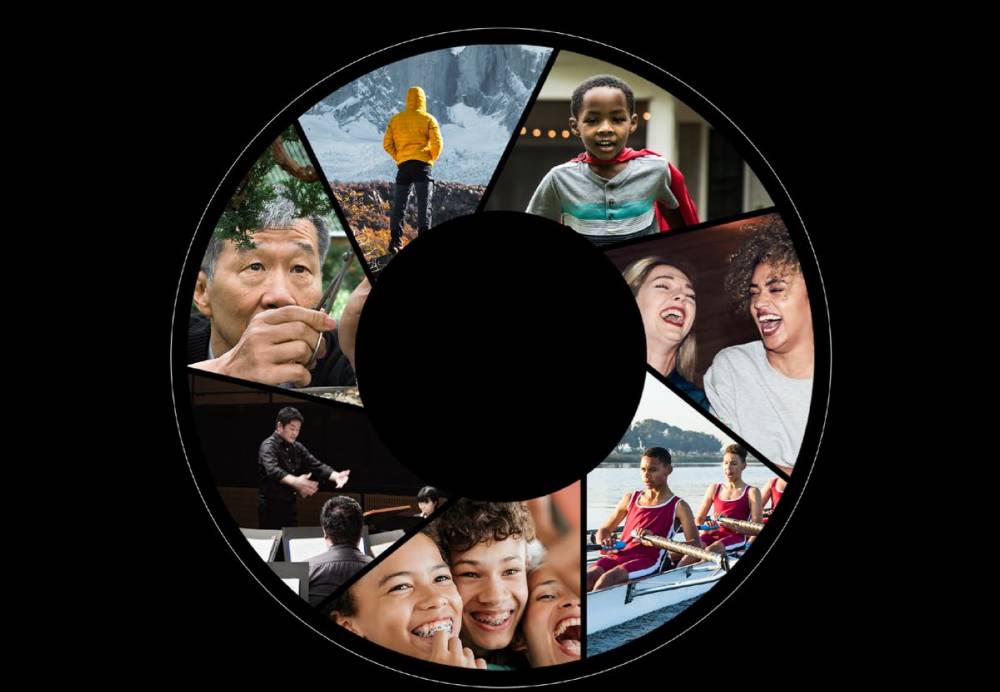 According to a recent Deloitte report, C-level executives are feeling the pressure of an uncertain future. Facing a pandemic, they are prioritizing efficiency and productivity, with almost none thinking about growth. The report, titled 2021 Global Marketing Trends, aims to help CMOs worldwide find answers about how they can win by using the latest marketing trends and strategies.
The report is based on two separate Deloitte surveys: The Global Marketing Trends Consumer Pulse Survey (which polled 2,447 global consumers) and The Global Marketing Trends C-suite Survey (which polled 405 American C-suite executives from global companies).
Here are six key marketing trends that CMOs can take note of for 2021.
1. Customers care about social missions and impact
The world is increasingly relying on businesses to solve societal problems. According to the Edelman Trust Barometer, which surveyed 34,000 individuals in 28 countries, people see businesses as the most competent group to solve global issues, even more so than NGOs and governments.
Businesses that are able to convey positive social missions can gain an upper hand. According to Deloitte, 79% of respondents are able to recall instances of brands positively responding during Covid-19 to help their customers, workforces, and communities. During these tough times, customers are particularly taking note of brands that increase measures to protect their employees' health and well-being, making donations to communities, and decreasing executive paychecks.
This awareness results in a more positive brand perception (29%), and helps shift the customers' buying preferences in favor of the brand overall (19%). Conversely, the opposite happened for brands that responded negatively during this pandemic, with customers ultimately preferring not to support brands that failed to increase safety measures and act compassionately (26%).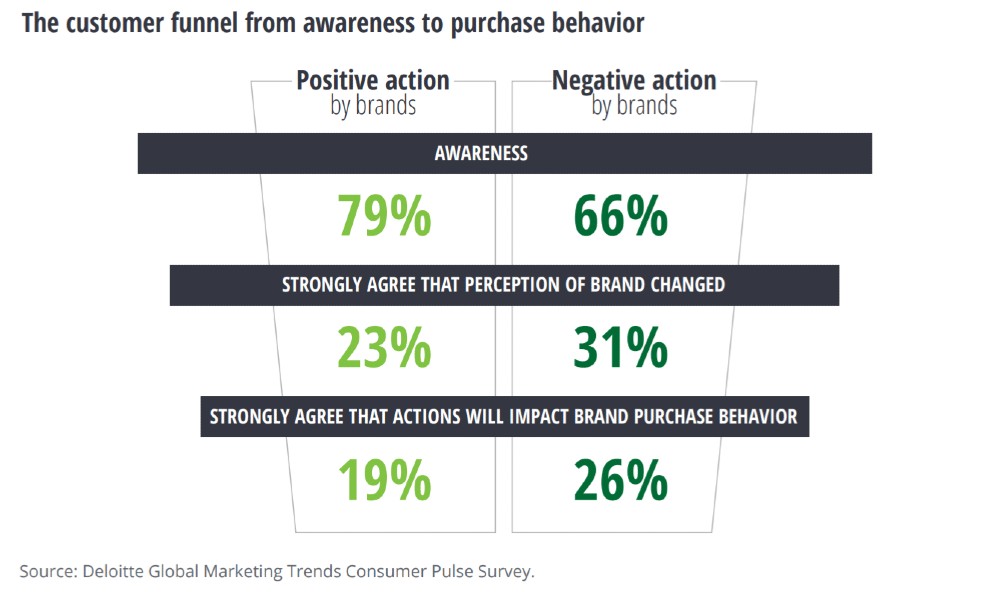 The report highlights the success of Unilever. The consumer goods giant currently operates 28 sustainable living brands — products that are supposedly halving its environmental footprint and increasing positive social impact.
Unilever's Dove, for example, claims to have helped more than 35 million young people globally with self-esteem education since 2005. According to the company, these sustainable living brands are growing 69% faster than the rest of the business and delivering 75% of the company's growth.
2. More customers are flocking to online solutions
It's important for brands and marketers to adapt to customers' problems, especially during the 'new normal' period (mask wearing, social distancing, etc). They should do this by doubling down on efforts to facilitate online conversations and service.
Deloitte's survey results validate that the pandemic has heightened customers' adoption (63%) and appreciation (66%) of digital products. Further, more than half of customers (58%) share that they're aware of brands that have been able to quickly pivot to better react to the new normal.
While most executives have responded by increasing their brand presence on social media (67%), only 35% of them are leveraging customer feedback to rapidly prototype new offerings.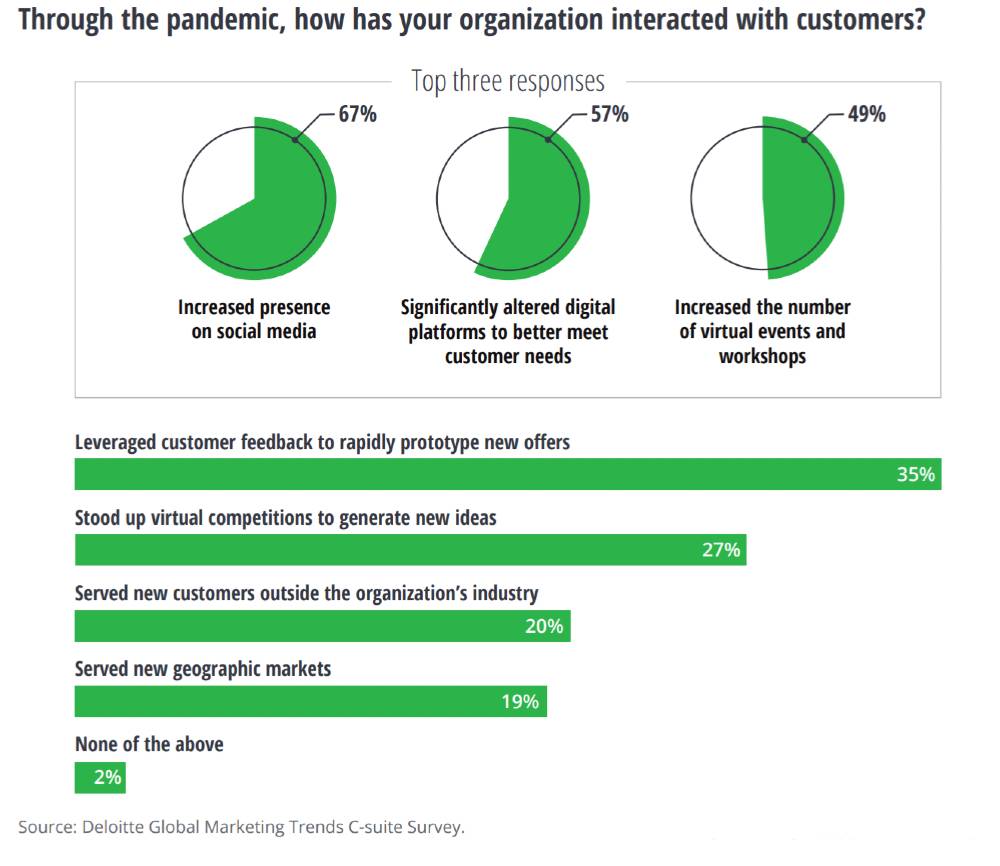 The report advises marketers to focus on creating relevant content — by keeping track of what's trending and adapting the message accordingly. If possible, marketers should create a holistic CRM process, based on their digital interactions with customers, in order to understand and serve them better.
The report takes an example of an unnamed global consumer goods manufacturer that established its own customer data platform. After consolidating its customer database from 1,700 tables to just eight tables, the team was able to effectively deliver more personalized marketing solutions, tailored to 50 million customers.
See: Trends and data: 105+ NEW and powerful marketing statistics for 2021
3. Genuinely good companies can win hearts

Humans inherently care about the values of companies that they support. Social values don't have to be overly noble, but they can be as simple as treating employees well. According to Deloitte, 82% of customers are more likely to visit businesses that ensure the safety and well-being of their staff. 31% named this as a priority to earn their repeat business.
The report also suggests that employee happiness and customer happiness are closely connected. Customers are 1.6 times more likely to purchase from brands that are able to demonstrate their 'humanity' — genuinely caring of others. At the same time, employees working at these brands are 2.6 times more likely to feel motivated on the job.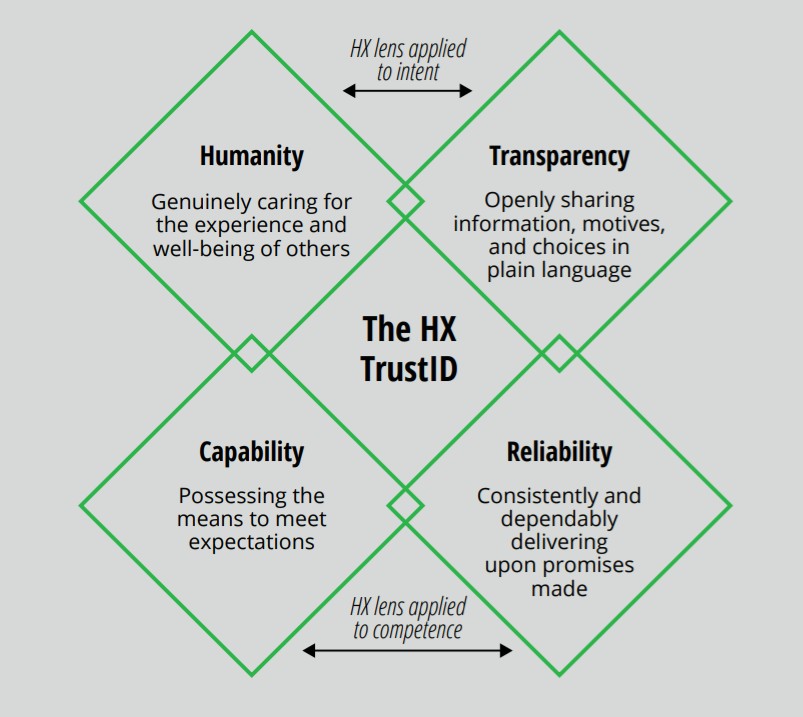 The report cited a Delta Airlines initiative to increase cleanliness standards as a good example. The airline created an entirely new division, and worked with outside health experts to develop the Delta "CareStandards." The new solution helped protect both passengers and employees against Covid-19. The airline notes that because of its new initiative, the number of employees infected by Covid-19 is well below the national average.
There are other benefits for "genuinely good" companies. The research also found that customers are 2.8 times more likely to continue purchasing from a brand (even after a data breach) as long as the company is transparent when dealing with problems.
4. Customers are willing to participate in brand conversations
Marketers should consider inviting customers to participate in ongoing brand discussions. The report explored how companies can leverage this strategy to increase brand engagement.
Deloitte found that 56% of consumers have engaged in at least one brand activity over the past year. These activities could be anything from writing online reviews to creating social media posts about the brand. Here are the most popular forms of engagement:
Participating in online conversations (32%)
Writing online reviews (28%)
Giving online advice about a product (21%)
Giving feedback to the company (15%)
Creating content about a brand (14%)
The biggest motivation for participation, according to the survey, is the desire to help others. Meanwhile, those who are older than 25 say that passion plays a significant role in their participation, while Gen Z participation may just be a natural behavior.
Global tools manufacturer DeWalt, for example, formed an insights community of 8,000 tradespeople and 4,000 do-it-yourselfers (DYIers). DeWalt gives its tools to community members for testing and customer feedback purposes. The firm estimates that this community has saved the brand more than US$6 million in research and development costs.
5. Cross-industry partnerships are here to stay
In many ways, the pandemic has created opportunities for organizations to experiment and innovate. Executives can no longer just do "the same thing better," but instead need to reimagine their strategies entirely. Deloitte advises executives to consider new types of collaboration to meet evolving needs.
One interesting example is Lloyds Bank, which recently partnered with Mental Health UK to help customers deal with the widespread mental health impact of pandemic-related financial problems. Thanks to the partnership, Lloyds Bank is now able to provide both financial solutions and mental health advice at the same time.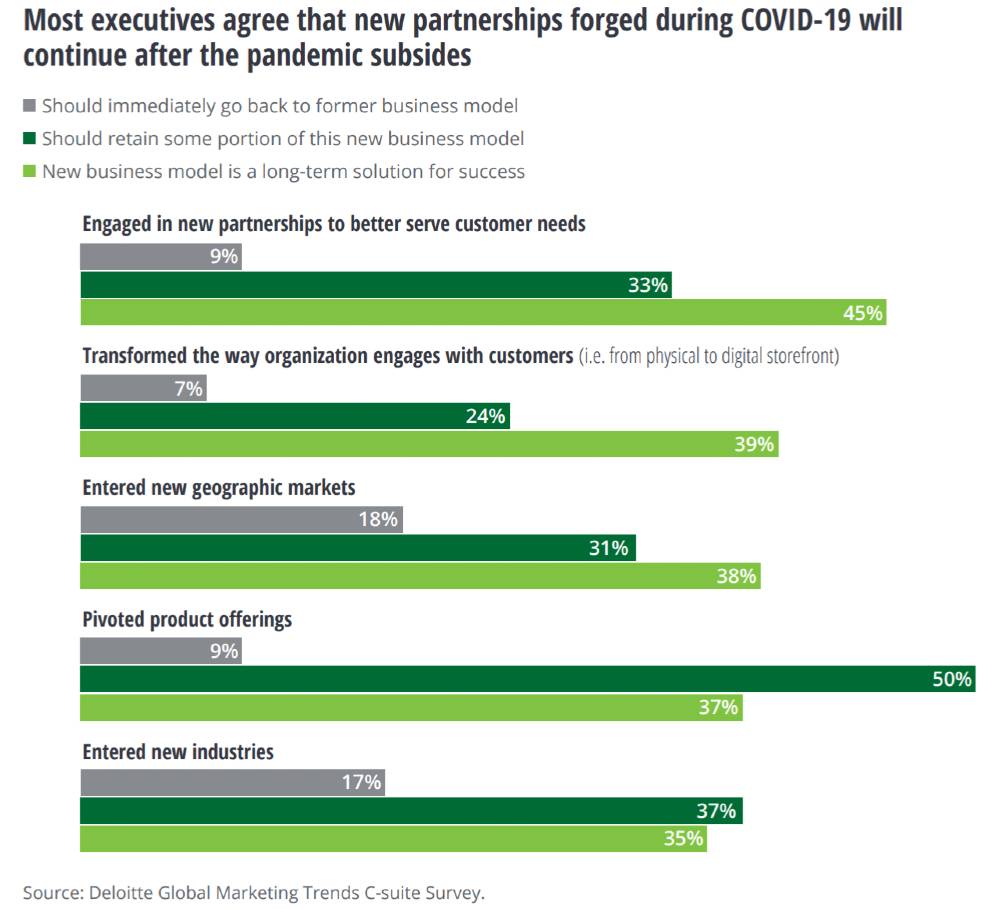 According to the survey, executives are happy with these newly forged partnerships. 78% plan to retain a portion of their new business models, even after the pandemic subsides.
This is a win-win solution for both sides, as customers are taking note of companies that are quickly pivoting to address pandemic needs. 82% stated that they have become more interested in doing business with these brands.
6. AI and the gig economy can help the workforce thrive
Covid-19 may be an accelerant for new trends in marketing and talent acquisition. Based on Deloitte's survey, executives cited digital and technology (68%), as well as marketing and sales (61%) as their most important functional divisions over the next 12 months. The report also notes that CMOs today have greater influence on C-suite conversations in general.
When it comes to tech, more CMOs are turning to AI for automation during the pandemic (77%). One in four chose to rely more on external agencies and gig economy workers during this period (29%).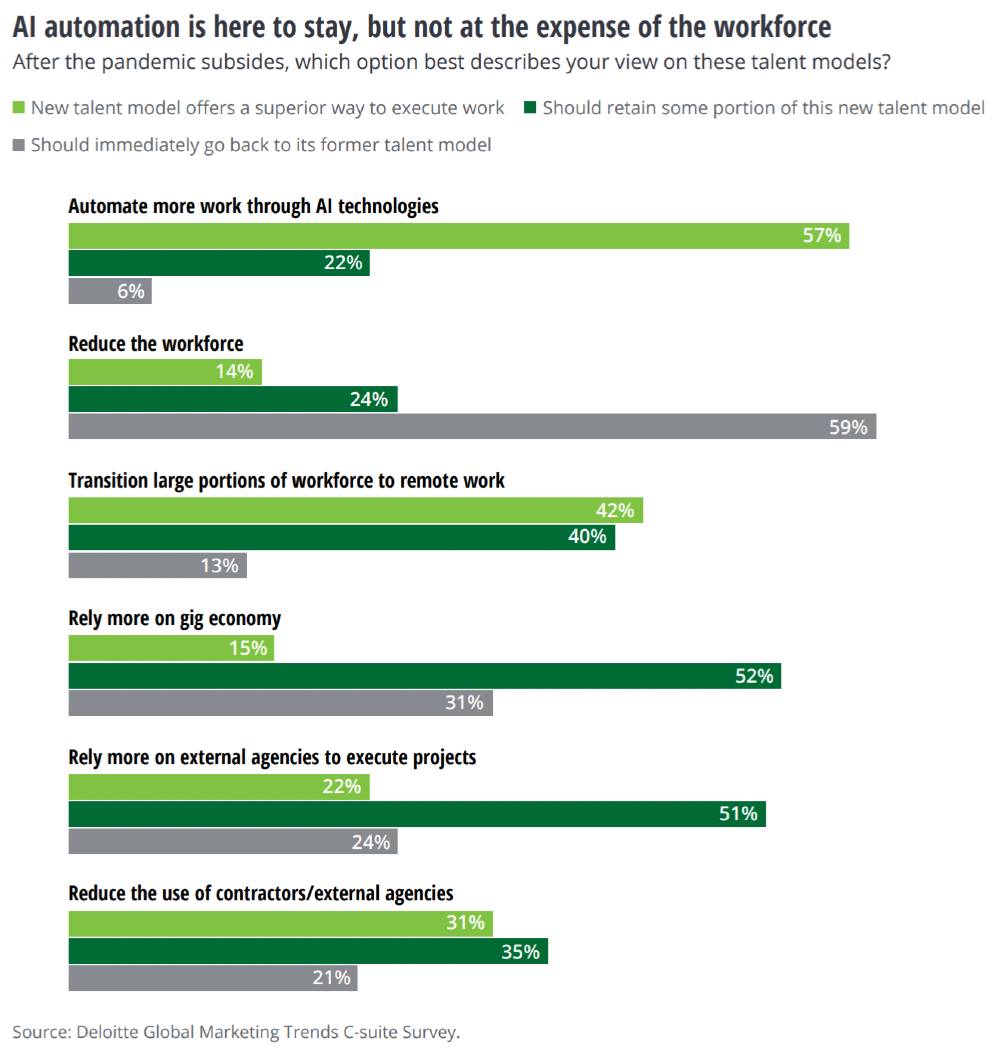 While AI is certainly on the rise, the report notes that this technology's most effective use today is to work on less-sophisticated cases. An example of this is an unnamed large food and beverage firm that employed AI to match appropriate imagery and messaging to relevant target demographics. Leave the simple and repetitive tasks to machines, and let marketers focus on the more important work, such as strategy and analysis.
Marketers should also use outsourced talent as a response to changes in content volume demand. In the case of Deloitte, the firm relies on the gig economy to augment a variety of skills in creative and production areas, such as copyediting.
"The gig economy can be an excellent resource for marketers to tap into for specific skill sets, as and when the need arises. Besides, in an increasingly volatile economic environment, the gig economy enables organizations to better manage uncertainty without getting locked into long-term financial commitments," says the report.
Encouragingly for marketers, there are an abundance of marketplace platforms that can help them tap into needed skill sets. Harnessing these platforms will not just provide marketers with a network of contractors, but also offers a platform to source new ideas via crowdsourcing.
One good example is ContentGrow, a managed marketplace and workflow app for content teams that partner with freelance journalists and writers. The platform can help do the heavy lifting when it comes to curating appropriate freelance talent for a given project (click here to get your own shortlist of writers). Marketing teams can then outsource ideas by asking for creative pitches. This method allows marketing teams to scale up or down, according to their own need.
The gig work model doesn't only benefit marketers, it seems. Deloitte's survey notes that employees who entered the gig economy for the first time are by far the most satisfied with their new work environment.
The firm provides further elaboration on each key trend in the full report here.
Save time and money when producing high-quality press releases and thought leadership articles. ContentGrow helps teams work with perfectly-matched freelance writers and journalists at preferred rates. Fill out the form below to get your own talent list or visit the site to get started.