Martech highlight: Synthesia raises US$12.5M to help marketers build videos with AI
With US$12M in fresh capital, AI-powered video creation platform Synthesia aims to take marketers into the future.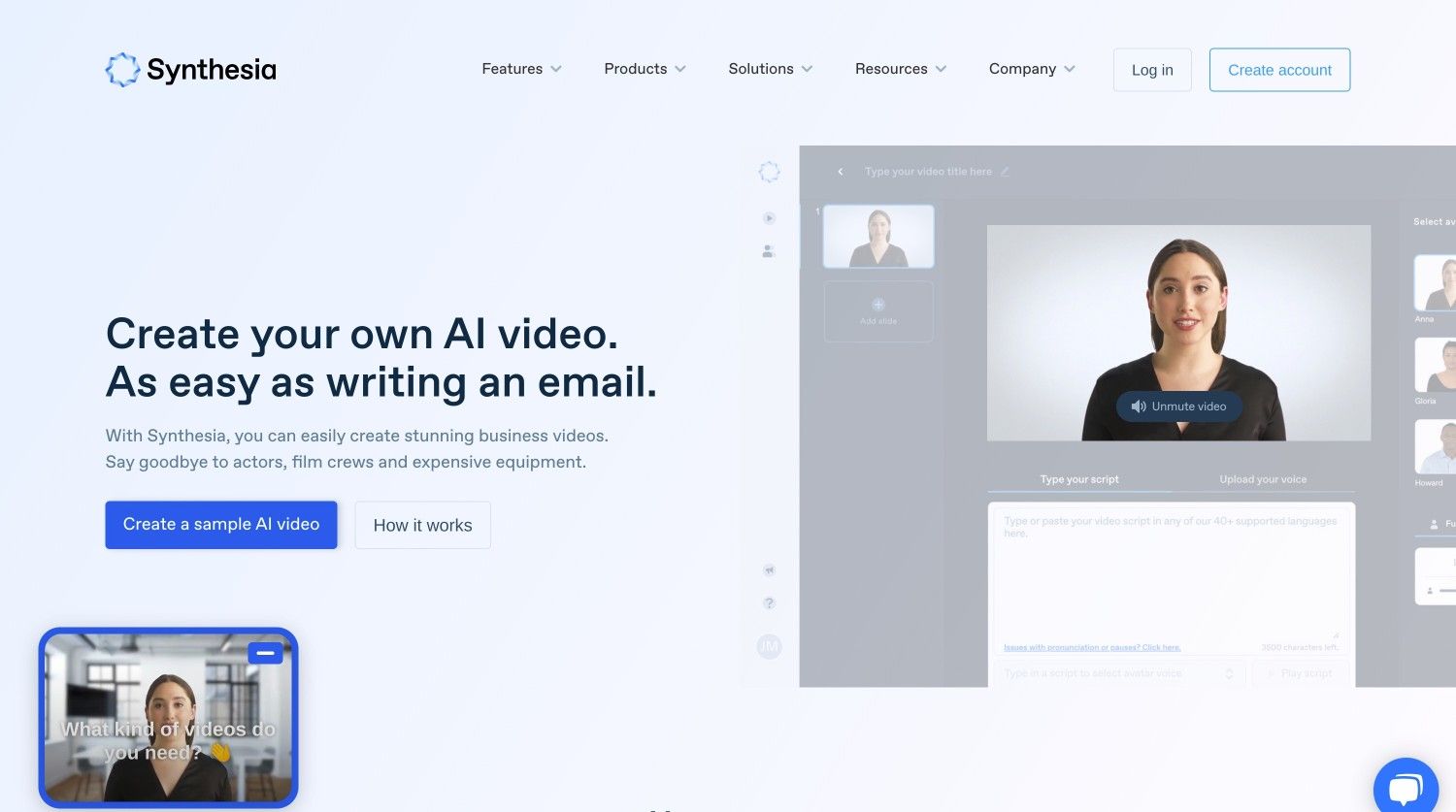 Have you ever seen that futuristic Tom Cruise film Minority Report? There's an interesting scene where he's walking in public and ads start talking to him directly, addressing him by name. Well, it looks like the future isn't as far off as we thought.
Marketers who love using video may want to check out Synthesia, an AI video creation platform. While we are still living in the days when creating presentation videos is costly and time-consuming, this startup wants to change that by utilizing AI and paid presenters.
Synthesia claims that creating a video on its platform is as easy as writing an email. Here's how it works.
First, choose from a library of existing presenters (these folks are called 'avatars'). Next, type in a script that these avatars will "voice out" inside the video. Finally, users can add other elements such as text and images inside the video. That's about it, apparently. The end video can look something like this:
What's more interesting is that users can also create their own avatars for Synthesia videos. To do it, they'll need to upload specific audio and video into the platform. There are currently 40 languages that users can play with inside the app, with a translation feature set to arrive shortly.
See: Martech startup funding news: 48+ investments and acquisitions in 2021
Launched in 2017, this UK-based startup initially focused on educational content for organizations (e.g. training videos and company-wide video updates, etc). The firm has since introduced other use cases such as video newsletters and video chatbots. Last year, Reuters and Synthesia unveiled an AI prototype for automating video news reporting.
The Synthesia team is well aware of the harmful videos this platform could potentially create. To deal with this preemptively, the company vets its customers and implements multiple layers of security and authentication before any video is published. For example, the algorithm will check every script submitted and try to avoid topics related to politics.
Synthesia raises new funding
Synthesia announced today that it has raised US$12.5 million in series A funding led by FirstMark Capital. Other participating investors include angels Christian Bach (Netlify's CEO) and Michael Buckley (Twilio's VP Communications) along with existing investors LDV Capital, MMC Ventures, Seedcamp, Mark Cuban, Taavet Hinrikus, Martin Varsavsky, and TinyVC.
This brings Synthesia's total investment to US$16.6 million.
Synthesia will spend the money on R&D and customer growth. "We've still only scratched the surface of the video economy. In ten years, we believe most of our digital experiences will be powered by video in some way or form," said CEO Victor Riparbelli.
Synthesia charges US$30 per month for individual users. With this budget, users can create videos up to ten minute long. This includes a selection of 40+ avatars, 40+ languages, and music backgrounds. The team claims that they have more than 1,000 companies using the premium tier.
A few other startups are also offering easy ways to create video with AI. Lumen5 and Designs AI enable users to convert their scripts into videos easily. Platforms such as Vidyou and Softcube want to make it simple for marketers to scale video ad creation.
In the near future, we will continue to see more marketers leveraging AI inside the creative process. Nearly three out of four marketers plan to apply AI to their branded content in an effort to personalize messaging and be more data-driven.
Save time and money when producing high-quality content. ContentGrow helps marketing teams work with perfectly-matched freelance writers and journalists at preferred rates. Fill out the form below to get your own shortlist of talent or visit the site to get started.