Getting to know Unbounce, an AI-powered landing page builder
The US-based company has just acquired Snazzy AI to help generalist marketers create high-performing copy.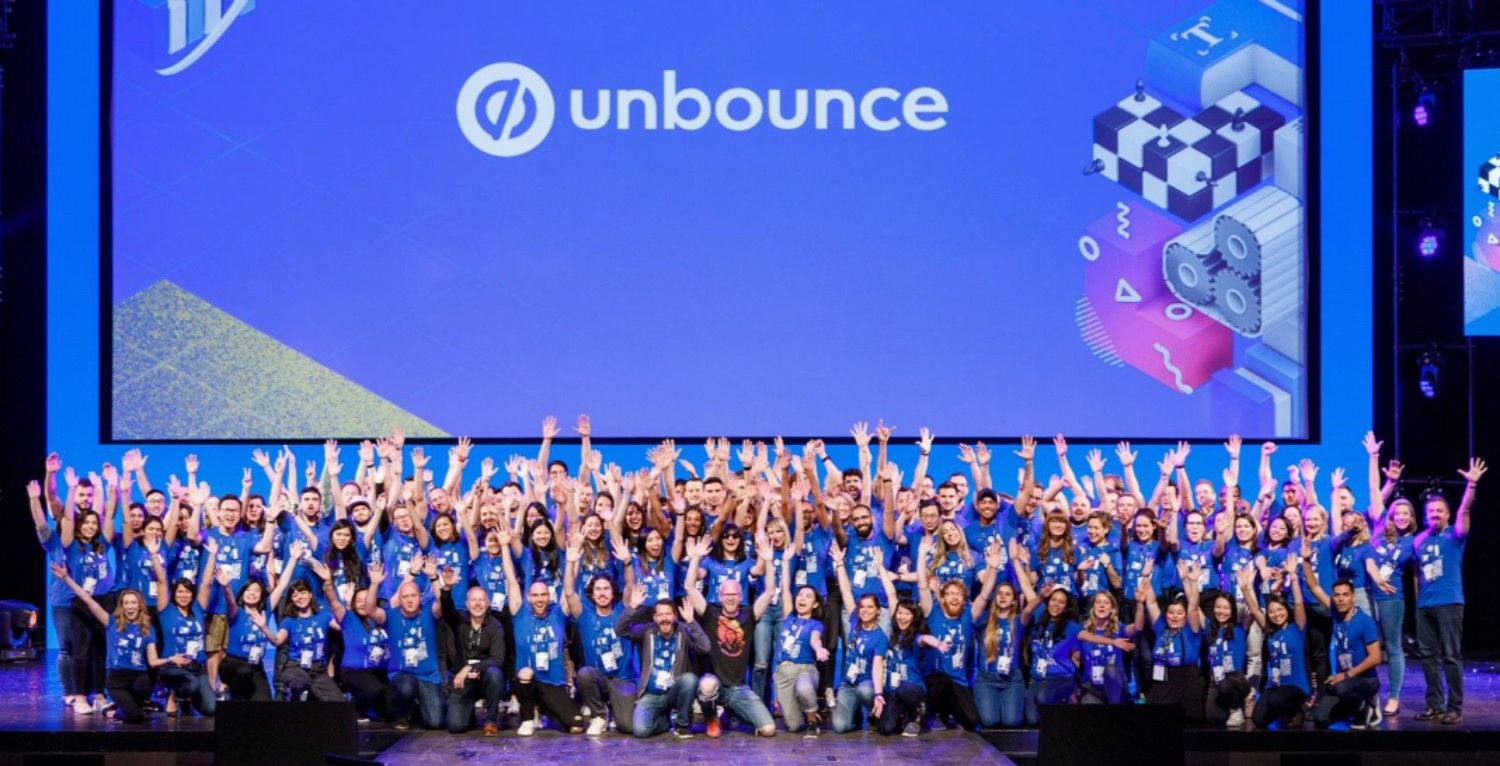 There are plenty of ways to create engaging landing pages today. Just choose the desired template, sprinkle some copy, and you're ready to go. One of the most popular tools in this space is Unbounce.
The company has been accelerating its growth recently, having raised US$39.1 million in funding last year and making an acquisition in May 2021.
Here are six things marketers should know about Unbounce.
What is Unbounce?
Unbounce is a landing page builder and conversion optimization platform with easy-to-use features for small and mid-sized businesses. It offers a compact drag-and-drop builder with no coding required, accessible even to beginners.
To start creating a landing page, users can easily pick a template out of 100+ options that the platform owns. The page comes with opt-in and CTA features like popups, sticky bars, and forms. Unbounce also comes with A/B testing features and an AI-powered customer routing machine called Smart Traffic.
Here's how Smart Traffic works. Businesses can create several landing page variants with different images and CTAs under one URL. After early visitors (50 visits) access the URL, Unbounce will analyze which variant has the best conversion rate and then route the rest of your visitors to the best-performing version.
The platform integrates with various business apps, available to connect via Zapier. If the preferred app is not built into Zapier (for example, Facebook, Google Ads, or Olark), users can still copy-paste custom scripts to connect with Unbounce.
How much does it cost?
Unbounce offers four pricing plans depending on your total traffic and conversion rate. Each plan provides complete access to Unbounce's landing page, popups, and sticky bar builders.
The basic plan starts at US$80 per month for up to 500 conversions and 20,000 visitors for one domain. To access advanced features like A/B testing or Smart Traffic, marketers can opt for one of the premium plans at US$120, US$200, and US$300 per month. Each offers more conversions and higher traffic quotas.
Unbounce offers an annual plan with a discount of 10%. New customers can get another 20% off when they get a referral from Unbounce's existing customers. Before settling down, customers can take a glimpse at how Unbounce works with a 14-day free trial.
What is the company's traction?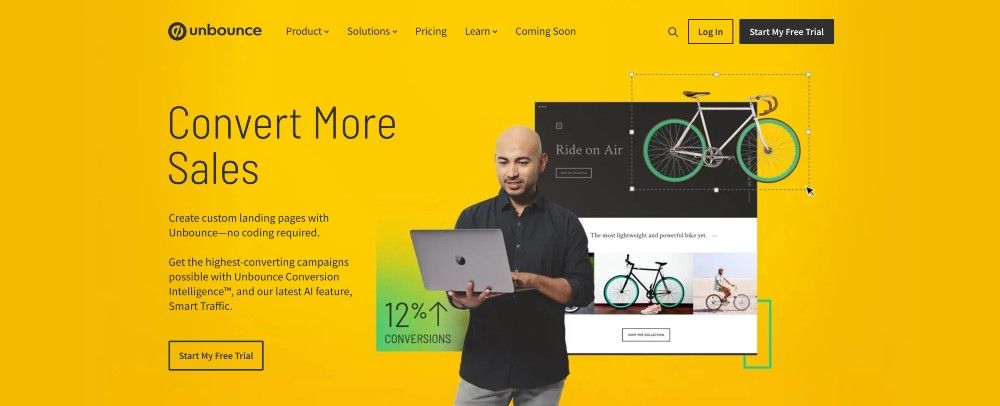 Unbounce claims to have generated more than 1.3 billion conversions. The firm's disclosed data has been sparse in recent years. Its latest financial figure came from 2018, in which the company generated US$23.3 million in annual revenue, a 490% increase from 2014.
To date, the company has more than 15,000 clients from SaaS, agency, and ecommerce industries. Some notable names include Campaign Monitor, Helix, Zola, Within, Later, and Fifty & Fifty.
Unbounce has received a total disclosed investment of US$39.1 million. The company has made two acquisitions, both for undisclosed amounts – Snazzy AI in 2021 and Rooster Engagement Tools in 2015.
Who owns the company?
Founded in 2009, Unbounce was launched by a group of six entrepreneurs: Rick Perreault (CEO), Carl Schmidt (ex-CTO), Oli Gardner (marketing), Carter Gilchrist (Strategic Director), Jason Murphy (ex-COO), and Justin Stacey (ex-Director of Product). While four of them remain on the team, Murphy and Stacey decided to leave Unbounce to pursue other career paths.
The company has received backing from 11 investors, including Crest Rock Partners, Espresso Capital, and Real Ventures.
Who competes with Unbounce?
Unbounce is currently competing with Instapage and Optimizely. The three companies offer easy ways for marketers to build landing pages for conversion.
Founded in 2012, Instapage has collected US$16.6 million in funding. It claims to have acquired thousands of customers, some with famous names such as eBay, Vimeo, Marriott, Soundcloud, Verizon, and Skyscanner.
Meanwhile, Optimizely started in 2009 and has amassed US$256.9 million in funding. The US-based startup claims to have worked with more than 9,000 companies, such as Microsoft, IBM, Yamaha, and Pizza Hut.
What was Unbounce's most notable move lately?
With its buy-out of AI copywriting startup Snazzy AI, the goal continues to be about helping marketers easily create high-performing landing pages. Unbounce believes that effective copy is a key part of the process.
Snazzy uses the GPT-3 language generator technology to help marketers produce copy for various purposes like landing pages, emails, ads, and more -- within minutes. The app had an alpha launch in October 2020 and has already amassed 30,000 users since then.
With Snazzy AI's Chrome extension, users can already use the copywriting automation app inside Unbounce's platform. The company announced that it would leave Snazzy as a standalone operation while it seeks to bake in more of its functions throughout the year.
Unbounce CSO Tamara Grominsky explained, "We're focused right now on building conversion intelligence software that will allow marketers to work with machines to really unlock their true conversion potential […] we saw a huge opportunity with Snazzy to focus particularly on the content creation and copy creation space to help us accelerate that strategy."
Co-founder of Snazzy AI Chris Frantz added, "As a marketer turned entrepreneur, I know how important writing content can be, and also how difficult that first step of putting pen to paper can be [...] We founded Snazzy with the goal of ending writer's block for good and making the process of writing compelling content easier for everyone, from entrepreneurs at upstarts to marketing leaders at big brands."
See: Martech startup funding news: 48+ investments and acquisitions in 2021
Save time and money when producing high-quality branded content. ContentGrow helps teams work with perfectly-matched freelance writers and journalists at preferred rates. Fill out the form below to get your own talent list or visit the site to get started.