For marketers: Visme is a bootstrapped Canva competitor with more than 10M users
Visme helps marketers create high-quality visual assets in no time. The Canva competitor claims to be fully self-funded and profitable.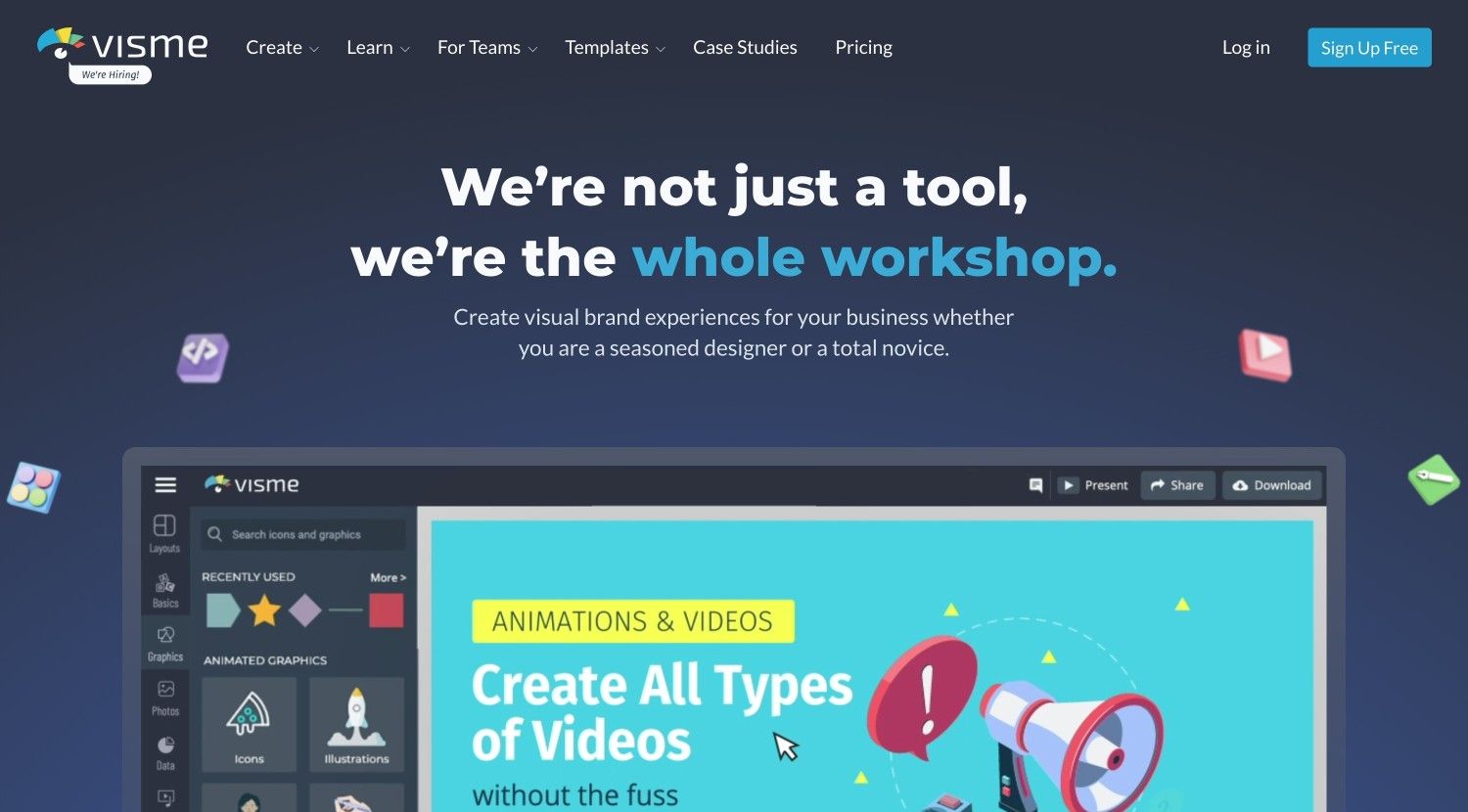 When designing visual assets for marketing purposes, businesses are used to getting trapped between long hours, or even days, of the creation and approval processes. Now, using design platforms like Visme, even non-designers can create visual assets effectively.
Visme claims to be a fully self-funded app, and yet the company has acquired millions of users, with strong ratings on review sites. Here are a few things marketers should know about Visme.
What is Visme?
Visme is an online tool for visual content creation. Businesses can create all sorts of visual communication assets with ready-to-use and customizable templates (ranging from pitch decks, business docs, social media posts, infographics, charts or graphs, and videos, all the way to printable materials like flyers). Marketers can download these assets in several formats, such as image, PDF, PPTx, or HTML5.
The platform appears to be quite user-friendly, even for novice marketers. This is thanks to the app's drag-and-drop functions. Aside from templates, users can source royalty-free images, videos, or animated assets directly inside of Visme. The platform also offers more than 10,000 vector icons.
Visme's integrations with popular apps also make it easy for businesses to source and publish content. It can be connected with YouTube, Vimeo, Google Drive, Dropbox, Typeform, Unsplash, Giphy, and more. To make reports, users can also transfer data directly from Google Analytics.
Inside of the platform, team members and clients can participate in the review process by commenting or using a markup tool to share feedback.
How much does it cost?
Visme offers 100% free rides for individuals or small businesses. The free plan provides usage for up to five projects per month with a maximum of 100 MB storage. Free users will have a limited choice of templates and download formats. Additionally, all public projects will have Visme's branding inside. Fortunately, Visme's branding does not appear inside private projects (e.g. downloaded documents).
The app's three premium plans are standard (US$15 per month), business (US$29 per month), and enterprise (custom pricing). Each offers more advanced functions such as premium templates, bigger storage, analytics, and app integrations.
What is the company's traction?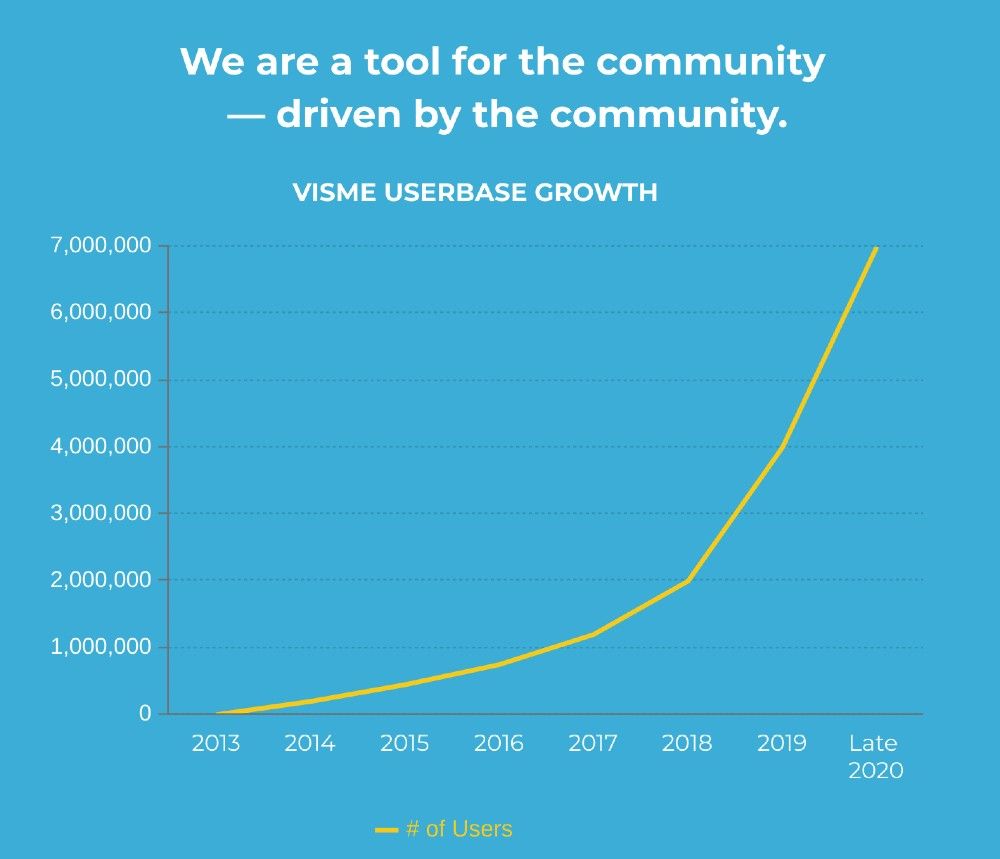 Visme claims to have helped 10.1 million users across 120+ countries create visual design assets. Notable clients include IBM, Zurich, Unilever, and AXA.
In the past five years, the company's popularity on Google search grew by 416%. According to SimilarWeb, Visme is now recording 3 million visits per month.
Visme has yet to disclose its revenue and valuation figures publicly.
Who owns Visme?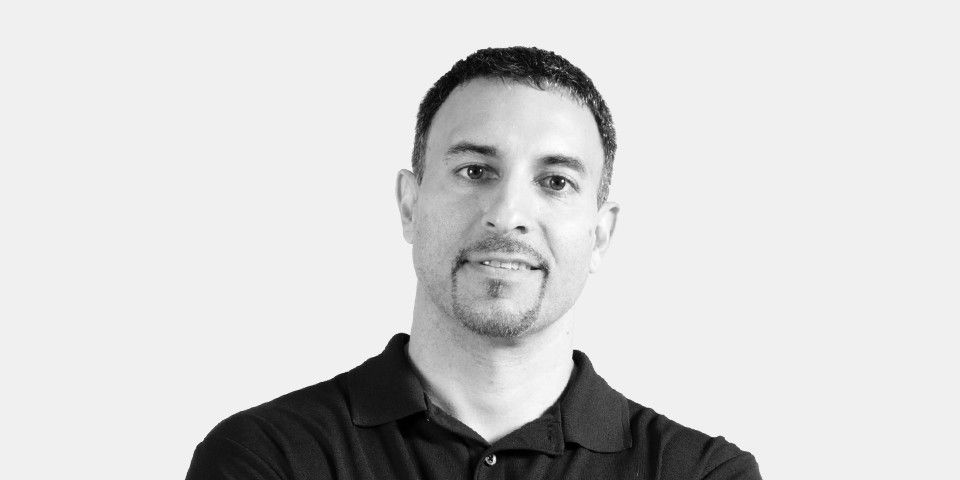 The man behind Visme is Payman Taei, a tech entrepreneur with a keen interest in visual design tools. Before Visme, he founded a web design firm called HindSite Interactive that's now been operational for close to two decades. In 2019, he launched Respona, an AI-powered PR and link-building tool.
Taei claims that Visme is already a profitable venture and does not rely on any outside funding.
Who are Visme's competitors?
The obvious rivals for Visme in the user-friendly design tool arena are Canva and Prezi. All three firms help novice marketers create visual assets easily.
Canva claims to be serving over 15 million monthly active users across 190 countries. Big enterprises that use Canva include PayPal, Gucci, Danone, and Intel.
The Australia-based company has raised a total fund of US$372.6 million to date from 32 investors. Canva's valuation is reported to have reached a staggering US$15 billion. The app shared that it scored more than US$500 million in annual revenue last year, a 130% increase from the previous year.
Canva has also made five business acquisitions so far.
US-based Prezi has collected US$72.8 million in capital from five investors. It acquired Infogram back in 2017 for an undisclosed sum. Prezi now has more than 100 million users, including notable brand customers like Sony, Fujitsu, Cisco, World Economic Forum, and UNICEF.
See: Martech startup funding news: 48+ investments and acquisitions in 2021
What was Visme's most notable move recently?
In March 2021, Visme tried to reach out to educators by offering free trials of the app's premium functions. Currently, the company is adding new app integrations for Slack, Constant Contact, and Formstack.
Save time and money when producing high-quality branded content. ContentGrow helps teams work with perfectly-matched freelance writers and journalists at preferred rates. Fill out the form below to get your own talent list or visit the site to get started.