ContentGrow's new features give rocket fuel to publishers
We onboarded our first beta publishers and aimed to improve the user experience. Today, we're proud to unveil the new and improved ContentGrow.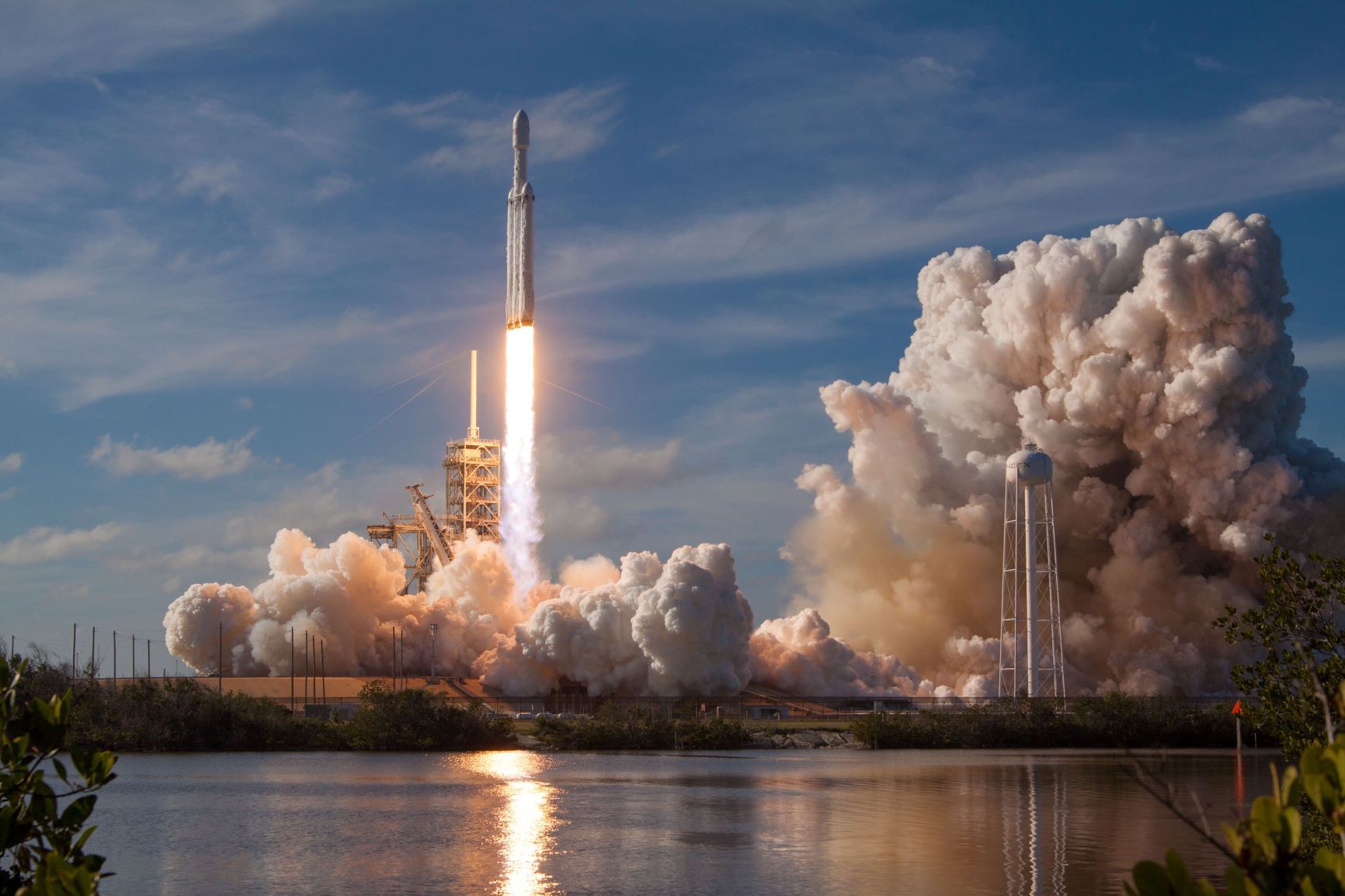 If you've been following me on social media, you may have read an initial blog post a few weeks ago in which I went into detail about our new product ContentGrow. If you missed it, the basic gist was that:
"Content Grow is a tool designed to help agencies and publishers scale their content production by keeping out-of-house teams on brief, ahead of deadline, in-the-know, and at your fingertips. On the platform companies build projects, organize teams, get talent curated for free, brief out assignments, implement quality control guardrails, track payments, and more."
In just a few short weeks, we were able to onboard our first cohort of beta users (a mixed bag of agencies and media outlets). We were able to watch them process stories from end to end on the platform. The goal of this first cohort was to get priceless feedback so that we could inch closer to nailing the user experience overall.
Today, I am proud to announce that we have harvested their feedback, applied it, and pushed an entirely new build of the product into the world.
A cleaner interface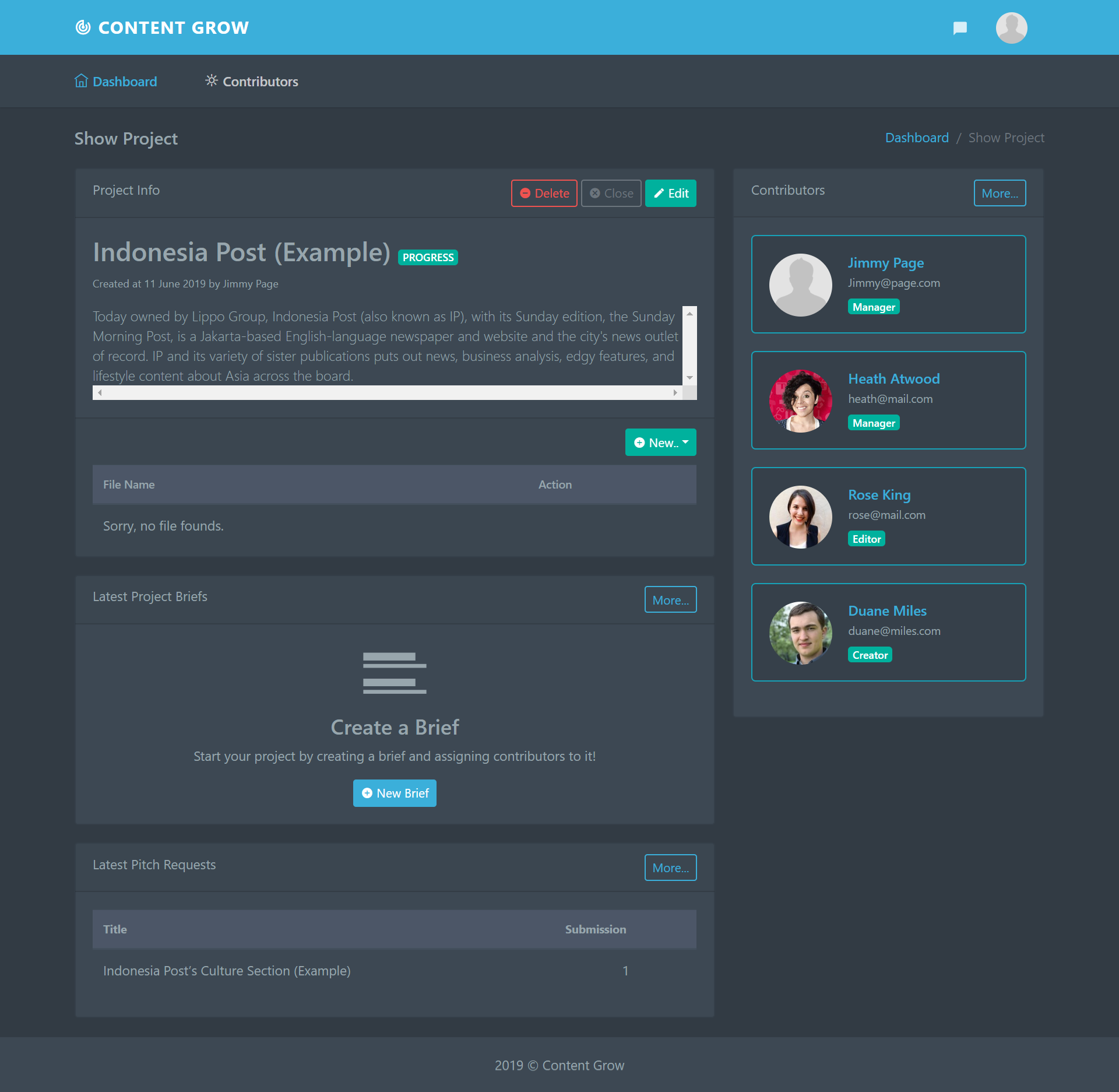 The first version of ContentGrow was something of an eyesore. Some users found it tough to navigate due to a clutter of menu options, small buttons, unclear paths, and unnecessary steps. The new version has stripped the entire interface down into a simple, universal dashboard that looks the same for all users, coupled with only two sections for projects and contributors.
A simpler experience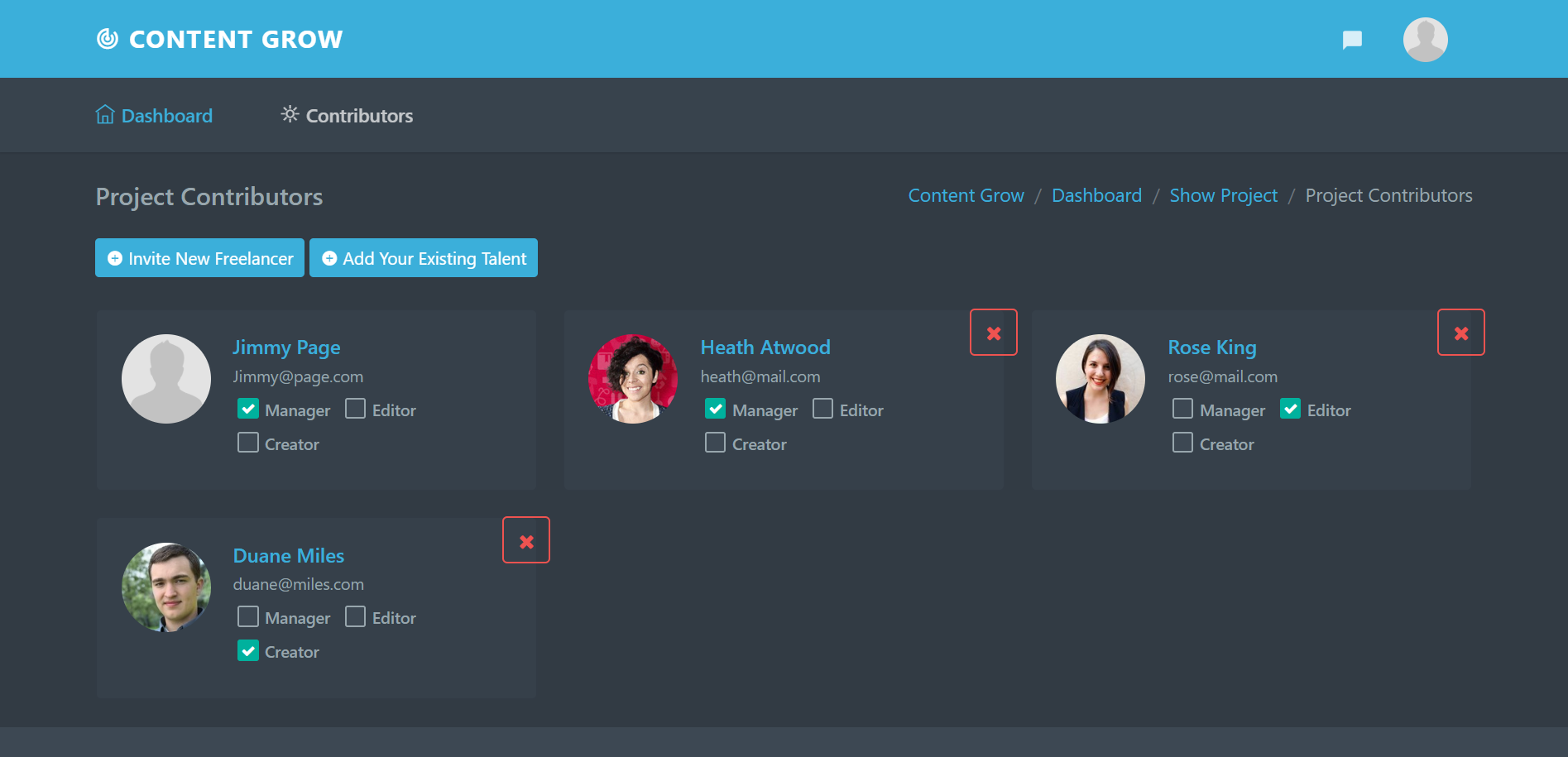 While the first iteration of ContentGrow separated the company's dashboard from that of the project manager, the new platform has merged the two seamlessly. Now, when you sign up and login as a company, you will have the option to easily set yourself as a manager within any project. Company owners can also tinker with their own roles for added flexibility (e.g. they can also act as content creators and editors).
Adding new contributors is now a snap. If you have their email address, you can instantly pull new users into your project, update their role with a single click (check as manager, editor, or creator), and swiftly move on. No more toggling back and forth between separate dashboards just to get your team set up!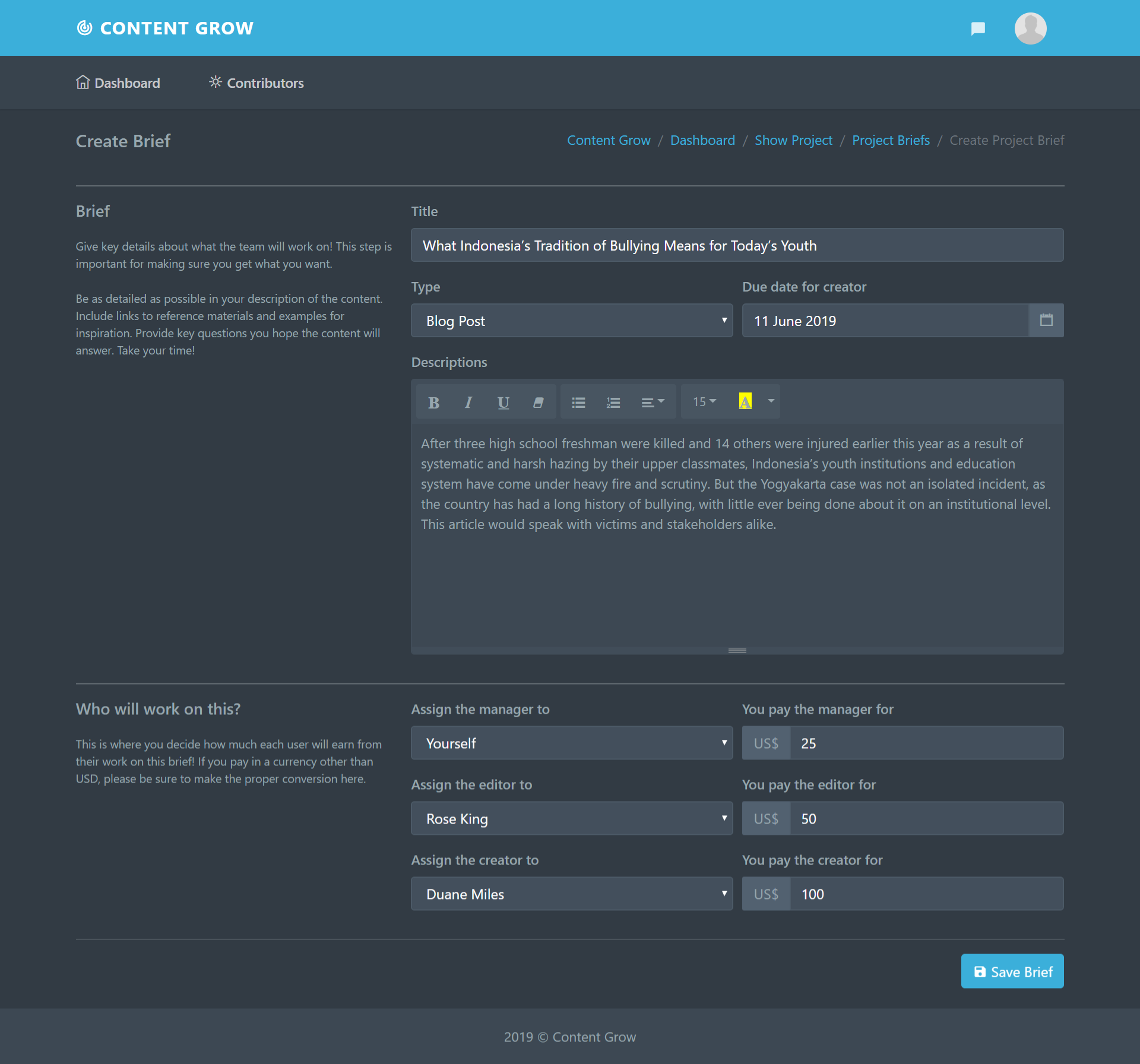 See: 5 recommended writer marketplace sites for global content teams
The brief making step has also been stripped way down for simplicity. The previous version had all kinds of separate fields for managers to key in manually when making an individual story brief. These were combined with multiple steps related to setting the currencies, fees, and users, then getting it all activated.
The new platform has just a couple fields and only one step to get this all squared away.
Direct messaging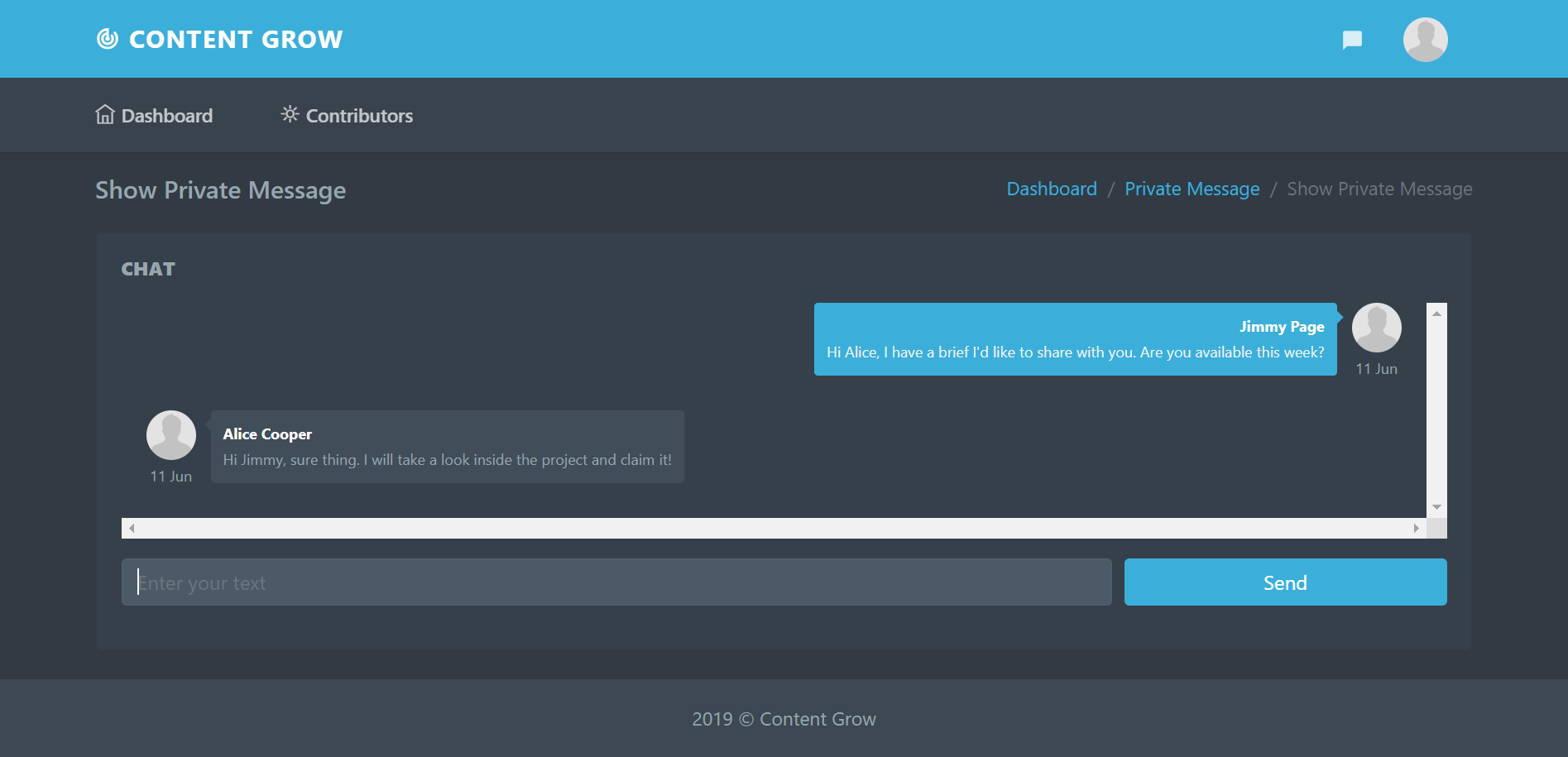 ContentGrow's new direct messaging feature now makes WhatsApp and email communications a thing of the past on content projects.
Previously, teams would use ContentGrow but still coordinate with each other heavily outside of the platform. Now, with a new built-in messaging feature, managers can get in touch with their team, ask users to claim briefs, submit pitches, be aware of any new instructions, and more — all without ever needing to jump out of the platform.
Your entire team is now available via ContentGrow's direct message inbox.
Auto-generated invoices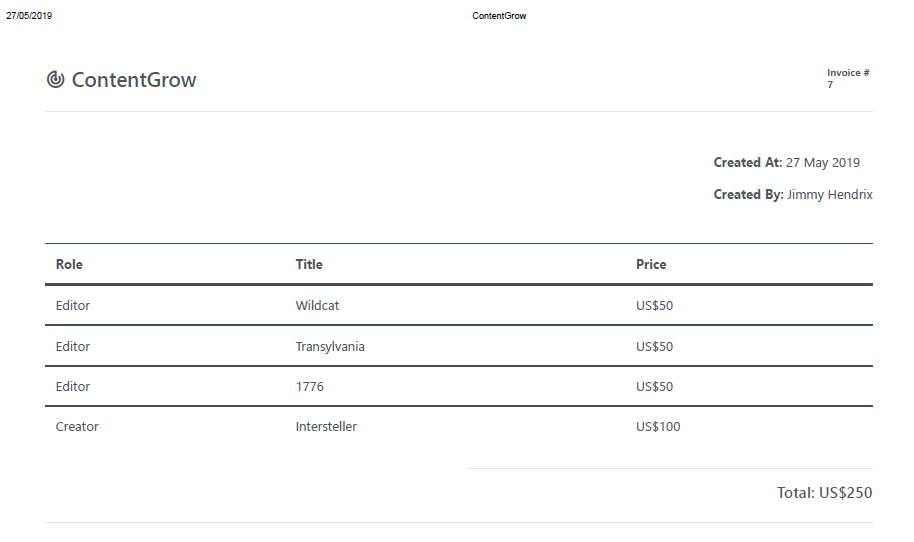 See: ContentGrow review - a specialist's marketplace for journalism and PR
The new platform allows managers to easily create itemized invoices for each contributor on a project. These invoices can be saved as PDFs and shared with the company's admin department for monthly payments.
In the coming weeks, we will integrate an e-payments system for company users who would prefer to pay their teams directly via ContentGrow.
Pitch requests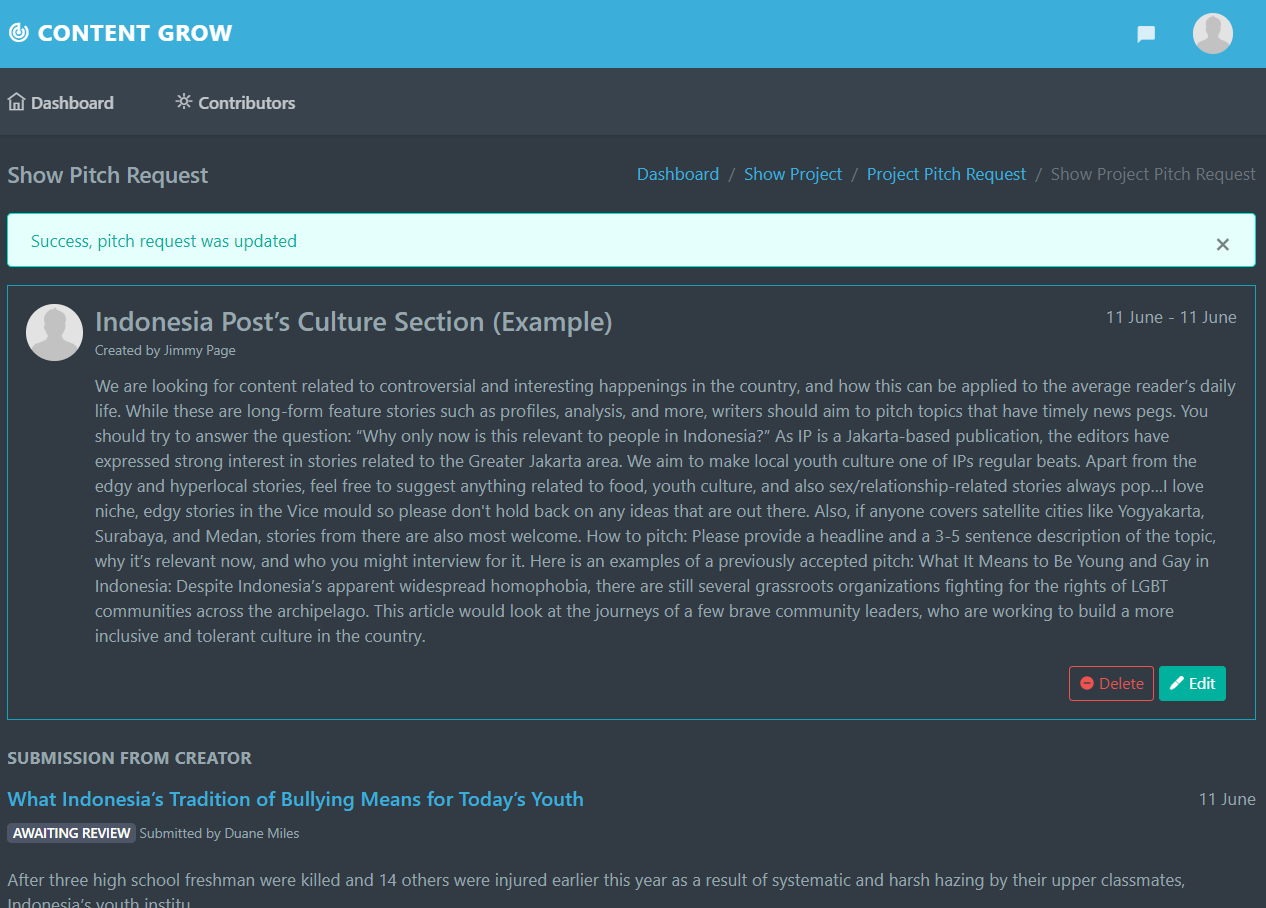 Last but not least, managers can now put out a single call to the entire team, asking everyone to submit creative pitches related to a specific topic.
When the manager saves the pitch request, the project's contributors will all be notified via email. They then click a button in their inbox to arrive inside of the platform and share their best ideas about what they'd like to create for the project. Approved pitches are then turned into active story briefs.
Save time and money when producing high-quality branded content. ContentGrow helps marketing teams work with perfectly-matched freelance writers and journalists at preferred rates. Fill out the form below to get your own shortlist of talent or visit the site to get started.