5 recommended marketing newsletters to subscribe to in 2022
With an abundance of marketing newsletters out there, here are some that could be a good start for you in 2022.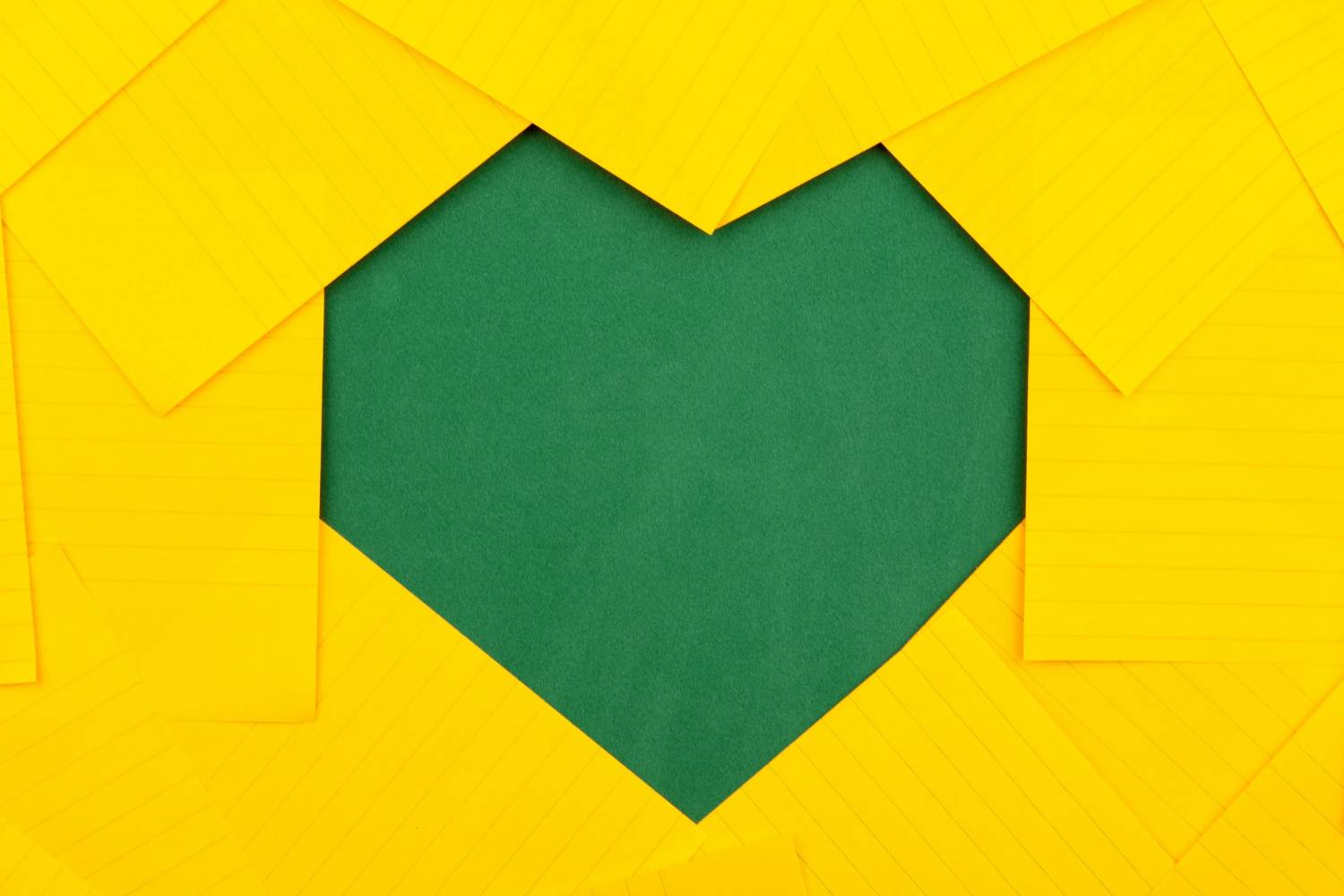 Marketers looking to glean new insights and stay updated on the latest industry news should consider subscribing to a handful of newsletters.Thanks to the rise of the creator economy, there are now several to choose from.
So with an abundance of marketing newsletters out there, here are some that could be a good start for you in 2022.
1. ContentGrip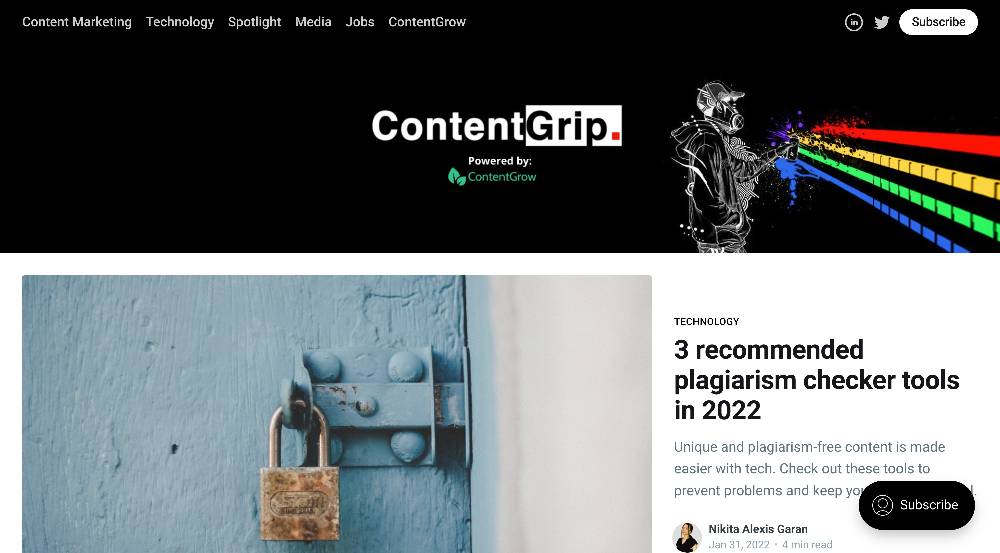 ContentGrip (produced by ContentGrow) is an online media for practitioners at the intersection of media, marketing, and tech.
Its newsletter covers the latest martech funding news, interviews with professionals, and digital marketing reports. On occassion, the newsletter also showcases recommended freelance writers and journalists available for work.
If you're looking to get a weekly dose of martech updates and tips for working with freelancers, this is the place to go. Collaborating with the right tool and freelancer could very well help speed up your business growth.
Click here to check out the portal and subscribe. You can also request to be featured on the blog and in the newsletter by filling out this form.
2. The Saturday Solopreneur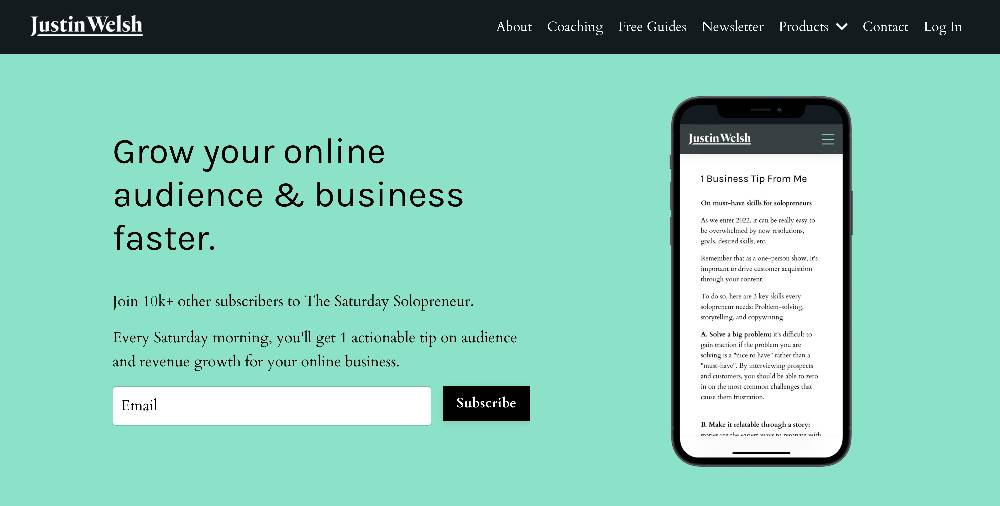 Solopreneur Justin Welsh recently relaunched The Saturday Solopreneur newsletter. This time, he wants to give just one actionable tip on audience and revenue growth for online businesses in each email. Of course, this includes marketing insights.
Eloquent in brevity, every Saturday morning, you'll get one actionable tip. You can digest each newsletter in less than two minutes. Click here to subscribe.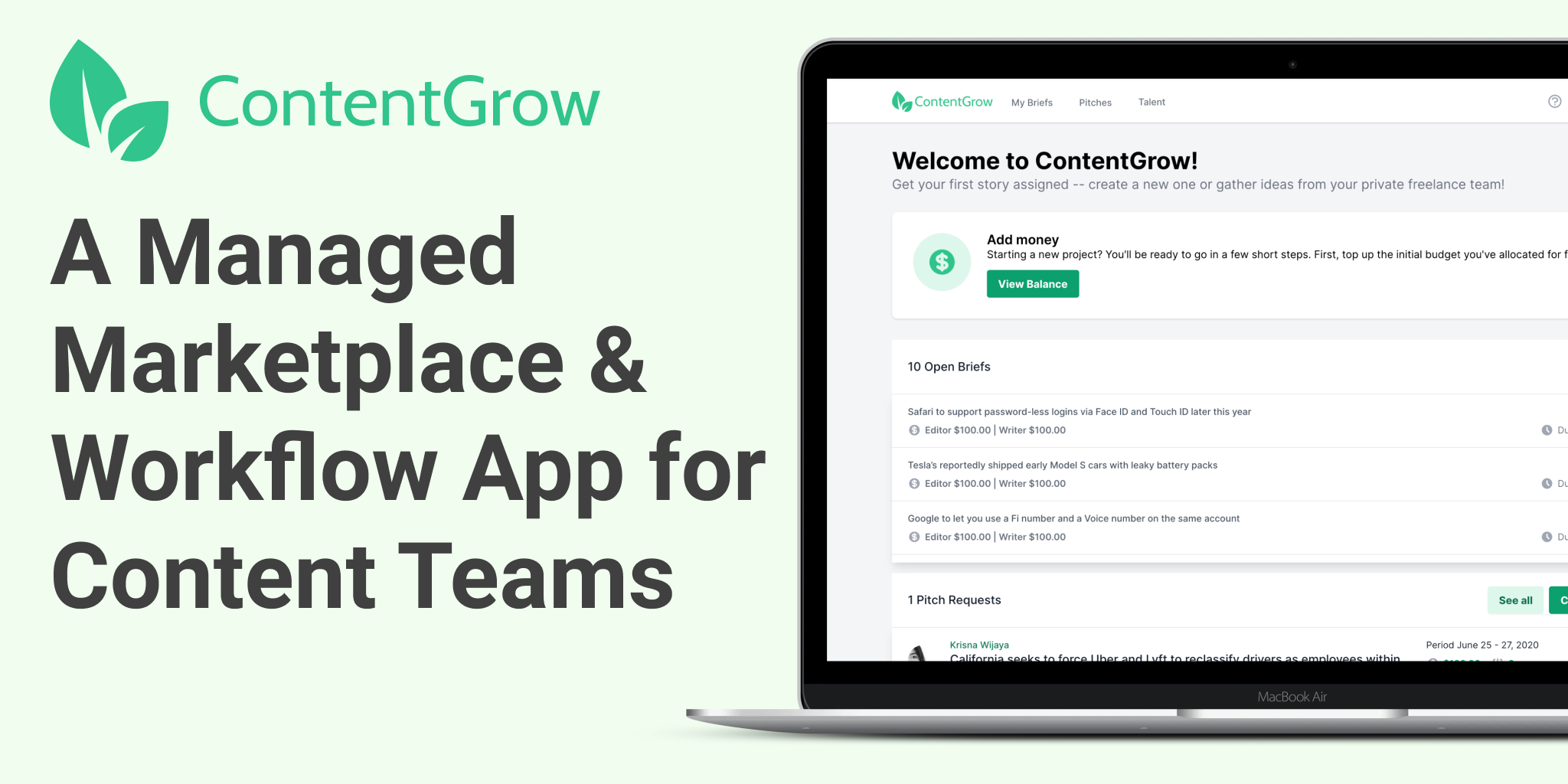 3. For The Interested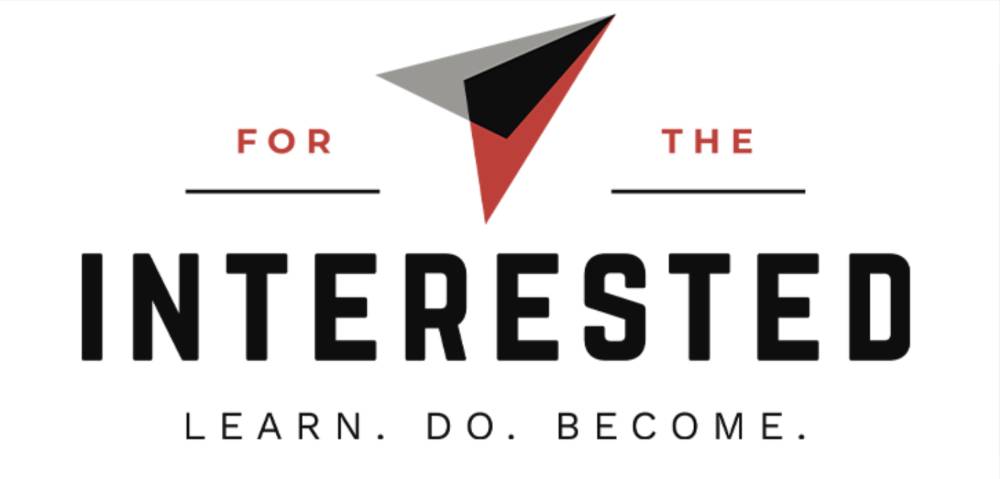 Built by marketing and business consultant Josh Spector, For The Interested offers a free weekly newsletter featuring ideas to help content marketers produce, promote, and profit from their stories.
Each week, Josh will feature five ideas or stories from the internet that may be useful for marketers. If you like having someone else aggregate good marketing insights each week, this newsletter might be for you. Click here to subscribe.
4. Indie Hackers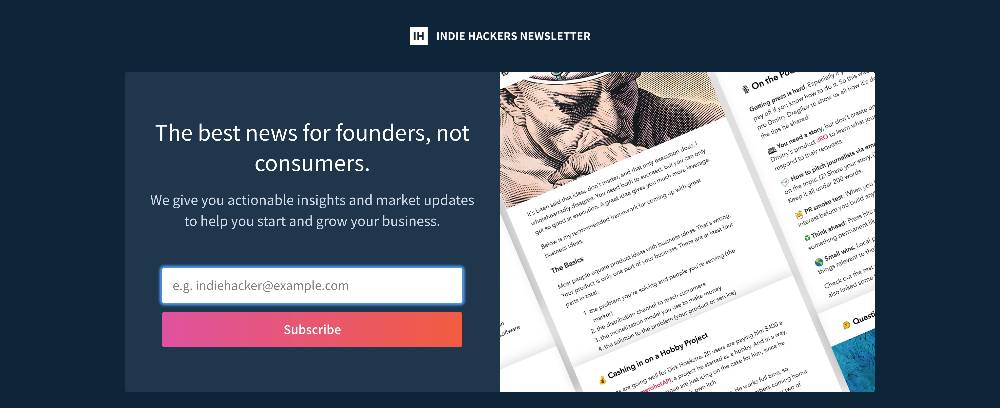 Launched in 2016, Indie Hackers has become the go-to place for indie entrepreneurs who are not looking to build the next Uber or Facebook. These people are happy working in small teams and generating a good income from profitable businesses.
Tech founders discuss business and growth ideas inside the app. Indie Hackers then aggregates these insights into its newsletter every Thursday and Saturday. The company also curates top business news globally inside its email.
If you're looking for growth insights that work for small teams, this could be a great destination for you. Click here to subscribe.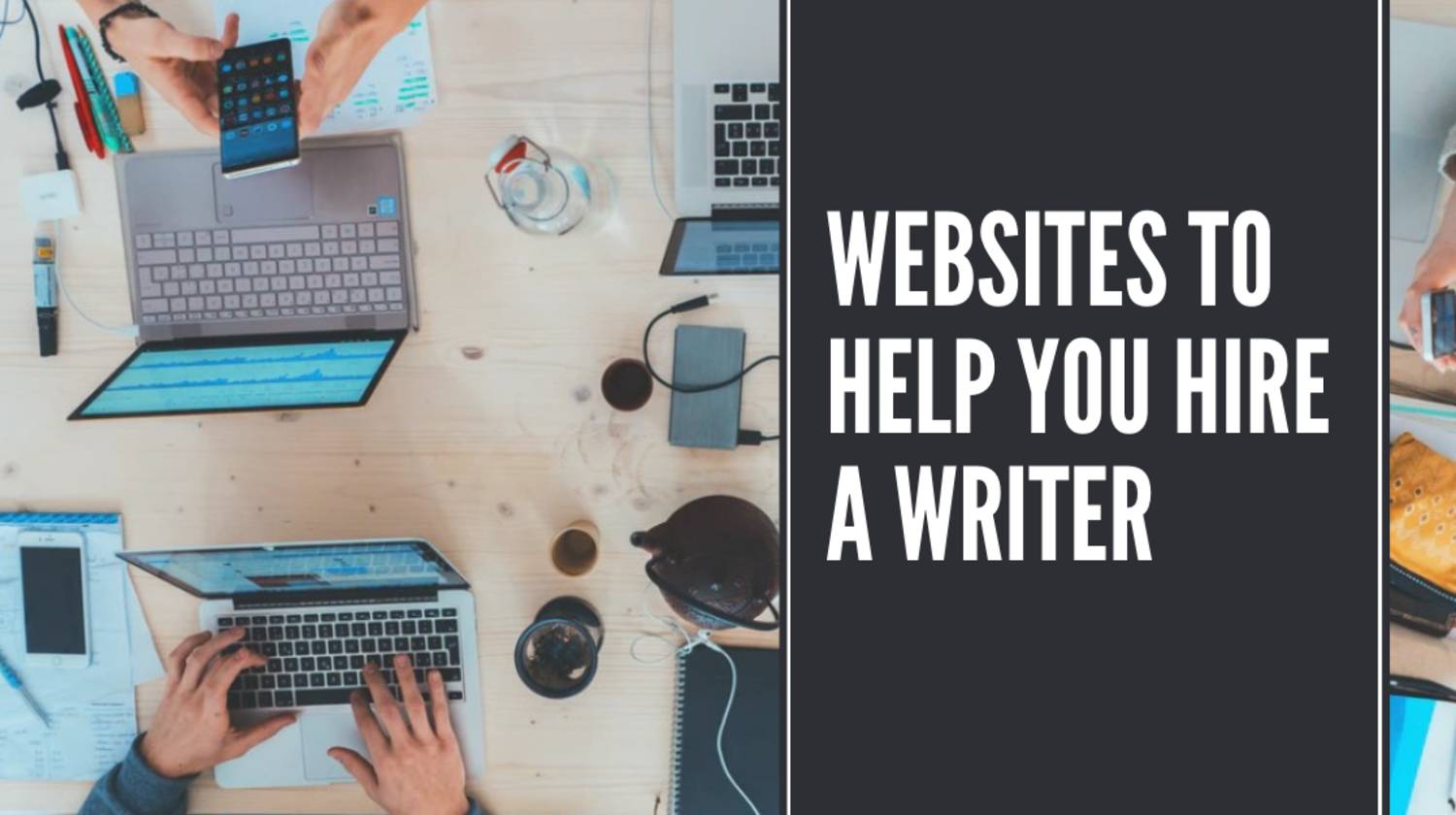 5. Marketing Brew

This newsletter feels like an old-fashioned daily newspaper in a digital format. Inside, you'll find the latest marketing stories and insights from various industries in the US market.
On top of news and opinions, each newsletter also curates marketing tips and offers quizzes.
Sometimes it's good to go out and see what's happening outside your niche to get a fresh perspective on things. If you're keen on the US market and like this idea, click here to subscribe.
Save time and money when producing high-quality press releases and thought leadership articles. ContentGrow helps brands and media work with perfectly-matched freelance writers and journalists at preferred rates. Fill out the form below to get your own shortlist of talent or visit the site to get started.