16 recommended content marketing resources from the pros to grow your campaign
Discover 16 curated content marketing resources to offer valuable insights and tools to enhance your marketing approach in 2023.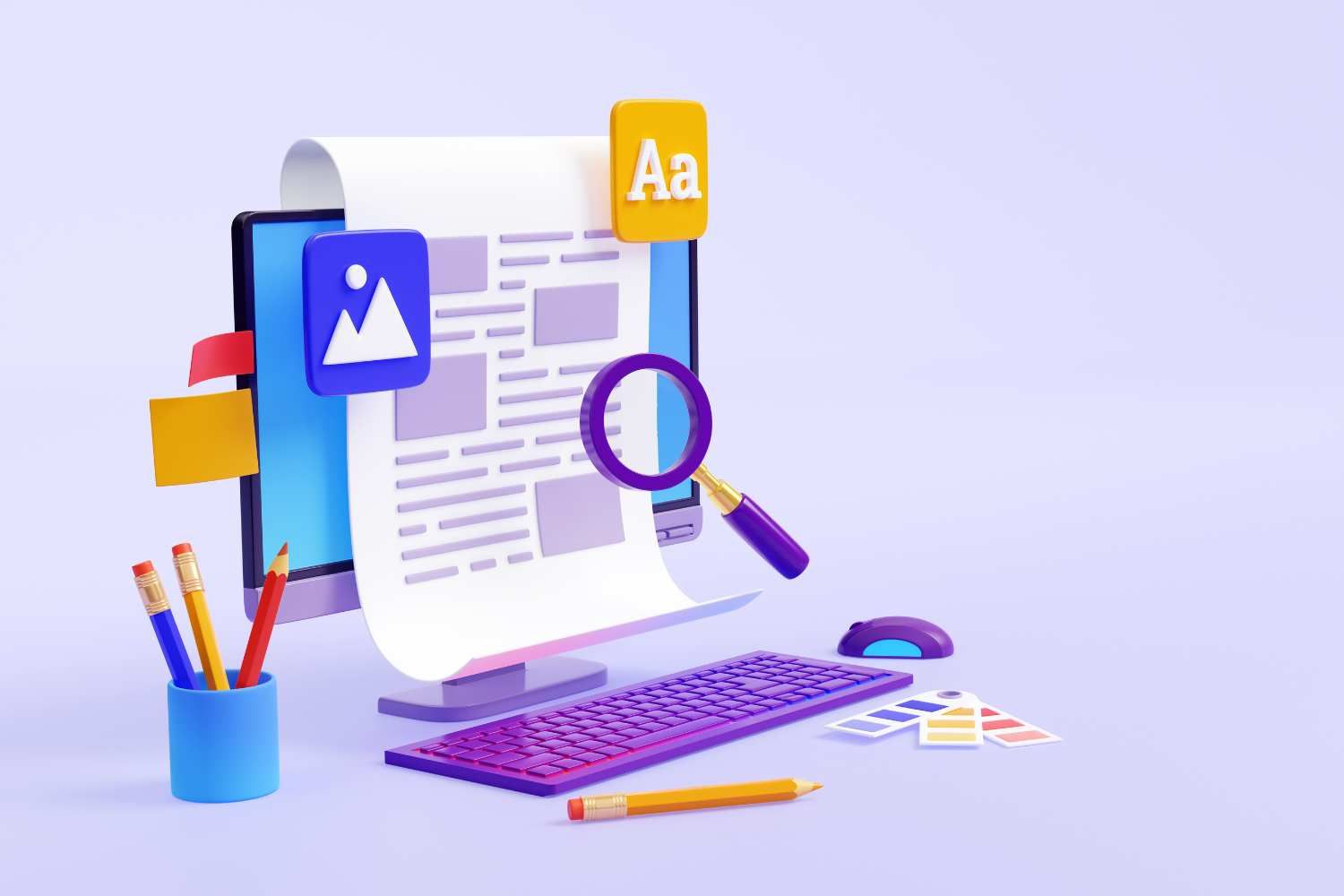 In the fast-paced world of marketing, staying updated on industry trends is essential. According to a HubSpot report, 70% of marketers are actively investing in content marketing.
To assist professionals in navigating the ever-changing landscape of content marketing, Andrew Prasatya, head of content marketing at RevoU—an educational technology startup—has recently compiled a list of useful resources. Explore them below:
Top content marketing resources to check out in 2023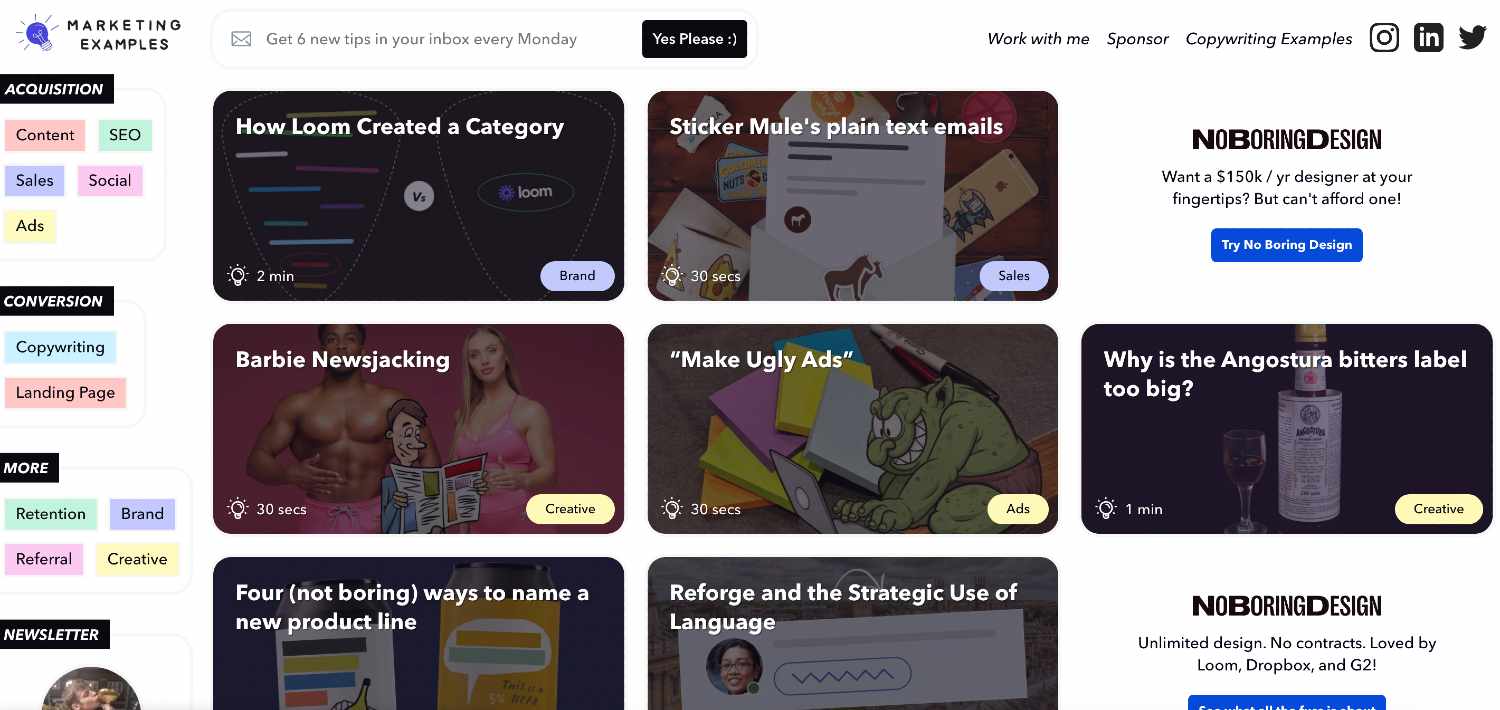 Don't worry about choosing strategies for content marketing funnels. Harry Dry, founder of Marketing Examples, has organized his analysis based on the acquisition and conversion funnels.
He also explores other related topics, such as brand case studies, creativity in marketing, and referral campaigns. His blog receives over 10,000 monthly visitors, most of whom are seeking copywriting and marketing inspiration.
Unlike typical case study blogs that often publish long-form articles or detailed technical breakdowns of brand case studies, Harry prioritizes simplicity in most of his articles. Some articles are even readable in under one minute.
For instance, in the article "Retweet to Read," he explains how to use copywriting to encourage sign-ups by offering ebooks to the audience. He delves into the 'real' psychological power of stating, "Market value $34.99," in the the banner copy.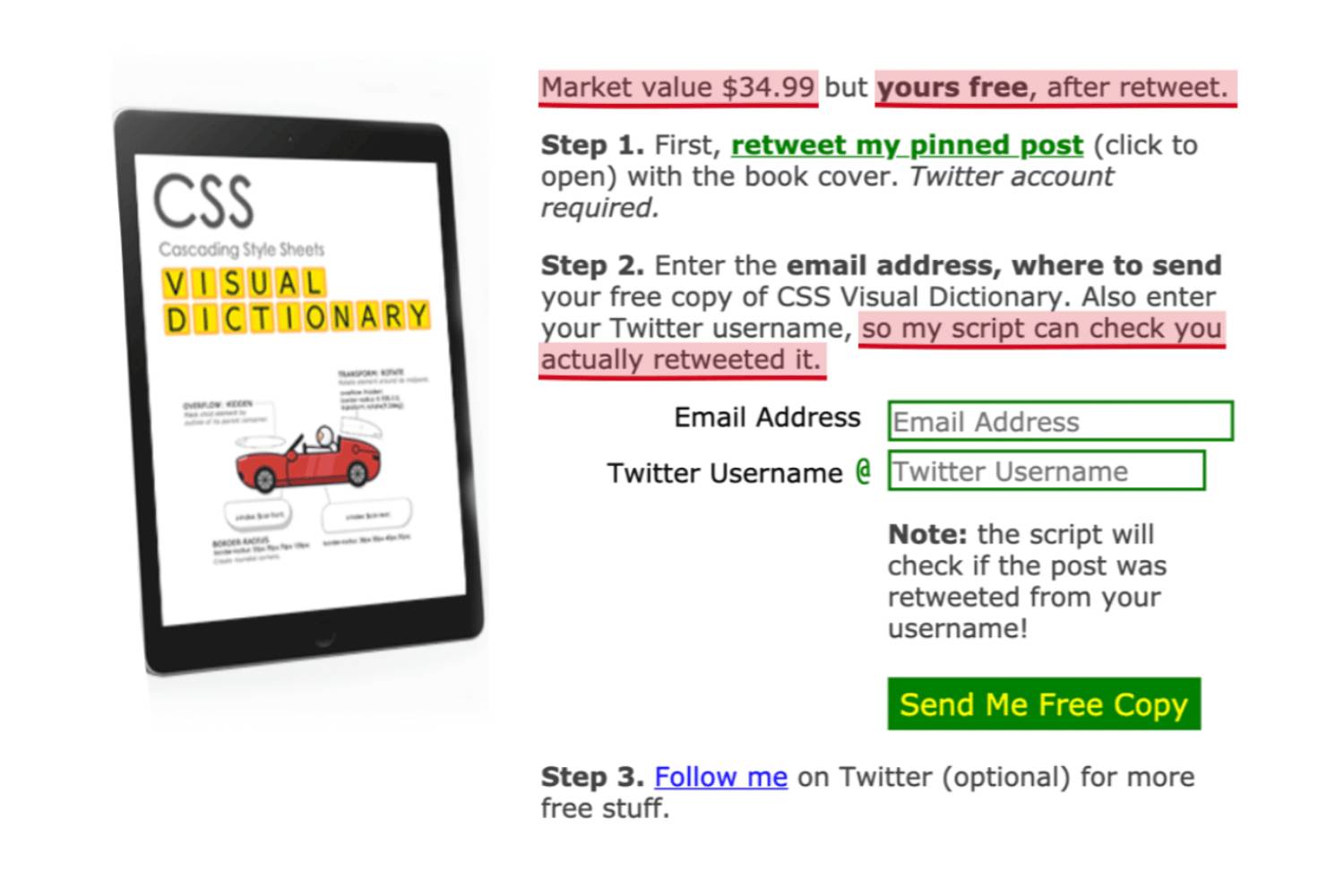 In this article, he stated:
"Imagine you visit the same web page but with that line removed. You might think, 'Damn, I've got to retweet to get this free e-book.' But by placing a 'market value' on the book, the script changes to, 'Nice, all I have to do is retweet to get an expensive e-book.'"
That concluded the article, effectively highlighting the power of copywriting.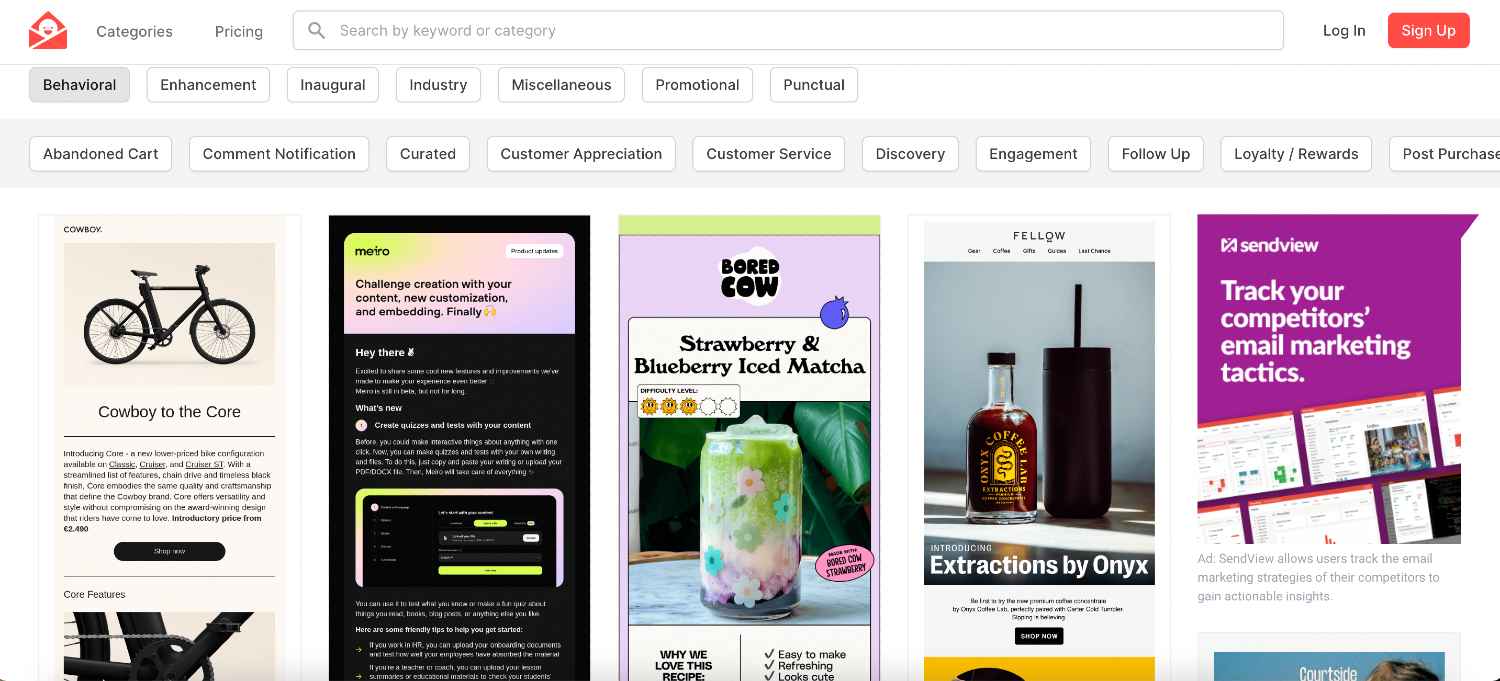 Ever wanted a glimpse into how marketing blogs create their newsletter campaigns? In Really Good Emails, the specifics of a brand's email execution might not be present, but visiting the blog could spark creative ideas for your own campaigns.
Really Good Emails has garnered a following of more than 169,000 subscribers and averages 100,000 monthly visitors. You can find inspiration for design and copy, categorized by industry and campaign goal—such as email examples for customer satisfaction, discovery, follow-up, engagement, and more.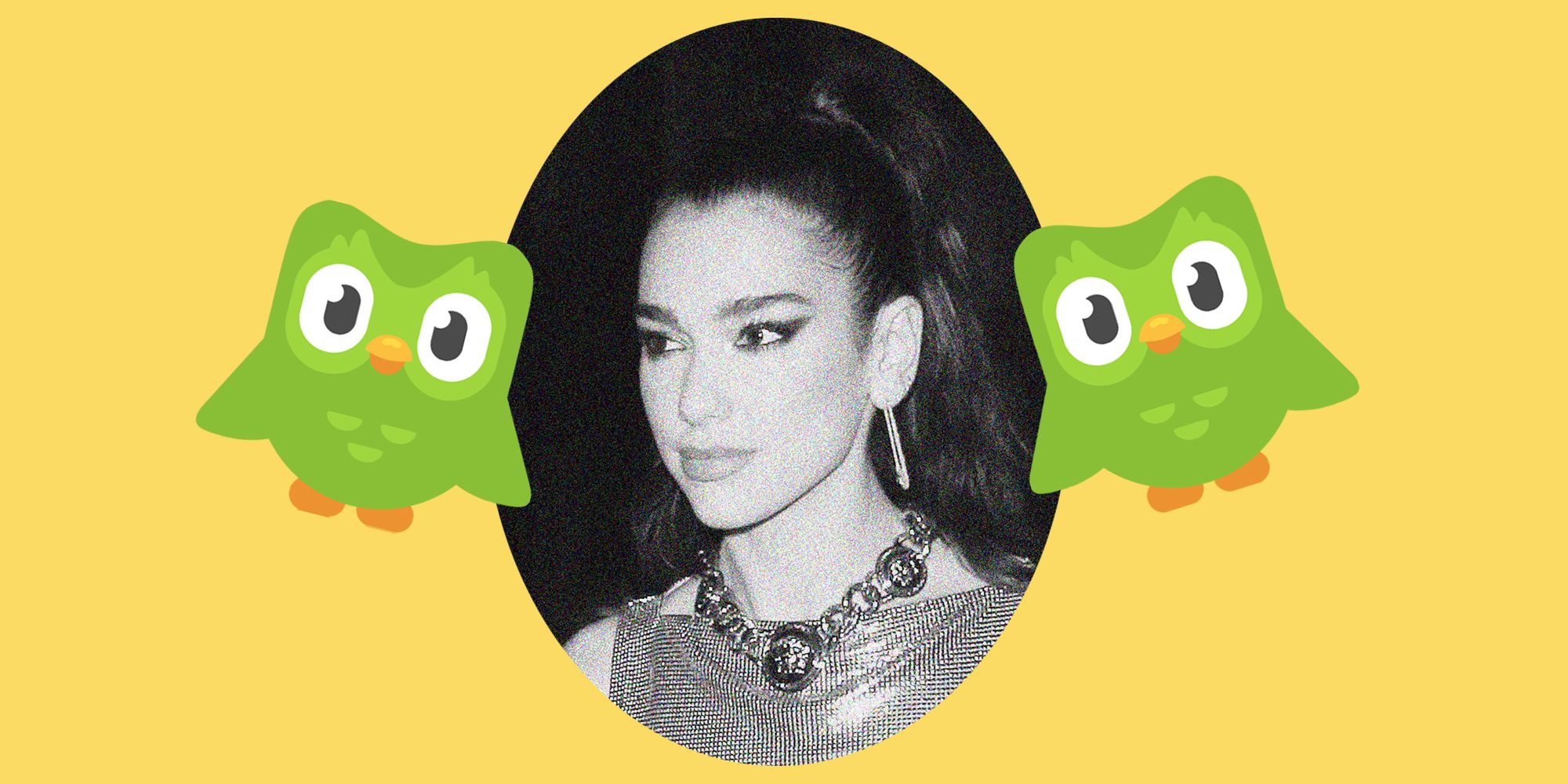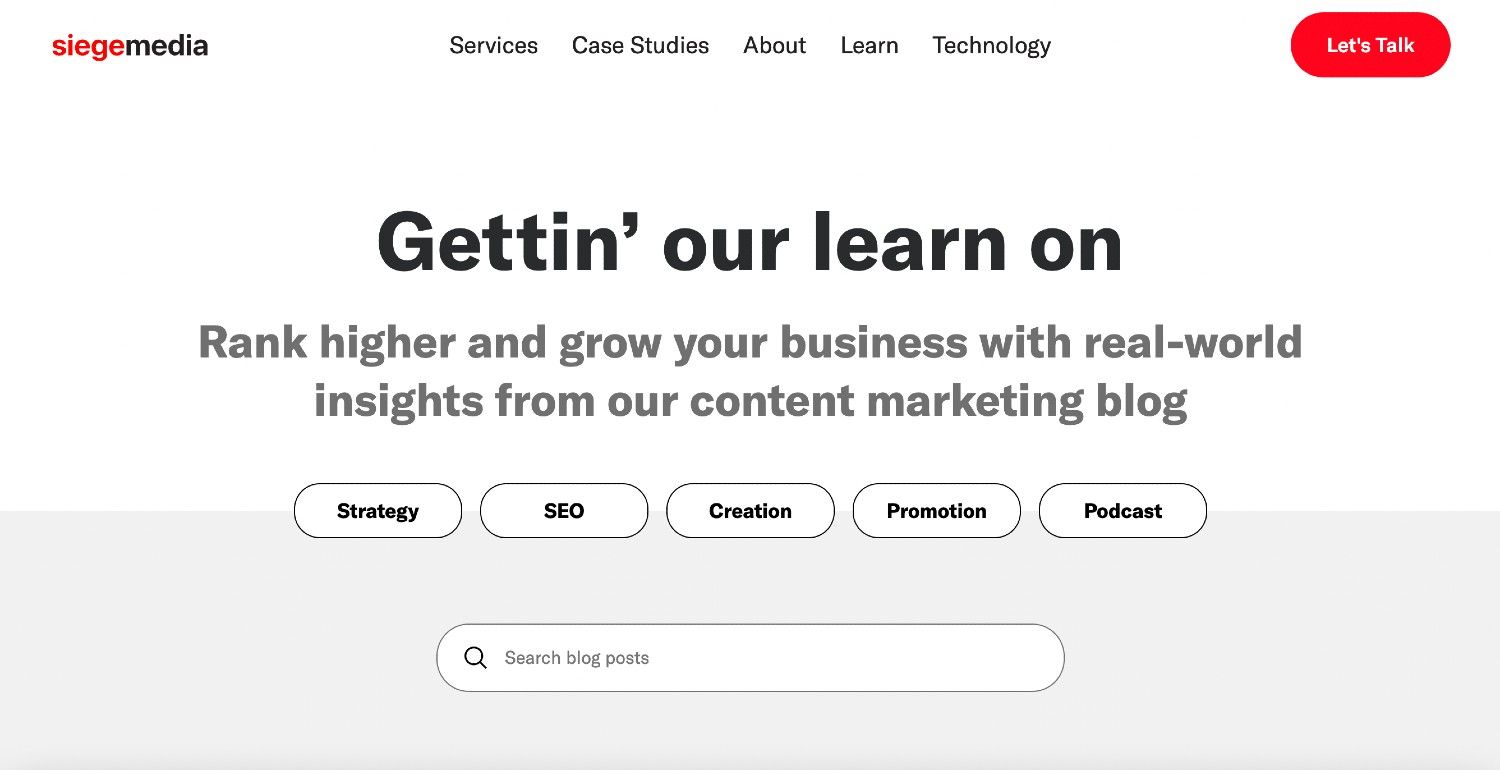 If you're interested in current trends in digital marketing, consider adding this blog to your list. Siege Media's blog attracts an average of 50,000 monthly visitors and zeroes in on trends, tool suggestions, reviews, and how-to content. The blog also features podcasts and is organized into four primary categories: SEO, creation, promotion, and podcast.
What sets Siege Media's blog apart is its authenticity. Most of the content is written by the team that executed the campaigns, providing real-life data and insights. Check out one of our favorite articles from the blog here: Siege Media B2B Content Strategy.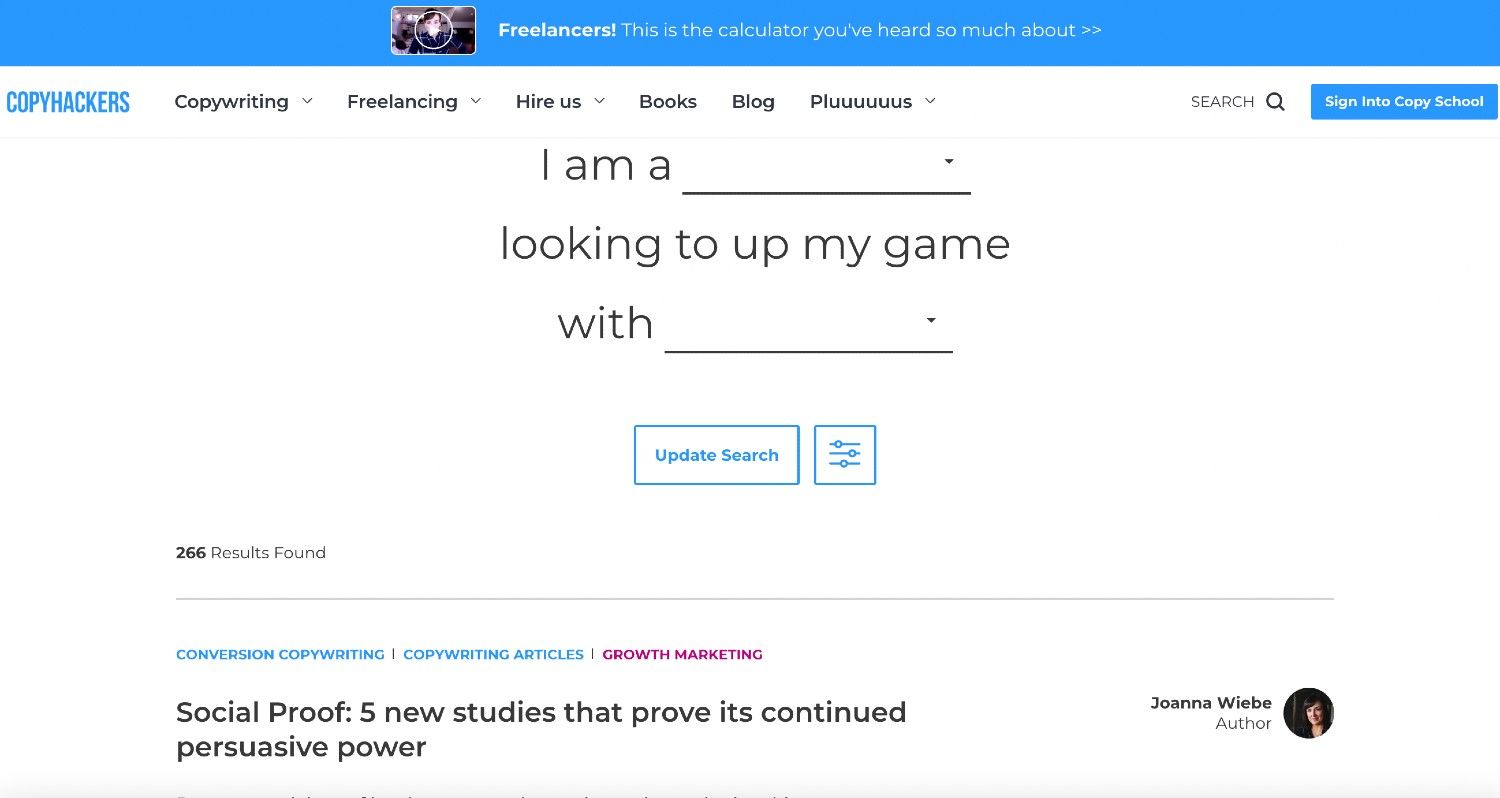 Copyhackers serves as both a training school for copywriters and a source for brand copywriting services. The blog is primarily dedicated to covering trends, how-tos, and tutorials in copywriting, along with some focus on content marketing. It boasts over 40,000 monthly visitors who are interested in in-depth case study analyses, particularly those focusing on the impact of copy.
On a different note, you might enjoy the experience of visiting the website for the first time. The search bar offers dropdown options that let you select categories of interest. Our team has randomly chosen options from the list, and some even display articles that are relevant to your selection.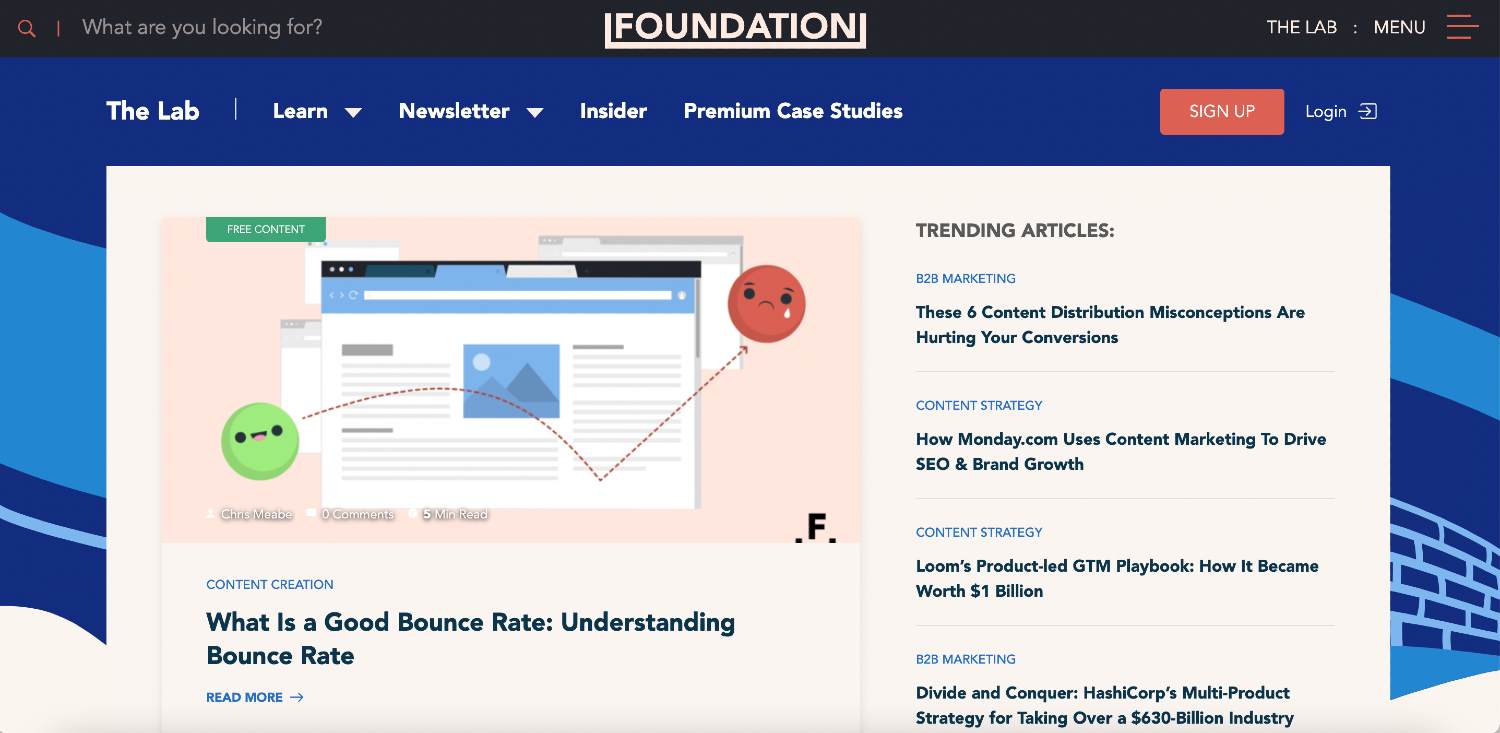 The Lab is a rare find among blogs, focusing on in-depth B2B case studies. Here, marketers can gain insights not only into the inner workings of well-known brands' marketing campaigns but also into B2B digital marketing execution. Check out one of our favorite stories here: 'What B2B Marketers Can Learn From Trillion-Dollar Companies.'
The Lab receives over 25,000 monthly visitors, primarily seeking information about the implementation of AI in B2B content marketing. The blog also offers premium paid articles, case studies, and research, available through a monthly subscription for USD 79 or USD 828 annually.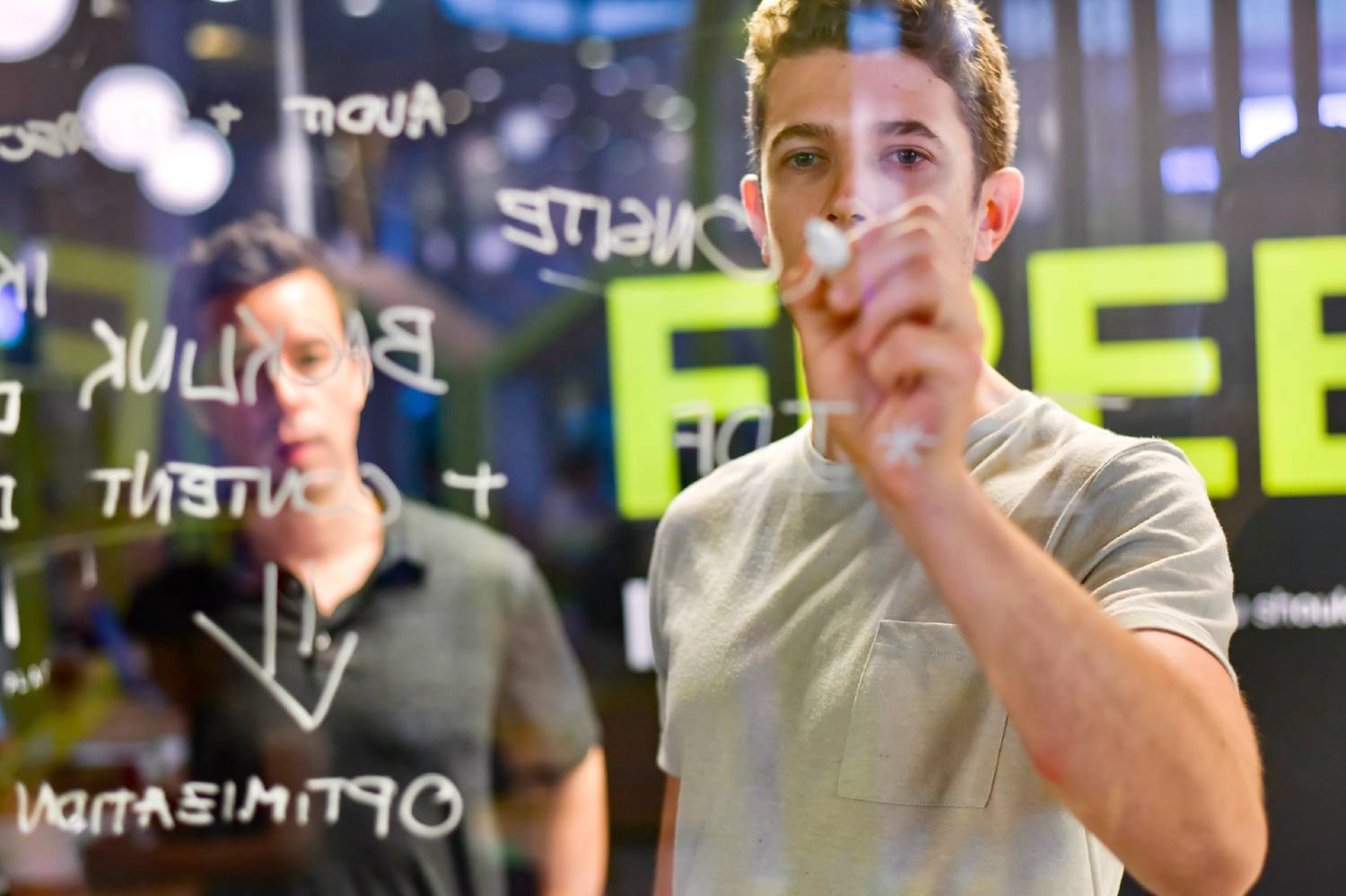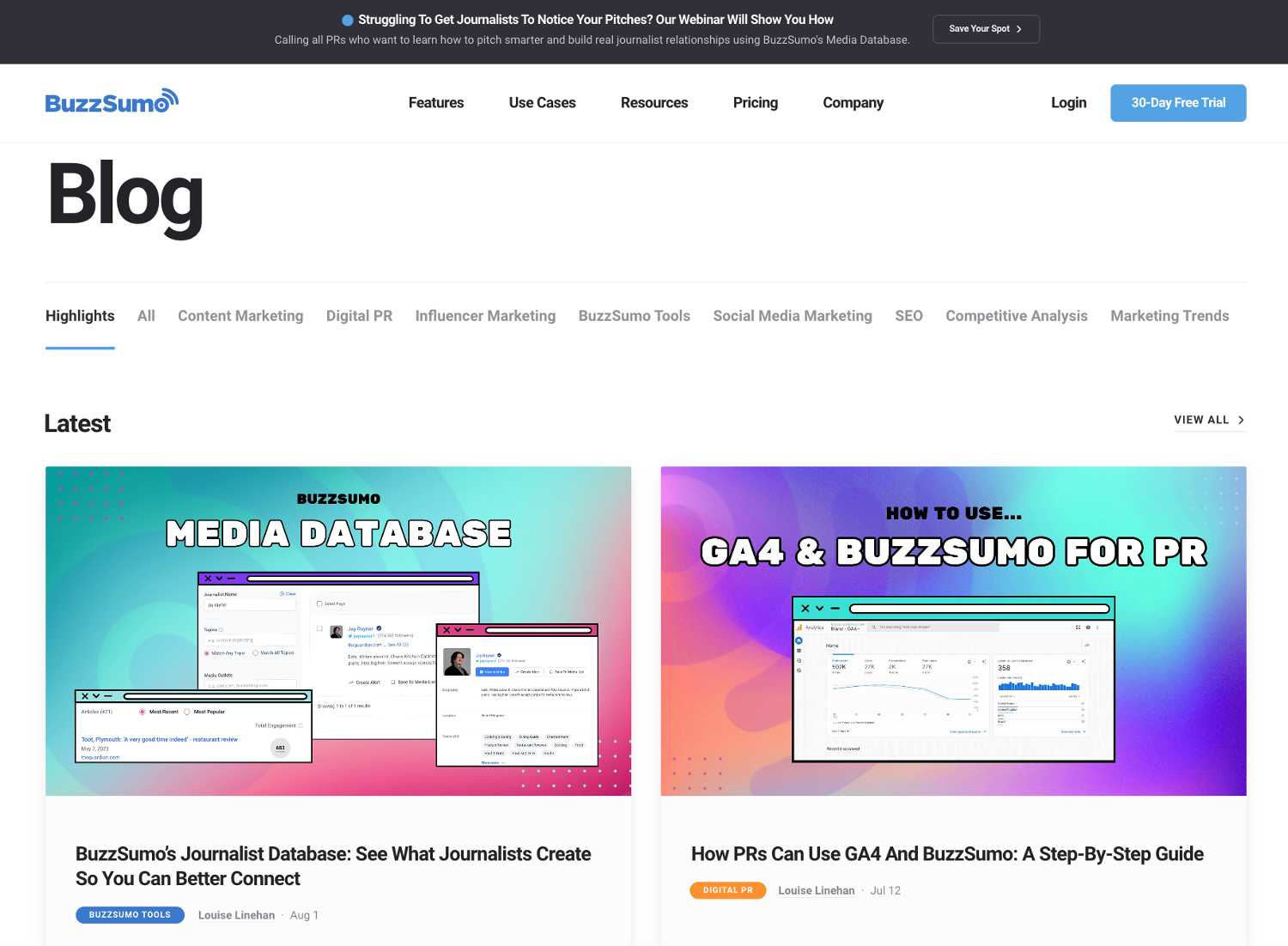 BuzzSumo's blog is a go-to resource for those looking for data-backed content marketing and general marketing insights. The blog receives more than 150,000 visitors per month, offering articles that usually fall within the 1,000 to 1,500-word range. These articles are enhanced with interactive graphics and tables but offer more than just a pleasant reading experience.
The blog features numerous articles about digital PR, complemented by SEO strategies. Whether you're a newcomer in the field of digital PR or just seeking insights for your PR campaign, this blog could be an invaluable resource.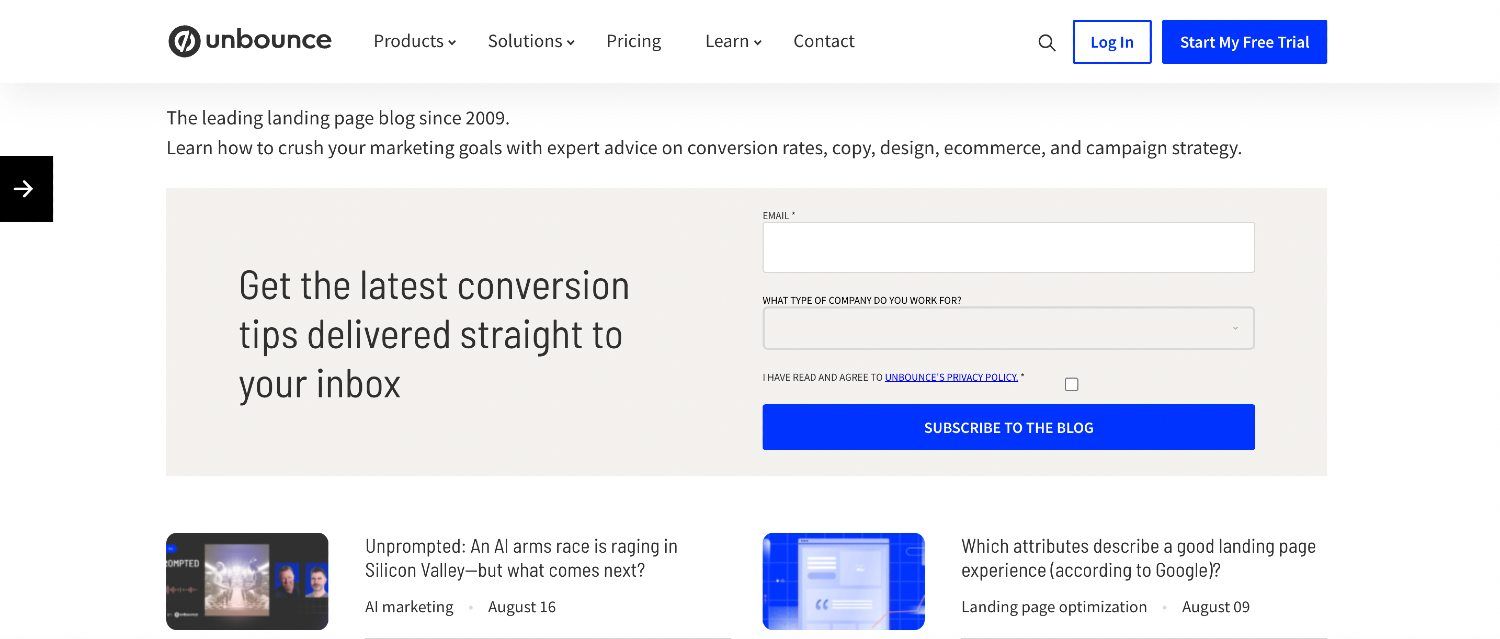 With 1.1 million monthly visitors, Unbounce's blog has been consistently active since 2009, offering implementable content marketing strategies. Categories are generally divided into three main areas: build, optimize, and learn.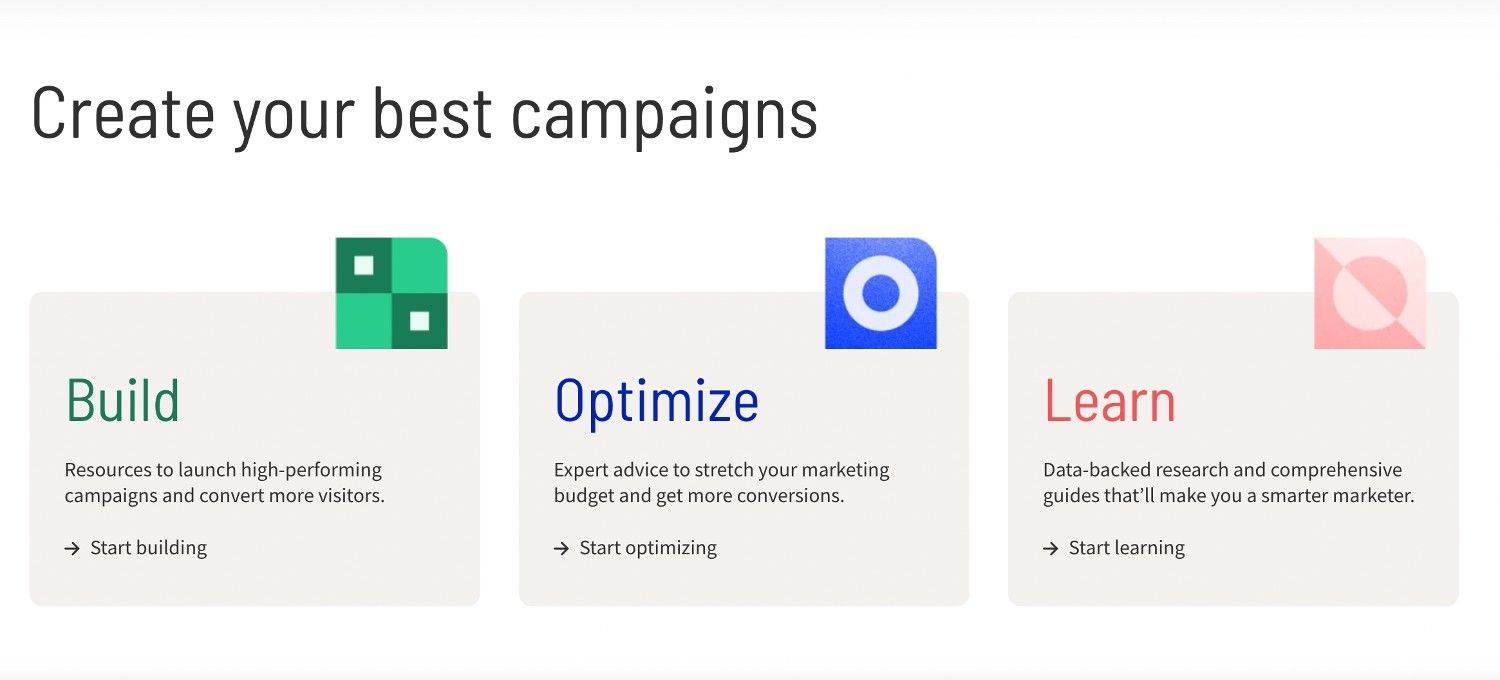 The blog also features podcasts and has recently introduced a category on 'AI in Marketing,' focusing on the integration of AI into digital marketing strategies.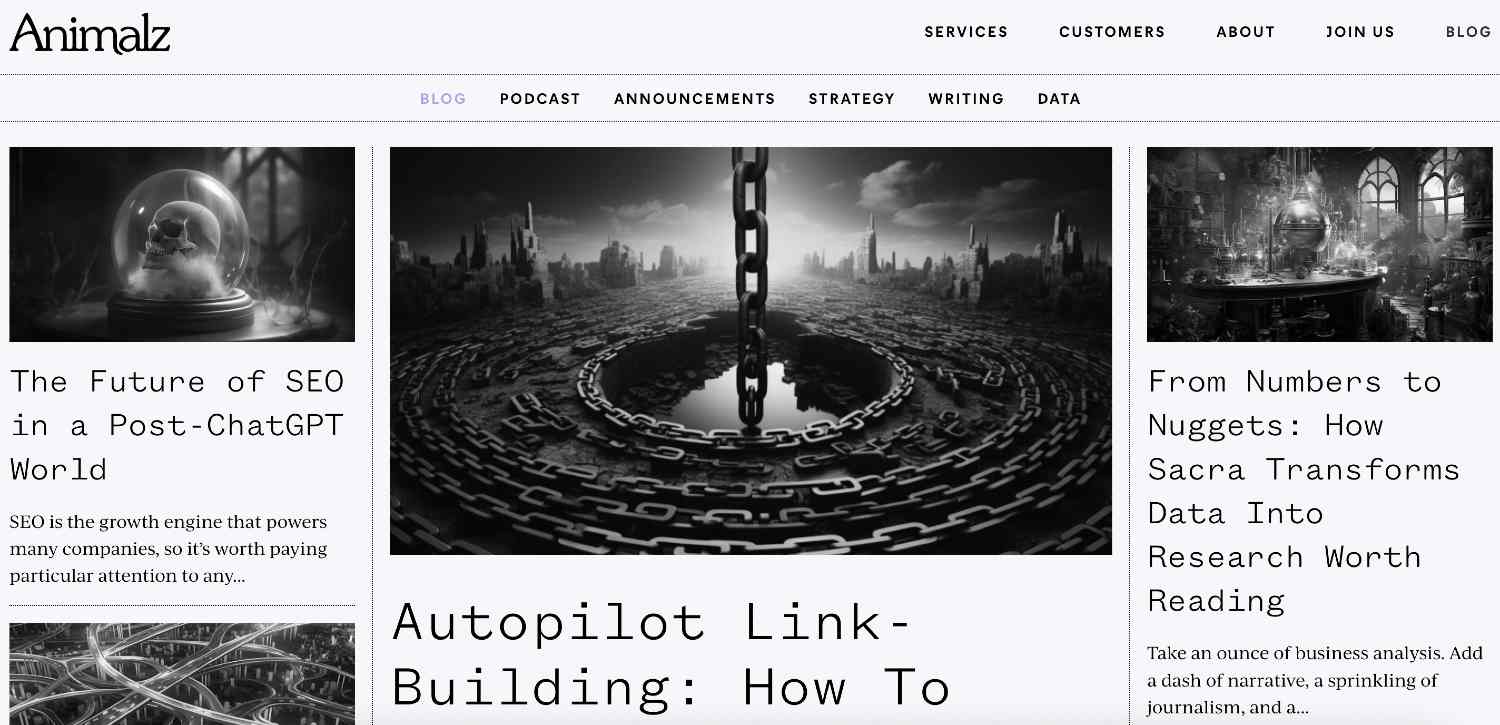 Originating from the Animalz content marketing agency, the blog is instantly distinguished by its unique black-and-white theme. As of August 2023, the blog receives over 10,000 visitors per month, primarily focusing on the SaaS industry through articles and podcasts.
Unlike many marketing blogs that focus on data-supported case studies, Animalz takes a different approach. The content gathers insights from practitioners and consolidates them into comprehensive editorial pieces. Check out our favorite piece here: 'The Future of SEO in a Post-ChatGPT World - Animalz.'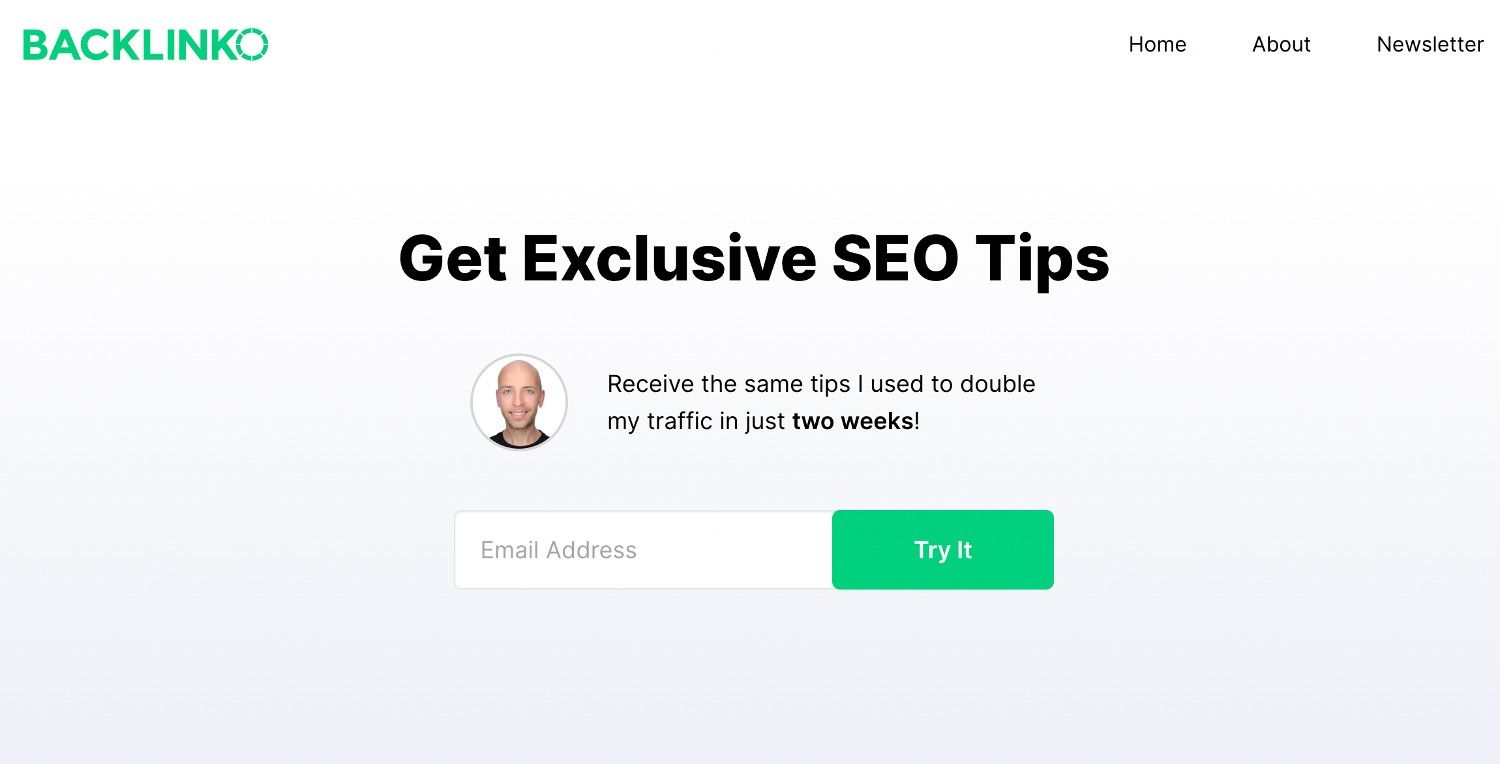 Backlinko is an SEO-centric blog founded by noted SEO specialist Brian Dean. Attracting over a million monthly visitors, this blog serves as a reliable guide for the technical aspects of implementing an SEO strategy. Here's one of our favorite stories: "Google Analytics 4 (GA4): Ultimate Guide and Tutorial."
Backlinko also provides thorough insights through a free subscription, ensuring readers get valuable, specific information about SEO practices.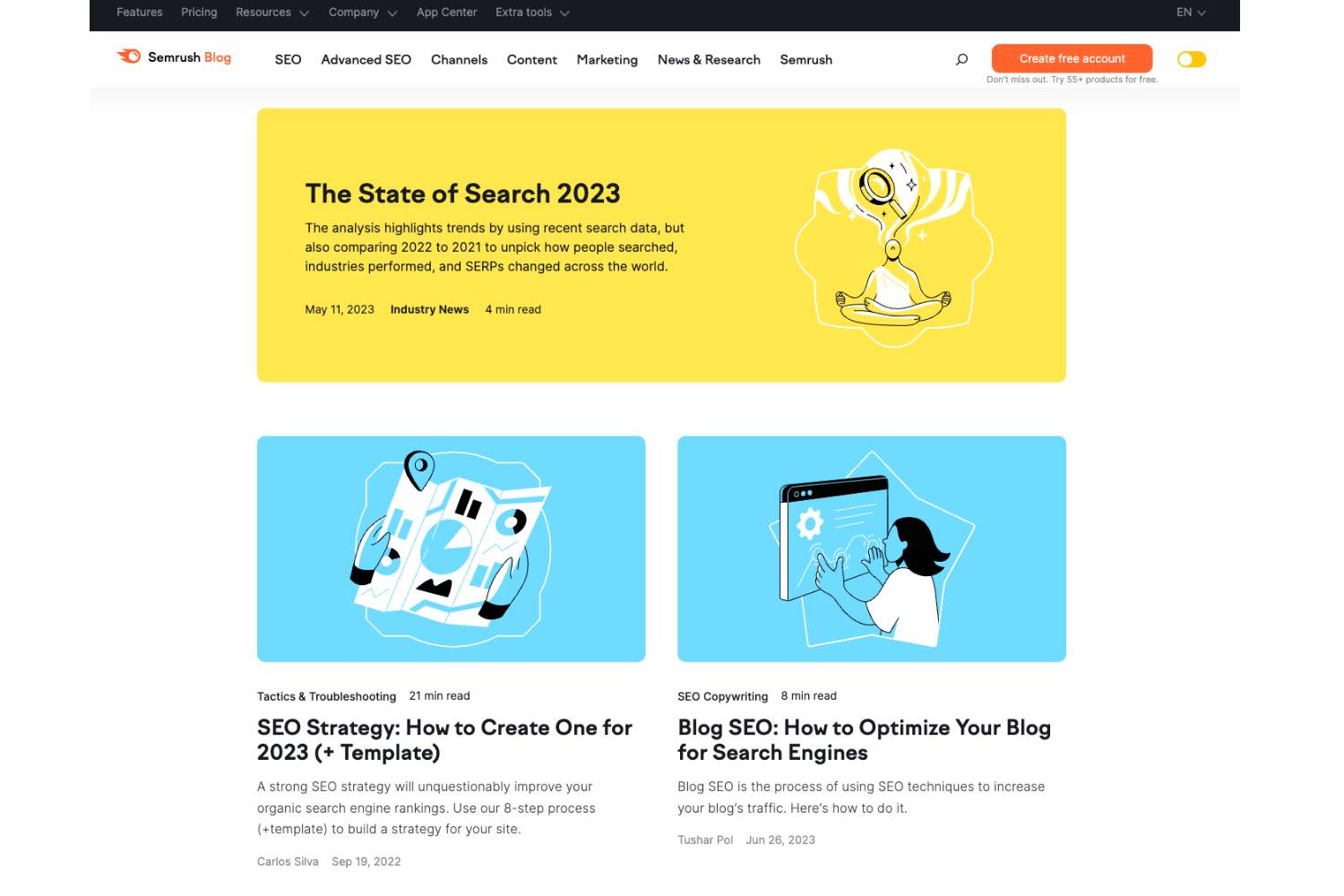 Chances are, you know this tool.
SEMrush's blog, read by 13.8 million people monthly, delivers actionable advice on SEO, PPC, content marketing, and more. It stands out because the data and insights come directly from their proprietary tools.
If you're interested in the nuances of technical SEO, the advanced SEO category offers more comprehensive discussions, going beyond the typical how-to tutorials.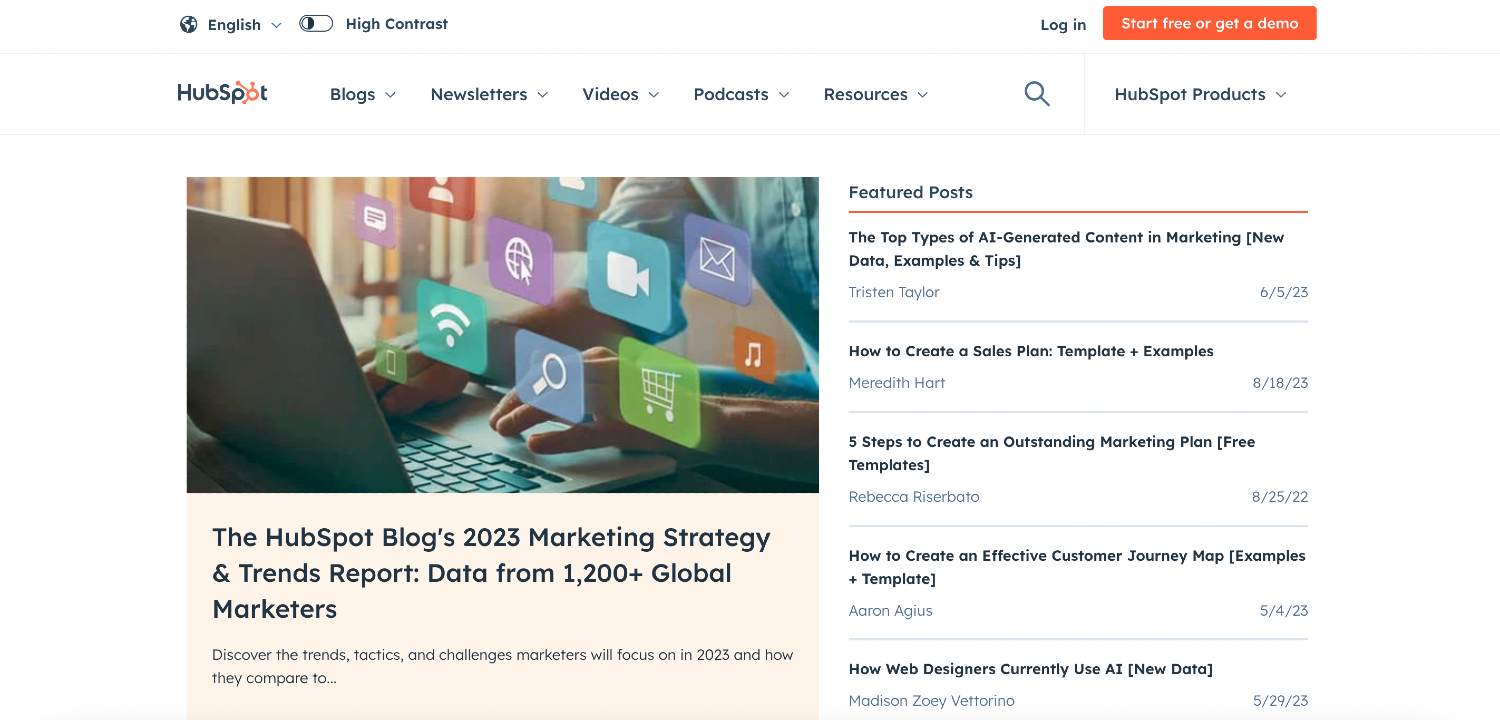 Besides being a CRM, Sales, and Marketing platform, HubSpot's blog is known for its inbound marketing strategies.
You'll find articles and podcasts on the latest marketing trends, data, and reports. What differentiates HubSpot, with its 11.8 million monthly visits, is content like up-to-date marketing templates and how-to guides. Explore one of our top-picked stories here: "How to Create an Effective Customer Journey Map [Examples + Template]."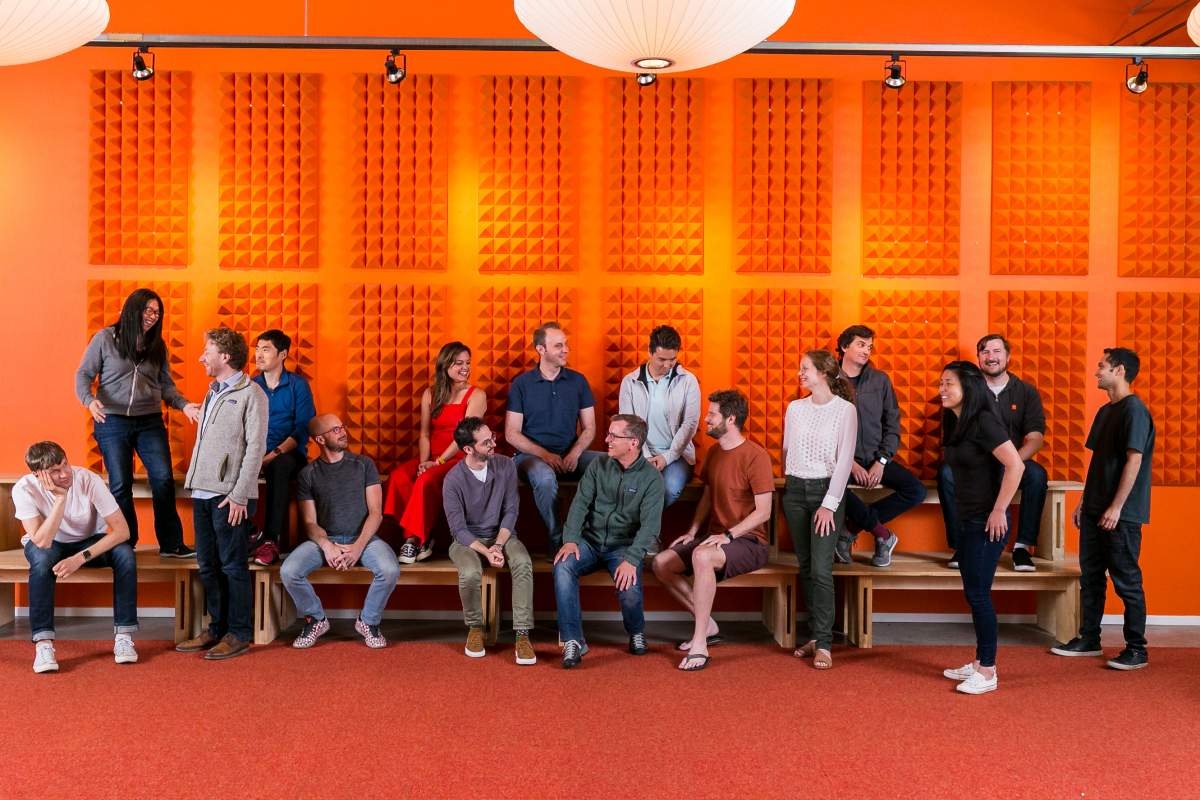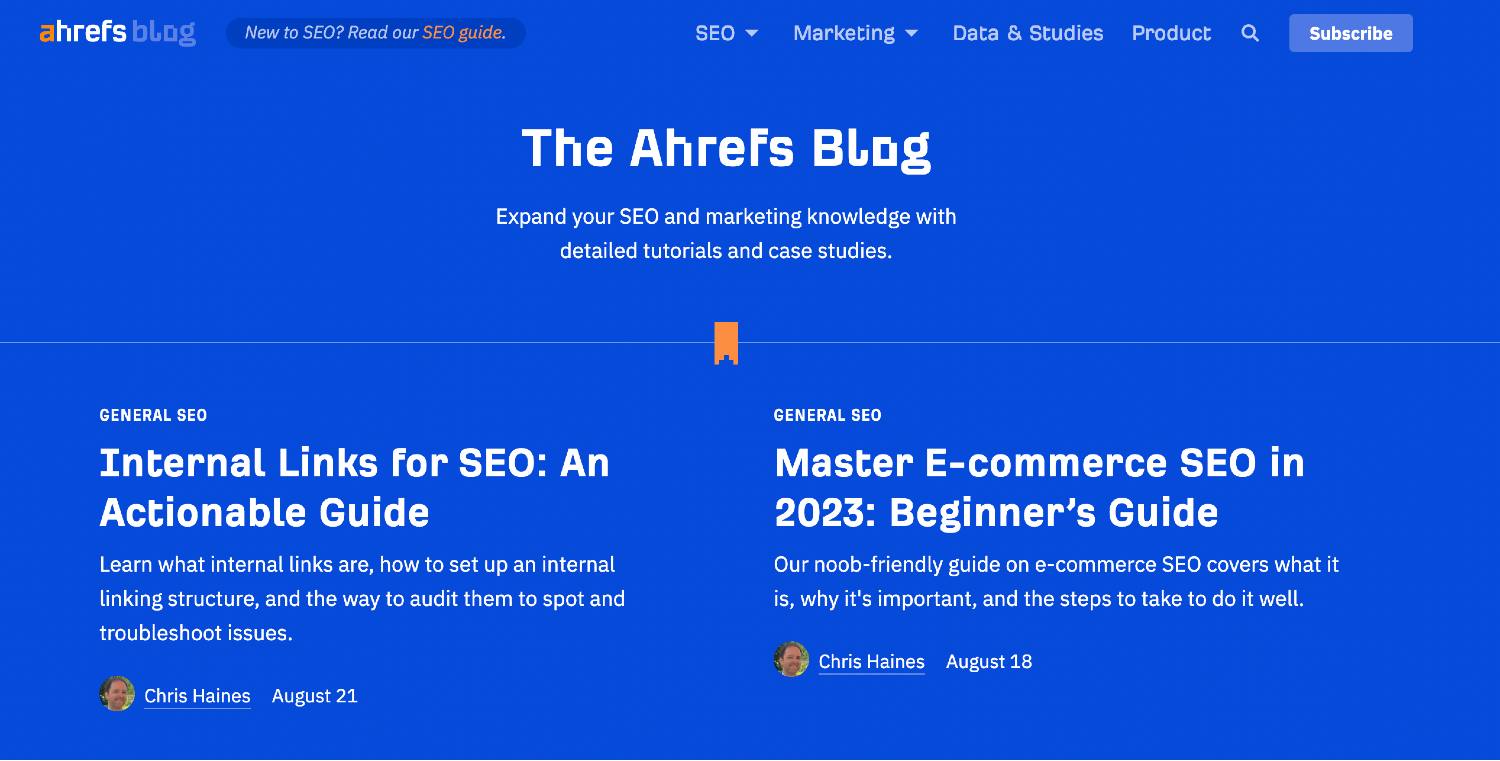 Ahrefs' blog is a valuable resource for SEO topics, including on-page and off-page optimization, and attracts 9.5 million visitors a month. The blog is unique for its data-driven articles that examine the impact of SEO strategies, such as ranking timelines and test results on 301 redirection removals.
The blog also covers a broad spectrum of online marketing topics, including general marketing, paid advertising, affiliate marketing, and more, in articles and podcasts.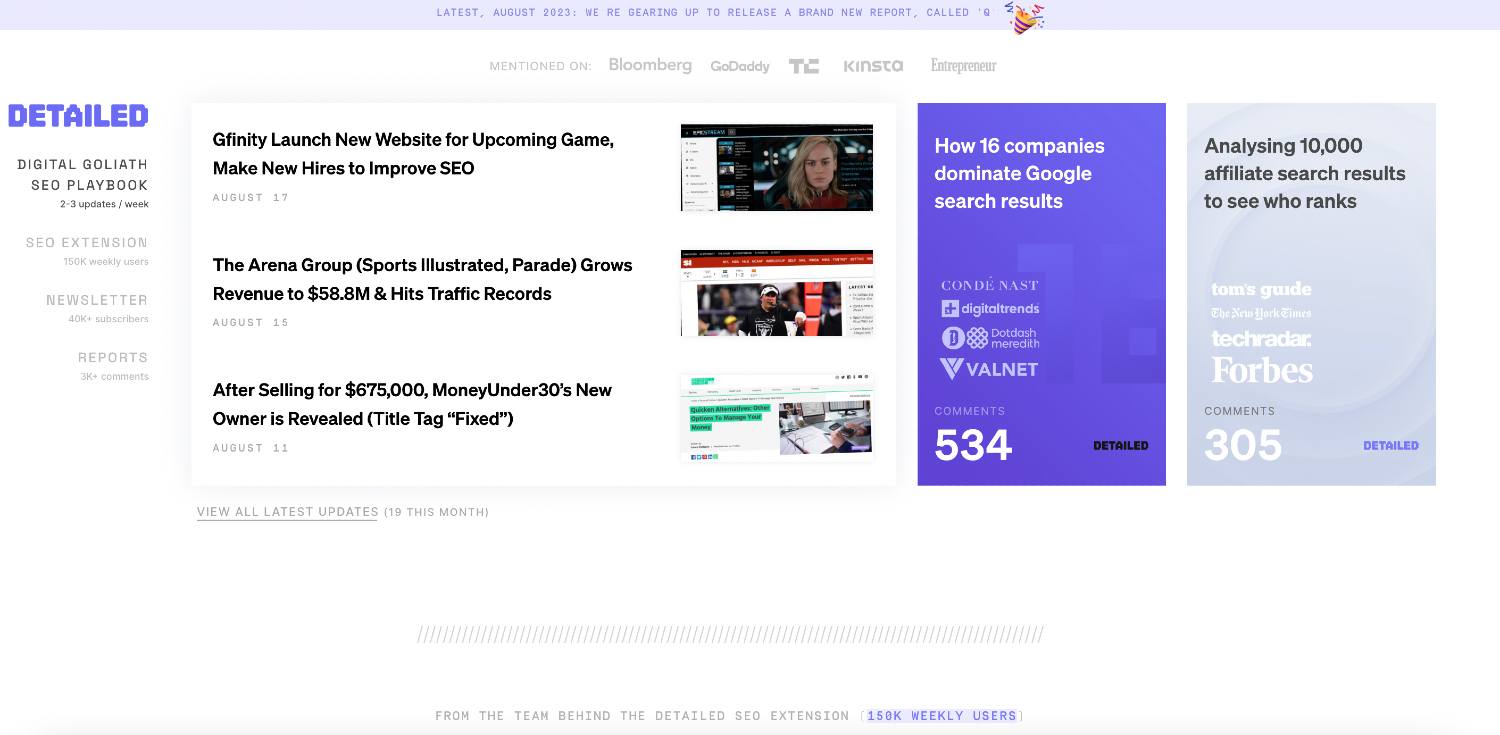 You may initially think Detailed is just another SEO blog. However, a closer look reveals that every article is penned by its founder, Glen Allsopp, making it unique in offering insights directly from an industry practitioner.
Recognized by media like Bloomberg and Entrepreneur, the blog has an SEO extension section for your browser and draws in 64,000 monthly visitors and over 50,000 email subscribers.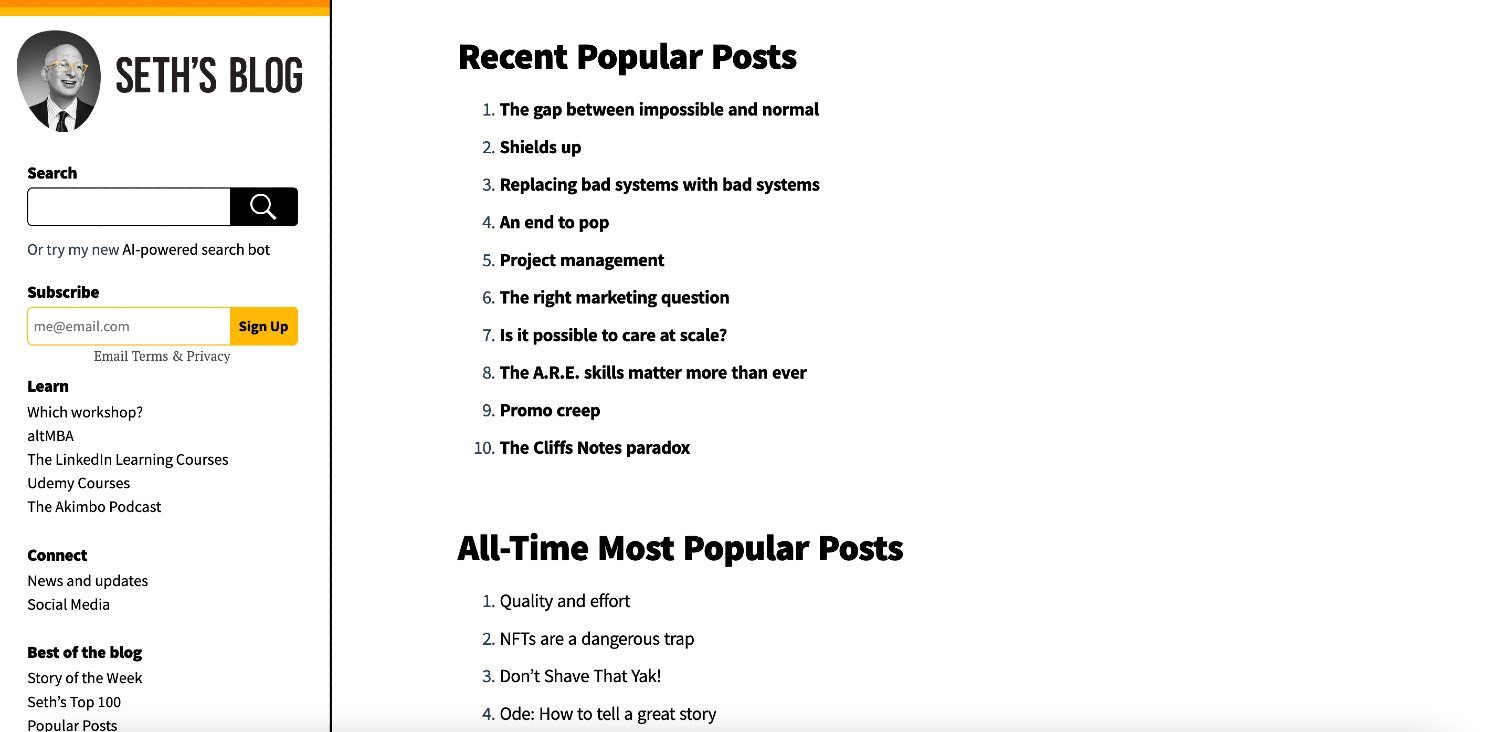 Seth Godin, well-known for his role in establishing the TED Conference, writes a blog that delves into broader marketing ideas and philosophies. Drawing 90,000 visitors a month, his content offers fresh perspectives on foundational marketing concepts, avoiding industry jargon and trends.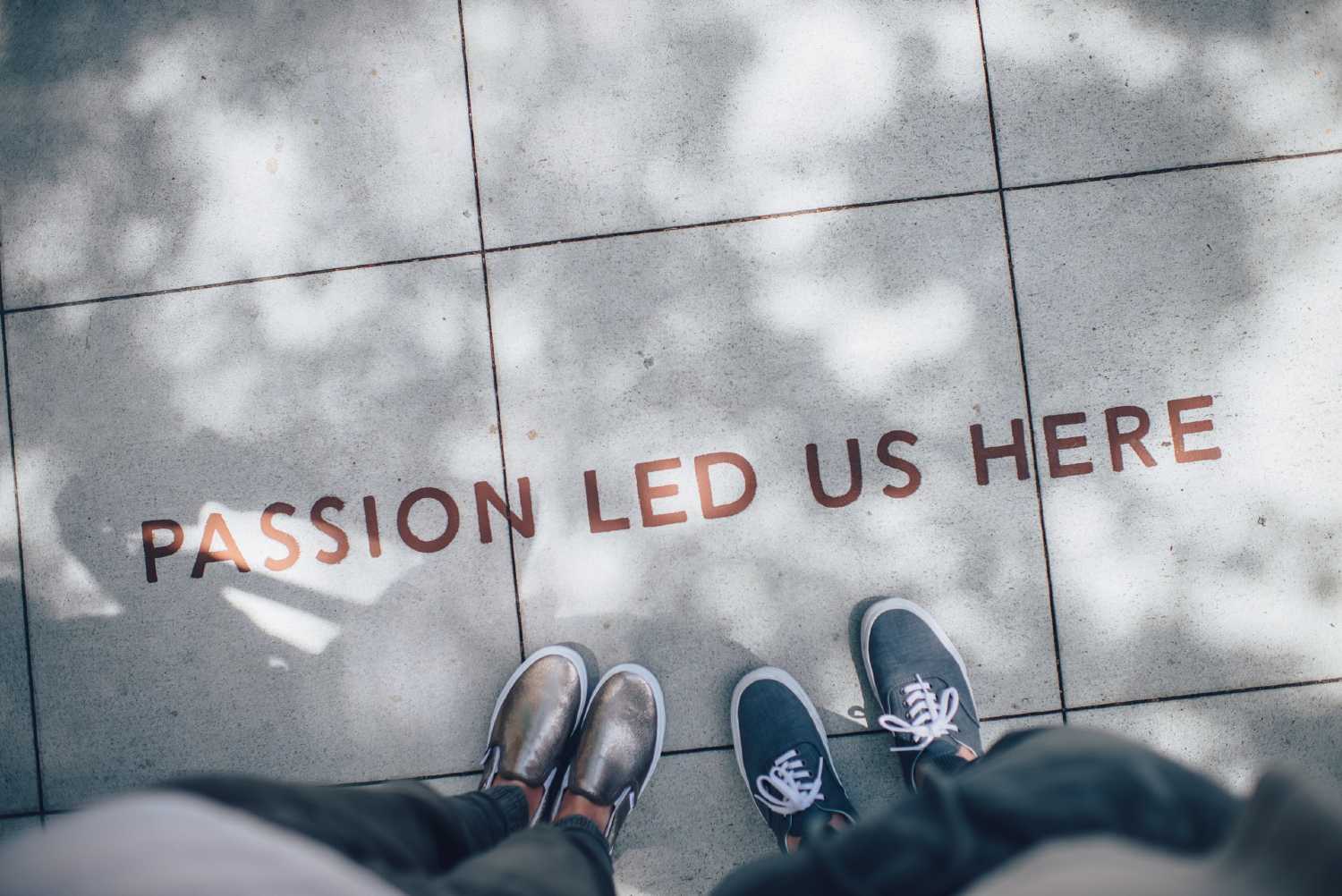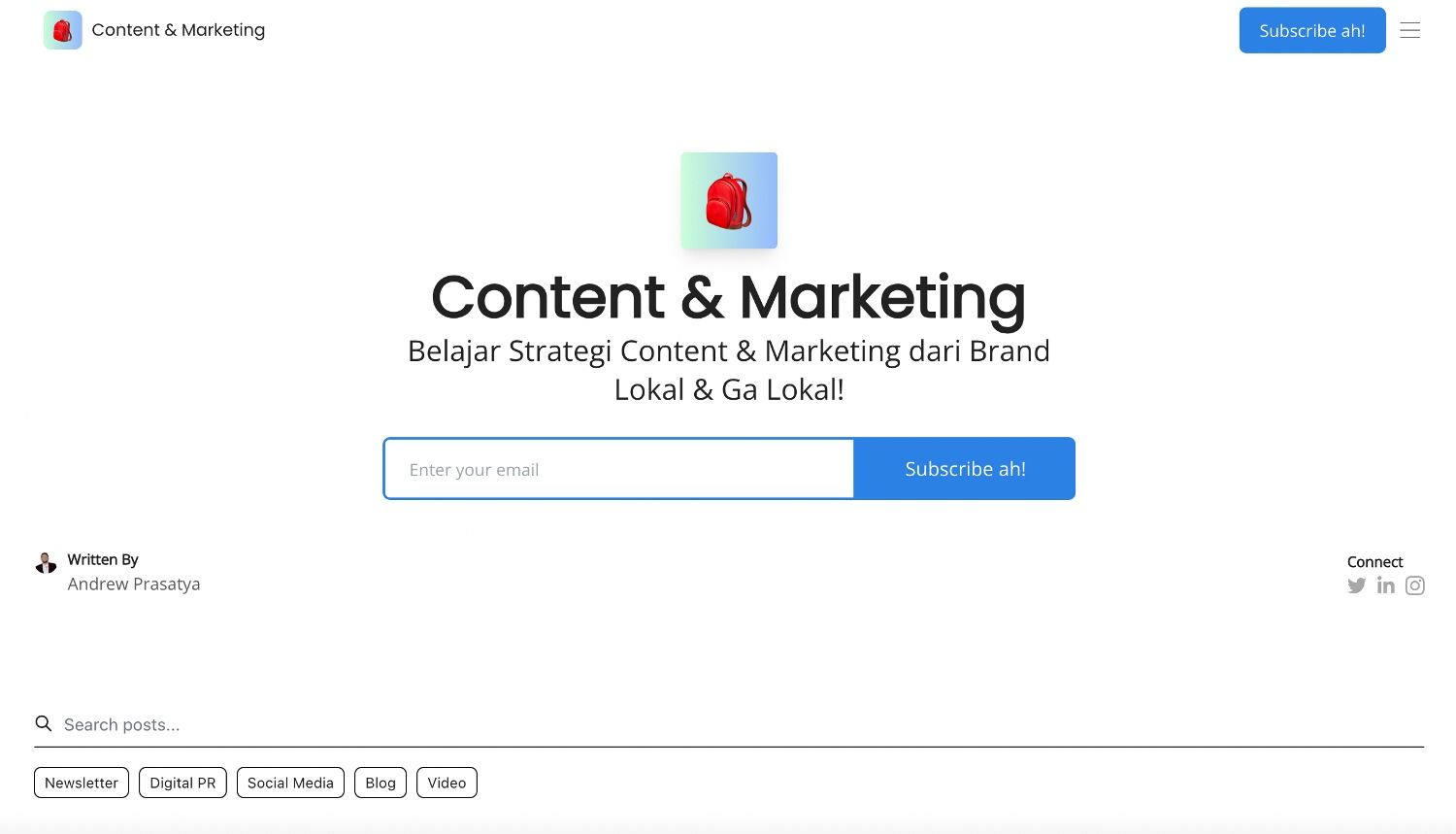 For Indonesian marketers, RevoU's Andrew Prasatya has devoted time and expertise to share insights and analyses of various brands' content marketing strategies. You can find strategies from global players like Monday.com, Slack, Procreate, and leading Indonesian brands such as Teh Botol and Inspigo. Articles on the blog can typically be consumed in three minutes, making it a time-efficient resource.
Please note, however, that all content is in the Indonesian language.
16. Lastly, don't overlook fresh stories from ContentGrip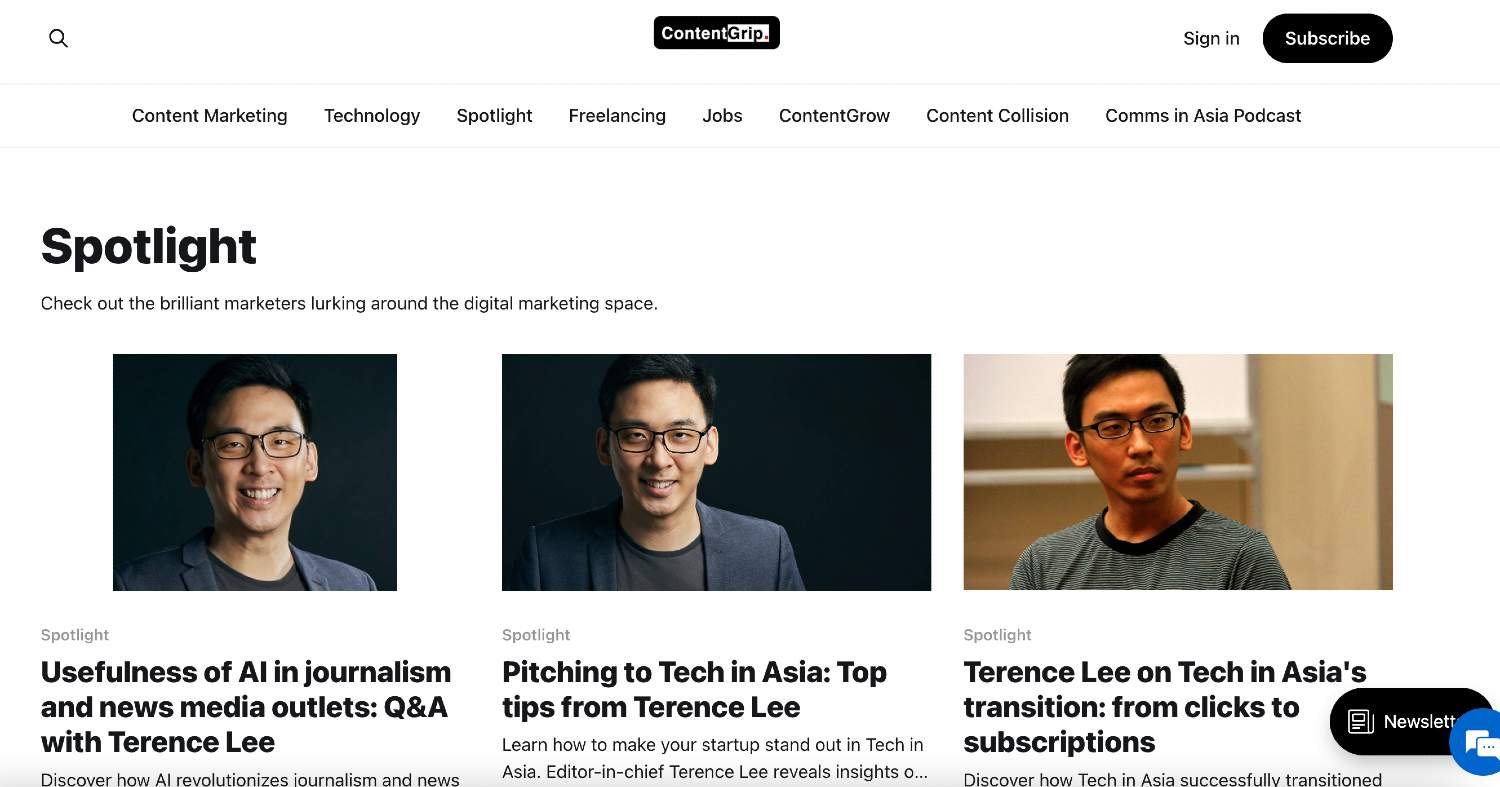 ContentGrip, powered by C2 Media, specializes in detailed content marketing stories covering individuals, brands, products, and freelancing. It's a top choice for brands seeking to collaborate with freelancers and vice versa. The platform also features 'Comms in Asia,' a podcast series that delves into Asian PR strategies.
Save time and money when producing high-quality bespoke content for your markets. ContentGrow helps marketing teams work with perfectly matched content creators at preferred rates.