GetApp report: many startups are unable to make full use of martech
The latest GetApp report found that many startups have trouble with their current martech stacks. Check out the findings here.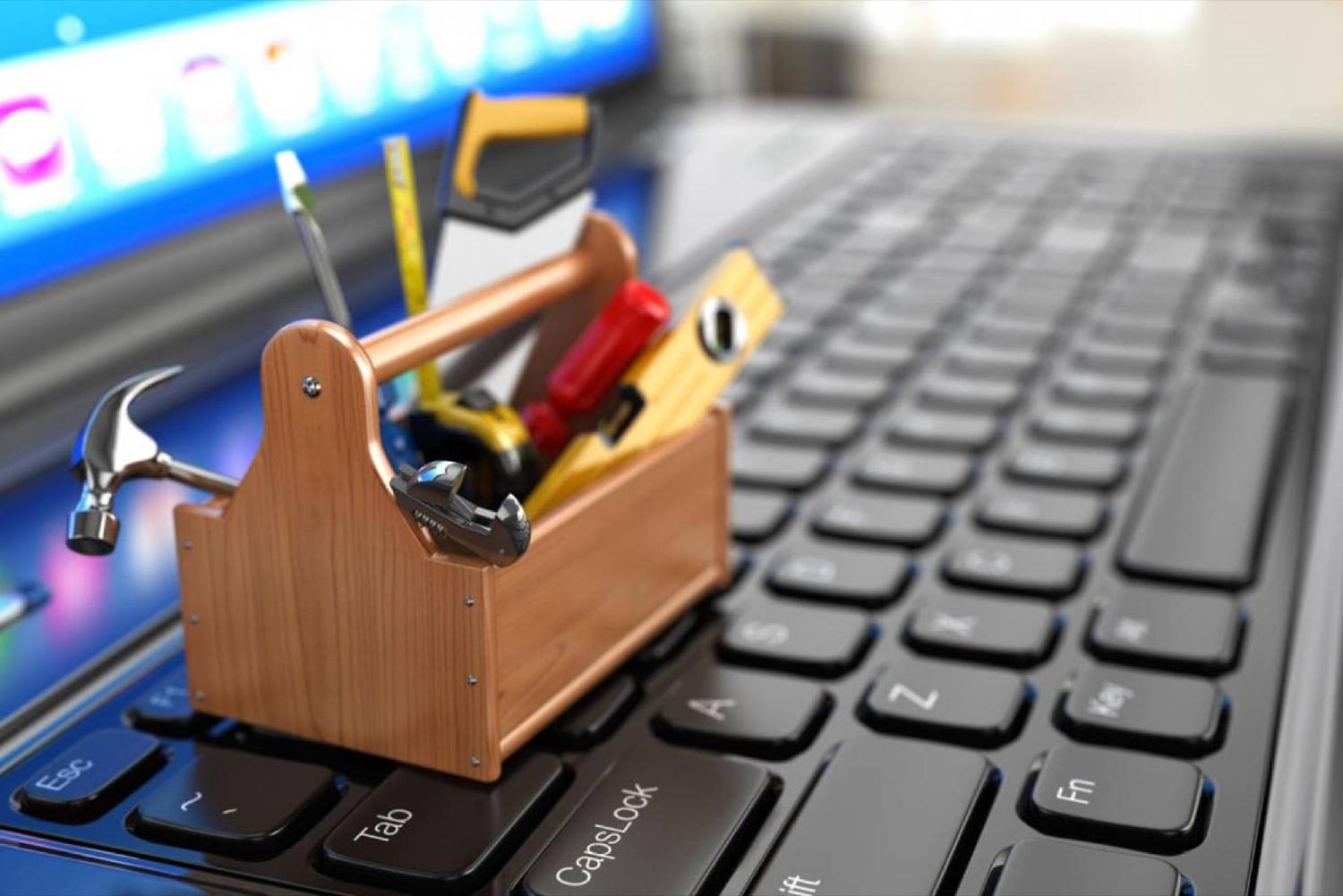 While there are plenty of marketing tech (martech) tools out there, startups are finding it challenging to build the perfect stack. Often, they don't feel they've effectively utilized the tools and marketing functions at their disposal. The latest report by GetApp, a business software recommendation engine, dives into how startups are interacting with their martech stacks.
Working with tech community Startup Grind, GetApp conducted a survey in February among 238 leaders from a variety of industries to learn more about their use of martech tools.
It's worth noting that most of the respondents are not behemoths with unlimited cash. According to Startup Grind, the majority of their members are companies with less than ten employees (79%), have less than US$500,000 in investment (77%), and generate less than US$50,000 in annual revenue (64%).
Here are three quick takeaways from the report.
Factors for a successful relationship with martech
According to the survey, 68% of startups use martech tools. Of those who don't, more than half work with marketing agencies. For those who embrace martech, only 59% say that they've developed a concrete plan for how best to use their tools.
GetApp notes that those who don't have a plan are four times more likely to be disappointed with their tools and results.
The survey found that most startups are using free software (56%). Of those who spend money, most are spending between US$1,001 and US$10,000 per month (45%). However, GetApp notes that companies allocating more than 25% of their marketing budget are able to find more success.
65% of companies that devote more than a quarter of their marketing budget to martech are satisfied with the overall results. 46% of companies who spend less than a quarter say the same.
See: Trends and data: 105+ NEW and powerful marketing statistics for 2021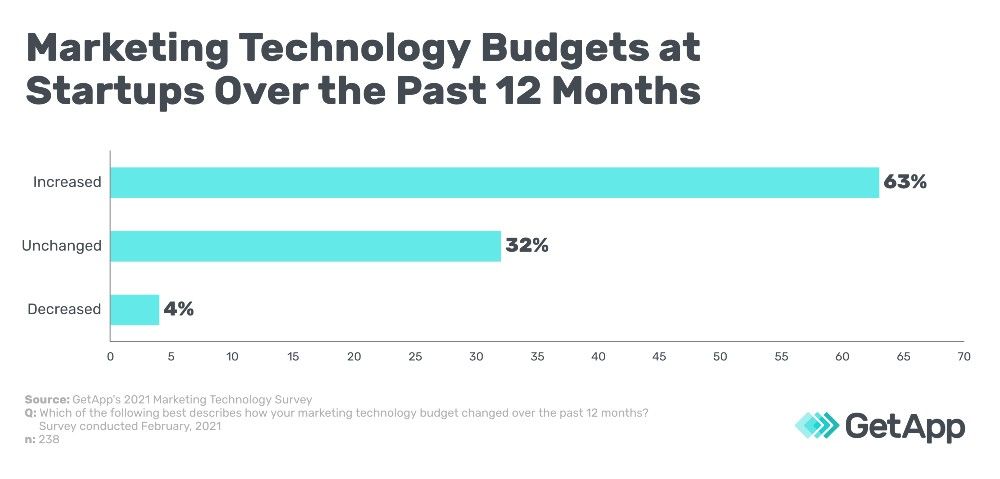 The biggest challenges
Small tech firms identified the three top benefits of their martech tools: improved customer engagement (45%), more precise audience targeting (37%), and more effective marketing campaigns (36%). On the other hand, they've also shared their biggest challenges: too many overlapping features (35%), too many unused features (30%), and the overall complexity of tools (30%).
Company leaders are trying to solve these challenges by levelling up their employees' martech skillsets (e.g. creating detailed process documentation, providing vendor training sessions, etc), advocating for cross-functional team collaboration, and adding more dedicated manpower.
Popular tools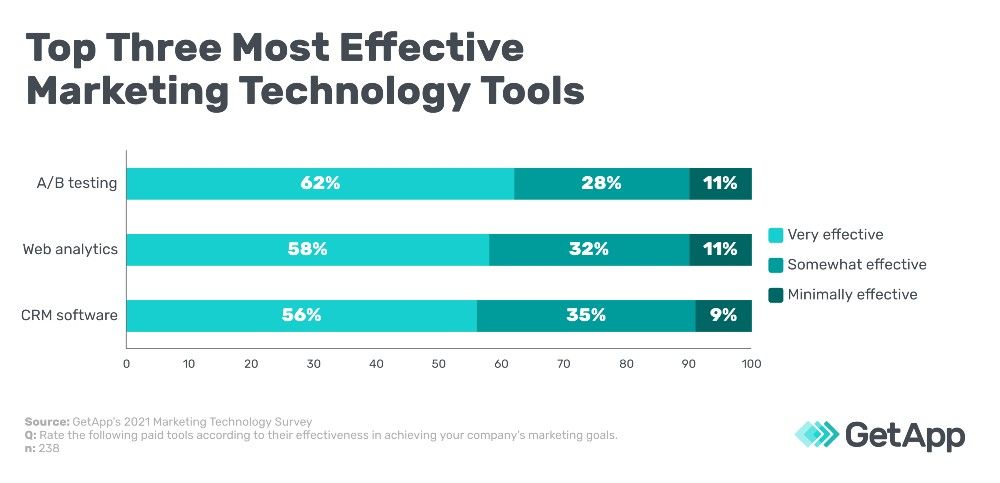 The survey also asked marketers about their most and least effective martech tools. The most effective ones are A/B testing (62%), web analytics (58%), CRM software (56%), multi-touch attribution (57%), social media marketing (56%), and content marketing (54%).
The least effective tools are employee advocacy (44%), application development platform (45%), online video ad (46%), content management system (48%), email marketing (49%), and multichannel marketing platform (49%).
You can check out the report in full here.
Recently, we also summarized a martech tool report by Airtable. The firm found that marketers are using plenty of tools, but are also spending too much time migrating the data between those apps into a single source of truth. In fact, marketers are spending one third of their work hours on mundane tasks. Check out more findings here.
See: Report: The State of APAC's Freelance Writer Economy 2021
Save time and money when producing high-quality branded content. ContentGrow helps marketing teams work with perfectly-matched freelance writers and journalists at preferred rates. Fill out the form below to get your own shortlist of talent or visit the site below to get started.