Digital marketing report: 2020 wasn't a good year for Bing
For the third quarter in a row, Merkle's digital marketing report reveals Microsoft search engine Bing's continued downward trend.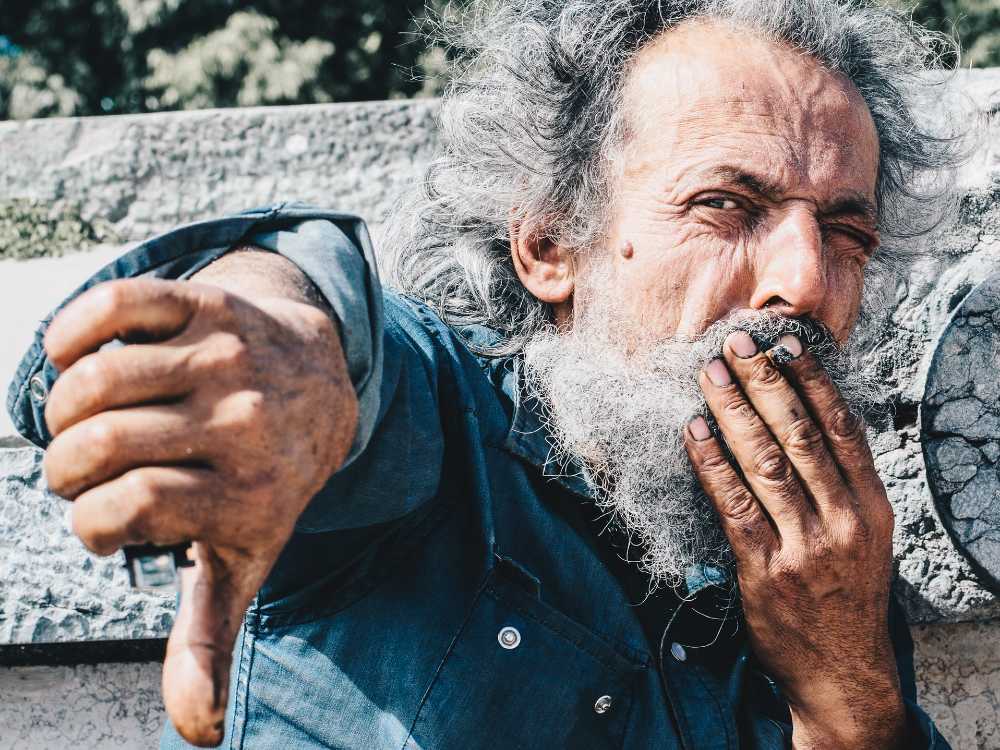 US-based performance marketing agency Merkle recently released its quarterly digital marketing report. It details the state of paid advertising in the US in Q4 2020, including Google search, Microsoft search, Amazon ads, and social ads.
The report tracks ad spend data and click-through-rates on each platform. Here are three notable findings from the report.
The travel industry is recovering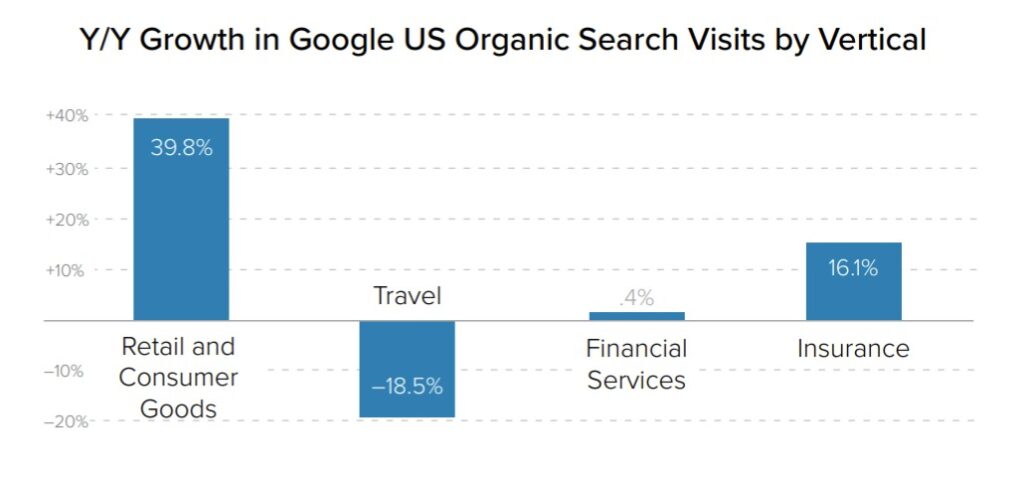 The travel industry continues to build momentum thanks to the start of vaccine distribution in the US. According to the report, the market share for paid ads in travel-related searches declined 20% year-on-year in Q4. However, it's still a big improvement compared to the previous quarters (a 40% decline in Q3 and a 47% decline in Q2).
The report notes that the paid search trend in the travel industry is aligned with organic search visits. In Q4, search visits for travel were down 18.5% for the year, another improvement compared to previous quarters (a 37% decline in Q3 and a 50% decline in Q2).
On the other hand, the biggest winners in Q4 were essential goods (grocery stores in particular) and insurance firms. The former sector recorded 63% annual growth in organic search visits in Q4, while the insurance sector grew by 16%.
See: Trends and data: 105+ NEW and powerful marketing statistics for 2021
Microsoft search (Bing) isn't doing very well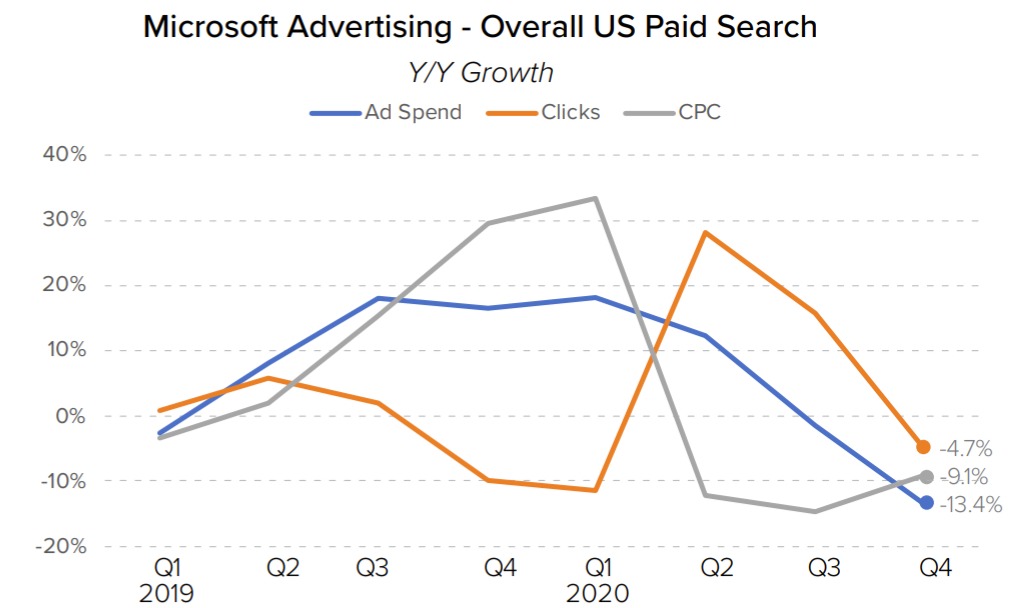 The search ad spend on Bing recorded a decline for the third quarter in a row. In Q1, Bing's ad spend grew 18% for the year, but it decreased to 12% growth in Q2 and recorded a 1% decline in Q3.
While Google's growth slipped a bit as well, the search engine was still able to record positive annual growth in each quarter last year. Google's peak growth came in Q2 with a 39% increase. The search giant saw its smallest growth in Q4, with a 12.1% increase.
This indicates Google's continued dominance in the search engine industry. It currently has a more than 60% market share in the US. Additionally, the report notes that mobile devices account for more than 60% of the US's overall search engine traffic.
Advertisers prioritize spending on social media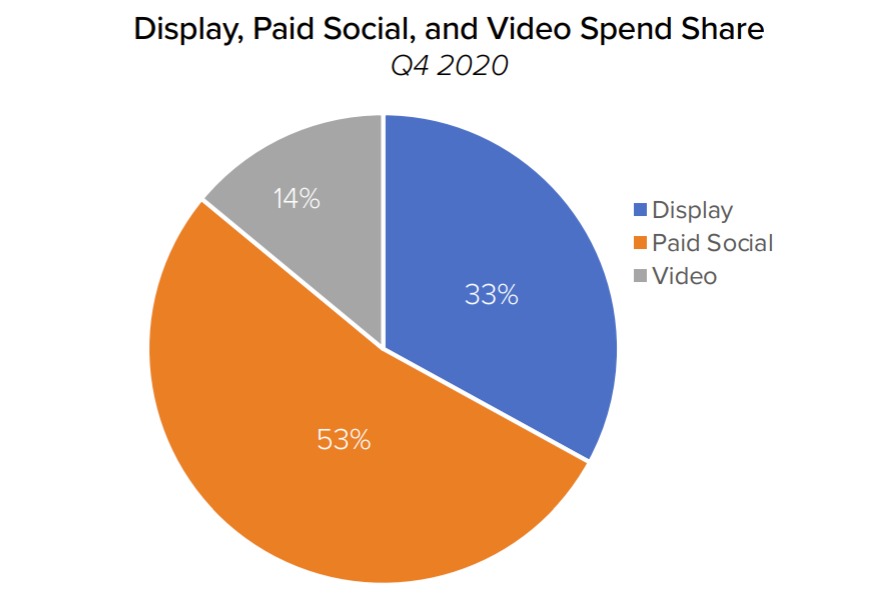 According to the report, social media (53%) takes the crown for ad budget spend when compared to display (33%) and video advertising (14%). The majority of advertiser dollars went to Facebook and Instagram, each recording positive annual growth in every quarter of 2020.
Merkle adds that US advertisers still allocate a significant amount of money to smaller social media platforms: Pinterest (13.9%), Snapchat (12.1%), and Twitter (12.0%).
The report went on to detail the ad market share for each platform and its growth trends. Overall, things still look promising in 2021 for advertising platforms. You can download Merkle's digital marketing reports in full here.
One advertising sector that the report doesn't touch is OTT channels (online streaming services like Netflix, Hulu, and Disney Plus). According to research firm Kantar, this channel holds massive potential and has a strong chance of surpassing traditional television this decade. Check the report here.
See: Report: The State of APAC's Freelance Writer Economy 2021
Save time and money when producing high-quality content. ContentGrow helps brands and publishers work with perfectly matched freelance writers and journalists at preferred rates. Fill out the form below to get your own shortlist of talent or visit the site to get started.