23 sites to find free stock images in 2022
High-quality visuals can make your marketing content more engaging and help build traffic. Here are eight of the most popular sites to find beautiful free stock images for your content.
While they often seem like an afterthought, images are actually an essential part of successful content marketing execution. Marketers claim to be recording more social engagements while attracting higher traffic from organic search in part thanks to unique and attractive images inside their posts.
While investing in original and licensed images can improve content performance, marketers can also make use of millions of free stock images available online. These images, especially those with the Creative Commons 0 (CC0) license, can be used and modified for commercial and non-commercial purposes.
We've compiled eight recommended sites to get you started on finding free stock images. The ones listed here offer images under the CC0 license.
Top sites for free stock images
Recommended sites for free stock images in 2022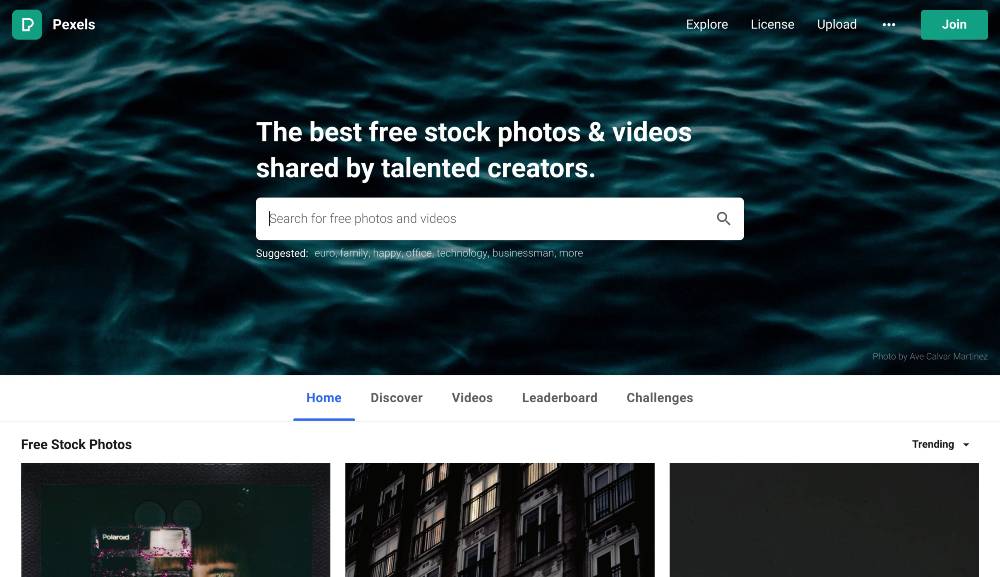 This site contains a visually diverse library, searchable in 28 languages, with more than 3 million high-resolution photos and videos. The site regularly hosts fun challenges that encourage photographers and videographers to submit high-quality content based on a given theme.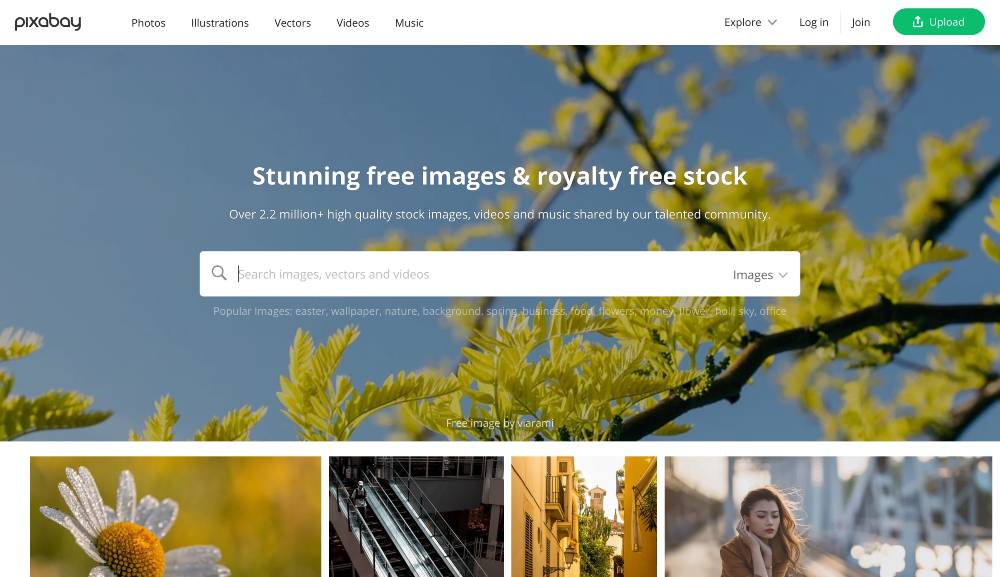 Pixabay offers a vast collection of free stock images and art illustrations. All photos are nicely tagged, making it easier to search and discover. This site claims to have more than 2.3 million images on offer, primarily in the landscape category.
It's important to note that both Pexels and Pixabay are operating under the same parent company: Canva.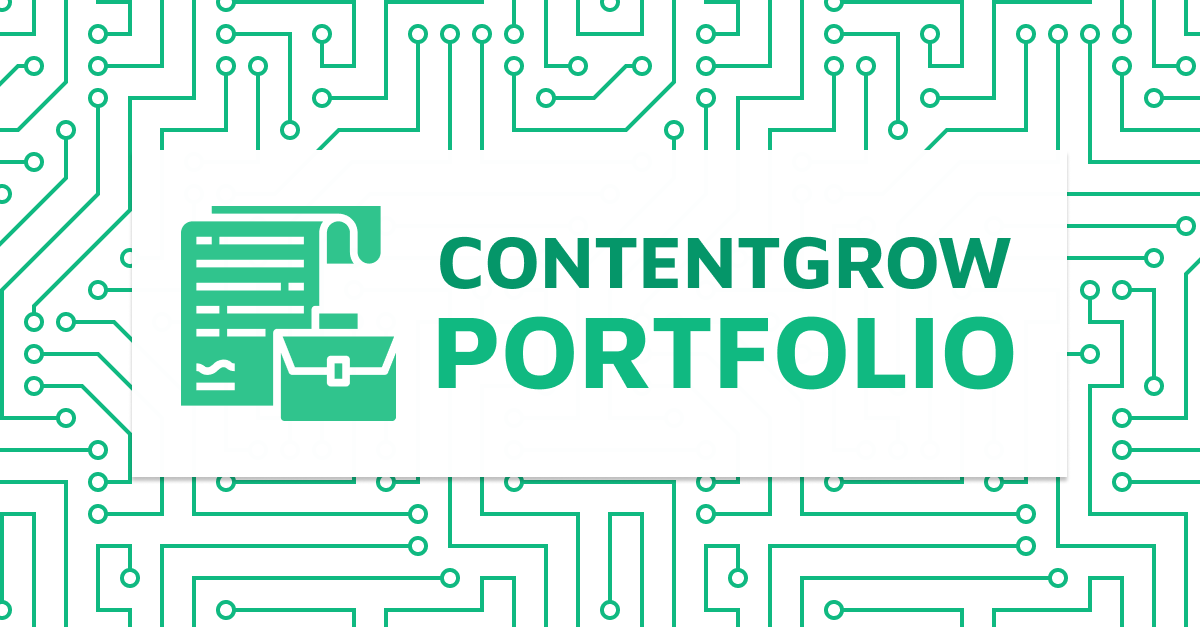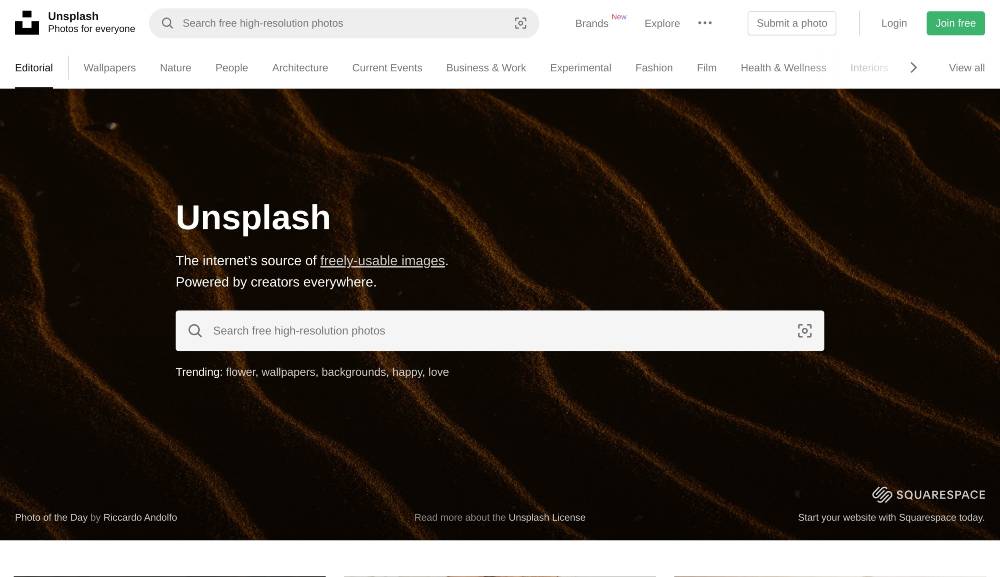 Unsplash offers more than 2 million free images from more than 210,000 contributors. If you don't have something specific in mind, you can scroll through its 'Collections' -- personally hand-picked groups of photos by real users. Its selection of Asia-related content is particularly strong and the site has more consistent image quality than pretty much all other free stock image sites.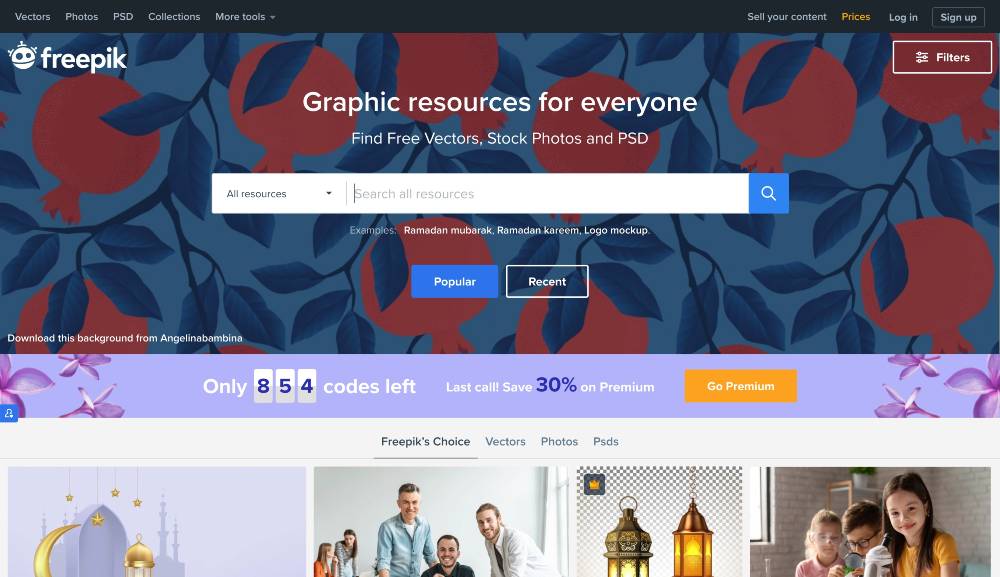 Named as one of Europe's fastest-growing startups, Freepik is a well-curated collection of illustrations, photos, icons, mockups, and presentation templates -- something you don't usually find on other stock image sites. Freepik currently has a total of 4.5 million graphics from 12,000 contributors. Uniquely, users can download some of the images in PSD format.
Users should note that, despite the name, not all images on Freepik are free.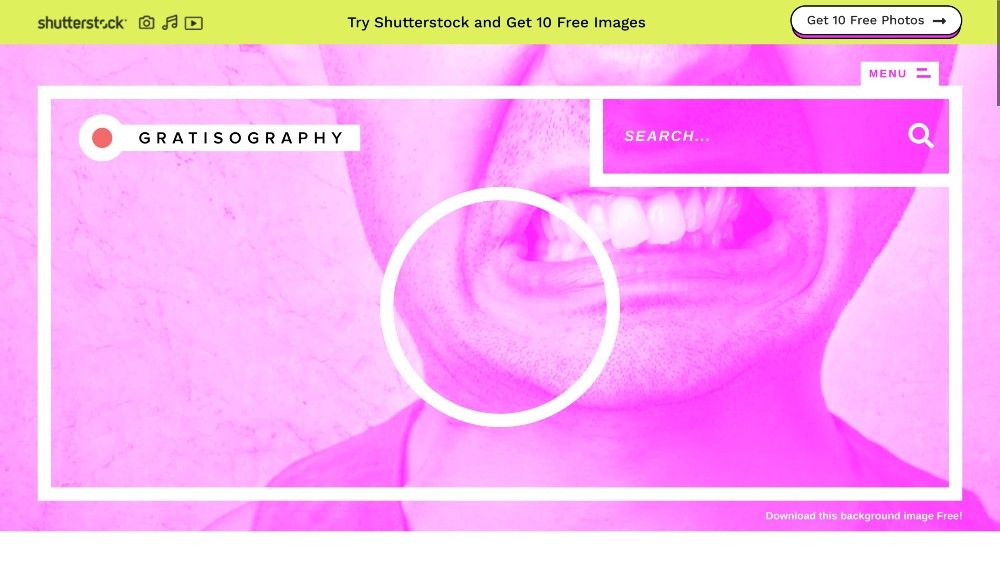 Gratisography's strength is not quantity, as it only provides around 900 free images. But if you're looking for amusing, fun, and goofy images, then this quirky site might be just the thing you're looking for.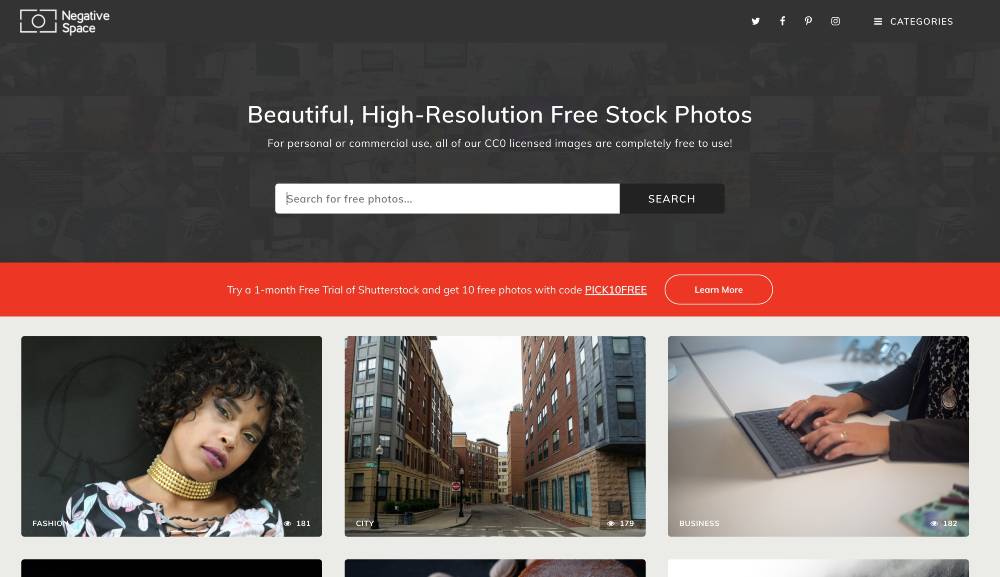 NegativeSpace provides more than 4,700 high-quality CC0 photos that are sorted by tags and color. Many of the images on the site are unique and can complement your photo stock.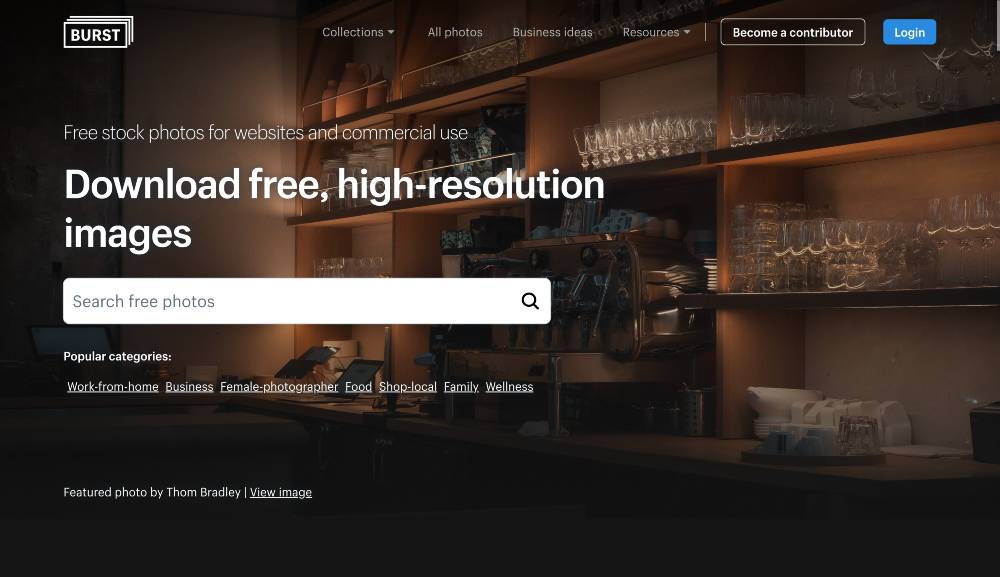 Burst provides more than 29,000 royalty-free images with e-commerce in mind. Users can browse the photos via collections, staff picks, and most popular images. The site also categorizes the pictures based on specific e-commerce business ideas for users.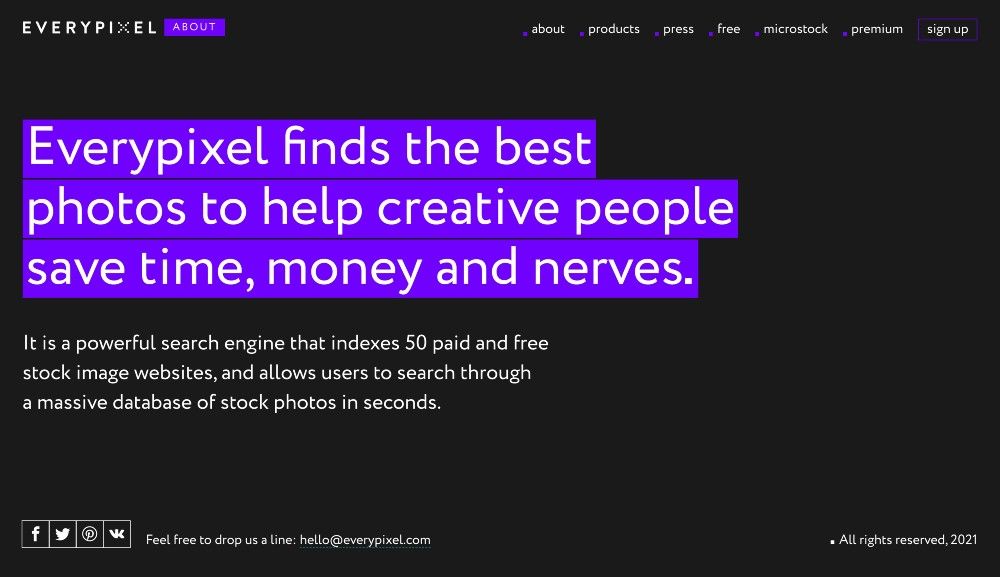 This platform claims to aggregate 50 free and paid stock image sites, including Pixabay, Pexels, and Freepik. Users can browse using keywords or do a reverse image search. They can then specify the type of images they're looking for (e.g. search by color, location of free areas, and author).
While the concept sounds great, the execution isn't perfect. From our experience using the site, the user will occasionally stumble upon a few broken images. But that's not necessarily a deal-breaker. Afterall, it's free, right?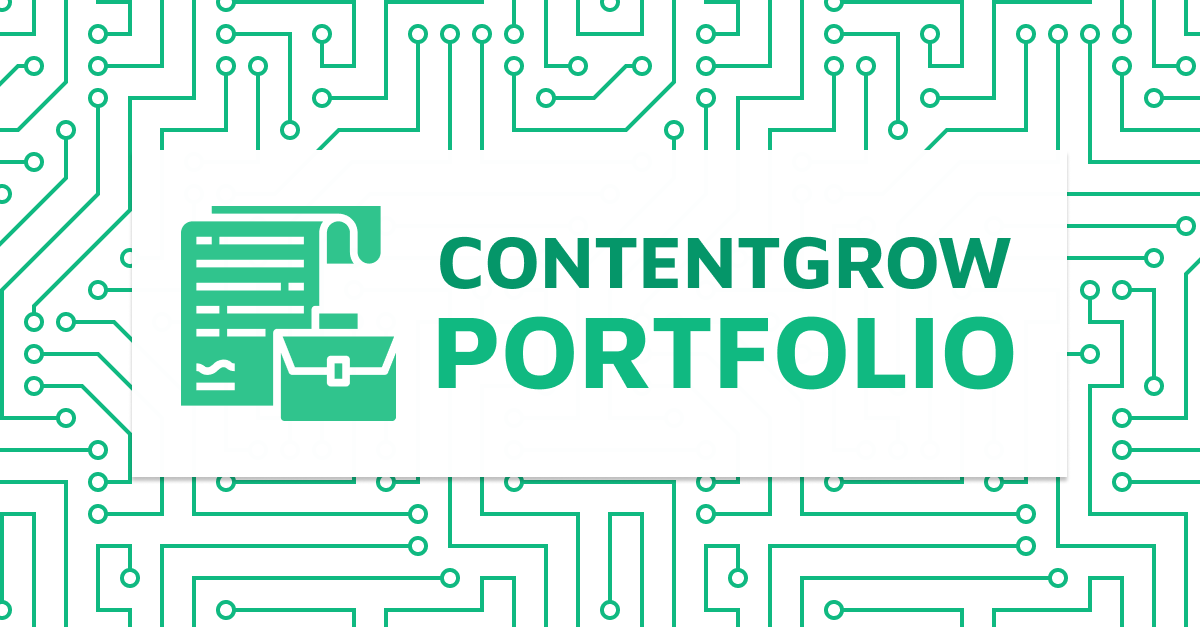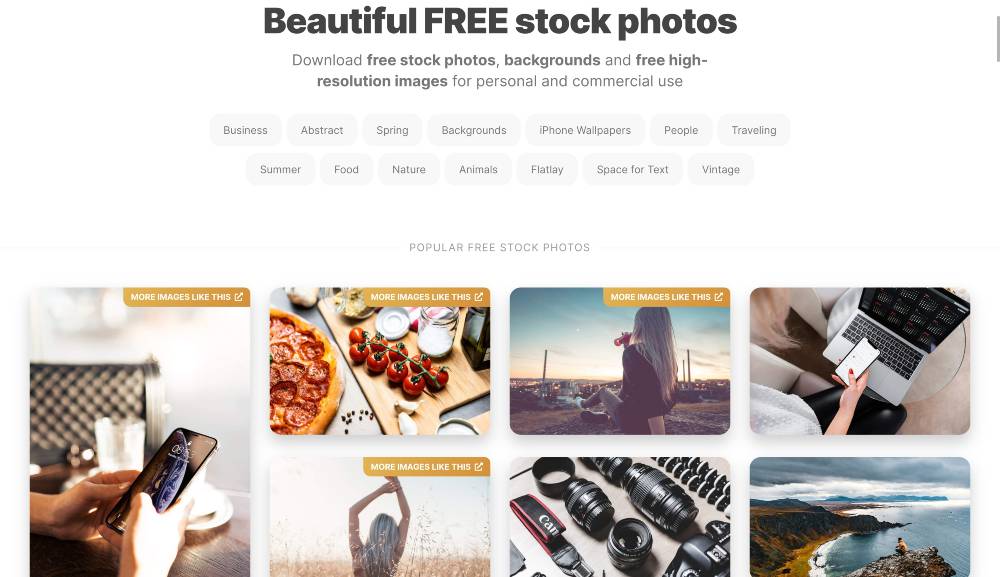 This is a good site to find food, nature, and people photography with more than 6,800 free images. The site also offers a premium membership, through which it claims to provide close to 10,000 exclusive stock photos.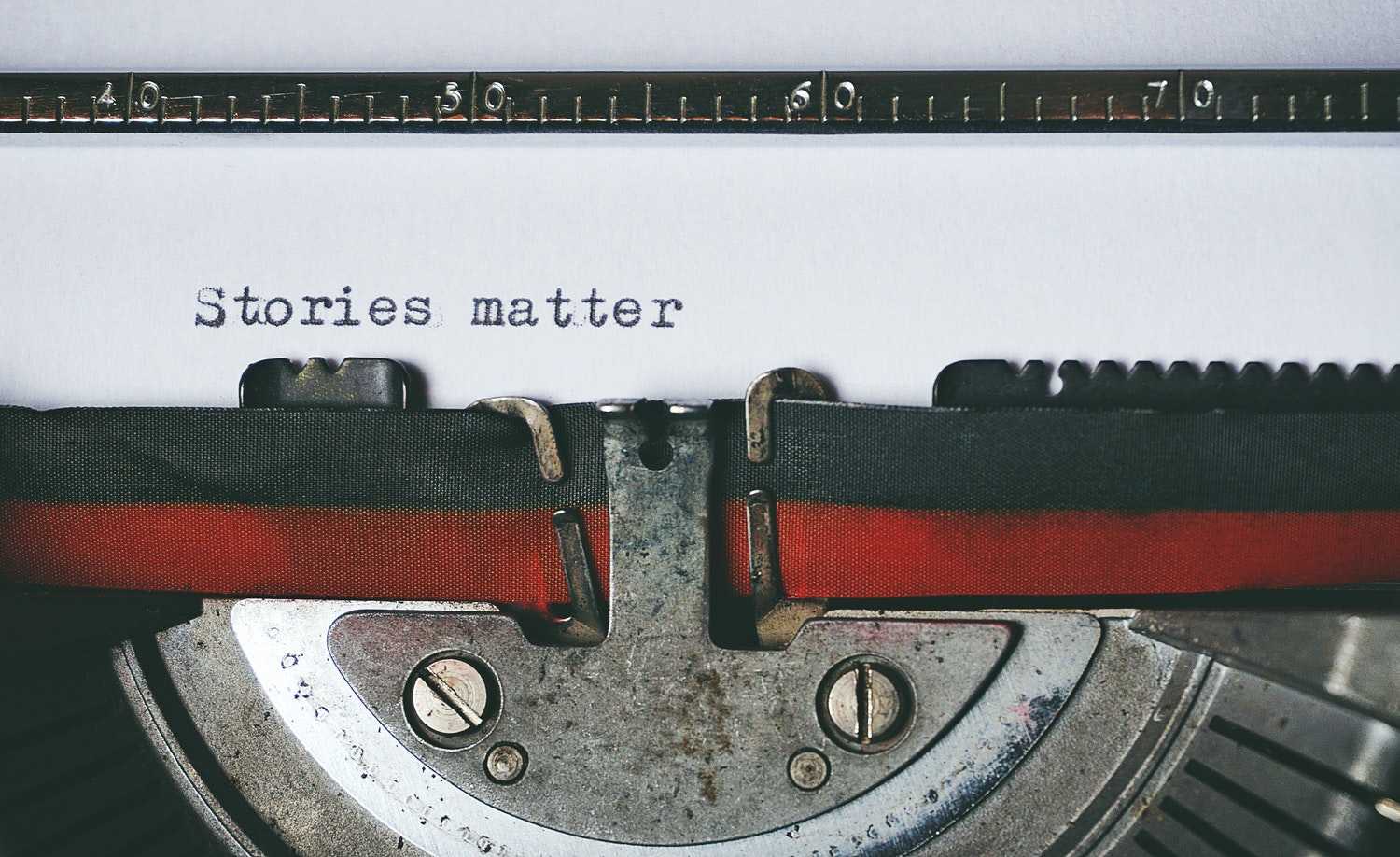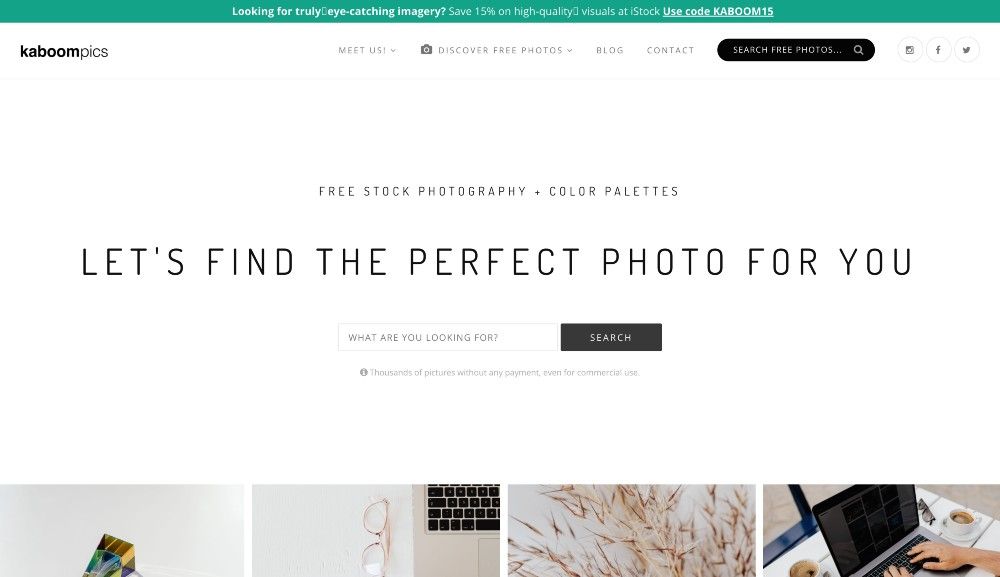 Kaboompics has around 20,227 free images, each complemented with the color palette information present in the photo. The site's photoshoot category is also unique, as users can find an entire gallery of photos taken from different angles and positions.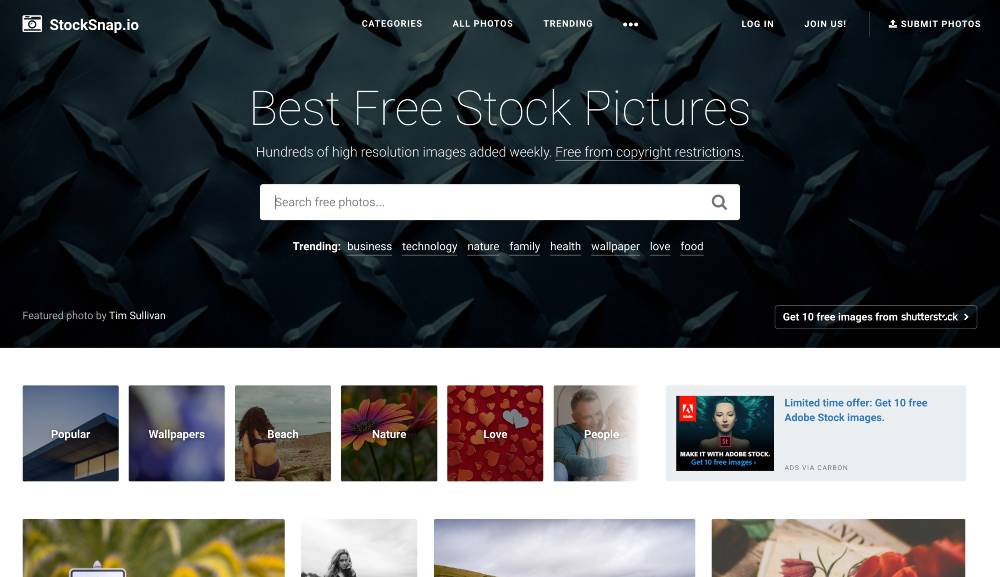 StockSnap.io is a sister site of Snappa, which is an online tool for creating graphics for blogs, websites, social media, and online advertising. Users can directly edit and customize each photo before downloading any one of the thousands available. StockSnap's main collection consists of nature and landscape photography.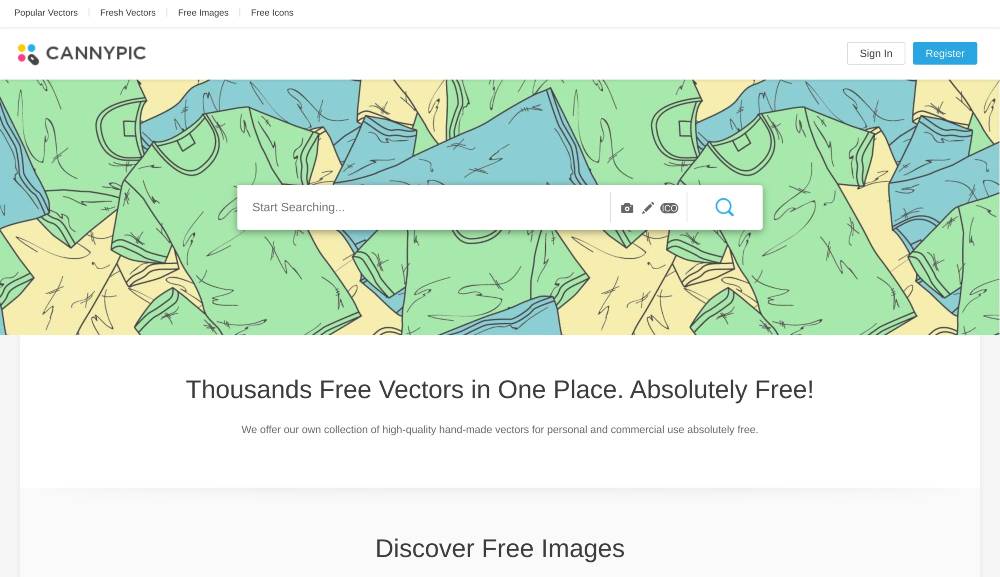 Cannypic sorts its content into three types: photos, icons, and vectors. Its forte is in its 90,000+ free vectors provided, divided up into different categories and keywords. This wide diversity of vector resources is available for free. However, users need to register first before downloading any images.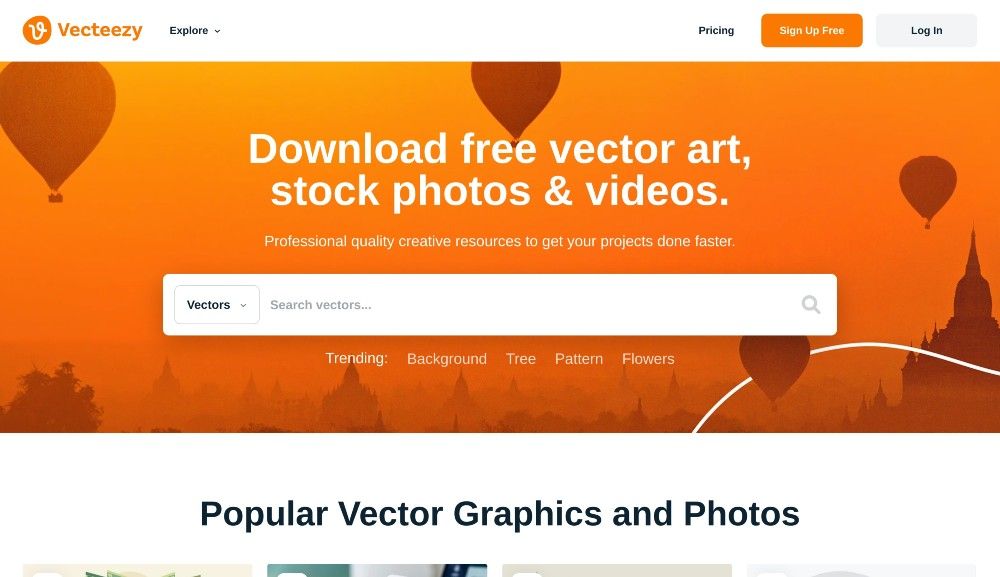 Vecteezy claims to have more than a million free stock images and videos, but not all content is free. The site locks down some content and only makes it available to paid members. It's a great site with strong selections of food and drink photos, background vectors, and animal videos.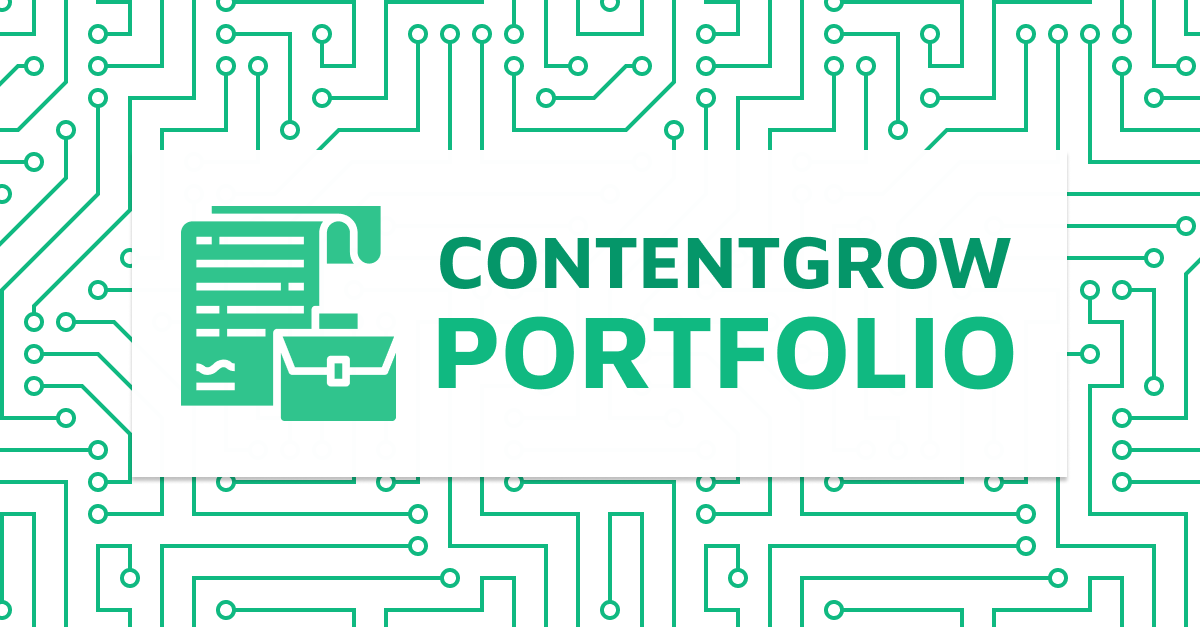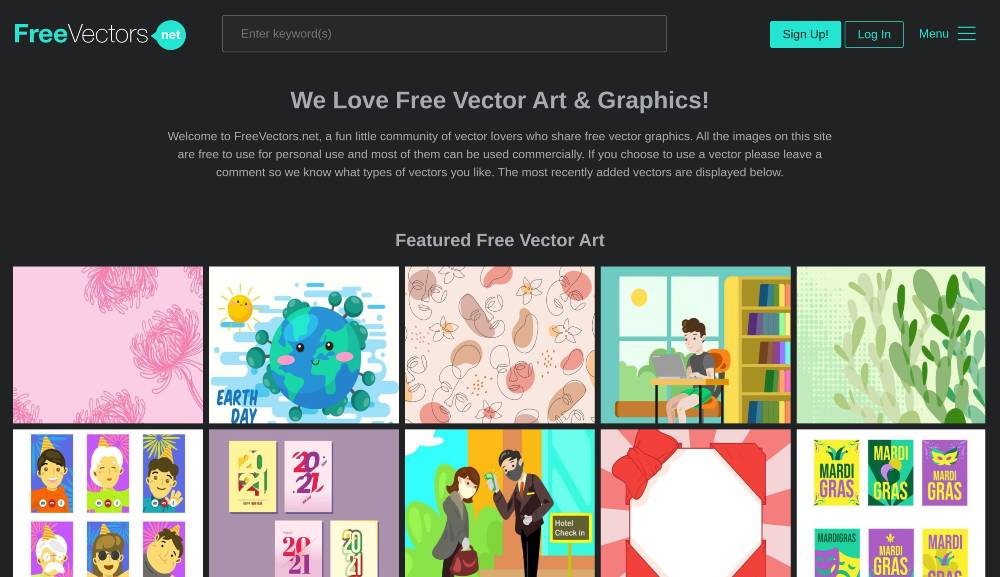 Free Vectors has 92,500 high-quality free vectors that are ready to be downloaded for free. However, a small portion of available images are under the CC0 license, so they can't be used for commercial purposes. With an updated design, you can now quickly search for a particular file or browse in categories like clipart, logos, and cartoons.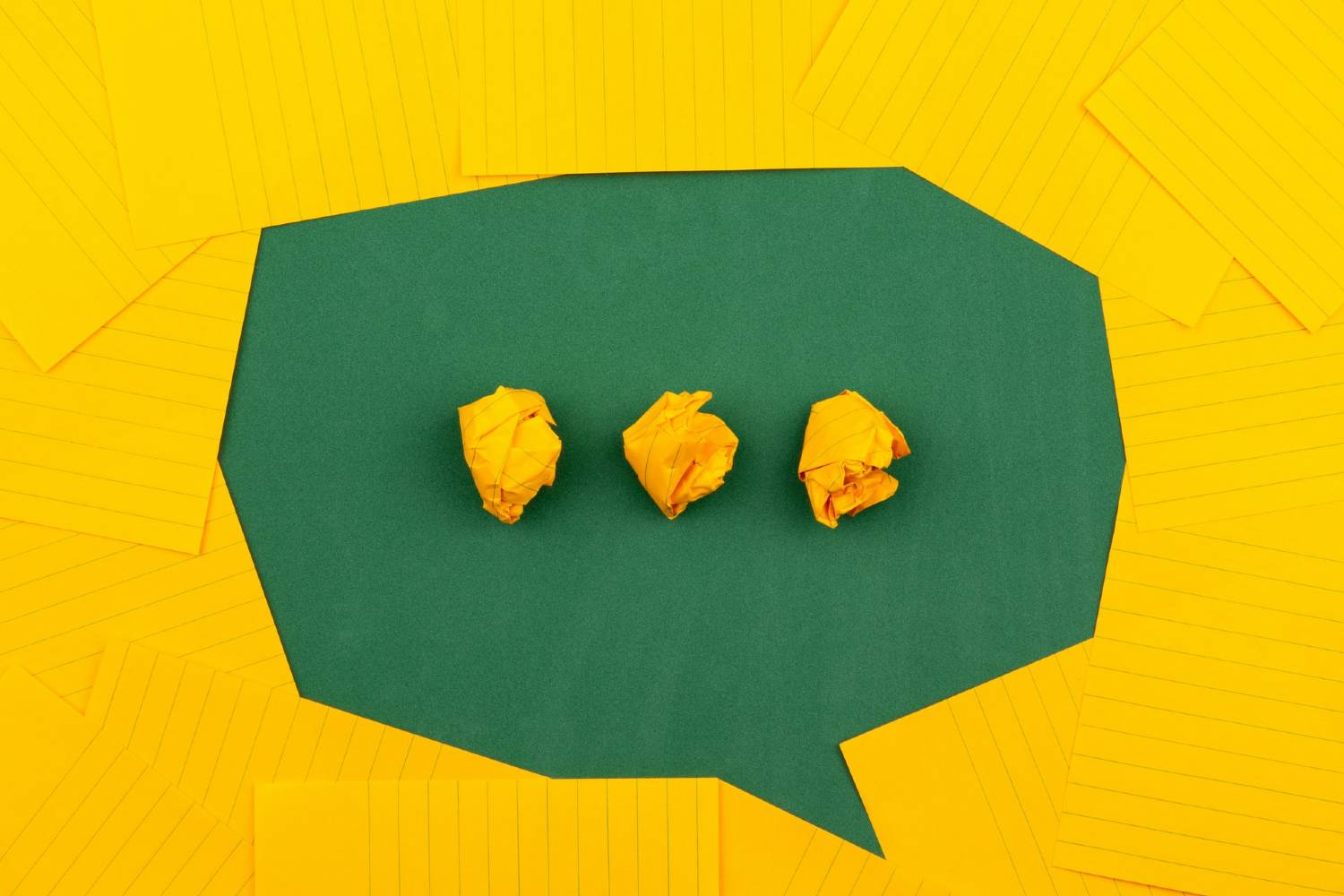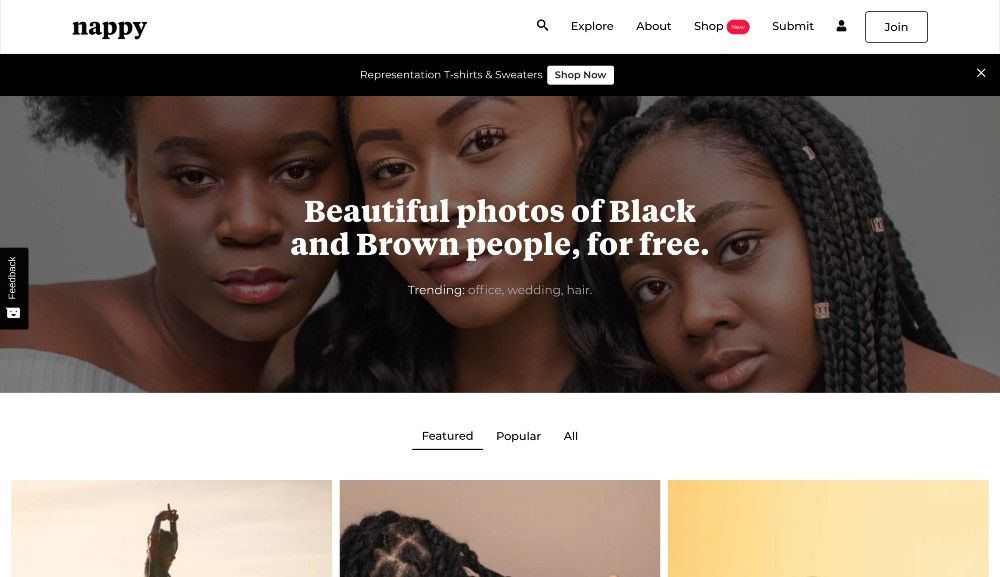 Nappy exclusively provides photos of black and brown people. The site aims to increase representation of these ethnic communities in companies' marketing materials. Launched in 2017, the site claims to have generated more than 1 million downloads and now also offers a paid photography service called Nappy Studio.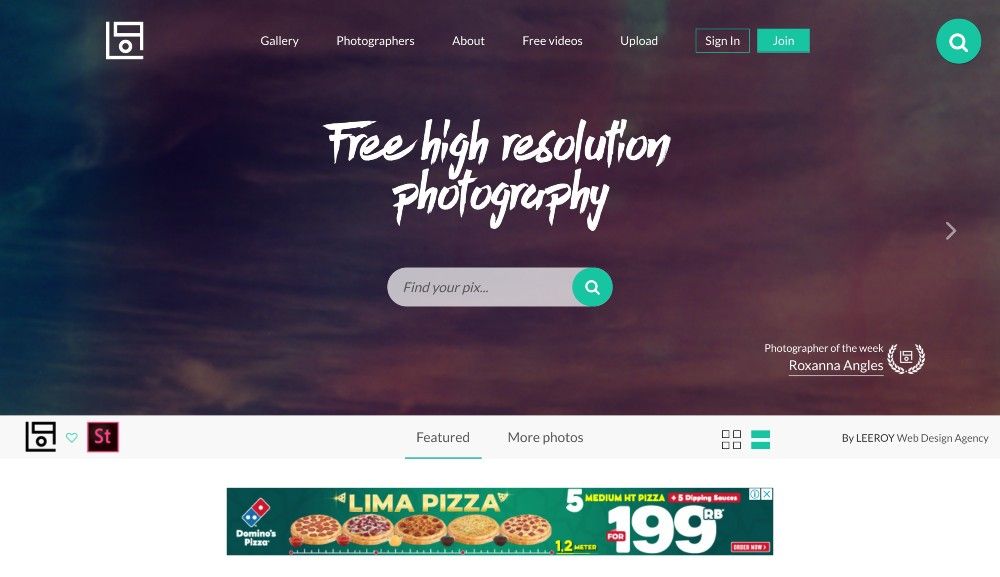 Life of Pix offers a wide collection of nature and architecture images. More than 4,500 stock images under 14 collections on this site are free of charge. On top of that, we appreciate the Life of Pix team, as it always gives a shout-out to its community by electing a 'photographer of the week.'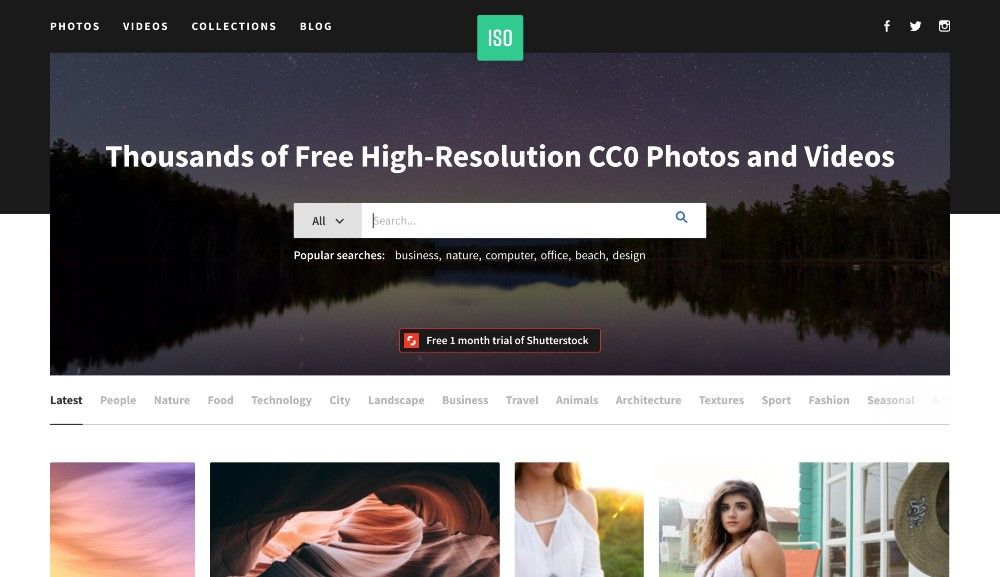 This site has a small catalog of 6,000+ photos and videos, but it regularly uploads new content each day so you don't have to worry about running out of inspiration. The two collections with the most photos are food and people.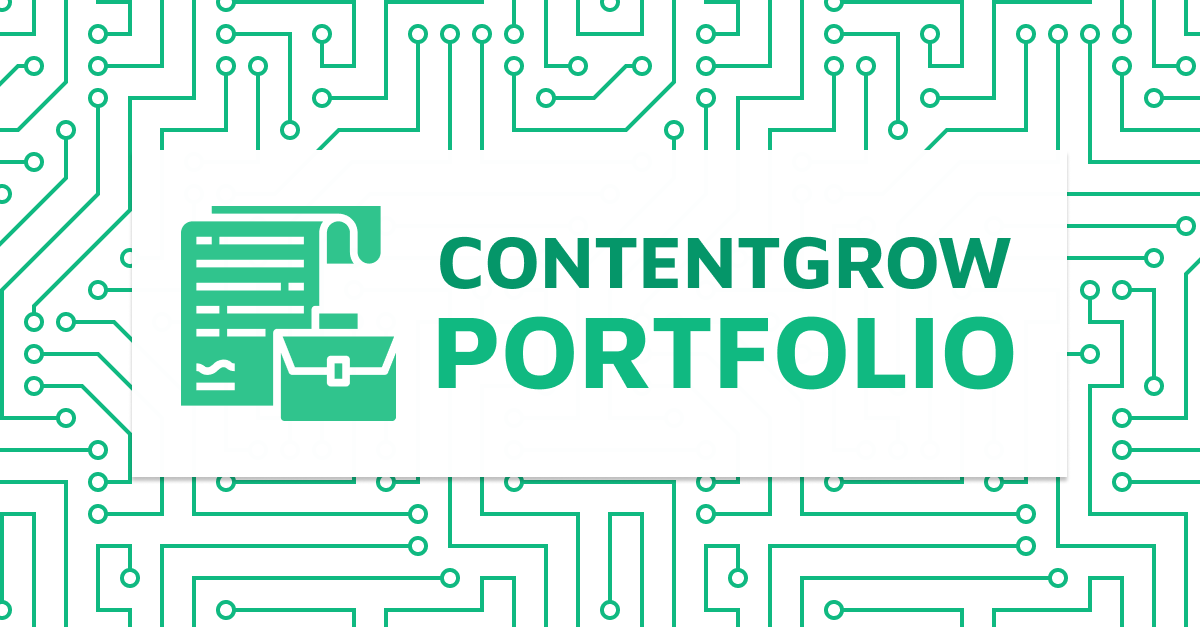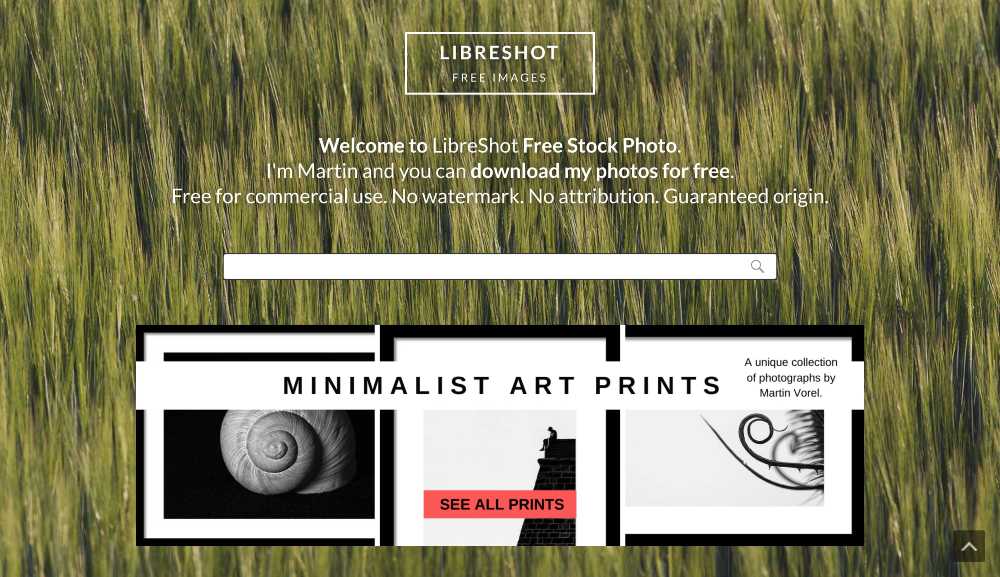 Come to LibreShot if you're looking for street photography, cityscapes, and landscape images. There are more than 10,000 stock images at LibreShot, and each one is shot by just one man, Martin Vorel, who is also the LibreShot founder.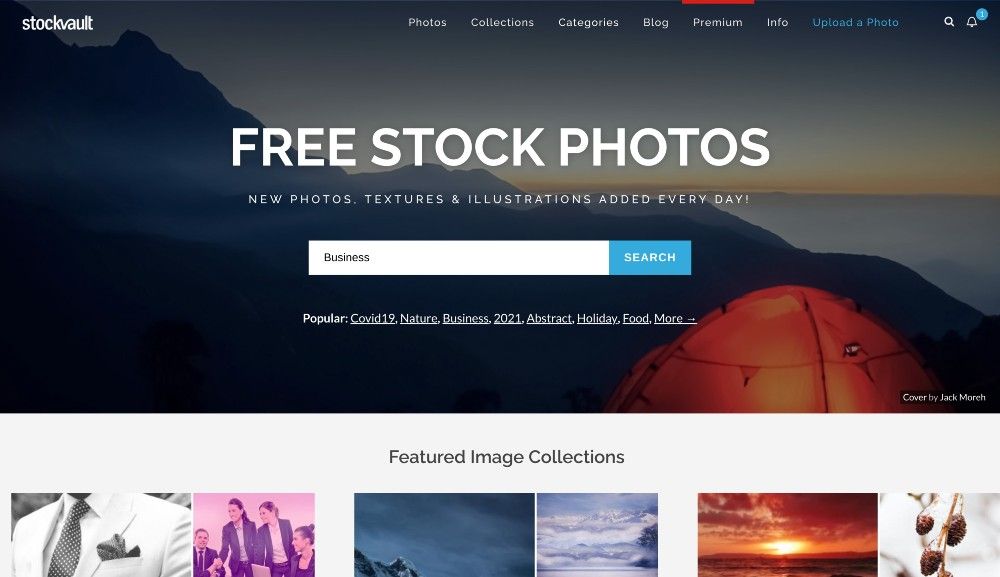 This site is home to 138,000 free images. The site's strength is in its texture and landscape photos. Interestingly, StockVault allows its contributors to earn money via online tipping and Google ads revenue.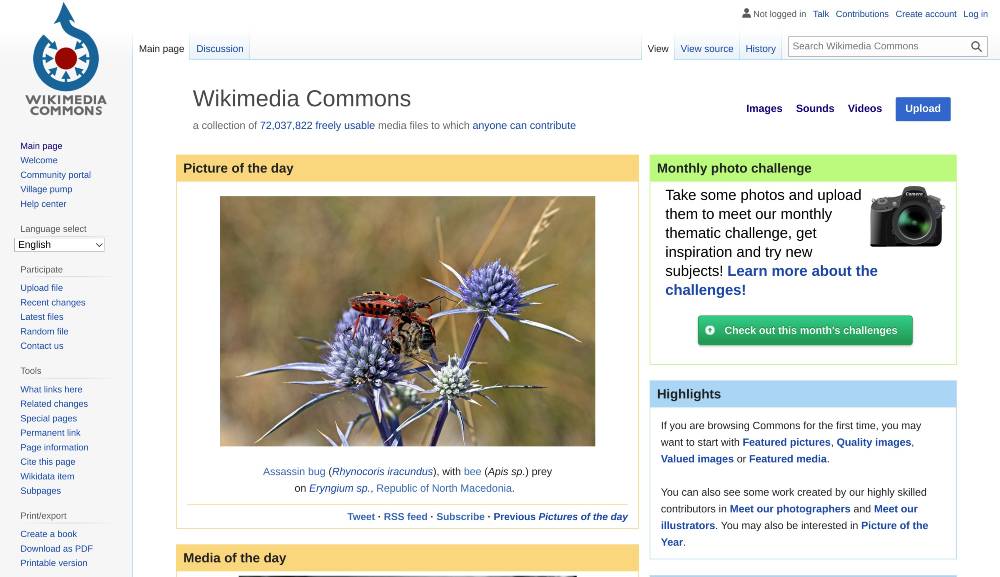 This site has more than 70 million multimedia files under the CC0 license, which includes images, videos, and sounds. However, browsing the content might be a bit tricky, as not all files are high res. To update its content, Wikimedia Commons regularly holds a monthly photo contest.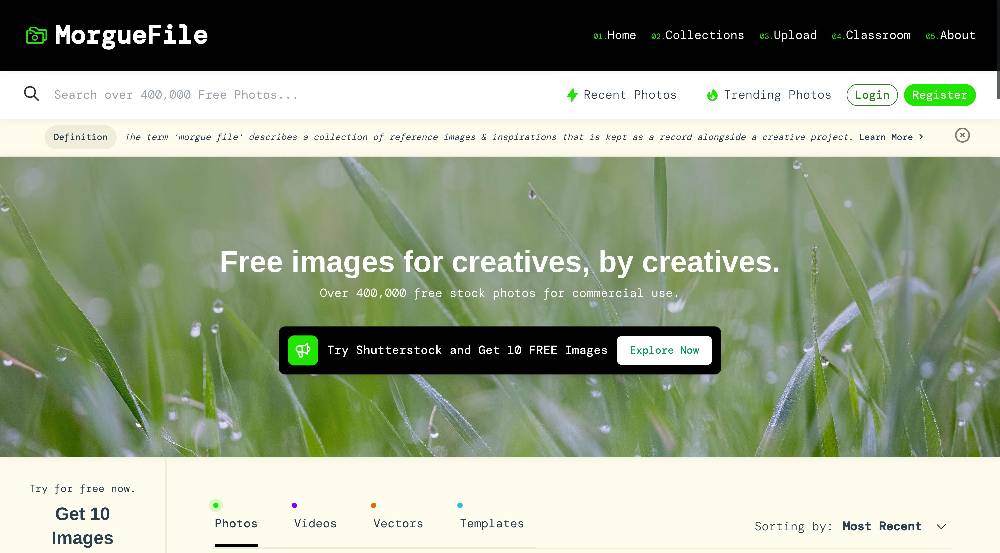 Launched way back in 2006 by developer Michael Connors, Morguefile claims to have 400,000 free stock photos for commercial use. You can find photos submitted by amateur photographers in a more casual setting here (like photos of their children).
Uniquely, the site offers a classroom feature, a collection of articles to help beginner photographers level up their game.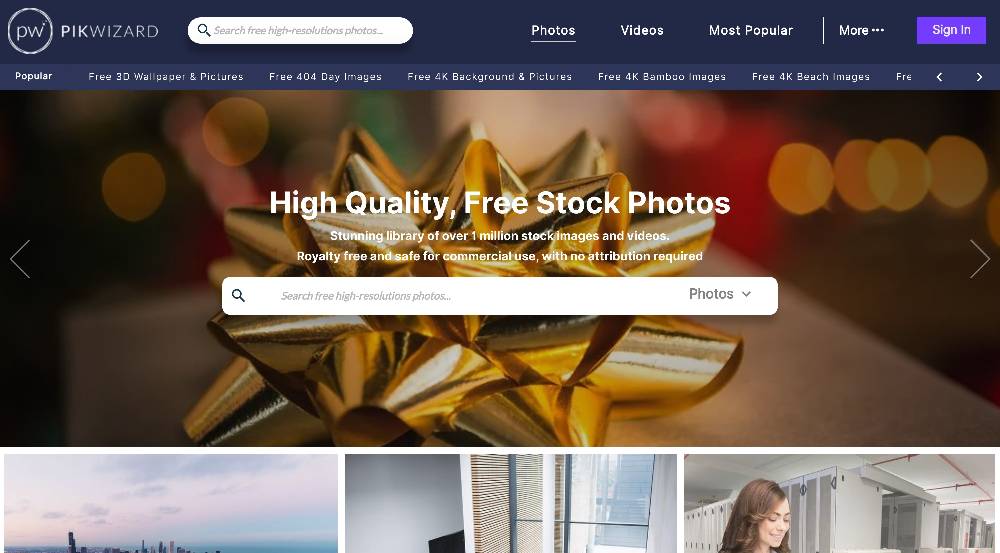 This site claims to provide more than 1 million free stock images and videos. It seems like people come here to download 4K background images, as it is the site's most popular category. Uniquely, Pikwizard offers a free and simple photo editing tool (think mini Photoshop) to help users edit downloaded images.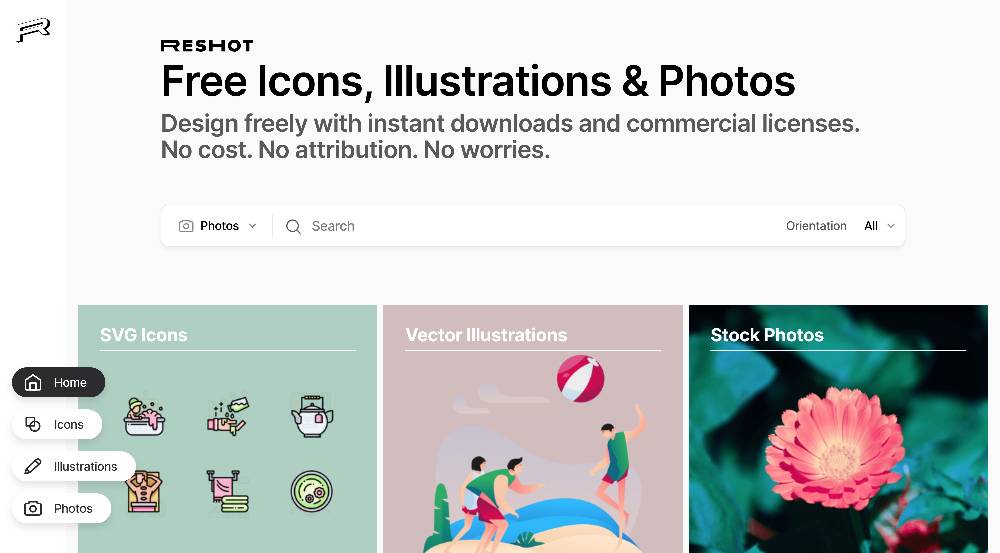 This is an interesting place to find unique image assets. Reshot offers 25,000+ photos, 1,500+ illustrations, and 40,000+ icons for designers, all free of charge. While those numbers are considered small in the stock images landscape, the assets here look great and are high-quality.
ContentGrow is a freelance writer's secret weapon for landing vetted inbound clients. The platform matches each client with niche-appropriate writers at preferred rates. Sign up to get your invite and free portfolio here.