11 recommended tools for media relations
Managing media contacts doesn't have to be painful. Here are some recommended tools for media relations to help PR teams scale their efforts.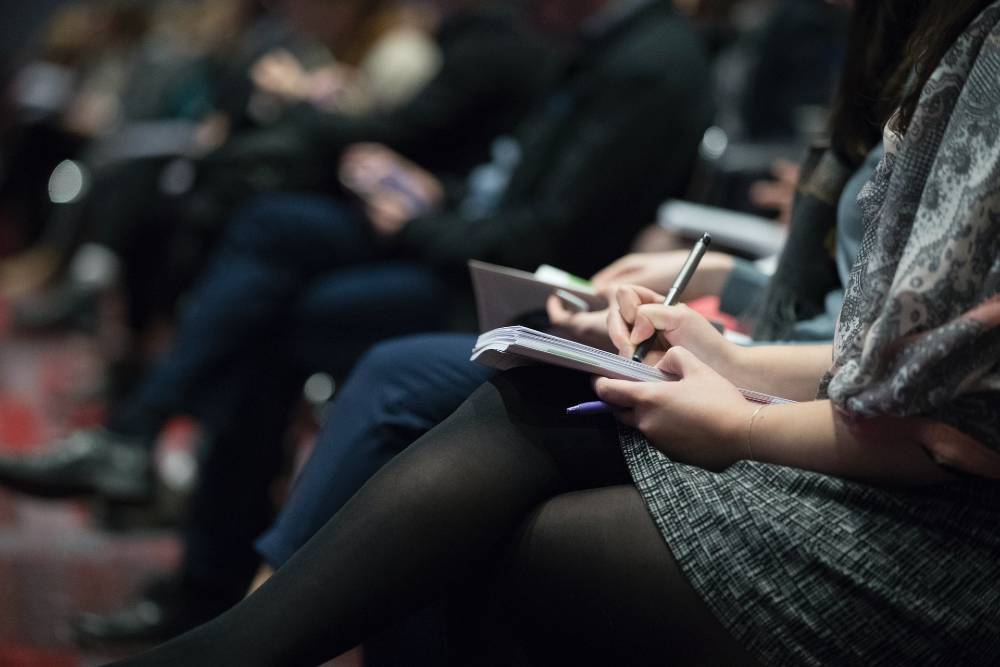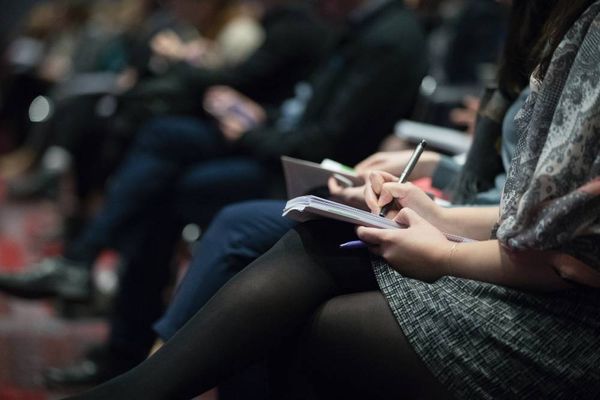 According to Cision's recent report, journalists receive between 51 and 100 email pitches in a single week. However, 99% of them consider the majority of these inbound story pitches to be woefully irrelevant. To stand out from the crowd, PR practitioners need to establish a better media relations game across the board.
The practice of media relations includes understanding a journalist's beat and audience, while keeping track of their story pitch preferences. Rather than managing thousands of data points in a Google sheet, PR teams might want to simplify this process with appropriate tools for media relations.
Here is a list of tools that we recommend, in no particular order. Be advised, these tools come GDPR compliant, thus they ensure the best security and data privacy for your content.
Recommended tools for media relations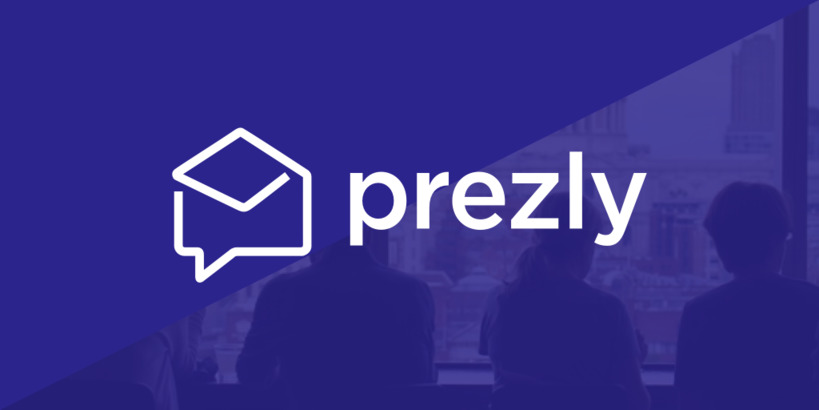 With Prezly, you can organize all of your media relations activities in one place. Users get versatile management of their contacts – details, latest online activities, discussion history, etc. These data points can then easily be shared with colleagues.
Prezly's Story Editor ensures that your press release is not run-of-the-mill, by allowing you to incorporate videos and images. PR pros can then archive all the content for a given brand in one place. This makes it easier for the journalists to discover and make use of the full timeline of said brand's stories. Users can also track their email pitches with Prezly's analytics feature.
Pricing plans are adaptable – companies are asked to select the number of users and newsrooms, then the app will provide a customized cost. The Starter Plan starts at US$60 per month per user, in which you'll be granted unlimited stories and up to 2,000 contacts.
See: For beginners: 6 tips on how to write a press release (with examples)

Prowly is an all-inclusive media relations platform, with a database of more than 1 million journalists. This allows you to reclaim time otherwise lost when gathering contacts, and go straight to building meaningful relations with humans in the media. PR teams can use Prowly to send email pitches at scale and manage a journalist database via its CRM.
The Basic Plan offers 1,000 email sends for US$210 per month.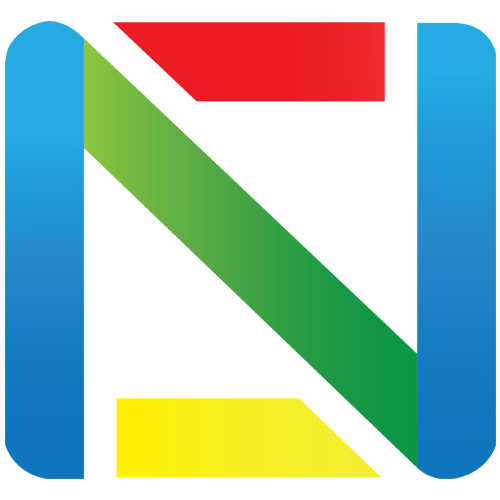 While Prowly lets you find journalist contacts based on a set of filters (topics, country, job role, etc), Anewstip takes it one step further. With this app, PR practitioners can find journalist contacts based on what they've written or tweeted about in the past. Anewstip users can also subscribe to public media lists created by other users.
PR staffers can browse around the platform and store 200 journalist contacts (consisting of social media links and geographic locations). Teams can gain additional features such as direct contact info and email pitches with a paid account, starting from US$200 per month.

PressPage offers several different things, such as media relations, online newsrooms, and distribution services. The app's newsroom and email builder includes custom drag-and-drop features, making the process more user-friendly. A subscription to PressPage also comes with access to 860,000 journalists and 'influencers.' The tool also offers a dedicated support team to ensure smooth usage.
When it comes to pricing, PressPage's starter plan provides unlimited publishing and contacts priced at US$399 per month.

Agility PR offers a CRM tool with an additional newsroom function to host all PR-related materials like press releases and logos. Its CRM includes more than 1 million media contacts, as well as database management and email analytics features.
Agility PR offers additional services for media monitoring, newswire, and ad-hoc campaign reports. However, there's no public pricing available, so interested practitioners need to get in touch with the team to learn more.
See: 6 recommended press release distribution services for PR teams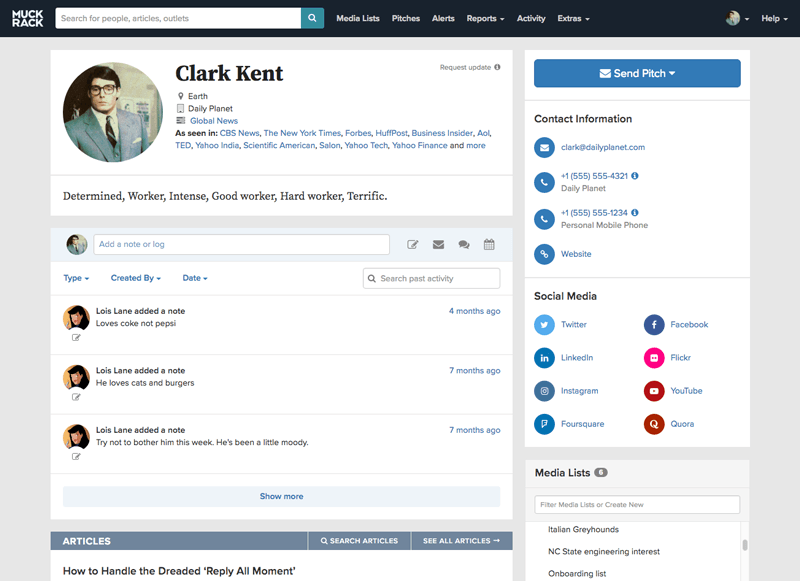 Muck Rack is a platform that helps PR pros find and connect with people in the media (think: journalists, podcasters, freelancers, columnists, etc). The tool supports automated and personalized email pitches, news monitoring, team collaboration, and PR performance reports.
Muck Rack claims to provide the most recent contacts by constantly tracking signals from across the web. Using its 'PR search engine,' users can obtain detailed info about media contacts, such as their emails and social media handles.
PR professionals can also upload their existing lists of data about media personnel. When changes occur – such as job updates or when new work is published by that author – this list will update automatically. In short, this helps PR folks clear out inactive contacts and prevent bounced emails.
The pricing for Muck Rack is only available upon request. Packages are customized based on each client's needs.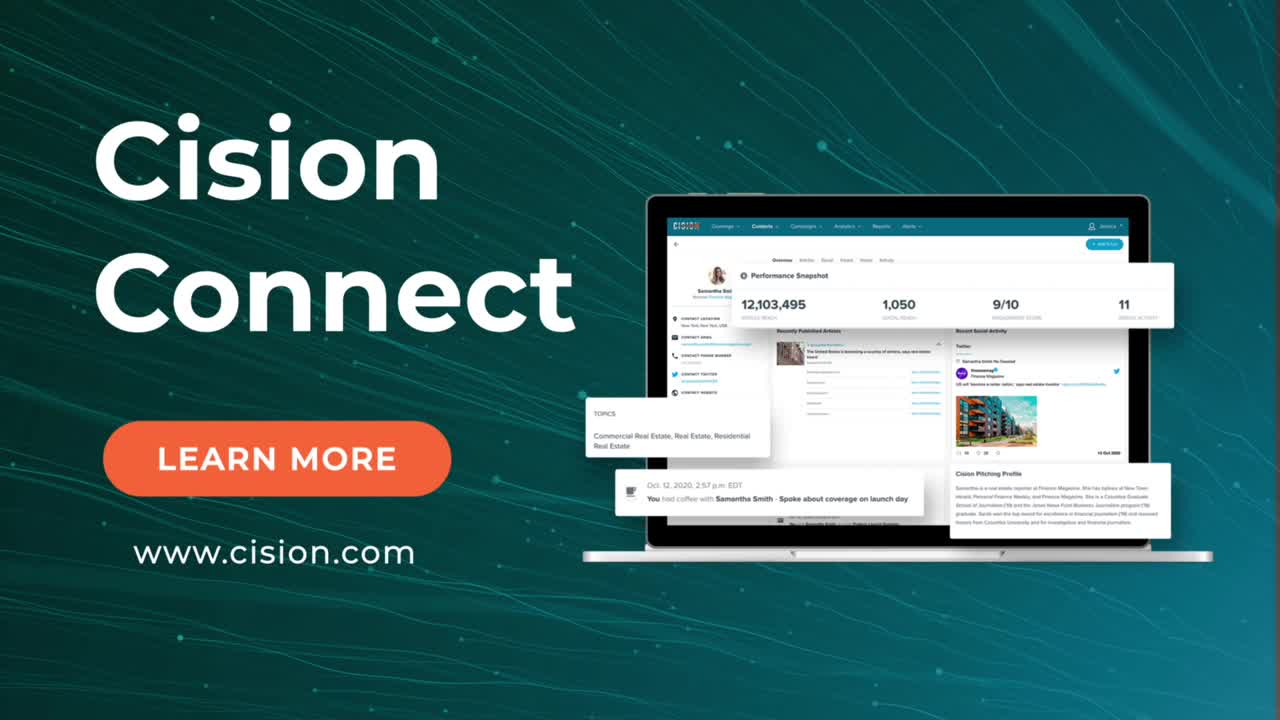 Cision is one of the most well-known platforms in the PR field. One of its features, Cision Connect, is a relationship management service that gives users access to a network of more than 1.1 billion influencers, journalists, media outlets, and opportunities.
After selecting relevant contacts, users can send story pitches to them, either one-by-one or to several people at once. PR pros can also use  Cision's Story Kit, which is essentially a tool to easily construct a professional press release. Users are prompted to add components like PDFs, quotes, images, and videos. Content created through Story Kit can also be delivered directly to relevant media contacts.
Currently, Cision's pricing is only available upon request and plans are tailor-made for each client.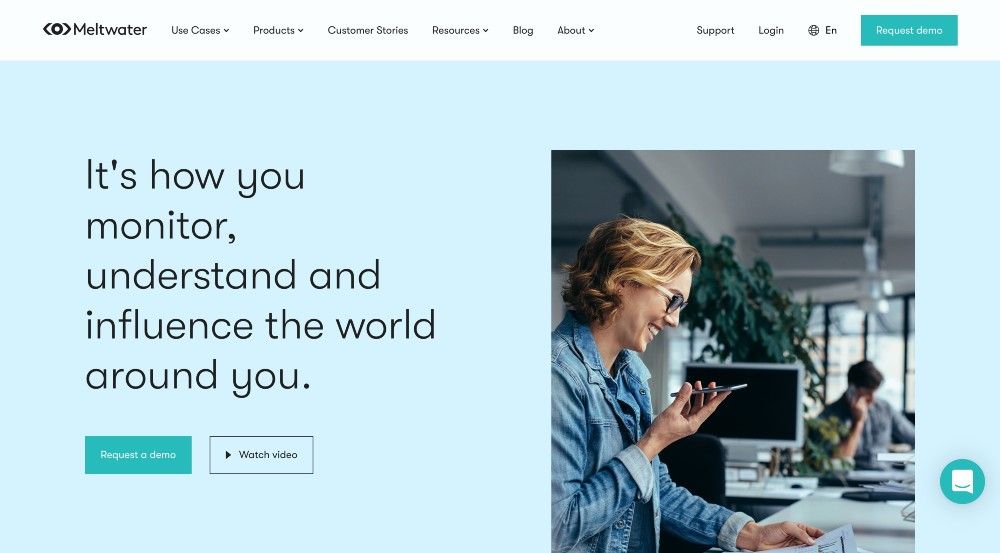 Meltwater is another platform that furnishes clients with a media database and PR distribution. Users can access fairly comprehensive information via Meltwater, like contact details, roles, and beats.
The platform's AI-driven search engine also curates media contacts based on the content of their recent articles. This makes it easier for PR professionals to filter out the most relevant ones.
Using Meltwater, businesses can distribute press releases regionally, nationally, or globally. The platform also comes with analytics and services to help teams measure content performance and engagement.
Meltwater's price is available on request and interested companies can ask for a demo before committing to a plan.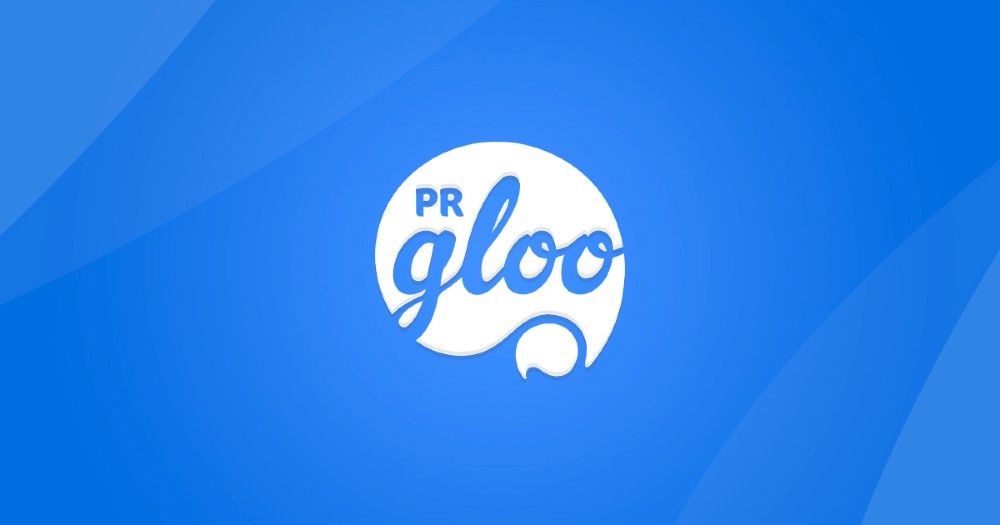 PRgloo simplifies the process of gathering up-to-date media contacts, building a media list, and blasting press releases. Users can create or copy material into PRgloo's platform, select the relevant contacts to distribute the release to, and then either send it directly or schedule it for later.
The platform stores the contacts of more than 100,000 journalists from countries like the UK, USA, and Australia. Users can either select contacts manually or create auto-updated contacts based on search criteria.
The most basic plan starts from US$3,500 and includes access to the firm's journalist and political database and reporting. To use its press distribution service, users should sign up for the pro plan, which comes in at US$4,750.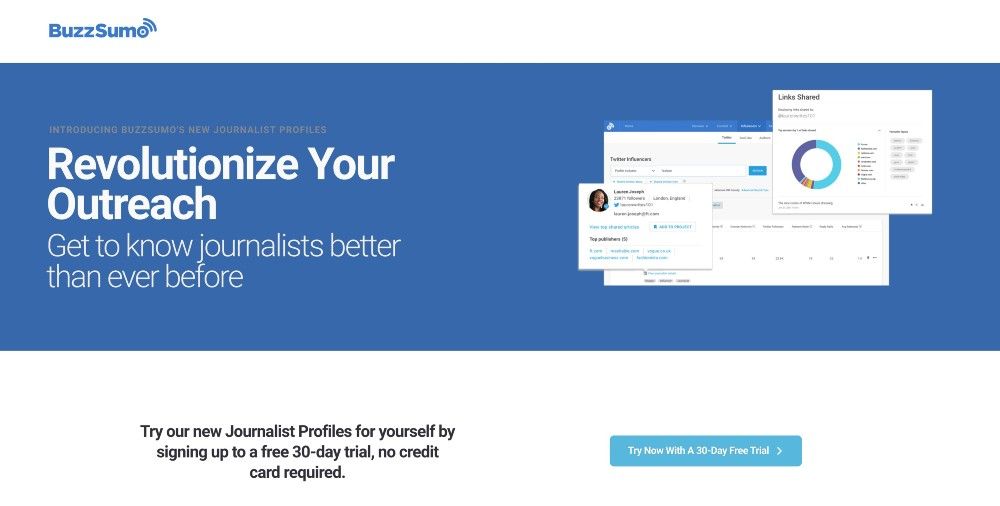 BuzzSumo is a content marketing and influencer platform that most PR practitioners might already be familiar with. The company recently launched its Journalist Profiles feature, which helps companies collect and build relevant media lists from BuzzSumo's database radar.
Users can gather useful intel on journalists, such as their name, location, and email, and track their article history to better understand their areas of interest. PR pros can use this data to create relevant pitches, outreach emails, or social media content. However, it's important to note that this tool does not yet support direct press release distribution.
Journalist Profiles is available with both paid and free packages. Prices for paid plans start from US$99 per month.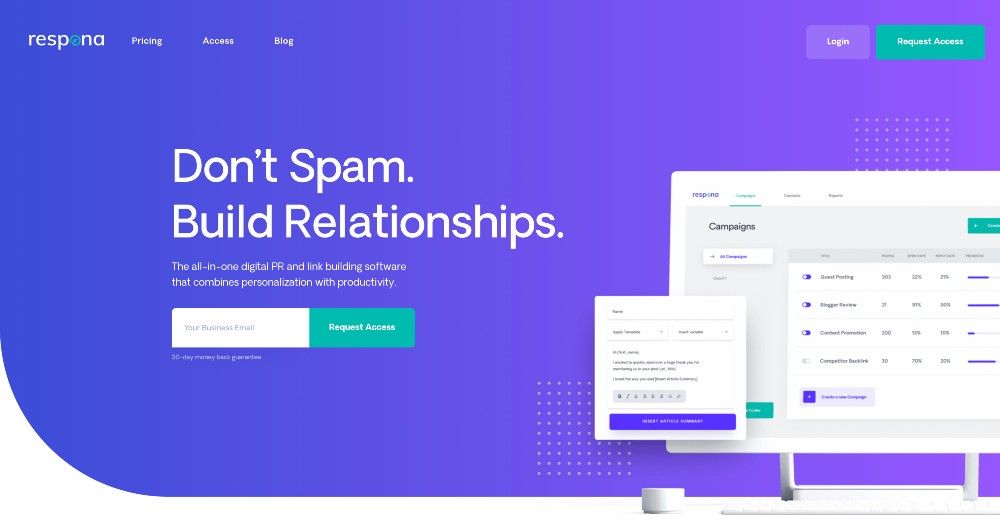 Respona is an end-to-end tool for PR outreach efforts like link-building, collaborating with influencers and bloggers, and finding journalist contacts. The tool also supports personalized pitch emails to allow brands to stand out among the countless emails in a journalist's inbox.
Its contact listing service helps businesses connect with journalists who work on relevant beats. This increases the likelihood that a journalist will pick up the pitch and allows brands to reach a larger potential audience. Respona's global database contains journalists at publications of all different shapes and sizes.
Respona offers two pricing options, both of which allow users to comb through its database of journalists. The standard plan weighs in at US$145 per month, and the custom plans start from US$299 per month.
See: Respona's leader shares marketing growth hacks to get thousands of paid users
Save time and money when producing high-quality content with ContentGrow. Sign up to get your campaign started or book a quick call with our team to learn more.